Fitbit Ionic Black Friday 2018 Deals
Fitbit has reduced the price of the Fitbit Ionic for Black Friday. The Ionic has been reduced from $269 to just $199. This is a savings of $70. It's not known when this Black Friday deal will end but it's likely to continue through Cyber Monday.
Fitbit Ionic Features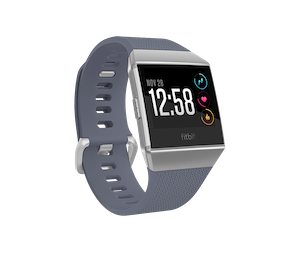 The Ionic is the company's top-of-the-line smartwatch that has powerful features that are comparable to the Apple Watch. The biggest benefit the Ionic has over the Apple Watch other than a huge price difference is that the battery can last up to 5 days. By comparison, the Apple Watch only lasts a measly 18 hours.
The Fitbit Ionic is designed so that you can leave your wallet and your phone at home when your workout. It has built-in GPS so that you can track the pace and duration of your runs. It also has an NFC wallet so you can still pick up a coffee at Starbucks. Finally, you can pair wireless earbuds to it and listen to up to 300 songs that you store on the device.
The Ionic has access to powerful apps including Strava, Starbucks, and Pandora. In addition, you can get social media, text, and calendar notifications on your wrist. This means you won't have to pull out your phone to see what's happening.
The Fitbit Ionic is fully waterproof and you can swim up to 50 meters below the surface with it. It will automatically detect and classify swimming. There is on-screen coaching that you can also use to do workouts with.
Of course, the Ionic has all of the standard features you would expect in a fitness tracker like heart rate monitoring, calories burned, and steps taken per day. It can also analyze your sleep and tell you how well you slept.
Other Fitbit Deals
Fitbit has other less sophisticated fitness trackers that will be on sale:
The man difference between the Ionic and the Versa is that the Versa has connected GPS. That means that it relies on your phone for GPS data.
The Charge 3 is for those who don't want a large watch on their wrists or who want to save a bit of money. It was just released in October. It's the first Charge that is actually waterproof. The Alta HR is for people who want an even smaller profile fitness tracker.
The Fitbit Ace is an activity tracker for kids. It will count the number of steps taken per day and calories burned. It allows you to create a family dashboard where you can compare goals and push each other forward. The goal of the Ace is to get kids outdoors more and away from electronics.
Overall, Fitbit has released great Black Friday deals for 2018. The Ionic is a great smartwatch and it offers compelling features when compared to more expensive models like the Apple Watch.