Fitbit Versa 2 vs Fitbit Versa Lite: Which Smartwatch is for You
3D Insider is ad supported and earns money from clicks, commissions from sales, and other ways.
Fitbit is known for its wearables, and this time around, with the Versa family, they are getting their hands into the tremendously competitive smartwatch market. They do have a bit of an advantage since they added their fitness tracking expertise into these smartwatches.
Smartwatch with Top-Notch Health Features
The Fitbit Versa 2 and the Versa Lite are excellent smartwatches on top of Fitbit's top-notch health tracking features. These are two of the best-priced Android smartwatches in the market today, and these give more mainstream brands and models a run for their money.
Both these smartwatches are reasonably priced compared to more popular brands like the Samsung Galaxy Watch and the Apple Watch series. These could easily pass as budget devices, but these two can surely offer you a more premium experience.
These two, especially the Versa 2 has a look, feel, and features of an excellent smartwatch. Add Fitbit's fitness tracking features, and you hit that sweet spot for the health-oriented user where they only need one device that can do it all.
Fitbit Versa 2 vs Fitbit Versa Lite
These two are outstanding smartwatches, and their extensive health tracking features make them unique devices. There are a lot of similarities between these two, so let's take a look at their feature-sets and see which one is the right fit for you.
Design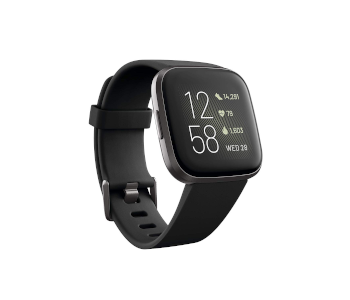 The Fitbit Versa 2 and the Versa Lite are similar in a lot of ways. After all, the Versa Lite is a successor of the Versa 2, so they have retained the best elements. However, as the name suggests, it is also a 'lite' version, so it does not come with all the bells and whistles that the Versa 2 has, so there are a few differences.
Both smartwatches look the same with a rounded rectangular shape, with the Versa Lite having a slightly smaller watch face. These two devices only come with one physical button, and that is the power on the left. Without any additional buttons, navigation is by swiping and tapping the touchscreen.
As for the display, the Versa 2 comes with a bigger AMOLED panel that improves its contrast making it easier to read even in bright outdoor conditions. This is useful when you want to track your progress and fitness goals whenever you are jogging, cycling, or working out.
These smartwatches are lightweight and extremely comfortable to wear, and it is impressive how they can pack in high-capacity batteries that can last for a week. The devices are made from aerospace-grade aluminum and the reason for the generally lighter build.
Both these devices look like your typical smartwatch. These are definitely one of the best ones if you are using an Android phone.
Even though they may look the same, there are enough differences that make the Fitbit Versa 2 a bit better in terms of design and build. The larger screen is certainly welcome as it gives you a bit more real estate. The AMOLED panel is one of the game changers that makes the Versa 2 pull ahead of the Versa Lite.
Fitbit Versa 2
Fitbit Versa Lite
Type
Fitness / Sport Smartwatch
Fitness / Sport Smartwatch
Dimensions
40 x 40 x 12 mm
35 x 24.07 x 11.2 mm
Weight
40 g
38 g
Display
YES
YES
Display Size
1.4 inches
1.34 inches
Display Type
AMOLED
LCD
Display Resolution
300 x 300
300 x 300
Always On
YES
YES
Custom Watch Face
YES
YES
Strap Size
140 – 180 mm (small)
180 – 220 mm (large)
140 – 180 mm (small)
180 – 220 mm (large)
Interchangeable Straps
YES
YES
Wireless
YES
YES
Fitness Tracking
YES
YES
Our Pick: Fitbit Versa 2 for its AMOLED display for better contrast in well-lighted scenarios
Smart Features
Apart from being a fitness tracker, as all Fitbits are, the Versa 2 and the Versa Lite are also smartwatches. That means that they do have added capabilities that you would not find in regular fitness bands.
The first one we are going to look at is the FitbitOS that is on both devices. It comes with a reasonably simple UI that is easy to move around and access your apps and notifications. When paired with your smartphone, you will be able to sync your notifications. You can even reply to messages that pop up on either device.
There is also third-party app support, similar to other smartwatches like the Apple Watch. This allows you to download apps like Uber, Amazon Alexa, Strava, MyFitnessPal, and others that can help you on your fitness journey.
Since these two devices are from the same manufacturer, and even the same series, there are a lot of similarities. Yet, there are also a few differences where the Versa 2 comes with more features compared to the Versa Lite. One of the few app-based differences is the Versa Lite's Amazon Alexa support, which it does not have. On the Versa 2, you will be able to access all Alexa features just like how you would on an Echo.
You also have access to Fitbit Pay, so you can use the Versa 2 on stores that accept this type of payment mode.
There are also a handful of features that is not on the Versa Lite like on-screen workouts, swim lap tracking, and music storage. You do sacrifice a few features with the Versa Lite compared to the Versa 2, but they are more secondary and not as essential in terms of your overall experience.
What these two smartwatches do not have is GPS. You can get GPS support as long as you pair it up with your phone via Bluetooth. You will need to have both devices with you at all times so you will be able to track stats like distance traveled whenever you go out for a run.
As for the 'Smart' features of the Fitbit Versa 2 and the Versa Lite, they do come with all the essentials. However, the Versa 2 offers a bit more compared to the Versa Lite. If you are looking for these extra features, then the Versa 2 surely takes this category.
| | Fitbit Versa 2 | Fitbit Versa Lite |
| --- | --- | --- |
| App | Fitbit App | Fitbit App |
| Compatibility | iOS, Android | iOS, Android |
| Payment System | Fitbit Pay | NO |
| Voice Command | YES, Alexa | NO |
| Find My Phone | YES | YES |
| Text Message Notification | YES | YES |
| Incoming Call Alert | YES | YES |
| Email Alert | YES | YES |
| Calendar Reminder | YES | YES |
| Third-Party Apps | YES | YES |
| Audio | MP3/MP4 | NO |
| Bluetooth Music | YES | NO |
| Loudspeaker | NO | NO |
| Microphone | YES | NO |
Our Pick: Fitbit Versa 2 for its extra features like Amazon Alexa support
Activity Tracking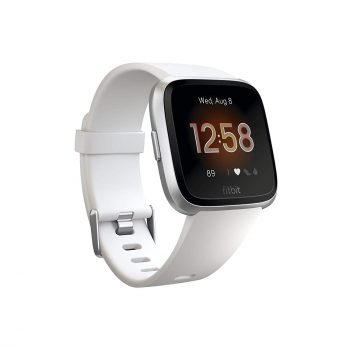 Both the Fitbit Versa 2 and the Versa Lite has you covered when it comes to tracking your daily activities. From steps taken, distance traveled, sleep to your heart rate, these two smartwatches can do it all. After all, this is what Fitbit is known for, so these devices do these accurately and reliably.
These two come with the usual set of sensors and tracking data, but you do miss out on some things with the Versa Lite. The most notable is the floors climbed feature, where the Versa Lite is not able to track. It does not have an altimeter sensor rendering it unable to log that data.
With the Versa Lite, you also do not have access to on-screen workouts by Fitbit Coach. If you rely on that feature or if you are looking for a device that offers it, then the Lite may not be for you.
Apart from these differences, both these smartwatches perform relatively similar with 24/7 heart rate tracking and even a female health tracking platform so you can monitor your menstrual cycles.
Yes, the Fitbit Versa 2 absolutely offers more tracking features. It even has a sensor that the Versa Lite does not have. If you are only to track the usual suspects, then the Versa Lite may be enough for your needs. However, if you want an in-depth look and an on-screen workout coach, then consider getting the Versa 2.
| | Fitbit Versa 2 | Fitbit Versa Lite |
| --- | --- | --- |
| Blood Oxygen | YES | YES |
| Blood Pressure | NO | NO |
| Calories | YES | YES |
| Distance | YES | YES |
| ECG Tracking | NO | NO |
| Fitness Level | YES | YES |
| Heart Rate | YES | YES |
| Sleep Tracking | YES | YES |
| Steps | YES | YES |
| Floors Climbed | YES | NO |
| Fall Detection | NO | NO |
| Menstrual Cycle | YES | YES |
| VO2 Max | YES | YES |
| Swim Tracking | YES | YES |
| On-Screen Workout | YES | NO |
| Sport Modes | 15 | 15 |
Sensors
| | Fitbit Versa 2 | Fitbit Versa Lite |
| --- | --- | --- |
| Accelerometer | YES | YES |
| Altimeter | YES | NO |
| Ambient Light | YES | YES |
| ECG | NO | NO |
| Gyroscope | NO | NO |
| HRM | YES | YES |
| Pulse Oximeter | YES | YES |
| Thermometer | NO | NO |
Our Pick: Fitbit Versa 2 for its on-screen workout coaching and altitude tracking
Connectivity
Both the Fitbit Versa 2 and Versa Lite comes with the necessary Bluetooth connection so they can be paired to your smartphone. Although these are standalone devices, they still heavily rely on their connection with your phone, especially to the Fitbit app to collate all the data the tracker has collected.
A sneaky little quirk of the feature set of the Fitbit Versa is that it comes with built-in storage where you can stow away your favorite music. Leaving your phone at home during your workout sessions means that it has a free Bluetooth connection that you can link a set of wireless headphones. Doing this allows you to listen to your favorite music using your smartwatch. This is something that you will not be able to do on the Versa Lite since it does not come with built-in storage.
Another difference between the two is the Versa 2's support for NFC, which is mainly for Fitbit Pay. This feature securely stores your credit card information so you can use it in contactless payments and leave your wallet behind.
The Versa 2 also has Wi-Fi so you can connect to your home or office network and continue to use it independent of your smartphone. This feature comes in handy if you forget your phone, and you still have access to some of your essential apps.
If you are not after these advanced uses that the Versa 2 can do, then the Versa Lite's connectivity features should be enough. Apart from these two differences, the two devices are pretty much similar, and Bluetooth is all you need.
| | Fitbit Versa 2 | Fitbit Versa Lite |
| --- | --- | --- |
| Bluetooth | Bluetooth 4.0 | Bluetooth 4.0 |
| Bluetooth Calling | NO | NO |
| GPS | NO | NO |
| NFC | YES | NO |
| Wi-Fi | YES | NO |
Our Pick: Fitbit Versa 2 for its added connectivity features like Wi-Fi and NFC
Battery Life
The trend continues when it comes to battery life. The Fitbit Versa 2 is definitely the more premium device between the two, and it shows by looking at the battery specs. For regular use, The Versa 2, even with its small size, is capable of lasting up to five days. If your usage is not as heavy, you can also stretch to last up to eight days.
Compared to most smartwatches, which have battery capacities that last only a day or two, this is impressive. Even with the Versa Lite's three-day regular load battery life, these are still significant numbers. It seems that the Versa 2's slim size advantage is about packing more juice, so it lasts a couple of days more than its 'lite' counterpart.
Charging time remains the same for both devices, giving the Fitbit Versa 2 the clear leader in this category. If you are looking for a wearable that is going to last for days without plugging into the wall, then the Versa 2 is definitely your device of choice.
| | Fitbit Versa 2 | Fitbit Versa Lite |
| --- | --- | --- |
| Rechargeable Battery | YES | YES |
| Battery Life | Up to 5 days | Up to 3 days |
| Battery Type | Lithium polymer | Lithium polymer |
| Recharge Time | 2 hours | 2 hours |
Our Pick: Fitbit Versa 2 for a clear battery capacity advantage over the Versa Lite
Durability
As a smartwatch that doubles as a fitness tracker, it is essential that these two do not break while in the middle of your workout. Both the Fitbit Versa 2 and the Versa Lite have excellent durability. Their screens, in particular, are protected by Corning Gorilla Glass, so they do not scratch or crack easily.
However, their most impressive durability feature is their water resistance. This also means that these devices are dustproof and weatherproof, so you can continue to use your smartwatches in the middle of your workout even in the rain. You can also use either of these in just about any situation, even in the shower.
Both the Versa 2 and the Versa Lite can handle up to 5 ATM of pressure underwater, which translates to about 50 meters in depth. You will not probably use this for deep-sea diving, so you can reliably wear this to track your swim workouts or other water sports.
One thing to note, though, is that these are only water resistance, so they are not entirely waterproof. There is still a chance that you can knock the seals around and ruin your device. However, you can undoubtedly use these smartwatches in the water for extended periods as they can survive that type of activity.
| | Fitbit Versa 2 | Fitbit Versa Lite |
| --- | --- | --- |
| Water Resistance | YES | YES |
| Max Depth | 50 meters | 50 meters |
| Protection | YES, Up to 5 ATM | YES, Up to 5 ATM |
Our Pick: It's a Tie. Same water-resistant capabilities for both devices
The Best Smartwatch and Fitness Tracker Combo
The Fitbit Versa 2 and the Versa Lite are exceptional devices. With both smartwatch and fitness tracker features crammed into a small footprint, they offer some of the best experiences at a reasonable price point. It is clear, however, that the Versa Lite is the Versa 2's little brother, and the price suggests the same.
The Versa 2 comes with a lot more features, and the climbing tracker is especially great if you regularly use the stairs so you can carefully keep an eye on your overall fitness levels. Also, the on-screen workout guide by Fitbit Coach is definitely a feature to look forward to with the Versa 2 that is not in the Versa Lite.
The onboard storage where you can save your music is also an excellent addition, and that little hack of connecting your wireless headphones over Bluetooth is a neat feature that you would enjoy. This handy feature is a unique way to enjoy your music as you work out without having your smartphone with you.
The Fitbit Versa 2 is the clear winner as the best smartwatch and fitness tracker combo between the two. With more added features and better battery life, you definitely get a lot more for its price. However, we're not taking away anything from the Versa Lite, since they are made primarily from a similar design. There is a market for it.
Which Smartwatch Should You Get
It's not all the time that the more expensive device is the better value choice. However, in the case between the Fitbit Versa 2 and the Versa Lite, it is the more superior wearable as it offers a lot more. The extensive and upgraded health tracking features, Fitbit Pay, AMOLED display, a microphone with Amazon Alexa, and onboard music is enough to put it so far ahead that you can ignore the $40 price difference.
It might seem that the extra features might not be particularly worth it, but if you are starting, the Fitbit Coach's on-screen workouts are beneficial. Also, if you are an avid swimmer, the Versa 2's additional swim-lap tracking is useful.
You surely get a whole lot more with the Fitbit Versa 2 without spending a lot. This is the reason why the Versa 2 offers a better overall value. Also, if the $40 difference might be too much for your budget, you can wait for deals as Fitbit does not hesitate to put up the Versa 2 on sale.
The Perfect One for Your Needs
Usually, you have a choice between the two devices. In this case, the perfect one is the Fitbit Versa 2 no matter the situation. The thing here is that the Versa Lite is, as its name suggests, a stripped-down version of the Versa 2 where some feature did not make it.
Since both have a similar baseline in terms of smartwatch and fitness tracker issues, it all boils down to the extended features on the Versa 2. In the case between these two devices, the extra features are definitely worth it.
Final Thoughts
Two high-quality smartwatches with Fitbit's health tracking features make these excellent everyday devices. You can use them as an extension of your phone screen, and strap them on whenever you go on your work out.
Although the smartwatch space is very competitive, these added Fitbit-exclusive features make these devices unique. Fitbit remains a leader in the fitness wearable space, so if your concern is accurate tracking of your health, then the Fitbit Versa 2 and the Versa Lite are the smartwatches for you.