Best Fixed Wing Drones
3D Insider is ad supported and earns money from clicks, commissions from sales, and other ways.
Everyone knows about drones today. You probably either own a drone or you know someone who does. Most of us are aware of the multirotor or multicopter drones that have two propellers or more. The most popular rotorcraft of all is the quadcopter. There are also the fixed-wing drones and this piece looks at the pros and cons of these less common crafts.
Video and photography will never look the same again whether you fly a multirotor or fixed-wing drone. The way we record our precious moments has changed foreverthanks to advancing technology and lower prices. Not everyone wants a drone to record footage though. Some pilots love to race and others just enjoy the thrill of flying. The most important thing is to make the right informed choice.
Budget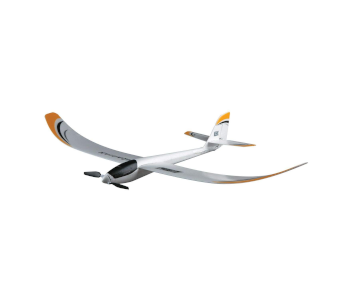 E-flite U2980 UMX Radian BNF Airplane
4.5/5.0
Flight Time: 10+ minutes
Flight Range: 300 feet
Easy to fly and also has the AS3X stabilizing technology.
Check Amazon
Best Value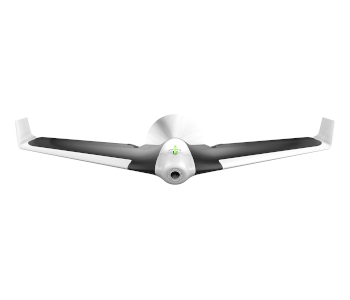 Parrot Disco FPV Fixed Wing Airplane
4.2/5.0
Flight Time: 45 minutes
Flight Range: 1.2 miles
FPV goggles, long range, built-in camera, auto-features.
Check Amazon
Top Pick
MyFlyDreamMFD Fixed Wing Nimbus
4.8/5.0
Flight Time: 150 minutes
Flight Range: Not specified
Long flight endurance and long flight time.
Check BangGood
Why Bother with Fixed Wing Drones
The Downsides to Fixed-Wing Drones
Why Bother with Multirotor Drones
The Downsides of Rotary Wing Aircraft
About this Review Guide
The chart below shows seven of the best amateur fixed wing drones in the order they appear on this page. I've ordered them by price with the least expensive at the top.
Fixed Wing Drones Comparison Table
1. E-flite U2980 UMX Radian BNF Airplane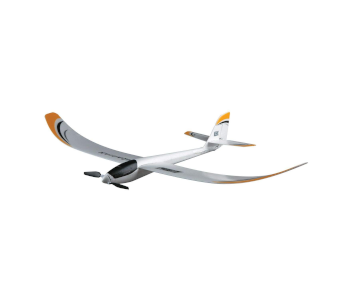 View on Amazon
Editor's Rating: 4.5/5
This is a small Amazon's Choice fixed-wing electric glider that's a cheap yet very capable flyer.
Best feature 1: AS3X stabilizing technology
Best feature 2: Instantaneous altitude corrections
Plus points: Affordable, fun to fly entry-level, smart design, lightweight foam construction
Minus points: Poor flight time for fixed wing, bind and fly (BNF)
I doubt you'd find a better fixed-wing airplane for less than 100 bucks than the E-flite U2980 UMX. It's an RC glider, though, so make sure gliding is your thing before you make a decision. It's a great craft for people who live in areas where there are small and limited places to fly.
Flying the E-flite U2980 UMX Radian BNF
Basic flying is fun and easy. Exploiting its ridge soar, thermal, and tricks capability, need more of a learning curve. Most newbies should be able to master the plane with a little patience and persistence. The disappointing flight time is around 10 minutes (more with thermal flying). The battery recharges in an impressive 30 minutes though.
This is a small lightweight craft with a molded-foam construction and a nice aerodynamic design. Its flight range is around 300 feet. That may not sound much but you wouldn't want to fly any further with a glider in this class. Another important point is that this craft is bind and fly (BNF). That means it doesn't come with a remote controller (RC).So if you don't already have anRC you'll need to buy one. Any 4+ channel DSMX-compatible transmittershould make a good choice.
The Conclusion
If RC gliding is your thing then put the E-flite U2980 UMX Radian BNF on your shortlist.


Tech Specs
Weight: 1.50 oz. (43g)
Drone category: Fixed wing glider
Maximum flight time: 10+ minutes
Maximum flight range: 91 m (300 ft.)
Charging Time: 30 minutes (0.5 hr.)
Camera: No camera
Controller type: Not included (BNF)
The Pros
Affordable entry-level glider
Lightweight, nice design
Easy to fly at the basic level
AS3X stabilizing technology
Fast battery charging time
Decent range
The Cons
Doesn't come with a controller
Advanced flying takes some patience and practice
Short flying time but still better than many UAVs under $100
2. ZETA FX-79 Buffalo FPV Fixed Wing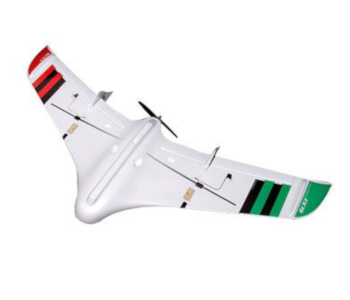 View on BangGood
Editor's Rating: 4.9/5
We've now gone from the small E-flite glider above to the huge ZETA FX-79 Buffalo. These are both very different drones so let's look at why this giant has made it onto my list.
Best feature 1: Huge size, lightweight
Best feature 2: Incredibly smooth and stable flyer
Plus points: Plenty of space under canopy, FPV capable, ultra-tough construction, fun
Minus points: Size too big for some, needs extra accessories
This is a First Person View (FPV) capable drone with a 2m fixed wingspan. It's also a kit version so you must prepare to do some assembly before you can take to the skies. It's a Plug-and-Fly (PNF) kit so it's not a complicated process. All you have to do is install the electronics and a battery and that's pretty much it. If you'd sooner have a Ready-To-Fly (RTF) fixed-wing drone there are other choices.
Flying the ZETA FX-79 Buffalo
This drone is light at just over 1500g (incl. battery) in spite of its size. And you don't need a runway or launch pad to get this beast off the ground despite the 2000mm fixed-wing. All you do is throw it up and watch it soar. Once airborne the Buffalo is smooth and stable whether flying fast or slow.
Your drone may need a little trimming (flight adjustments) at the start. It shouldn't need much and it's a simple process. Trimming is also a great way to get acquainted with the craft as it helps you to develop your flying skills. It's great fun to applythe brakes and enjoy this beastas it glides through the air. The size of it tends to makes everything more real and personal from a pilot's perspective.
FPV Pilots Love it!
If it's FPV you want you've got it. There's heaps of space under the canopy to add the FPV gear of your choosing. This is especially appealing to enthusiastic FPV pilots.
The Conclusion
If you're someone who thinks big is beautiful you'll definitely want to consider the ZETA FX-79 Buffalo. The size can be intimidating at first but the moment its airborne it's as easy as pie to control. The quick hand launch and easy landing add further to this craft's giant appeal.


Tech Specs
Weight: 3.4 lbs. (1550g w/ battery)
Drone category: RC fixed wing airplane
Maximum flight time: 15+ minutes
Maximum flight range: Not specified
Charging Time: Not specified
Camera: FPV gear of choice
Controller type: Recommended 4-channel Radio with delta mixing (not included)
The Pros
Huge fixed wing drone
Easy to prepare out of the box
Easy hand launching
Simple to fly
Ultra-smooth flying and agile
Glides beautifully
Incredible FPV platform
The Cons
Big size intimidating for some
Need to invests in extras to get full experience (follow link below table for details)
Smaller pilots may find hand launches difficult
3. Volantex Fixed Wing FPV Raptor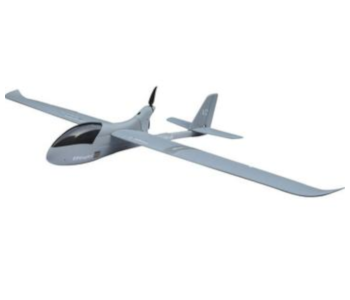 View on BangGood
Editor's Rating: 4.6/5
The FPV Raptor V2 RC is Volantex's new FPV glider. It sports a bigger motor than its predecessors. All it needs to complete the setup is a set of FatShark goggles and a compatible GoPro camera.
Best feature 1: Brushless motor (compatible with 10″ propeller)
Best feature 2: Ultra-strong fuselage
Plus points: Large cabin, 2000mm Wingspan, 700TVL camera, easy to assemble
Minus points: Little user feedback
This is a big bird but at just 2.3 lbs. it's light enough to carry and easy to launch from a soft flat surface. The new upward angled motor looks kind of cool but its practical purpose is to eliminate issues found in earlier models. There can be no lugability or storability awards with the 2m wingspan. Still, pilots of this impressive glider don't care about such things—it's all about the flight, for them.
An Unusual Construction
There's been a lot of thought gone into the construction and aerodynamics of this RC airplane. The one-step molding technology gives it a strong build with a slender look. The EPO (Expanded PolyOlefin) and special plastic material used helps to reduce shaking caused by airflow. This is beneficial because it keeps the glider more stable during flights.
At the tail end of the plan is a platform to house the video TX. You might think it's an odd place but it's really quite logical. For one the video TX is well clear of the plane's receiver so it's less prone to interference. The second advantage is that the 10-inch tail propeller helps to cool the video TX.
Flying the RC VolantexFPV Raptor V2
The Raptor V2 needs some assembling and tweaking so it's not an ideal beginner's craft. The First Person View (FPV) lets you see what the camera sees in real time. To fly this puppy in FPV you'll need toput an FPV system together. How much range and flight time you get depends on the battery and personal setup.You can expect 1+ hours of flight time on a fully-powered battery but charging time is long. Once it's in the air the Raptor V2 has the flight and gliding grace of a Golden Eagle.
The Conclusion
The FPV Raptor V2 is not your run of the mill flying RC glider. It has a small unique following and that means user feedback is limited compared to other models. Is it right for you though? Well, that's a question only you can answer. Those who buy this plane do seem to be a pretty contented lot.


Tech Specs
Weight: 2.3lbs. (1050g)
Drone category: Fixed wing FPV long range airplane/drone
Maximum flight time: 60+ minutes (1+ hr.)
Maximum flight range: Dependent on payload and battery
Charging Time: 240 minutes(4+ hours)
Camera: 700TVL 1/3 CMOS
Controller type: Not included
The Pros
Easy to fly powerful airplane
Easy to assemble (no glue necessary)
700TVL camera
Super-strong fuselage
Brushless motors
Long range
Mode switch functions
Large cabin allows for flexible customization
The Cons
Long battery charging time
Not much user feedback to assess in detail
4. MyFlyDreamMFD Fixed Wing Nimbus
View on BangGood
Editor's Rating: 4.8/5
Meet the MFD Nimbus 1800. This is the kit version and that means you have to buy the electronics separately. It's a gorgeous looking craft that gives a lot of value in all areas.
Best feature 1: Quick assembly design and easy to disassemble
Best feature 2: Carbon tube adds to the wing strength
Plus points: Long flight endurance, long flight time, ideal for surveying and mapping
Minus points: No camera or gimbal included, no battery or transmitter included
The MFD Nimbus 1800 kit comes with the airplane and preinstalled servos. It's a serious fixed-wing craft designed for long-range First Person View (FPV). The look and feel of this plane is high-quality and you can see there's been a lot of attention to detail. The wide 18000mm wingspan has huge control surfaces and a twin-motor setup. There's heaps of spare room in the nose which is a bonus.
Not Ideal for Novice Pilots
The MFD Nimbus has a maximum payload of 1.5kg and a maximum flying weight of 5.5 kg. The MyFlyDreamAutopilot fits into the central cradle maximum payload (not included). All in all the assembly of this plane is painless but only for those who know what they're doing. I certainly wouldn't suggest buying it at the entry level unless you have someone more experienced to help.
Flying the Nimbus 1800
You can throw-launch the plane to get it up into the air with very little effort. Whatever your setup one of the first things you'll notice is how powerful this baby is at takeoff. It practically flies out of your hand. The flights are smooth, stable, and easy to control for any pilot with experience. As for landing, well, that's as painless as takeoff. You don't even need a smooth surface as long as it's soft and free from rocks and other hard objects that could damage the craft.
It's fair to say that this is a serious cruising FPV plane with heaps of potential. Like the VolantexFPV Raptor V2 above it doesn't have a lot of user feedback. That's because quadcopter drones are the favored choice for the masses. That doesn't mean drones are better they're just different. If you want an airplane that can do a serious job then this should be a serious consideration.
Here are some ideal uses for the Nimbus 1800:
Long Range FPV Flights
Mapping & surveying
Competitions
Search and Rescue
Surveillance & Security
Payload drops
With a long flight endurance of up to 2.5 hours the sky really is the limit.


Tech Specs
Weight: 12lbs. (5443g)
Drone category: 1800mm
Maximum flight time: Depends on battery used but up to 2.5 hrs.
Maximum flight range: depends on battery used
Charging Time: Depends on battery used
Camera: Not included
The Pros
Easy to assemble, simple to fly
Customizable RC airplane
Carbon tube
High-quality dense foam
long flight endurance
Two head plates for FPV camera and gimbal
Fast flyer
The Cons
No camera or gimbal included
Doesn't include battery
Doesn't include transmitter
5. SmartPlane Pro FPV Fixed Wing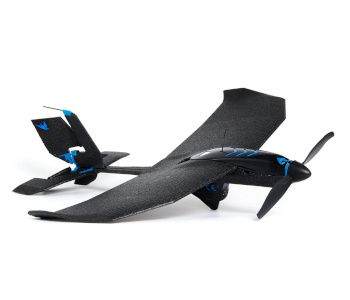 View on Amazon
Editor's Rating: 4.9/5
From the very big to the tiny; meet TobyRich's SmartPlane Pro FPV with its 300mm wingspan.
Best feature 1: Built-in FPV camera
Best feature 2: Intuitive app controlled interactiveflight school for newbie pilots
Plus points: FPV streaming with VR goggles (included), stunts, intuitive app, crash-proof
Minus points: Too light for flying in winds, average camera
The TobyRich SmartPlane Pro FPV is a VR app-controlled craft. It's an easy plug-n-play model that anyone at any level can pilot. We can't say the same for some of the others on this page. It arrives at your door ready-to-fly (RTF) so there's no setup or assembly to worry about. There's a fixed front-facing FPV 720, x576, PXcamera that lets you view live-streaming using VR goggles (included).
Flying the Tiny SmartPlane Pro FPV
Everything about this setup is exciting and intuitive. There's the handy app-based flight school for anyone who needs a little tutorial before their maiden flight. There's also one-hand smartphone control that makes flying this beauty even simpler. You can show off your skills and enjoy fast-paced flights overland and perform amazing aerobatics after some practice. What makes the SmartPlane Pro FPV stand out is the option to customize and personalize your own flight profile.
Here are some of the other main highlights of this small fixed-wing craft:
Designed in Germany
Superior quality durable material makes it crash proof
Intuitive app control with a smartphone
Joystick or phone tilt modes for precise control
Snap, record, stream stills and video footage
Preprogrammed stunts which include helicopter, 90° hover, cobra turn, and loop
Like all flying UAVs the SmartPlane Pro FPV is not without a few downsides. The flight time is the biggest letdown at just 12 minutes. However, the super-fast 20-minute charging time takes some disappointmentawayfrom the short battery life. The range is 100m which is fine for a tiny 38g craft.
The Conclusion
Summing up this is a great choice for anyone who's looking for a small, high-quality, feature-packed fixed-wing craft. It's incredibly tough, crash-resistant, and a great choice of RC FPV plane.


Tech Specs
Weight: 1.34 oz. (38 g)
Drone category: 12 inches (30 cm)
Maximum flight time: 12 minutes
Maximum flight range: 100+ m (330+ ft.)
Charging Time: 20 minutes
Camera: FPV 720 x576 px
Controller type: RC with LCD display
The Pros
Ready to Fly (RTF)
Easy to fly, Plug-n-Play
Pre-programed stunts
Ultra-light, super durable craft
Intuitive interactive app for iOS and Android
Flying tutorialswith interactive flight school program
Fast charging time
VR goggles included
The Cons
Not ideal in winds
Average quality camera
6. Hubsan H301S Fixed-Wing SPY HAWK
View on Amazon
Editor's Rating: 4.8/5
This is an averaged sized Almost-Ready-to-Fly (ARF) RC plane with a fixed wingspan of 1000mm. There are a lot of impressive claims to the Hubsan H301S Spy Hawk. Let's see how they bear up.
Best feature 1: 1080P HD airborne camera
Best feature 2: Brushless motor
Plus points: Auto return-to-home, GPS flight control system, auto-balance, LCD display
Minus points: Average camera, craft may require some trimming
The manual that comes with the Spy Hawk is easy to understand and detailed. I only mention this because a lot of manuals fall short with UAVs. The box contains a few stickers for those who want to dress their craft up. There are even instructions on where to put them on the plane. So the first plus point for this fixed wing product is that you won't be scratching your head if you have any questions.
Flying the Hubsan Fixed-Wing SPY HAWK
The construction of this plane uses high-quality EPO.It has a 1080P HD camera with a 120° wide-angle lens. This smart looking camera plane only weighs 350g which makes it easy to carry. To launch it you have to throw it into the air. The only downside here is that you have to throw it pretty hard andat a high angle or it'll head straight for the ground.
The plane flies beautifully in the air with consistently stable performance. Alas, bringing it down is not the easiest in Manual Mode. Every pilot has different skill levels of course. My advice, though, is to always land the plane in Stabilized Mode or at least until you become familiar with the craft. Despite the light weight of the SPY HAWK is handles very well in windy conditions.
Big but not too Big
This is a great choice of fixed-wing aircraft for anyone who wants a big—but not too big—RC plane. It has an impressive 1000m range and gives around 30 minutes of flight time on a single charge. It's a capable First Person View (FPV) performer with Real-Time Image Transmission. There's a 3.5″ On-Screen-Display (OSD) in the center-top of the 2.4Ggz transmitter. The plane also boasts some useful features. There's GPS Precise Localization, Auto-balance technology, and One-key Return.


Tech Specs
Weight: 0.8 lb. (355g)
Drone category: 1000mm/39.37in
Maximum flight time: 30+ minutes
Maximum flight range: 1000m (3281 ft.)
Charging Time: 120 minutes (2 hrs.)
Camera: 1080P HD with 120-degree wide angled lens + camera cap
Controller type: 2.4 GHz 4-channel transmitter
The Pros
Beautiful RC airplane
Easy to fly, smooth & stable
Long range
Decent flight time
Automatic return to home function
GPS flight control system
First Person View (FPV)
Red & Green LED wing lights
The Cons
Hubsan video goggles optional with this purchase
Needs space to fly
May need a little trimming
Average camera
7. Parrot Disco FPV Fixed Wing Airplane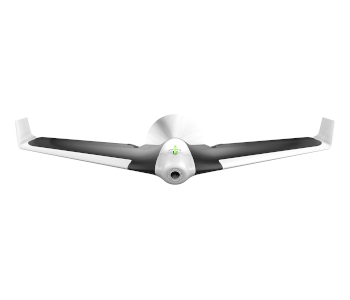 View on Amazon
Editor's Rating: 4.2/5
There's one heck of a lot to like about the aerodynamic Parrot Disco RC airplane. It looks great and has a kind of polished finish that you don't often see with fixed wing RC models.
Best feature 1: Anti-stall system
Best feature 2: Ultra-precise piloting
Plus points: RTF, FPV goggles, long range, built-in camera, long flight time, auto-features
Minus points: Needs space, price tag
The Parrot Disco FPV is a handsome beast with a fixed wingspan of around 1000mm. Its unique design makes is super aerodynamic and fast. With speeds of up to 50mph you can compete with it if racing floats your boat. Whatever way you fly the Disco its First Person View (FPV) experience is second to none thanks to the Parrot Cockpitglasses. It's something you have to experience to fully appreciate.
Fly the FPV Parrot Disco Further for Longer
Flying this plane with the Parrot Skycontroller(RC) takes piloting to the next level. It's comfortable, lightweight, and compact, andit's also ultra-precise. The body construction usesEPP (expanded polypropylene) and lightweight carbon. A simple throw upward is all it takes to launch this beauty. The design and smart use of the right materialsall contribute to the craft's amazing flexibility.
You'll soon be flying like a pro, gliding, turning, climbing and diving down after a little practice. Slowing down and speeding up also adds to the FPV experience. You really notice the difference in pace with the 50mph top speed. The 1.2-mile range is another selling point for pilots who like to take their planes further. It doesn't take long to reach these outer limits either.
The flight time isn't as impressive as serious contenders like the Nimbus 1800. That particular craft can keep going for up to 2.5 hours. Still, 45 minutes is plenty good enough for those who don't need to fly for industrial purposes. And the short 60-minute battery charging makes the flight time less of an issue if you keep a spare or two with you.
There's a lot to like and plenty to explore with the fixed-wing Parrot Disco FPV RC airplane. The dedicated FreeFlight Pro app adds to the intuitive piloting experience but it's at a cost. Being the last fixed-wing plane on my list also means it's the most expensive. The bad news is that it has a recommended retail price of $1200. The good news is that it's currently selling at just $499 and that includes the FPV goggles and the Parrot Skycontroller 2 RC.
The Conclusion
Whether the Parrot Disco is right for you depends on your budget, usage, and expectations.


Tech Specs
Weight: 1.7 lbs. (750 g)
Maximum flight time: 45 minutes
Maximum flight range: 1.2 miles (2km)
Charging Time: 60 minutes (1 hr.)
Camera: 1080P full HD video, 14MP stills, wide-angle
Controller type: Parrot Skycontroller 2
The Pros
Ready to Fly (RTF) out of the box
Easy to fly with automated take-off and landing
Free Flight Pro App (Android & iOS compatible)
Built-in FPV wide-angle camera
Fast speed of 50mph (80 km/h)
Fast charging time
Parrot cockpit glasses included
Assisted piloting controls
Anti-stall system
Return Home functionality
The Cons
Need space to takeoff, fly, and land the RC plane
RC manual mode removes flight controller functions