7 Best USB 3 Flash Drives
3D Insider is ad supported and earns money from clicks, commissions from sales, and other ways.
Flash drives used to be one of those things you picked up for $5-10, checked for a couple of gigs of storage space, and didn't think about. You probably had a few of them rattling around in your desk or backpack. If you were organized you had a couple of different colors or had labeled them.
But, you certainly didn't shop around looking for the best one. After all, wise data storage practices meant that all your information was distributed between your flash drives, computers, and likely a larger external hard drive as well.
Those days are gone. While you can still pick up a plastic flash drive for cheap at just about every department store, book store, and even your local library, there are much better models available. Often, you can get a more durable flash drive with equal or better storage for nearly the same price as the cheap plastic ones you used to buy as a kid.
In this article, we'll give you a short buying guide with the most important features and differences you can look for in good flash drives. We'll also give you a shortlist of some of the best flash drives you can purchase right now, and discuss what makes each one great, and where they fall short.
Let's get started.
Budget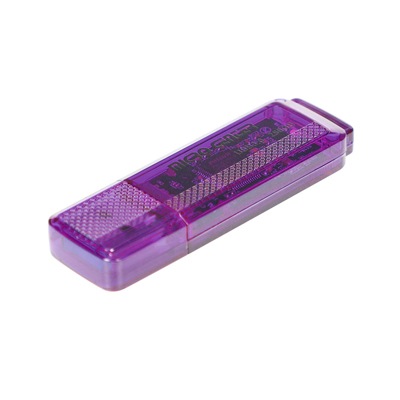 Micro Center SuperSpeed
4.4/5.0
Speed: USB 3
Capacity Choices: 16Gb – 256Gb
Moderate speed, neither the fastest nor the slowest.
Check Amazon
Best Value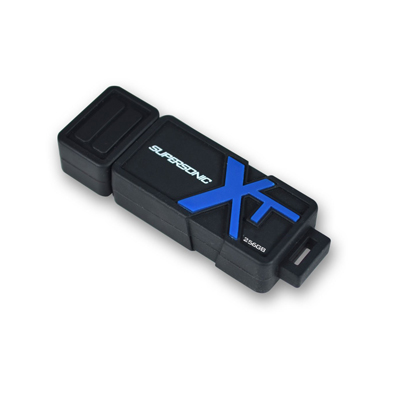 Patriot Super sonic Boost XT
4.6/5.0
Speed: USB 3
Capacity Choices: 164Gb – 256Gb
Highly affordable, durable rubber casing and water-Resistant.
Check Amazon
Top Pick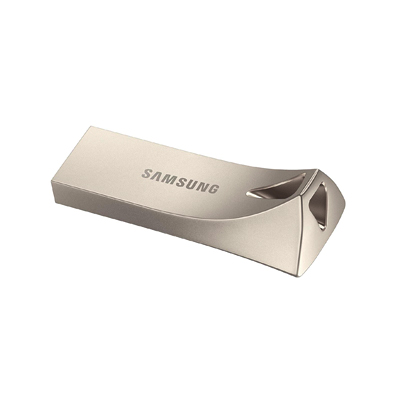 Samsung BAR Plus
4.9/5.0
Speed: USB 3.1
Capacity Choices: 32Gb – 253Gb
5-proof technology, highly durable and USB 3.1 speeds.
Check Amazon
Buyer's Guide – Which Features Matter Most?
There are a dizzying number of styles and features for flash drives. Some features offer little utility, but add some flash to the overall design, while others genuinely increase the value and function of your drive.
As in all things tech, the best flash drive largely comes down which device best meets your needs, with maybe some slight consideration for aesthetics. So, what features make a difference?
Capacity
This may be the most obvious single consideration for a flash drive, so we aren't going to spend much time on it. The smallest flash drives you'll be able to find, in general, are 16 Gb. The largest common flash drives hover around 200 Gb, but you can get them at a terabyte, and quite possibly larger.
The capacity you need largely depends on how you use the drive. A drive that primarily hosts text files won't need much space. The 32 Gb drives that are the most common right now are plenty.
But if your drive is going to act as a portable operating system backup, hold lots of video or photos, or other data-intensive media, you probably want something a little larger.
Speed
It's easy not to think about the speed of your flash drive. You might notice the USB 2 or USB 3 label on many drives, but most people don't know what those designations mean.
Basically, they represent the speed of your flash drive. Speed is broken up into write speed, read speed, and transmission. Usually, reading speed is faster than writing though that isn't always true.
The faster your speed, the better your flash drive's overall performance. Especially if you plan to store media, operating systems, or large data files on your flash drive, speed is critical.
USB 3 gives you roughly 100 Mb per second transmission. USB 2 is only 15 Mb per second. Some recent flash drives exceed USB 3, though they will usually give you the speed figures directly.
You also need to remember that the speed of your flash drive is partially dictated by the speed of your USB port. The fastest flash drive in the world won't speed a USB 2 port up at all. Older computers may not have USB 3 ports at all, and many modern computers have a combination of USB 2 and USB 3
Size
Flash drives are meant to be convenient and portable. Like most other technology, they are shrinking over time.
However, you can only go so small before the item is too easy to break or lose. Overly small flash drives often don't have room for the highest-quality components and have a shorter lifespan in addition to less storage capacity.
Larger flash drives, on the other hand, might have high-quality components, but be difficult to maneuver and fit into your USB port.
Look for a flash drive that's a good medium between storage capacity and size.
A 32 Gb flash drive that barely sticks out from your computer might sound appealing, but you'll probably find yourself replacing it sooner than a larger version. But you may not use a larger flash drive at all if it's too bulky to use in your workspace.
Material
Often overlooked, the material of the outer casing can make a big difference in the durability of your flash drive.
The plastic housing is fine but can be scratched or banged around. You need to take a little more care with plastic housing. These usually also have a protective sheath for the actual USB connection, which adds additional bulk to your flash drive.
Metal is more durable and can be designed as a single continuous shape. Especially if the flash drive is also waterproof, metal can be the most durable. It's more suitable for adding a flash drive to your keychain or on top of your employee-badge.
Other Considerations
While we've already outlined the most important features for most people, there are a few more that may be worth considering depending on how you use your flash drives.
You can get a rugged flash drive. These are usually either made of metal or have a plastic or rubber covering designed to protect the drive from falls and other possible damage.
If you're someone who finds yourself constantly replacing phone screens, a little extra flash drive protection might help them last longer.
Some flash drives also come with encryption, passwords, and other security measures. If you are working with secure or confidential files, it might be worth spending some extra to get an encrypted drive.
We aren't featuring any of these on our list since they are such a niche item and significantly more expensive than other flash drives, but you can find them.
7 Best Flash Drives Comparison Table
7 Best Flash Drives: Detailed Reviews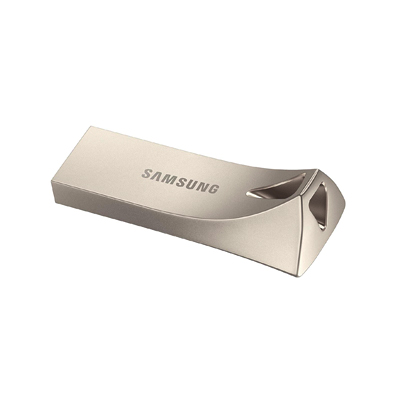 View on Amazon
Editors Rating: 4.9/5
The Samsung BAR is one of the better flash drives on the market right now. It's made entirely from metal, is highly durable, and comes in two colors and several capacities.
If you're looking for an all in one flash drive, and don't need extra security features, this may be the right choice.
The BAR comes in a variety of capacities from 32 Gb to 256 Gb. While the price does go up as capacity does, it stays a relatively affordable option at any capacity. Since it's made entirely of metal, it's more durable overall than plastic casings.
Additionally, the USB itself is integrated directly into the casing, instead of having two separate sections. That makes it more difficult to damage the USB connection as you use it.
It's also got an impressive list of other durability features. Waterproof, x-ray proof, magnet proof, shockproof, and temperature proof, there isn't much that can damage this flash drive. All flash drives have a limited lifespan when parts will wear out, but you should be able to get several years of regular use out of the BAR without any trouble.
It's also one of the faster flash drives you can get, at least until further upgrades become available. At 300 Mb/s read time, this flash drive will work through even the largest files quickly and easily.
Tech Specs
Connector Type: USB 3.1
Color: 2 color options
Design: All-metal design
The Pros
All-metal casing
USB 3.1 speeds
5-proof technology, highly durable
Range of capacity
Reasonably affordable
The Cons
The shape is slightly inconvenient unless you want to put it on a keychain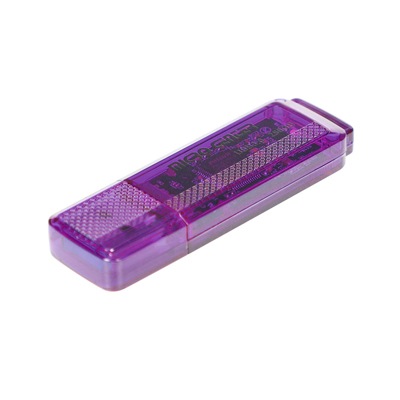 View on Amazon
Editors Rating: 4.4/5
A slightly different option, the SuperSpeed is a reliable flash drive back by a 2-year warranty, which comes in a range of colors and capacities. Its plastic housing is more secure than most, and it has a small loop for attaching to a lanyard or keychain.
One downside with the casing on the USB is the cap for the connector. While the plastic is brightly colored, it's still easy to misplace or forget the cap while you're on the go.
Each capacity option, from 16 Gb up to 256 Gb, is given a different color. You can also order these as individual flash drives, or you can order multiple together, depending on your needs.
Its speed doesn't quite match the BAR or other USB 3.1 drives on our list, but it's also more affordable than faster systems.
The SuperSpeed also has a wide range of compatibility. It'll work with your computers, car audio, and even your smart TV. While not quite universal, it'll most likely work with just about anything you care to test.
It also has a fairly conservative amount of reserved memory. All flash drives require a little storage for its internal systems and to have some room after it's completely full. This one consumes 8-10% of the available storage in order to preserve itself.
If you're looking for a high-performance flash drive that doesn't have a big price tag, this is one of the better options available.
Tech Specs
Capacity: Multiple capacities, from 16 Gb to 256 Gb
Color: Plastic casing in a range of colors
Connector Type: USB 3
Warranty: Comes with a 2-year warranty
The Pros
Capacity clearly indicated by the color
The plastic housing is more durable than most
Little capacity lost to internal requirements
Moderate speed, neither the fastest nor the slowest
The Cons
The plastic cap is easy to lose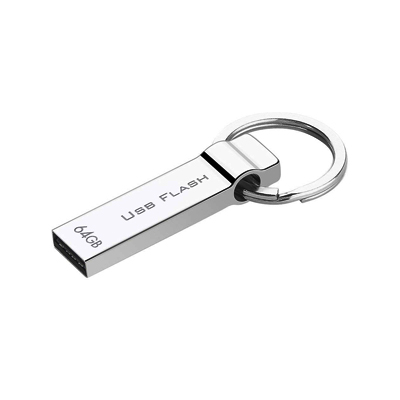 View on Amazon
Editors Rating: 4.5/5
If you're looking for a flash drive to go on a keychain or a lanyard, this is one of the better options. Specifically designed for ease of travel, the flash drive is metal, waterproof, and has its own keyring.
One minor limitation with this drive is its capacity. Only available as a 64 Gb flash drive, it's more than big enough for most users but isn't up to heavy-duty use. If you want a flash drive to hold game files, video, or other large files, this may not be the right flash drive for you.
That said, this is an ideal work companion. The nickel finish on the metal casing is attractive and professional looking. It's big enough to easily handle entire libraries or documents and powerpoint presentations and compatible with a range of different computers, smart TVs, and media players.
It's a USB 2, which can be both an advantage and a disadvantage. USB 2 is noticeably slower than more recent developments, but many compatible devices have more limited USB 3 spaces. USB 2 is much more common, and most computers have multiple USB 2 ports.
This flash drive is also fairly long-lasting. It has a 10-year shelf-life, and 1,000 write life. Even if you use several times a day, every day, you'll get years of use from the Ruichenxi.
Tech Specs
Connector Type: USB 2
Capacity: 64 Gb
Color: Nickle Coated
Technology: 1,000 write shelf life
The Pros
All metal casing
Comes with a keyring
64 Gb capacity
Compatible with a wide range of devices
The Cons
Only comes in one capacity
USB 2 speeds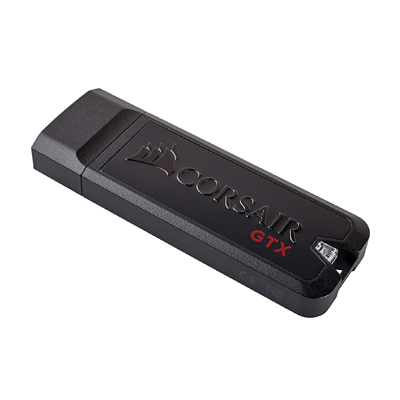 View on Amazon
Editors Rating: 4.6/5
Another capped flash drive, the Voyager made our list for two main reasons, it's rugged flash drive and a high-capacity flash drive with up to 1 Tb of storage.
The zinc-alloy housing looks a little like plastic but is significantly more durable than plastic alternatives. It's designed to hold up to your usual bumps and bruises, and a good deal of temperature fluctuation as well.
Unfortunately, the zinc alloy does not make it any more difficult to lose the cap from this flash drive, leaving the most important component unprotected if you do.
That said, the voyager specializes in high-storage design. Instead of starting on the low end of storage, it starts at 128 Gb and goes up from there.
It's also a good bit faster than most flash drives. Its read speed is up to 440 Mb/s, assuming compatible hardware, and it's backwards compatible with USB 1, 2, and 3 speeds.
Those bonuses do come at a price, however. Buying a 1Tb Voyager is roughly comparable to buying a small tablet or older smartphone, not a flash drive.
We recommend this product to people who need a lot of storage space, and who don't mind optimizing their storage into only one or two well-protected devices. It's not a good option for casual users who just need storage space since you can get the same amount of cumulative storage and spend less simply by buying more smaller flash drives.
Tech Specs
Capacity: 128 GB – 1 TB capacity
Connector Type: USB 3.1
Compatibility: Compatible with Mac/Windows/Linux, Backwards compatible
The Pros
Widely compatible
Huge storage options
Zinc alloy housing for extra protection
Lightning-fast speeds
No need to install new drivers for most computers
Zinc Alloy Housing
The Cons
Pricier than most flash drives
Cap is easily lost, and important for overall durability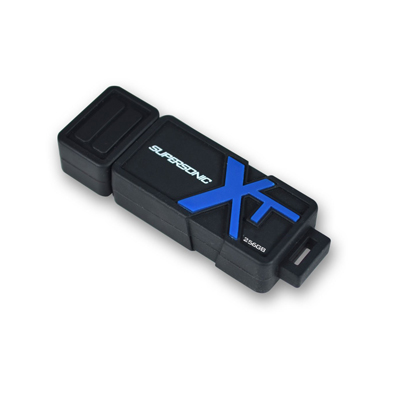 View on Amazon
Editors Rating: 4.6/5
Going a slightly different direction when it comes to protection, the Supersonic flash drive has a rubberized outer housing that protects against falls and most other damage as well. Rubber is temperature resistant, and not easily scratched.
The Supersonic is also water-resistant. While it's not as effective as the waterproofing on the BAR and some other flash drives, it's an effective protection for most users.
The Supersonic also lives up to its name, with USB 3 speeds. Not truly the fastest flash drive on our list, neither is it a slouch. Used with a compatible device it can reach up to 150 Mb/s. Fortunately, the Supersonic is also backwards compatible with earlier USB ports.
However, at .46 oz, it is slightly heavier than most flash drives. While that's still hardly any weight, it's enough to notice on the end of a lanyard or a keychain. The Supersonic is best for users who want to keep a flash on their desk or in a pencil bag, not those who want a portable option.
The Supersonic is a good medium between storage and durability. It's also a cheaper option than many similar devices with the same capacity, making it more affordable for students and professionals on a budget.
Tech Specs
Capacity: 128 Gb
Read Speed: 150 Mb/s read
Casing: Rubber casing
Compatibility: Compatible with Mac/Windows/Linux computers
The Pros
Highly affordable
Durable rubber casing
16 Gb – 256 Gb
USB 3
Water-Resistant
The Cons
Rubber isn't quite as strong as a metal casing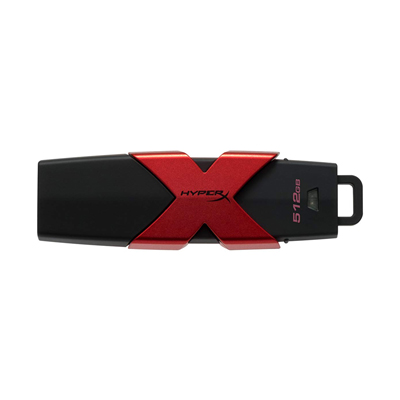 View on Amazon
Editors Rating: 4.4/5
A slightly larger flash drive, the Savage is a premium device designed for those looking to store and access large amounts of data. Targeted at gamers and other media enthusiasts, the Savage costs a pretty penny. If you're looking for something to boost the storage on your gaming computer, without losing a lot of speed, this is a good choice.
That said, the housing isn't as durable as some alternatives, and the flash drive itself is a little larger than typical. That additional size is in part due to high-quality interior components that boost storage and speed.
But it's also an indication that this flash drive isn't meant to be used as a mobile tool as much as it's designed to stay with a computer or work station.
Compatible with the last several releases of Windows, Mac, Linux, and Chrome OS.
The focus on gaming makes the Savage's highly stylized design make a little more sense. But, it's more flashy than a flash drive needs to be, and the price reflects that as well.
Tech Specs
Capacity: 64 Gb – 512 Gb
Weight: 1.2 Oz
Connector Type: USB 3.1
Compatibility: Compatible with Windows/Mac/Linux computers
The Pros
Compatible with the latest OS across multiple platforms
Very fast transfer speeds, designed for media
Relatively durable
Attractive appearance
3 in long
Black and red plastic housing
The Cons
More expensive than comparable flash drives
Larger than most flash drives, less travel-friendly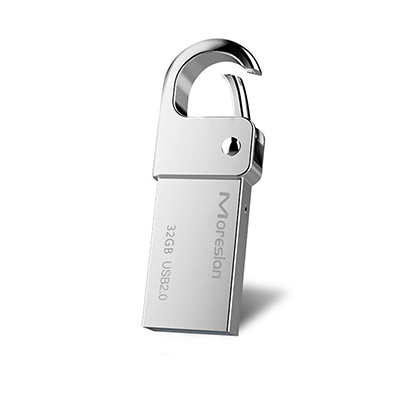 View on Amazon
Editors Rating: 4.3/5
Moving away from larger-than-average flash drives, this smaller offering is meant to clip easily on to a bag, keychain, or lanyard and come with you. Its small metal housing is plated in an attractive nickel outer coating, that's both scratch and damage-resistant.
It's available in only two capacities, 32 Gb and 64 Gb. While that's a little smaller than some, it's more than enough for most business purposes or for storing text files and similar. It's also widely compatible, designed to work with almost any device that has a USB port.
The housing is fully incorporated, no need to remove a case or a cap before plugging it directly into your computer. It's also waterproof, which is important with a USB that might well be exposed to rain or snow outside as you move from place to place.
Simply make sure it's dry before use, since it might damage the other device, and you're good to go.
Don't worry if your office hasn't kept up with the times, either. The Moreslan is one of the most backward-compatible flash drives, going back to Windows 98 and contemporary OS.
Tech Specs
Capacity: 32 Gb – 64 Gb
Connector Type: USB 2
Compatibility: Compatible with Windows/Mac/Linux
Material: Nickle Plated
The Pros
Highly backwards compatible
All metal housing
Comes with its own hook
Waterproof
Long-lasting
The Cons
Only available in two capacities
USB 2 speed
Conclusion
Hopefully, you have a better sense, after reading our article, not only of the best flash drives on the market but what makes them such good choices. Even if our Best Overall flash drive isn't for you, you should feel empowered to know exactly which device will best suit your needs.