6 Best DSLRs with Flip Out Screens of 2019
3D Insider is ad supported and earns money from clicks, commissions from sales, and other ways.
Whether or not a camera has a flip-out screen is not high on people's list of priorities unless they're a videographer or vlogger. A good tripod and planning before setting up a shot can get you out of most situations, but there are instances when a flip-out screen is beneficial to any photographer.
For example, you might be in a small space and don't have enough room to bend down. Maybe you're trying to snap a picture from above or are using a low tripod setting. Or perhaps you've lined up an award-winning shot but can't focus with the sun in your eyes. Flip-out screens help you maintain control of a shot while greatly expanding your creative freedom.
In this guide, we take a look at the six best DSLRs with flip-out screens you can buy. The cameras vary by price and what type of work they're suited for, so there's something here for every type of creative. Get the one you like the most and odd angles will never again get between you and the perfect shot.
Budget
PANASONIC LUMIX FZ300
4.5/5.0
Sensor: 1/2.3 in CMOS
Display size: 3 in.
High-quality zoom lens and customizable interface.
Check Amazon
Best Value
Nikon D5600
4.6/5.0
Sensor: APS-C
Display size: 3.2 in.
Responsive touchscreen and long-lasting battery.
Check Amazon
Top Pick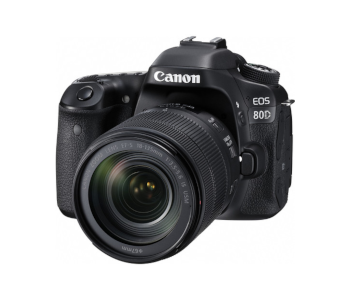 Canon EOS 80D
4.7/5.0
Sensor: APS-C CMOS
Display size: 3 in.
Fast autofocus, rugged and weatherproof.
Check Amazon
1. Best Overall – Canon EOS 80D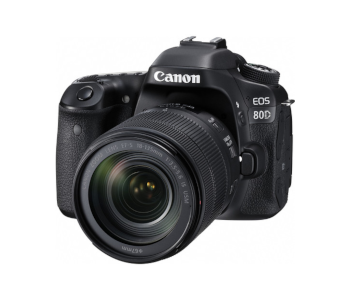 View on Amazon
Editor's Rating: 4.7/5
Canon's 80D is a camera that's easy to recommend to everyone. Interested in videography? Its patented autofocus and HDR make for amazing results. Need to shoot lots of images in quick succession? Its advanced processor allows you to shot more than 100 JPEG or 25 RAW images without slowing down! It might be getting on in years, but the 80D is still among the best in its class. That is in no small part thanks to its excellent, fully articulated screen.
Overview of Features
Canon designed the 80D to be up to any challenge, which includes roughing it in harsh weather conditions. The camera is weather-sealed, and its body is made from a magnesium alloy that's not too heavy but sturdy enough to hold up to accidental impacts. There's only one dial and few physical buttons, but these are easy to reach and will be a familiar sight to anyone who's used the 70D.
The screen has a diagonal of 3 inches and is held in place by a sturdy hinge. You can flip it out entirely and articulate it to suit your needs. Touch commands are met with a quick response, and it's easy to get to a setting you're looking for thanks to Canon's well-designed menus. There's even a quick menu for easy access to settings you use the most. Best of all, the LCD is crisp and displays images in vivid color. This makes it easier to review images before transferring them onto a computer.
The 80D is a speedy shooter thanks to the DIGIC 6 processor and an increase to 45 AF points from the 70D's 19. Subjects are also tracked using differences between pixel color, which brings them into focus even more. You can use Canon's Dual Pixel CMOS AF both for stills and videos, ensuring that the scene is in focus every time.
Video is maxed out at 1080p, 60fps. Clip quality is excellent, though since the 80D has HDR. You'll have to play around with white balance manually since the default settings aren't great. However, you can achieve results similar to other cameras' with little additional hassle. The camera has an external mic port and also supports headphones so you can monitor audio as you're recording.
Connectivity is one of the most essential features for vloggers, and the 80D is top tier. On the one hand, it has NFC so you can connect the camera to your phone and start transferring content with one tap. On the other, built-in Wi-Fi and a well-designed app allow you to control the camera remotely and post your content onto social media quickly.
What We Didn't Like
You can't customize the quick menu and are stuck with the options Canon thinks you'll use the most. There's no clean HDMI out either.
Tech Specs
Dimensions: 5.5 x 4.1 x 3.1 in.
Weight: 44.8 oz. with battery and kit lens
Sensor: APS-C CMOS
Display size: 3 in.
Display resolution: 345,600 px
ISO range: 100 – 16,000
Max still resolution: 24.2 MP
Max video resolution: 1080p, 60fps
The Pros
Excellent flip-out touchscreen with responsive controls and vivid previews
Rugged and weatherproof
Fast autofocus
Companion app enables remote control and sharing
The Cons
No HDMI out
Quick menu can't be customized
2. Best Value – Nikon D5600
View on Amazon
Editor's Rating: 4.6/5
Nikon's D5600 is the perfect choice for beginners who don't want to outgrow their first camera in a couple of months. It's easy to handle, has a simplified control scheme newcomers won't find confusing, and boasts leading still quality in its price range. Whether you're a novice photographer or vlogger, the 5600 has got you covered.
Overview of Features
Nikon designed the D5600 with portability in mind. It's among the smallest and lightest cameras on review thanks to clever use of space and a lightweight polycarbonate body. The D5600 is a camera you can lug around the entire day and not get tired, which is something you can't say for most DSLRs.
The physical controls are sparse and beginner-friendly. There's no monochrome LCD with basic info on battery levels or ISO settings. However, you get all the info you need through the camera's high-quality 3.2-inch LCD touchscreen. You can use it to quickly find any of the 35 available focus points or flip it over to take group photos and selfies.
The D5600 is a decent shooter. Its highlights include a wide dynamic range and right color balance. You can leave adjustments up to the camera and get usable results, or tinker with exposure, ISO, and other settings yourself. Low-light performance is good with noise not showing up until you're at ISO 1,600.
Like our overall winner, the D56000's video goes to 1080p, 60fps. Nikon has added a time-lapse feature that allows you to condense hours of footage into short, breathtaking clips. An external mic is also supported, although the front-facing built-in one is adequate for most amateur videos.
The D5600 isn't a big improvement over the D5500, but one thing that stands out is the inclusion of SnapBridge. Install the SnapBridge app, and you'll have a constant Bluetooth connection between the camera and your phone. This lets you instantly transfer batches of lower-quality images or go one-by-one and keep details intact. You can also transfer video clips this way but will require Wi-Fi access.
Finally, it's worth mentioning that the D5600 boasts excellent battery life. The battery can last for 960 JPEGs when fully charged and in ideal conditions! You should always carry a spare, but chances are you'll rarely need it.
What's Bad About It?
SnapBridge makes transferring content more straightforward, but it doesn't work all the time it suffers from intermittent connection issues which make the feature unreliable. The D5600 lacks a second control dial. This forces you to access the controls menu and waste time when fine-tuning a shot.
Tech Specs
Dimensions: 4.9 x 3.8 x 2.8 in.
Weight: 23.6 oz. with battery and kit lens
Sensor: APS-C
Display size: 3.2 in.
Display resolution: 345,600 px
ISO range: 100 – 25,600
Max still resolution: 24.2 MP
Max video resolution: 1080p, 60fps
The Pros
Great value for the money
Good all-around performance
Responsive touchscreen
Long-lasting battery
The Cons
SnapBridge is unreliable
Only one control dial
3. Pentax K-1 Mark II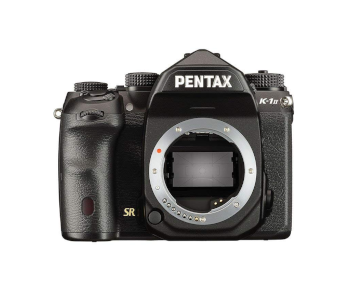 View on Amazon
Editor's Rating: 4.4/5
The first iteration of Pentax's K-1 was an exceptional camera for taking stills, especially in low-light circumstances. It had another unique feature though – an articulating screen supported by sturdy struts. The Mark II improves upon the original's design while staying true to the Pentax name. Recognizable highlights include excellent built-in image stabilization, a customizable control layout, and support for ridiculous ISO settings. It's no movie camera and sports shooters will see little use for it, but everyone else will find the Mark II reliable and versatile.
Overview of Features
Little has changed in the camera's overall design. You've got the same rugged body that's sealed against dust and moisture and comfortable to hold. The physical controls are logically laid out along the top and back, and most are lit up by LEDs so they're easier to identify in the dark. The stand-out feature here are the camera's function wheels located on its right side. You use one to access an option like focus, ISO, etc., and the other to select different options within a category. It's an intuitive system that saves a lot of time.
The Pentax K-1 Mark II has a unique 3.2-inch LCD screen. The struts allow it to rotate in any direction in both landscape and portrait modes. Thanks to an additional hinge, you can also position it horizontally, which is useful when you have to shoot from the hip or keep the camera low. The struts add bulk to the camera but are so strong that you could carry it by the LCD screen without worries.
Stills are shot at 36 megapixels and take advantage of the Mark II's 5-axis image stabilization as well as Pixel Shift Resolution. These make the images both stable and sharp. If you're into stellar photography, the Mark II is a fantastic choice due to the Astrotracer system. This feature uses the camera's GPS to compensate for the Earth's rotation, allowing you to prolong exposure and take more detailed night sky shots.
Speaking of the night, the Mark II performs exceptionally well in low light. It supports ISO up to 819,200. While that setting severely degrades picture quality, you can safely use the Mark II on ISO 12,800 or even 25,600 with little to no grain!
As mentioned above, video is not the Mark II's strong suit. Its max resolution is 1080p at 60 frames. The camera does have jacks for both a mic and headphones. It also lets you freely adjust exposure settings. Still, there are far better alternatives for videographers at this price point.
Are There Drawbacks?
While great in other respects, the Mark II's LCD isn't a touchscreen. That slows down your workflow as you have to access every option by either using a dial or a button. The autofocus is sluggish, especially in low light. This isn't a massive hindrance if you're using the viewfinder, but the problem becomes more pronounced if you're shooting in Live view.
Tech Specs
Dimensions: 5.4 x 4.3 x 3.4 in.
Weight: 35.6 oz.
Sensor: 35mm CMOS
Display size: 3.2 in.
Display resolution: 345,600 px
ISO range: 100 – 819,200
Max still resolution: 36.4 MP
Max video resolution: 1080p, 60i
The Pros
Unique articulating screen
Excellent built-in image stabilization
Intuitive controls
Outstanding low-light performance
The Cons
Screen isn't touch-sensitive
Slow autofocus
4. Canon EOS T7i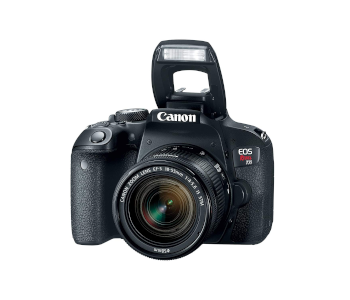 View on Amazon
Editor's Rating: 4.3/5
The T7i is Canon's newest entry into the Rebel series of beginner-friendly DSLRs. It's a direct competitor to Nikon's D5600 and can hold its own against it in image and video quality. Finer points like slightly less detail and a smaller screen ended up costing it the best value title. Nevertheless, the T7i is a camera newbies will love and pros can fall back on if they don't want to use their more expensive gear.
Overview of Features
The T7i will give you a workout, but you won't complain as it is balanced well. The right-hand grip is comfortable and deep enough to let you hold the camera securely. The physical control scheme is straightforward, but you need to pay attention not to accidentally enter video mode when toggling its on/off switch.
The 3-inch touchscreen has a broad range of motion and is great for budding YouTuber or avid selfie-takers. Its smaller size means that the icons are harder to make out than those on the D5600. On the other hand, the screen has high visibility in bright light and responds immediately to touch commands. The best thing about the screen are Canon's helpful hints. Each setting has a brief description that helps newbies familiarize themselves with the interface and learn as they shoot. You can turn the tips on once you're comfortable using the camera.
Image quality is on par with the D5600. The T7i delivers beautiful-looking shoots with accurate white balance and natural colors. Dynamic range is also great as textures and slight variations in color are preserved in high-contrast environments. The only drawback is a low-pass filter which imparts an artificial anti-aliasing effect that smooths out finer details.
Low-light performance doesn't lag behind the D5600 either. Expect usable prints at any size when shooting in ISOO 3,200 while 6,400 still looks good on monitors and smartphones. You'd think that ISO 25,600 generates too much noise to be usable. Nevertheless, you'll get surprisingly clear images at that setting if they're predominantly dark.
The T7i takes advantage of Dual Pixel CMOS AF, meaning videos and images are immediately brought into focus. You can choose between 45 focus points which the camera transitions from quickly. It has no trouble keeping multiple subjects in focus and switching from one to another while they're in a scene together.
What We Didn't Like
The T7i's battery holds up decently in ideal conditions. However, using the flash or Live view drastically cuts down on battery life. Videos shot with this camera have adequate dynamic range but have a soft, slightly blurry look thanks to the low-pas filter.
Tech Specs
Dimensions: 5.2 x 3.9 x 3 in.
Weight: 26.3 oz. with battery and kit lens
Sensor: APS-C CMOS
Display size: 3 in.
Display resolution: 345,600 px
ISO range: 100 – 25,600
Max still resolution: 24.2 MP
Max video resolution: 1080p, 60fps
The Pros
Above-average photo quality for its price range
Speedy autofocus in video and photo modes
Convenient help system for newbies
Solid low-light performance
The Cons
Low-pass filter slightly degrades photo and video sharpness
Some settings have a large impact on battery life
5. Pentax K-70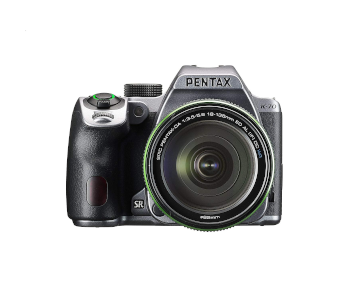 View on Amazon
Editor's Rating: 4/5
Are you invested in a Pentax ecosystem but the Mark II is too expensive for you? Then the K-70 should be your go-to choice. This camera costs half as much as the Mark II but retains some of its pricier cousin's advanced features like in-camera image stabilization and good low-light performance. It's a fine choice for photographers, but look elsewhere if you need a vlogging or move camera.
Overview of Features
The K-70 is among the heaviest cameras on review, yet its body is compact. In spite of its smaller format, the camera is comfortable to hold and offers easy access to all controls. Among them are a few unique to Pentax – a button that changes all settings back to default, and one which toggles between RAW and JPEG modes.
There's no complicated strut system for the LCD this time. The K-70 makes up for that by offering a fully articulated replacement. The screen's resolution is smaller than standard, but the display quality is good enough for you to review images and clips accurately. However, the viewfinder is better than most in the price range. It is large, boasts 100-percent coverage, and displays all important info as you're shooting.
Still quality is high thanks to a selection of presets for beginners and a host of manual options. There's HDR for extra color fidelity along with Pixel Shift which improves the resolution and minimizes color overlap. In-body image stabilization makes for smoother photos and can even correct you if the sensor doesn't align with the horizon. You'll want to switch from the default mode to Natural before making any other corrections as the colors are too pronounced.
Like the Mark II, the K-70 doesn't perform well as a video camera. It is limited to the same resolutions and framerate, but the footage looks artificially sharp and blurry. On the bright side, the dynamic range is excellent, so videos shot in contrasting conditions turn out well.
What's Bad About It?
This is another camera without a touchscreen. Its mediocre video quality is exacerbated by the lack of an external microphone port.
Tech Specs
Dimensions: 4.9 x 3.7 x 2.9 in.
Weight: 39.6 oz. with battery and kit lens
Sensor: APS-C CMOS
Display size: 3 in.
Display resolution: 307,200 px
ISO range: 100 – 102,400
Max still resolution: 24.24 MP
Max video resolution: 1080p, 60i
The Pros
Fully articulated LCD and excellent viewfinder
Sharp images with great color fidelity
Good low-light performance
Good dynamic range
The Cons
No touchscreen
Poor video quality and no external mic input
6. Best Budget Option – PANASONIC LUMIX FZ300
View on Amazon
Editor's Rating: 4.5/5
Are you a versatile photographer who needs to switch from bird or architecture close-ups to portraits or selfies in a flash? Maybe you're a videographer who needs quality 4K at an amazing price? In that case, look no further than Panasonic's FZ300! We can hardly believe how affordable this camera is given its breadth of features and overall quality. Best of all, it has a fully articulated touchscreen, a rarity at this price point.
Overview of Features
The FZ300 is a rugged camera dominated by its zoom lens. The camera's heft is offset by an ergonomic design and deep grip though. There's a slew of physical controls which let you customize photo and video output to a high degree. Speaking of customization, the FZ300 has two physical buttons you can map any command to along with five quick-access buttons in its digital interface.
The screen's quality is on par with cameras that are twice as expensive! You can tilt it out as far as 270 degrees and even flip it 180 degrees in the starting position so it doesn't get damaged during transport. The screen is bright enough to remain visible during all but the brightest days when you switch to the electronic viewfinder.
The lens lets you zoom in 24x and maintains the same aperture size of f2.8 as you're zooming. This means zoomed-in images are bright and don't suffer from motion blur. You can shoot on cloudy days or in well-lit interiors without having to turn the ISO up and will get cleaner images. Even better, the lens allows you to be as close as 1 cm away from your target and is great for macro photography.
The FZ300 is among the fastest cameras on review! Its autofocus locks onto a target in less than 0.1 seconds, and you can switch to any of the 49 focus points by tapping the screen. The camera can shoot at a burst rate of 6fps with continuous autofocus. Turn the AF off, and its speed reaches 12fps, enough for high-action sports photography.
Even though it's the cheapest camera on the list, the FZ3000 is the only one capable of shooting videos in 4K at 30fps. Videos are bright & balanced, and you can even extract 8MP stills from them. There's a great deal of manual control for the professional while Auto mode recognizes scenes and adjusts exposure levels competently.
Are There Drawbacks?
The FZ300 is a bridge camera, meaning it behaves like a normal DSLR but has a fixed lens. Even though its lens is best-in-class, not being able to exchange it limits your options. The sensor's image resolution is low at only 12 megapixels. While this is enough for most cases, you won't be able to shoot photos good enough for large posters or billboards.
Tech Specs
Dimensions: 5.2 x 3.6 x 4.6 in.
Weight: 25.5 oz.
Sensor: 1/2.3 in CMOS
Display size: 3 in.
Display resolution: 345,600 px
ISO range: 100 – 6,400
Max still resolution: 12.1 MP
Max video resolution: 4K, 30fps
The Pros
Excellent value for the money
High-quality zoom lens
Customizable interface
Records videos in 4K
The Cons
Fixed lens
Low still resolution