How to Legally Fly a Drone Near an Airport
3D Insider is ad supported and earns money from clicks, commissions from sales, and other ways.
One of the most important rules when flying a drone near is to not fly near an airport. The extent of restricted airspace can vary based on how big the airport is or how much air traffic it receives, but a five-mile radius is generally considered as a no-fly zone. Although the intention behind this rule makes sense, it can still be frustrating for drone pilots, especially those who live near airports who suddenly find themselves unable to launch drones from their own backyard.
Fortunately, flying your drone within the 5-mile zone near an airport is not impossible. There may be some hoops you'll need to go through, but the process isn't that complicated.
What do the rules say?
According to the FAA rules, drone operators are expected to avoid flying near airports due to an exceptionally high amount of air traffic. Drones are also much too small for pilots of manned aircraft to see from a distance, increasing the chances of close calls (or worse). In any case, this rule was put in place for the overall safety of national airspace.
If you really want to fly in the zone near an airport, then the FAA presents two viable options:
If you are a recreational drone pilot following the Special Rule for Modern Aircraft, you must notify the airport operator and air traffic control
If you are a commercial drone pilot with a valid Part 107 drone license, you must get permission from air traffic control
There is a third option, but it is only available for members of law enforcement or government agencies. Drone pilots who fall under this category can request for special permission from the FAA. However, we won't be focusing on this category for now.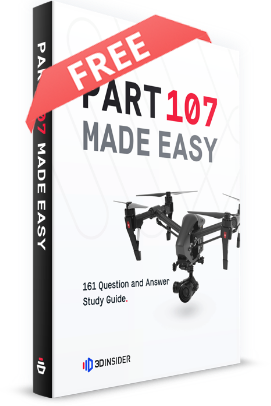 PART 107 Made Easy
161 Question and Answer Study Guide
105 pages of illustrated content
Covers all parts of the Part 107 test
$97 of value for free
Flying a drone near an airport as a recreational drone pilot
As the rule says, a recreational drone pilot needs to inform both the airport operator and air traffic control of any plans to fly within 5 miles of an airport. This is a fairly simple process as long as you get in touch with the right people. There are no documents needed, and you won't even need to get in touch with the FAA.
1. Contacting the airport operator
When providing prior notification to the airport, the person you would want to talk to would be the airport manager. Although there are apps that you can use to notify the proper airport authorities easily, we prefer the old-fashioned method of simply looking up their number and calling them. Using the app is convenient, but there's nothing quite like talking to another person to confirm that your message was heard loud and clear.
If you need to check for the contact number of the nearby airport, then you can look it up at this helpful list compiled by the Aircraft Owners and Pilots Association. You'll probably need to provide a few basic details such as your name, contact details, when and where you intend to fly, and the type of drone you will be operating. It is within the discretion of the airport operator or manager to disapprove your request for drone flight if they deem it unsafe.
2. Contacting air traffic control (ATC)
Contacting the relevant air traffic control tower is a little more problematic since their contact numbers are not publicly available. Your best bet, if you've been following along this guide, is to act the airport manager if there are any nearby air traffic control towers and how you can contact them.
When you manage to contact air traffic control, they will likely ask you the same details that you have provided the airport operator. They will also ask for a means to get in touch with you should there be any immediate concerns. Again, the air traffic control manager may decide to decline your request to fly your drone near the airport if it poses any hazard to aircraft operations. In any case, your request will be recorded by the air traffic control as per FAA requirements.
It is best to start contacting the proper authorities several days before your planned drone flight, as the airport and ATC managers may not always be available to receive your request. Approval can be given instantly but may also take a few days.
Flying a drone near an airport as a commercial drone pilot
Instead of contacting airport authorities, commercial drone operators with Part 107 drone licenses are instead required to seek approval directly from the FAA for flight near airports. This can be done in either of two ways. The first, more old-fashioned, and slower method is to file an application through the FAA's DroneZone portal. Although this method is a bit more versatile in that it can be applied to any airport in the US, the approval process can take up to 90 days.
In late 2018, the FAA introduced the Low Altitude Authorization and Notification Capability (LAANC) initiative, a faster and more streamlined method to request for access to controlled airspace. This system was developed by the FAA in partnership with a bunch of private operators and is only accessible to Part 107-licensed drone pilots. Requests made through the LAANC are coursed through the FAA who will then inform the relevant airport and ATC authorities.
Through the LAANC system, commercial drone pilots can receive real-time authorization to fly in controlled airspace, view live air traffic information, and receive notifications when a manned aircraft is in the vicinity of the drone flight area. LAANC services can be accessed using any of several software platforms that have entered into an agreement with the FAA. This list includes several popular software platforms such as AirMap, DJI, Skyward, Airbus, Converge, and UASidekick.
Obviously, LAANC is the way to go if you're a licensed drone pilot who wants to fly near an airport. Here are the steps you'll need to take to use the LAANC services and get instant approval:
1. Check the FAA UAS Facility Map
Before you even log in to any LAANC platform, it's worth the time to check out the FAA's UAS Facility Map to confirm if your flight location offers instant approval. The map allows you to specify your planned flight area on a grid that is labeled relative to the airport location.
2. Use your chosen software platform
There are currently 14 websites or apps that can be used to access LAANC services. The specifics of the process will vary across these different platforms, but the fundamentals should be similar. In your application, you will be asked to provide important details of your planned flight, including:
Date, time, and duration of the flight
Planned maximum altitude
Expected visibility at the time of the flight
Drone model and registration number
The take-off weight and maximum ground speed of the drone
Pilot details and contact information
3. Agree to comply with FAA drone flight rules
If you've earned your Part 107 license, then you should be familiar with all the drone flight rules that you'll need to follow. The LAANC services further emphasize this by asking you a series of questions to confirm your explicit agreement to follow the rules. There isn't anything new in the list of rules – flying within visual line-of-sight, having anti-collision lighting if flying during twilight, and ensuring that the drone is registered – so you shouldn't have any trouble if following the Part 107 rules has been your norm. After you've answered all the questions, then it's time to submit your application.
4. Receive the LAANC authorization
If your planned flight area supports instant approval, then you should receive a text message after just a few minutes confirming the LAANC authorization. The confirmation should specify the areas and maximum altitude where you're permitted to fly.
Once you receive this, you're all good. You can fly following the prescribed limits as long as you comply with Part 107 rules and keep your lines of communication open should the ATC need to get in touch with you.
However, not all requests may receive instant approval. If the airport has no LAANC capabilities or if there's something unusual in your request, then approval can take up to a week.
Can I get long-term approval to fly my drone near an airport?
As you may have noticed, the approval to fly a drone near an airport is given on a case-to-case basis. While this works for commercial drone pilots who just need one-time access to finish a job, it still doesn't address the problem of people who live near airports. It's a justifiable complaint. After all, you should be able to launch your drone from the safety of your backyard, especially if you're only flying it within 100 feet.
For these special situations, the FAA recommends that the drone operator submit a letter asking for permission accompanied with an explanation. The likely outcome is that the FAA and the drone operator will come to an agreement specifying any flight restriction or notification requirement. The airport authority and ATC can also be involved in this agreement.
Final thoughts
As more and more drones take to the skies, the FAA continues to release new flight rules that tend to make drone operators feel that they are being restricted. The thing about these restrictions is that there are ways to work around them, but the solution is tucked away behind layers of bureaucratic processes.
The good news is that the FAA seems to be taking heed of the feedback from drone operators. With the development of the LAANC system, drone pilots no longer need to contact airport authorities themselves to secure authorization to fly near airports. The system isn't perfect, but it's a step in the right direction.