Best Foam Gliders and Foam RC Planes
3D Insider is ad supported and earns money from clicks, commissions from sales, and other ways.
Flying planes is a rewarding pastime. I'm not talking about the Real McCoy though I'm sure they're great fun too. There's just something magical about controlling your own aircraft. We've seen this fascination for thousands of years and it all began with kites.
But taking to the sky with a foam glider or foam remote controlled plane? Well, it takes the enjoyment to a whole new level. In this guide, we show you the best options that you can get.
Budget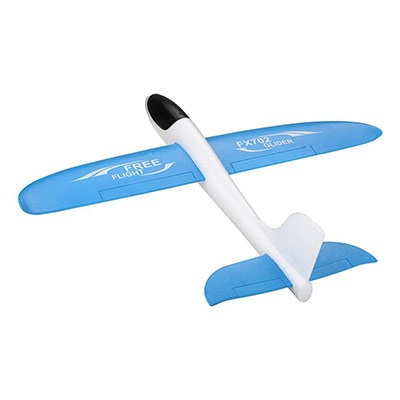 ZUINIUBI Throwing Glider
4.4/5.0
6.4 oz
Throwing glider
Durable and very lightweight, easy to throw (fly).
Check Amazon
Best Value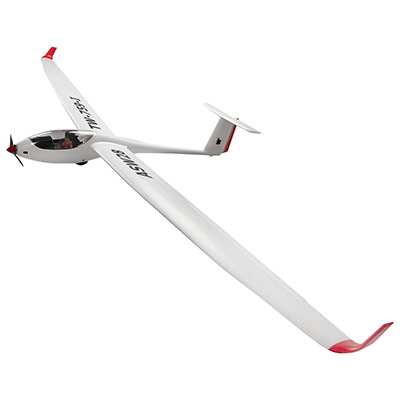 Volantex RC Racing Glider
4.9/5.0
37 oz
Glider sailplane
Durable craft and high-quality EPO and PP.
Check Amazon
Top Pick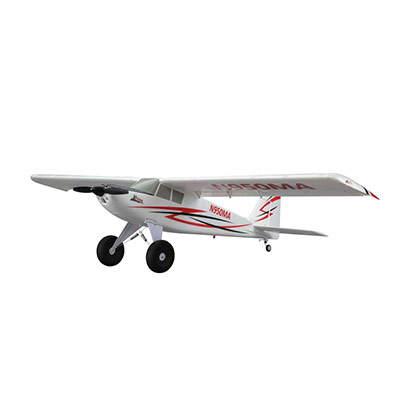 Timber 1.5m PNP with Floats
4.7/5.0
50.3 oz
PNP RC plane
Durable Z-FoamTM and shock-absorbing landing gear.
Check Amazon
The Benefits of Foam Planes
Should You Opt for a Foamie?
Not all Foam Is Equal
What Happens When You Break a Foamie
About My Guide
My guide lists seven amazing foam crafts across a broad price range. I've arranged them by price for your convenience starting with the least expensive models first. These seven picks are not simply the result of my own selection. For this list, I took the views of industry experts into consideration along with real user reviews. The table below shows these foam crafts in the order they appear in this guide.
Best Foam Gliders and Foam RC Planes Comparison Table
1. ZUINIUBI Throwing Glider Inertia Plane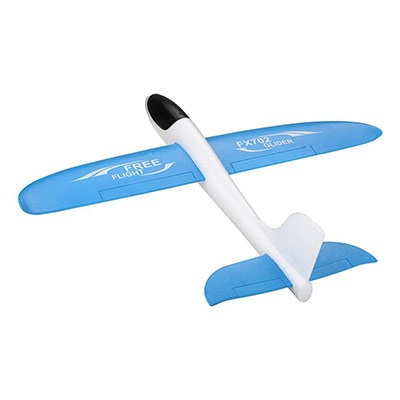 View on Amazon
Editor's Rating: 4.4/5
We'll start right at the beginner end with a really cool kid-friendly throwing foam glider. If you want to introduce your young ones to model flying, then this is a fun and economical way to start.
Best feature 1: Well-balanced cheap throwing glider
Best feature 2: Easy to assemble
Plus points: Durable Lightweight EPP material, fly indoors or out, easy to throw,
Minus points: Weak tail section
This craft may not be a serious foam glider but it provides plenty of fun times for kids. It's stable, well-balanced, and durable. It might only be a toy but it can stand up pretty well to moderate crashes. Another noteworthy thing about the ZUINIUBI Throwing Glider is the lightweight high-quality EPP foam. Kids can spray paint the body and customize the aircraft with colors of their choice.
The ZUINIUBI glider is the perfect birthday gift that's bound to put a smile on any young face.
The Not So Good
The only disadvantage is the weak tail section that can break if you throw (launch) it from there. The way to avoid this is to always remember to throw the glider from under its belly.


Tech Specs
Type: Throwing glider
Level: Kids
Materials: EPP foam
Flying weight: 6.4 oz. (181 g)
Wingspan: 19″ (48 cm)
The Pros
Well-balanced for ultimate flight
Easy to assemble
Very lightweight
Easy to throw (fly)
Durable
Safe to throw indoors as well as outside on windless days
The Cons
Weak tail section
2. Top Race Remote Controlled Race Trainer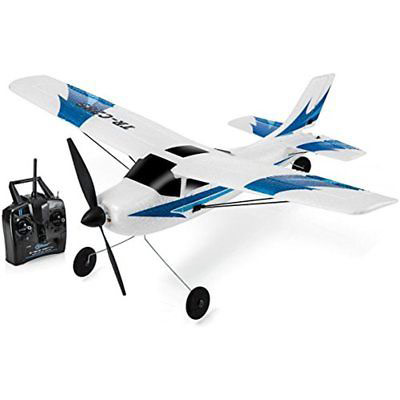 View on Amazon
Editor's Rating: 4.2/5
The second pick goes to the Top Race RC airplane with 3-channel remote controller. It's a ready-to-fly (RTF) craft which means you're pretty much equipped to take to the skies right out of the box.
Best feature 1: Ready-To-Fly (RTF)
Best feature 2: 3-channel airplane
Plus points: 6-axis gyro system, beginner/intermediate/expert modes, high flying
Minus points: Average flight time, useless in windy conditions
The Top Race RC is a race trainer EPP Styrofoam airplane. It's great for anyone but a particularly good first-time user choice. It's also ideal for experienced pilots who need to sharpen their flying skills.
The three channels operate the elevator, rudder, and throttle. The throttle has a speed control knob which gives pilots better handling thanks to the integral 6-axis gyro system. The 6-axis gyro results in added stability and resistance to altitude displacement. It also lessens unwelcome speeding-up and that makes it easier for beginners to hard landings and crashes.
Fun at Any Level
Although Top Race aims their lightweight RC airplane at the beginner, it's still a fun craft to fly at any level. Once you sharpen your piloting skills you can simply move on to Intermediate Mode and finally Expert Mode. This puppy can reach quite a height with a maximum altitude of 320 feet. The max flying time isn't long at just 12 minutes per charge but it's still an average time all the same.
The Not So Good
One of the main gripes of this product is that it uses a non-standard battery connection. The average flight time also means flying is short lived. It's a good idea to buy one or two extra batteries to extend flights. Another complaint is that the plane isn't too good in windy conditions. It's a common problem with all lightweight crafts. The lighter they are the harder they are to fly in blustery weather.
The beginner mode has self-stabilization which makes it better to handle in winds. It's best to not fly in breezy conditions though. This way you'll reduce the risk of crashes, and get longer battery life.


Tech Specs
Type: Race Trainer
Level: Beginner to expert
Materials: EPPStyrofoam
Flying weight: 24 oz. (680g)
Wingspan: 15.7″ (40cm)
Flight time: 12 minutes
Flying Range: Up to 320 FT
The Pros
Great beginner airplane
Ready-To-Fly
3-channels for better flight control
Three flying modes
High flying (altitude)
The Cons
Average flight time
Not stable in windy conditions
3. E-flite U2980 UMX Radian BNF Airplane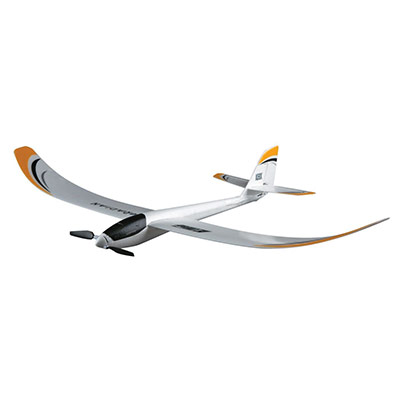 View on Amazon
Editor's Rating: 4.3/5
The E-flite U2980 UMX Radian is a beautiful lightweight molded-foam airplane. It arrives as a Bind-n-Fly (BNF) model which means you have to do some assembly and buy a transmitter separately.
Best feature 1: AS3X technology
Best feature 2: Powerful motor
Plus points: Fast assembly time, excellent glide angle, 3-channel control
Minus points: BNF, short flight time, learning curve, fragile
There is some assembly to do with this plane but it shouldn't take much more than an hour. The aircraft is smaller than it looks and the photos are rather misleading. Don't let that put you off. This model flies well in the right hands, in larger indoor spaces as well as outside.
The AS3X technology provides a smoother flying experience in turbulence and windy conditions. It makes flying more fun as it gives the pilot extra control. It's a powerful little sailplane too, despite its small size. The 3-channel control also provides pilots with some amazing soaring characteristics.
The Not So Good
This is a bind-n-fly (BNF) model. That's fine if you already have a transmitter you can use. If not, you have to invest in your own to fly this craft. Another disadvantage is the short 8-minute flight time. You might get up to 10 minutes in ideal windless flying conditions. There's a learning curve as well so it's not ideal for new pilots. It's fragile too and beginners are always more prone to crashes.


Tech Specs
Type: Glider
Level: Advanced beginner and above
Materials: Moulded-foam
Flying weight: 1.50oz. (43g)
Wingspan: 28.7″ (73 cm)
Flight time: 8-10 minutes
Flying Range: 1200 ft
The Pros
Simple construction
Lightweight yet powerful
AS3X stabilizing technology
Brushed power system for fast climbs and aerobatics
Amazing glide angle
3-channel control
Easy to land
Small size makes it ideal for flying in larger indoor spaces
The Cons
Bind-n-fly (can also be an advantage for some users)
Low average flying time
Learning curve
Fragile, easily damages on impact (easy to fix though)
4. Volantex ASW28 RC Glider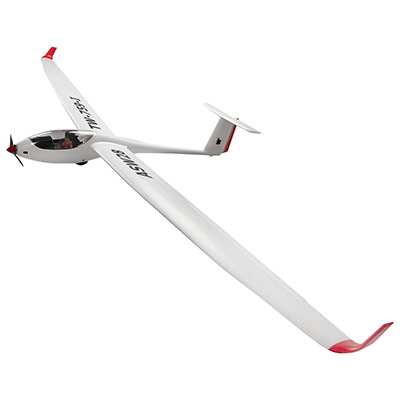 View on Amazon
Editor's Rating: 4.9/5
This is a beautiful lightweight model sailplane made with high-quality PP and EPO materials. It's pretty durable compared to a lot of similar crafts, which is especially welcome to crash-prone beginners.
Best feature 1: Premium quality materials
Best feature 2: Durable craft
Plus points: Quick assembly time, easy to control, brushless 850KV motor
Minus points: PNP, battery not included
There's some assembly to do out of the box but nothing overly complicated. The user manual is well-written so no one's sitting around scratching their head on that front. It's a fun craft to fly at any level from the raw beginner to the expert. The minimum recommended age for flying the Volantex ASW28 RC Glider is 14 years.
The brushless 850KV motor is quite powerful though more experienced pilots may disagree. Even so, this beauty is stable in the sky and soars like a bird of prey with a little experience. The control range in ideal conditions is around 1,968 ft. or 600m. The flight time depends on the battery used.
The Not So Good
This is a PNP airplane (plug-n-play) so it doesn't come with its own RC system or battery. That can be a good thing for some hobbyists as you get to choose your own receiver. You have to invest in a battery (or three) and the recommendation is a Li-Po 11.1V 1500mAh 20C.


Tech Specs
Type: Glider sailplane
Level: Beginner and above (14> yrs.)
Materials: Premium EPO& PP
Flying weight: 37oz. (1050g)
Wingspan: 100.6″ (256 cm)
Flight time: Depends on battery
Flying Range: 1968 ft
The Pros
High-quality EPO and PP
Durable craft
Quick and easy to assemble
Easy to fly at beginner level
Brushless 850KV motor (superior to brushed)
The Cons
Plug-n-Play (can also be an advantage for some users)
No battery included
5. Easy Star II Airplane Kit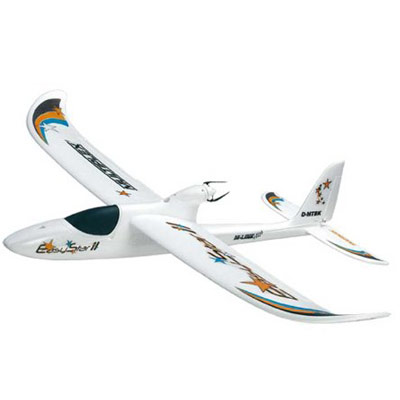 View on Amazon
Editor's Rating: 4.4/5
This is a very capable RC plane and great fun to fly. However, it's a kit and a partial one at that. If you want to learn about customizing an RC plane then it's well worth the investment.
Best feature 1: Folding propeller
Best feature 2: Detachable horizontal stabilizer
Plus points: Crash resistant, easy to repair, customizable
Minus points: Needs extra parts, difficult to assemble at the beginner level
Some enthusiasts are only interested in flying. Others are equally interested in putting their craft together and customizing it. If this is you then keep reading. The Easy Star II Airplane Kit is an amazing bird with a lot of interesting features.
The folding propeller is a nice touch as it reduces drag when the plane's in glider mode. The wings can mimic a sailplane which means you can cut the power when the time's right. Cutting the power also helps to preserve battery life and prolong flight times.
Crash-Resistant Not Crash Proof
The Elapor foam is incredibly tough—which makes the craft pretty crash-resistant—despite its light weight. Crash-resistant doesn't mean crash-proof though. The good news is the material's easy to repair with the right adhesive if you do damage the plane.
The Not So Good
Before you decide to buy this RC plane make sure you know what you get. Or to be more specific, make sure you know what's not included. It's a customizable project that DIY enthusiasts love. It's more for the advanced beginner than the complete novice as the assembly can be a challenge.


Tech Specs
Type: RC plane
Level: Beginner and intermediate
Materials: Elapor foam by Multiplex
Flying weight: 32oz. (907g)
Wingspan: 54″ (137 cm)
Flight time: Depends on battery
Flying Range: Not specified
The Pros
Robust craft, nice design
Easy to repair
Customizable craft
Glides and flies which adds to fun and flight time
Folding propeller
Detachable horizontal stabilizer makes it easier to transport
The Cons
Need to invest in extras
Challenging assembly
6. Phoenix Evolution RC Glider by Costzon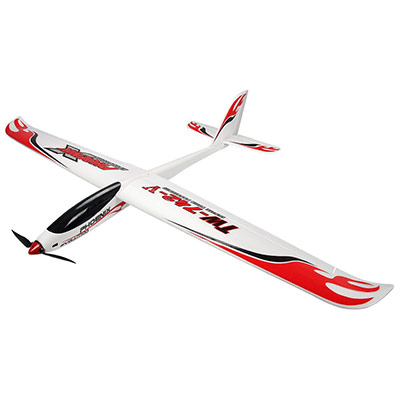 View on Amazon
Editor's Rating: 4.6/5
The Phoenix Evolution is another PNP kit. It could be for you if you want a handsome RC glider that's tough, light, and easy to fly. This puppy has two wingspan options that we'll look at in a moment.
Best feature 1: Durable, lightweight construction
Best feature 2: Two wingspan options
Plus points: Fast assembly, brushless motor, 600m remote distance, stable and predictable
Minus points: Not good in winds, PNP
Why bother with two wingspans? Well, the shorter 1600mm wing is a great choice for slope soaring and aerobatic flying. The wider wingspan is ideal for windless days where you can enjoy longer gliding sessions as you ride the thermals. But before you do any of that you have to assemble the craft. Assembly is simple enough and shouldn't take long even at the beginner level.
Powerful, Silent, Predictable
The Phoenix Evolution sports a powerful yet low noise brushless motor. It helps to resist vibration and thus provides a smoother flying experience along with extended life. This craft will fly up to 1,968 ft. (600m) from the controller on clear windless days. The lovely thing about the Phoenix Evolution RC Glider is that it's predictable and stable in ideal conditions.
The Not So Good
The only notable disadvantage is that the Phoenix Evolution is not too good in the wind. Although this is true of most foam planes it's still something to think about if your environment is windy more often than not. When there's a breeze always remember to use the shorter wingspan for better control.
This is a PNP Glider too so you have to buy the RC system and battery separately.


Tech Specs
Type: RC glider airplane
Level: Beginner up (14+)
Materials: EPO +PP
Flying weight: 44oz. (1250g)
Wingspan: 63″ (160 cm) and 102″ (259 cm)
Flight time: Depends on RC system and battery (not included)
Flying Range: 1968 ft. (600m)
The Pros
Durable and lightweight, premium foam used
2 wingspan options for different flying environments
Quick and easy to assemble
Long flight range
Predictable flyer, always stable in ideal conditions
The Cons
Unstable in windy environments
PNP Glider (PNP)
7. Timber 1.5m PNP with Floats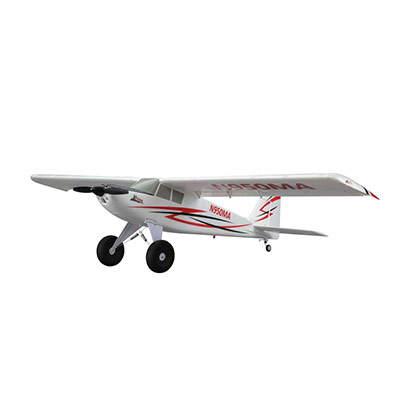 View on Amazon
Editor's Rating: 4.7/5
The Timber 1.5m is a PNP RC plane that you can fly pretty much anywhere. This is thanks to its shock-absorbing landing gear, tundra-style wheels, and floats.
Best feature 1: Shock-absorbing landing gear
Best feature 2: Amazing STOL
Plus points: LED lights, aerobatic, brushless motor,hollow-core build, durable Z-FoamTM
Minus points: Floats awkward to install, not all instructions clear
The short take-off and landing capability (STOL) of this RC airplane make it the most versatile craft on the page. Two feet is all it needs in most situations. I'd say this is the ideal airplane for the advanced beginner level and above. There's a lot of attention gone into the details.
Take the realistic LED lights as an example. You've got landing lights, navigation lights, beacons, and even wing-tip strobes. These are preinstalled and simply powered by the craft's battery. As a flying machine, you get the aerobatics of a sports plane but also a capable off-field adventure craft. Let's not forget it's a competent float plane as well. It really is a great all-rounder.
Tough As Well as Capable
None of these fine features would matter if the build couldn't handle it. It can. There are the powerful brushless motor and a hollow-core build. The material used is a durable Z-Foam that's easy to repair.
The Not So Good
The disadvantages are not major but still worth a mention. Some pilots say the floats are awkward to install. Others complain that parts of the instructions are difficult to follow. I agree. Some aspects of this plane can be tricky which is why I recommend it for advanced beginners and above.


Tech Specs
Type: PNP RC plane
Level: Advanced beginner and above
Materials: Durable Z-FoamTM
Flying weight: 50.3oz. (1417g)
Wingspan: 61″ (155 cm)
Flight time: Depends on RC system and battery (not included)
The Pros
Durable Z-FoamTM
Hollow-core build
Flexible flyer
Amazing STOL
Shock-absorbing landing gear
LED lights
Brushless motor
The Cons
Not assembly-friendly at the raw beginner level
Some parts of the instructions are not clear