10 Best Follow Me Drones
Maybe you find it a bit spooky to have a flying robot hovering over your shoulder. I know some people do. But no one can deny that this is no longer the stuff of science fiction. It's so cool, it's beyond belief.
You can get the most amazing footage with a follow me drone. You can have it follow you while you ski, mountain bike, surf, or whatever else comes to mind. There are a lot of drones to choose from so we have written this guide to show you the best drones that will follow you.
Budget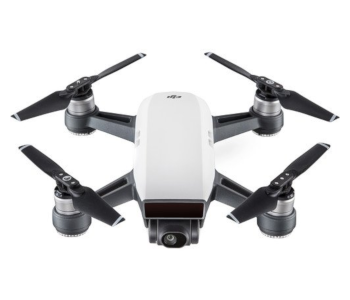 DJI Spark
4.3/5.0
Range: 100m
Flight time: 15 minutes
Has GPS stabilization and a return-to-home feature.
Check Amazon
Best Value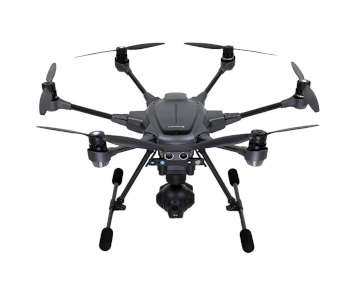 Yuneec Typhoon H Pro
4.4/5.0
Range: 1.6 km
Flight time: 25 minutes
Has a 6 rotor design and a rotating 360° 4K video camera.
Check Amazon
Top Pick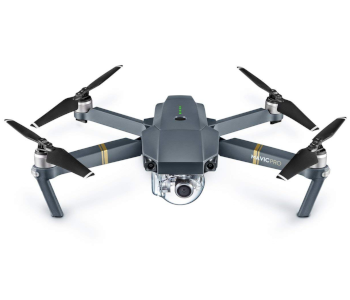 DJI Mavic Pro
4.5/5.0
Range: 7 km
Flight time: 27 minutes
Lightweight, compact and has an obstacle avoidance system.
Check DJI.com
Auto Follow Drones in a Nutshell
Never before have we been able to record such graphic, quality video, and stills of our lives. It's great fun, it's artistic and it's wonderful for posterity. No one can be unimpressed with modern drones.
What is an 'auto follow drone' exactly?
How do drones track their subject?
How fast can a follow-me drone fly?
What distance can these drones follow at?
How safe are follow me drones?
Items by price:
Not All Drones Are Made Equal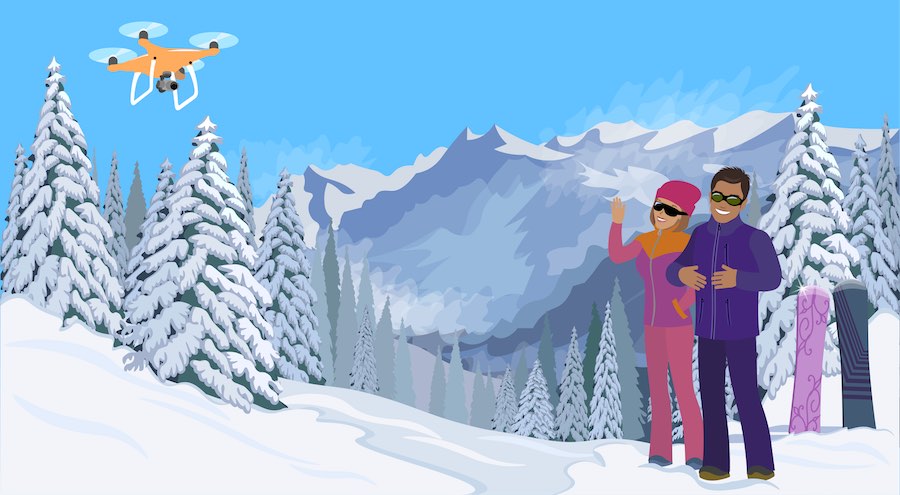 Drones have become so popular—in all their forms —that every technology manufacturer wants a piece of the pie. The result is too many choices and no shortage of substandard models.
Some drones are too difficult to control, especially for inexperienced users. Others don't perform as well as the hype. And there'll always be those that shoot substandard video and stills.
It's the purpose of this guide to break through the crap and highlight the best follow-me drones available right now. That means user-friendly devices that perform well and shoot great footage.
The 10 drones in this review guide include (in price order, cheapest to most expensive):
OA = Obstacle Avoidance While Following
FT = Flight Time
Best Follow Me Drones Comparison Table
Okay, that's our introductions into auto-follow drones, tracking technology, and my top 10 picks. I'll now break them down for you starting with models under $500.
FOLLOW ME DRONES UNDER $500
Follow-me drones under $500 can provide as much flight time, speed, and distance as some of the more expensive crafts. They may fall short in the quality of materials used, optical quality, and range of features. These are not things that'll bother anyone at the entry level too much. My top picks in this price category present four exceptional value drones that follow you. They'll give you lots of pleasure and record all your happy memories with very acceptable results.
1. DJI Spark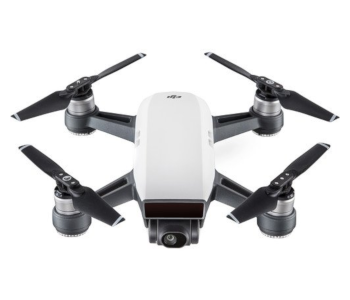 View on Amazon
Editor's Rating: 4.3/5
There's something loveable about the DJI Spark. It's a smart self following drone created with the beginner pilot firmly in mind. It's tiny too, which can be a good or bad thing depending on who you are.
This belongs to a category of mini drones (palm-sized). It's a whole 200g lighter than the Parrot Bebop 2m, which is currently its closest rival. This is the perfect model for people on the move.
The DJI Spark is another of those fun machines but with a serious side. You can control it by tapping controls from your smartphone or even by waving your hands around. Yes, you read that right.
I do like the manual options for leveling up and the Gesture Control Mode. Some users find it a bit too gimmicky. I think it's valuable as long as you take time to practice using it properly.
The video is another plus point. The two-axis gimbal (pivoted support) steadies the high-quality 1080p video. My advice would be to make sure you've always got spare batteries with you though.
Unfortunately, you only get around 12-15 minutes flying time per charge. That means you really do need to prepare before you head out. If you don't, you'll set yourself up for a lot of disappointments.

Tech Specs
Weight: 300g (10.6 oz.)
Battery: LiPo 3S Spark 1480 mAh
Charging Time: 90 minutes (1.5 hrs)
Control Range: 500m (1640 ft.)
Smartphone Range: 100m (328 ft.)
Max Flight Time: 15 minutes
Max Speed: 14 m/s (31 mph)
The Pros
Affordable price
Easy to fly
Compact and lightweight
Supports gesture controls
Lots of intelligent flight modes
GPS stabilization
Return-to-home feature
Obstacle avoidance feature
The Cons
No 4K video
Short battery life
Limited speed and range
2. 3DR Solo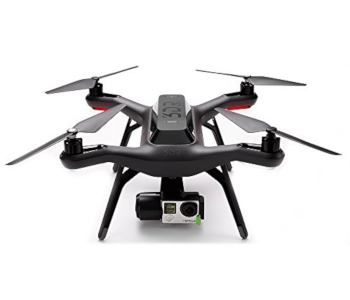 View on Amazon
Editor's Rating: 4.1/5
They call this the first follow me drone with a brain, which is surprising considering the low cost. It's a unique looking machine that has two computers to enhance its performance.
The 3DR Solo is another great entry-level drone just like the budget-priced Hubsan below. The intuitive controls are exactly what a newbie needs to get to grips with their debut flight.
If you're used to video game controllers you'll take to the 3DR Solo's controls like a duck to water the second you pick them up.
What I like about this drone is that it can be as simple as you need it to be, yet you can also be really creative in your filming. The only downside is that you need to invest in your own GoPro Camera.
Intelligent control modes make things easy. You've got: Follow Me, Selfie, Orbit mode, and Cable Cam. The smart computer system gives you control over distance, angle, and changes in perspective.
You have some cool features to explore with this drone. And as far as I know, it's currently the only one on the market that streams wireless HD video from the GoPro directly to Android/iOS devices.
https://www.youtube.com/watch?v=PfN9lTp8ma0

Tech Specs
Weight: 1814g includes camera (4 lbs.)
Battery: 14.8 volt LiPo (5200 mAh)
Charging Time: 90 minutes (1.5 hrs)
Control Range: > 1.5 km (0.9 miles)
Max Flight Time: 25 minutes
Max Speed: 24 m/s (55 mph)
The Pros
GoPro compatible
Repeatable smart shots
Return-to-home safety feature
Control app for Android and iOS
Good flight time
Good overall performance
Intelligent flight computer
The Cons
Drifts a bit when hovering
No active collision avoidance
Gimbal an optional extra
3. Hubsan H501S X4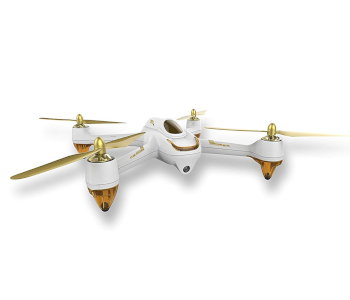 View on Amazon
Editor's Rating: 3.9/5
If you're an entry-level drone pilot, add the Hubsan H501S X4 to your shortlist. This is a great value-for-money Follow Me drone that's pretty much ready to fly out of the box.
Don't let the size put you off. It is notably bigger than the competition, but it's still a breeze to control once it's airborne. It's actually easier to control than many smaller models.
This is easily the cheapest drone with follow me, signal loss protection, and altitude hold. The control range and flying time are even better than what you get on costlier crafts.
There are a few flight modes to explore including one for the complete beginner. This is a nice touch for anyone who needs time to get used to the controls before they take to the skies properly.
I particularly like the controller features of the Hubsan H501S X4. There's a nice clear screen that lets you know how high up you are, along with your proximity to the drone.

Tech Specs
Weight: 410g (1 lb.)
Battery: Li-Po 7.4V 2300mAh
Charging Time: 150 minutes (2.5 hrs.)
Control Range: > 250 meters (273 yards)
Max Flight Time: 20 minutes
Max Speed: 20 m/s (45 mph)
The Pros
Precise GPS
Useful Flight Modes
Superb camera
Fairly quiet
Broad reach
Accurate Return to Home
Effective brushless motors
The Cons
FPV transmission can be weak
No image stabilization (IS)
4. Yuneec Breeze 4k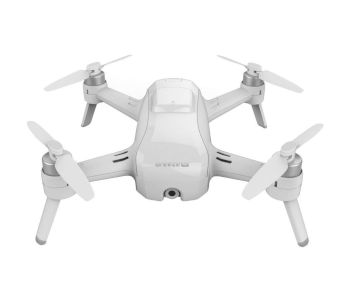 View on Amazon
Editor's Rating: 3.8/5
The Yuneec Breeze is an average looking drone with a lot more going for it than appearances. If you want a quiet, compact auto follow drone that's easy to fly—you've got it. This is a really fun craft to own.
After a few flights, you'll realize this drone is as capable as many others at twice the size and price. The Breeze costs about $100 more than the first two picks but you get a lot of bang for your buck.
The five automated flight modes work seamlessly and include: Pilot, Journey, Orbit, Selfie, and VisionTrack. And the HD camera delivers results that are simply amazing.
If you happened to lose the signal, your Yuneec Breeze will automatically return to home. That's assuming it has enough power remaining (see below).
The only reason the Yuneec Breeze didn't make the top slot in this price range is because it falls short in three key areas. It has a poor maximum flight time, limited control range, and slow speed.
These things combined will frustrate those of you who want to make more ambitious, creative filming. For shorter uses and general recording, though, this is a wonderful, well-built drone for this category.
https://www.youtube.com/watch?v=SDgW-Jn3iWA

Tech Specs
Weight: 385g (13.6 oz.)
Battery: 2 3s batteries rated at 1140 mA
Charging Time: 30 minutes
Control Range: > 100 meters (328 ft.)
Max Flight Time: 12 minutes
Max Speed: 5 m/s (11 mph)
The Pros
Compact and lightweight
Stands up to crashes pretty well
Easy photo and video sharing
Good Intelligent flight modes
Great value-for-money drone
Intuitive Breeze App
Return-to-home safety feature
The Cons
Short battery life
Slow flight speed
Low flight range
OK, that brings us on to the next category, follow you drones less than $1000
FOLLOW YOU DRONES UNDER $1000
I've listed two follow me drones in the $500-$1000 price range. These are flying machines for the more serious hobbyist. The overall build is more robust and the range of features tends to be better than the cheaper models. Expect some neat flight intelligent modes too.
5. DJI Mavic Pro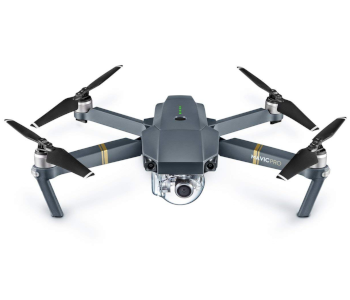 View on DJI.com
Editor's Rating: 4.5/5
If you're into small powerful follow me drones, then consider the DJI Mavic Pro. When folded up it's not much bigger than a jar of coffee. This is a great little machine for serious videographers and photographers.
The DJI Mavic Pro is a simple craft to master despite its sophistication and professional appeal. Its Tripod Mode is child's play. All you do is follow whatever the app instructs you to do. That's it!
This quadcopter has so much going on that some call it the Swiss army knife of drones. But don't let its power, elegance and impressive features overwhelm you. It really is a very user-friendly craft.
DJI Mavic Pro is one of the few machines that have obstacle avoidance built-in. Although it's a great feature, remember that the drone can only see what's in front of it, not behind or at either side.
The advanced gimbal settings let you take full control of the gimbal tilt wheel to ensure you get the smoothest footage out of all your movements.
Compared to a lot of powerful drones the flying time of the DJI Mavic Pro is impressive. You get something like 30 minutes under optimal conditions. Some drones only give you 10-12 minutes.
To sum up the DJI Mavic Pro, you have 4K ultra HD distortion-free video, long flying range, and a decent flight time. There's also obstacle avoidance, precision hover, and image stabilization.
Like any drone, the DJI Mavic Pro is not without a few downsides. The smaller size – though appealing to many – can be a turn off for others. It's also more difficult to keep an eye on it.
The DJI Mavic Pro is a tough little machine but it's not so good against blustery winds. This is something to think about if you're a professional who needs to shoot outdoors against tight deadlines.
But overall, the size and portability of this auto follow craft makes it a surefire winner. It's certainly a popular choice for serious hobbyists and professionals with a thousand bucks to spare.

Tech Specs
Weight: 735g (1.6 lbs.)
Battery: 2970mAh
Charging Time: 60+ minutes
Control Range: 4.3 mile (7 km)
Max Flight Time: 27 minutes
Max Speed: 18 m/s (40 mph)
The Pros
Many features but easy to learn
Lightweight and compact
Excellent flight time
Fast recharging battery
Quiet compared to some models
Flexible Gimbal
Hand gesture mode
Obstacle avoidance system
Live stream videos
The Cons
Narrow field of view (FOV)
Not easy to launch from grass
Full experience needs smartphone
6. Yuneec Typhoon H Pro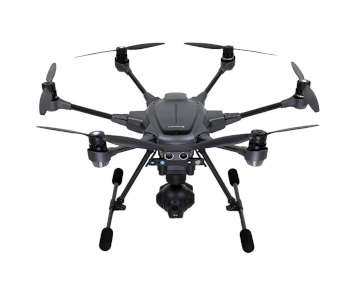 View on Amazon
Editor's Rating: 4.4/5
If you thought the previous drone looked cute and friendly, the Yuneec Typhoon H Pro is quite the opposite. It looks a bit like a giant insect for want of a better description.
I know I jest about the looks of some drones. But let's not forget aesthetics, ergonomics, and all that other stuff matters to some people as much as functionality.
If you like the way the Yuneec Typhoon H Pro looks, it will please you to know it's a top performer as well. It's a follow-me drone designed to please everyone from beginners to advanced.
Prosumers are the most interested buyer. That's because it's one of the most advanced videography and aerial photography drones around at the moment in this price range.
Flying the Yuneec Typhoon H Pro is a piece of cake. The big 7″ integrated display screen on the all-in-one controller helps. Here you can easily manage real-time recording of every flight.
Enjoy a full 360° view of the world you're filming in flawless quality. Seriously, you would usually only have videography experiences like this with high-end, higher priced professional crafts.
There are plenty of intelligent task modes to explore too. You've got Orbit Me, Point Of Interest mode, Journey, Curve Cable Cam, Follow Me / Watch Me, and a Dynamic Return to Home mode.
This is likely the best Aerial Videography Hexacopter you'll find right now for under $1000.
https://www.youtube.com/watch?v=Z6F5Z8eV9yQ

Tech Specs
Weight: 1950g (4.3 lbs.)
Battery: 4S 14.8V LiPo Battery (POWER 4)
Charging Time: 1 hr 50 minutes plus
Control Range: > 1.6 km (1 mile)
Max Flight Time: 25 minutes
Max Speed: 19.4 m/s (43.5 mph)
The Pros
Six-rotor design
Rotating 360° 4K video camera
Raw and JPG image capture
Modular design
Advanced gimbal settings
Can carry heavier payloads
Retractable landing gear
Good operating range
Includes obstacle avoidance
Supports dual-operator control
Online community support
The Cons
Price tag
Comes down too fast
Quite heavy
FOLLOW YOU DRONES UNDER $2000
Makers of follow me drones between $1000-$2000 target the prosumer level. These are high-quality machines with lots of bells and whistles to boot. My tip here is to only invest in one of these awesome auto-follow drones if you really need what they offer. Always know what it is you want to achieve as it will help you make the right decision.
7. DJI Phantom 4 PRO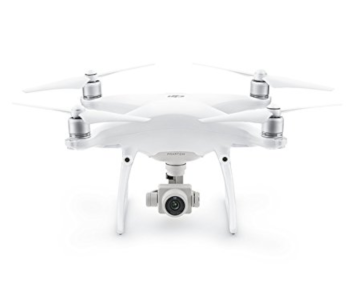 View on Amazon
Editor's Rating: 4.3/5
The first of my picks in the under $2000 category is the DJI Phantom 4 PRO. It's one of the last in the prosumer line of auto follow drones and a very worthy contender.
This is a great drone but only some people can justify the cost if it's their first drone. It's a well sought after machine for enthusiasts and serious users.
Aerial photographers, real estate marketers, filmmakers, and anyone else who demands consistently crisp footage with a minimum of fuss will love the DJI Phantom 4 PRO.
Despite the bells and whistles, this craft is almost ready to go out of the box. Flight modes include Follow Me, GPS Waypoints, Point of Interest, Gesture Mode, Course Lock, and Return to Home.
The DJI Phantom 4 PRO comes equipped with obstacle detection and collision avoidance. This means safer flying in general, but it's particularly useful for shooting close to the ground and inside buildings.
Compared to its predecessor—the Phantom 3 Pro—the flying dynamics and overall performance have all seen an upgrade. It might even be the most cutting-edge flying camera around right now.
The tech specs below highlight some of the other impressive features of this super drone.

Tech Specs
Weight: 1388g (3.1 lbs.)
Battery: Li-Po 4S 5,870 mAh
Charging Time: 210 minutes (3.5 hrs.)
Control Range: > 7000 meters (7 km)
Max Flight Time: 30 minutes
Max Speed: 20 m/s (45 mph)
The Pros
Good quality follow-me drone
Built in controller screen
Long battery life
Long-distance control
Return-to-home feature
Obstacle detection system
Gimbal lock
Automated flight modes
High-performance Sport mode
Wide angle 24mm lens
60fps 4K video
20MP Raw and JPG images
The Cons
Price tag
Taxing firmware updates
8. 3D Robotics Iris+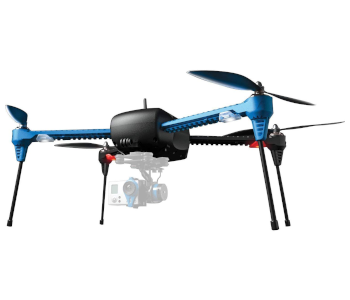 View on Amazon
Editor's Rating: 4.0/5
Many call this drone the pilot's dream. Once you unpack the 3D Robotics Iris+ it's just a case of attaching the propellers and charging the battery. That's about it; you're ready to take to the skies.
This craft will please both the experienced user and the complete novice. If you want it as an amazing auto-follow drone, though, the 3D Robotics Iris+ isn't ready out of the box.
To exploit all the follow-me features you have to invest in a gimbal and a GoPro Hero3+ camera. You'll also need a First Person View (FPV) system if you want to see recordings while the drone is airborne.
With these extras included you still have a very powerful and capable drone for the money. This is a very smart UAV that uses an advanced processor and state-of-the-art sensor technology.
The built-in data radio, flight protection feature, long flight times and flexible camera options add further to this multicopter's overall appeal.
The drone flies smoothly and is notably stable. This allows you to create amazing videos and sharp photos. All things considered, the 3D Robotics Iris+ is as a sound investment.
https://www.youtube.com/watch?v=RW1Vcyk0j2E

Tech Specs
Weight: 1282 grams (2.82 pounds)
Battery: 5100 mAh 3 S
Charging Time: 45-60 minutes
Control Range: > 300 meters (328 yards)
Max Flight Time: 22 minutes
Max Speed: 11 m/s (24 mph)
The Pros
Stable flight platform
Very capable auto-follow drone
Enjoyable machine to fly
Suitable for all levels
Choice of video cameras
Return-to-Launch function
Camera tilt control
Live-view option
The Cons
Needs costly add-ons
Takes a while to shut down
Available only for Android
9. AirDog Sport Action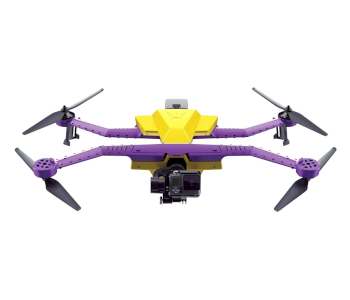 View on Amazon
Editor's Rating: 3.9/5
The name should grab the attention of sports enthusiasts if nothing else. The AirDog Sport Action Drone is your faithful companion for action sports such as cycling, surfing, sailing and so on.
The drone comes with a wearable controller—AirLeash—that has a Gyro Stabilized Gimbal. It's simple to use and gives you plenty of Sport Flight modes with new ones in the pipeline all the time.
Anyone who's serious about capturing fast action—and particularly sports—will want to take a serious look at the only drone currently built for this purpose.
Using this drone is a doddle once you get used to it. It's also simple to store away and carry to events. The specially designed arms tuck in easily making it more compact and safe from accidental damage.
One of the great features of the Airdog is that it's capable of flying in winds of up to 28 knots. It can do this at an impressive range of 820 ft. from the waterproof AirLeash wrist unit.
This is an auto-follow action drone optimized for use with GoPro 3, 3+, or 4 cameras (not included). All things considered, there's not much to compete with the AirDog for recording action sports.

Tech Specs
Weight: 1987g (4.38 lbs.)
Battery: Lithium-ion polymer, 5600 mAh
Charging Time: 180 minutes (3 hrs.)
Control Range: > 250 meters (273 yards)
Max Flight Time: 18 minutes
Max Speed: 17.8 m/s (40 mph)
The Pros
Almost fully autonomous
Easily foldable
Extremely easy-to-operate
Lots of intelligent sports modes
Programmable safety landing
Precision tracking
No need for piloting skills
Waterproof remote control
The Cons
High price tag
No camera included
Not ideal for indoor use
No collision detection system
FOLLOW YOU DRONES OVER $2000
I've only included one follow me drone in the over $2000 category. This is the last of the prosumer tracking drones. It offers high-quality zoom optics and an unlimited control range among other things. You'll either want this drone or have no need for it and choose one of the more affordable options.
10. Walkera Voyager 4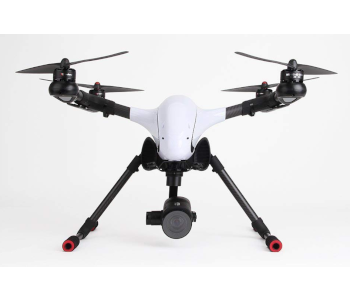 View on Amazon
Editor's Rating: 4.1/5
They market the Walkera Voyager 4 as a prosumer (advanced enthusiasts) follow me drone. The upgraded model stands out from the pack because it has an 18x optical telephoto zoom lens.
With its mega zoom lens the Walkera Voyager 4 is a different beast, but why bother? Well, it means you can zoom in on people, places, things, and events from quite a long way off. This might cause some privacy issues later, especially as you can control this drone from anywhere in the world.
However, these are not things that really interest the follow me drone enthusiast. You don't have to worry—the Walkera Voyager 4 has a standard lens version with stunning 4K UHD video.
This is a high-quality drone with a sleek look. Even the controller is a beautiful ergonomic design with quality rubber grips for comfortable handling. Few could fault its design or its functionality.
The intelligent Follow Me Modes include: Altitude Hold, Circle Flight, Destination Planning Waypoint, Back to Base and Fly Around Object mode.

Tech Specs
Weight: 3200g (7.1 lbs.)
Battery: 22.2V 4500 mAh
Charging Time: Avg. 90 minutes
Control Range: Unlimited
Max Flight Time: 20 minutes
Max Speed: 20m/s (45 mph)
The Pros
360 degrees rotation
Unlimited control range
Powerful flight APP
4G wireless internet
Multiple flight modes
4K video (standard lens version)
Retractable landing gear
Detachable gimbal
Impressive battery life
Ultra-light (carbon fiber) materials
The Cons
High price tag
Challenging for the novice
Final Words
This concludes my top ten follow-me drone picks for now. There are others, but these are the most sought after and most praised follow me drones in their price range.
The exciting new Follow Me Technology is more than just a fad—it's a way of life for many. It's certainly widened the appeal of drones with the freedom, flexibility, and ease of use.
Once you start to record your life events with your own drone you'll probably wonder how you ever managed without it. It's going to be similar to the mobile phone revolution that kicked off in the 1990s.
I'll revise this guide periodically when there is something new to write about that deserves attention. Please bookmark this page and check back for updates.