Food Processor Black Friday 2019 Deals (KitchenAid, Breville, and Cuisinart)
3D Insider is ad supported and earns money from clicks, commissions from sales, and other ways.
We all enjoy a home-cooked meal, but getting everything ready is time-consuming. A new food processor is just the thing if you're looking to spend less time in the kitchen and more time enjoying your culinary creations with people you love. Black Friday is the perfect time to get one as prices are at an all-time low. Check out the highlights and start cooking in style.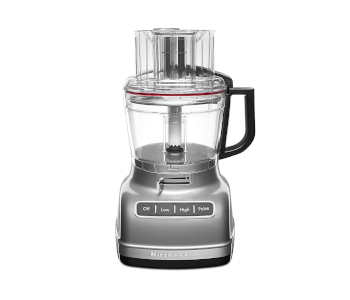 KitchenAid KFP1133CU
Original Price: $249.99
Black Friday Price: $139.99
KitchenAid is known for making g top-quality appliances, and this food processor set is no exception. It comes with an array of parts, most notably two work bowls that make preparing either large or small meals easier. The appliance takes up considerable countertop space, but it is light and easy to disassemble and store.
A 360-watt motor is at the KFP1133CU's heart. You'd think that its relatively low power would translate into poor results, but you'd be mistaken. Any foodstuff you throw at it gets either professionally sliced, chopped, shredded, or kneaded. Controlling the KFP1133CU is easy – there's an on/off button, two-speed settings, and pulse.
You get an 11-cup as well as a 3-cup working bowl. The smaller one is perfect for when you need to dice onions or whip up some cream. You get five-blade attachments, one of which is a reversible shredder for rougher and finer results. There's also a slicer with KitchenAid's patented ExactSlice technology that lets you choose one of seven thicknesses.
The 3-in-1 fed tube is another unique feature. It has movable parts that limit the size of ingredients you can throw down the chute. This ensures that you never add too large ingredients the KFP1133CU won't be able to process as effectively. The chute, as well as every other detachable accessory, is dishwasher-safe and straightforward to clean.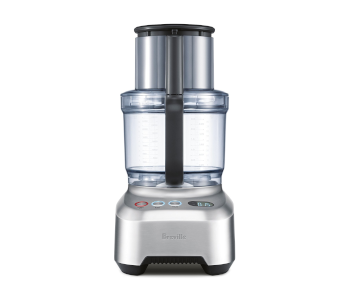 Breville BFP800XL
Original Price: $499.99
Black Friday Price: $285.01
Do you need a food processor with a larger capacity than KitchenAid's? In that case, you can save big on Breville's BFP800XL. It has a massive 16-cup main work bowl but also comes with a small 2.5-cup bowl for those tasty dips and small meal ingredient prep. It's stylish, easy to use, and versatile.
The base comes in one of three colors and houses a powerful 1,200-watt motor. The processor's user interface is minimalistic, featuring three glowing buttons and an LCD that counts time either up or down. The BFP800XL is safe to use as all of its components need to be locked in place before it will turn on.
The star of this food processor's lineup is its S-blade. It has micro-serrated edges and can cut through any food you throw at it with ease. A smaller version that fits the other work bowl is included too. As for other attachments, you get five slicing blades, a reversible shredder, a whisk, attachments for French fries and julienning, and a kneading blade. The slicing disks are particularly useful since they offer 24 combined slicing styles and thicknesses.
Keeping track of so many parts can be a hassle, which is why Breville includes a handy case. There's room in it for all the blades & disks, and the case can stand either horizontally or vertically to save space.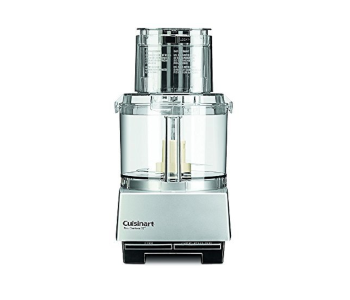 Cuisinart DLC-8SBCY Pro
Original Price: $129.99
Black Friday Price: $95.93
Last up is a food processor from Hamilton Beach. It doesn't have a smaller work bowl but is otherwise as versatile as the other two. Its best feature is a separate lid you can attach to the bowl instead of using the fixed lid and chute assembly. It's great for when you need to quickly prepare something and want hassle-free cleanup afterward.
You control the DLC-8SBCY Pro via two paddle switches. One turns it on while the other either turns it off or acts as a pulse. This approach is both very intuitive and ensures you can activate the appliance even if your hands are wet. The DLC-8SBCY Pro is among the more quiet processors we've seen. It has a satin nickel finish and looks great in any kitchen. The processor is medium in terms of size and weight, so finding a place for it isn't difficult.
The accessories include two slicing disks, a separate lid, a blade for chopping and mixing, a shredding disk, and a spatula. Changing any of the pieces is easy, and the bladed ones come with protective plastic holders so you don't cut yourself. You also get a well-written instruction manual with clear instructions on using the device and preparing food along with some recipes to get you started.
Other noteworthy food processor deals