Ford Introduces Its New Freeform Rapid Prototyping Technology
3D Insider is ad supported and earns money from clicks, commissions from sales, and other ways.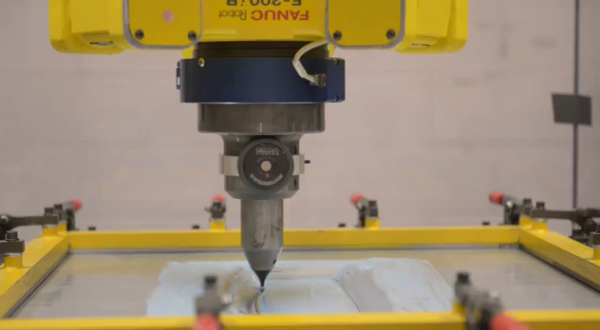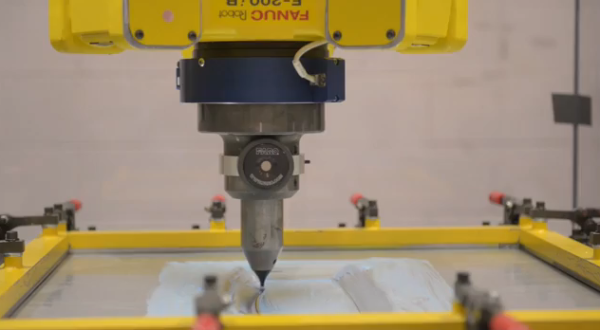 Engineers at Ford are currently developing a new highly flexible patented technology for rapidly creating sheet metal parts for low-volume production applications. Ford's new technology will allow for lower costs and ultra fast delivery times for prototypes that will now take three days whereas they used to take anywhere up to six months to be delivered.
The process is called Ford Freeform Fabrication Technology (F3T) can make a 3D object in a matter of hours rather than days or weeks that were needed prior to the technology. It works by a piece of metal that is clamped around its edges and is then formed into a 3D shape by two stylus-type tools working in unison on opposite sides of the sheet metal blank. This new prototyping machine functions similar to a digital printer, after the CAD data of a part are received, computer-generated tool paths control the F3T machine to form the sheet metal part into its final shape to the required dimensional tolerances and surface finish.
"The technology behind F3T is yet another example of Ford leading in the advanced manufacturing space," said John Fleming, executive vice president, global manufacturing and labor affairs. "As we forge ahead with cutting-edge technologies in manufacturing like flexible body shops, robotics, 3D printing, virtual reality and others, we want to push the envelope with new innovations like F3T to make ourselves more efficient and build even better products."
Low cost: Geometric-specific forming dies are completely eliminated, along with the high cost and long lead time associated with die engineering, construction and machining
Fast delivery time: The technology aims to enable the delivery of a sheet metal part within three business days from the time the CAD model of the part is received. With the current technology, parts are delivered anywhere from two to six months using conventional methods – up to approximately 60 times longer than the potential turnaround time for F3T
More flexibility: Once fully developed, F3T will help to improve the vehicle research and development process, allowing for more flexibility in quickly creating parts for prototypes and concept cars. Currently, creating a prototype die can take six to eight weeks, and developing a full prototype vehicle usually takes several months and up to hundreds of thousands of dollars. F3T could produce sheet metal parts for prototypes in just days for essentially no cost
Currently the F3T machine is not fast enough for Ford to use it in mass production and is limited to prototypes or low-volume production applications only. Ford hopes that the technology will eventually be used by aerospace company's, the defence force, transportation company's and appliance makers.
The U.S. Department of Energy has granted over US$7 million for advancement's in next generation manufacturing technology's such as Ford's. Boeing, Northwestern University, Massachusetts Institute of Technology and Penn State Erie have also received funds for new manufacturing technologies.
Warning; 3D printers should never be left unattended. They can pose a firesafety hazard.