Fortnite Gamer Black Friday 2019 Deals
3D Insider is ad supported and earns money from clicks, commissions from sales, and other ways.
When Epic Games released the first version of Fortnite back in 2017, even they may not have predicted how big of a phenomenon it was going to be. Fortnite may not have been the first online battle royale game to be created, but it's the only one to has generated such massive and long-lasting appeal because of its unique blend of strategy, comedy, social interaction, and outright silliness.
Has the Fortnite craze died down in 2019? Far from it, my friends. It has now become an indelible part of popular culture, expanding beyond games to include toys, clothes, and other merchandise. As a testament to its continued relevance, there are still a handful of Black Friday deals this year related to Fortnite video games or other related products. Let's take a look at what Black Friday 2019 can offer the hardcore Fortnite fan.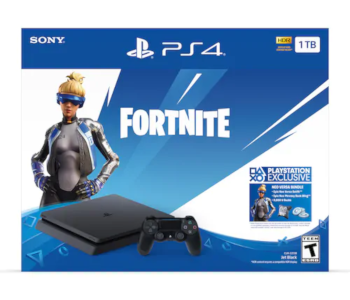 PlayStation 4 Slim 1TB Fortnite Neo Versa Bundle
Original Price: $299.99
Black Friday Price: $199.99 (+$60 Kohl's cash)
We're pretty sure that this bundle is going to be one of the best-selling items this Black Friday. In fact, we won't be surprised if stocks run out even before Black Friday comes around! For only $199.99, you can get what is considered the best gaming console of this generation, for which you can download and play Fortnite Battle Royale for free.
What makes this bundle particularly attractive for the Fornite fan is the downloadable exclusive content including the Epic Neo Versa Outfit and the Epic Neo Phrenzy Back Bling. Yes, these are merely cosmetic upgrades, but when did that ever stop the millions of Fortnite players from spending some serious cash? The bundle also comes with 2000 V-Bucks that you can use to buy more in-game items, upgrades, and skins.
Since the deal is being offered by Kohl's, they will even throw in $60 worth of Kohl's cash when you buy the bundle. That's enough to buy another game or two for your brand-new PlayStation 4 Slim. Happy holidays indeed.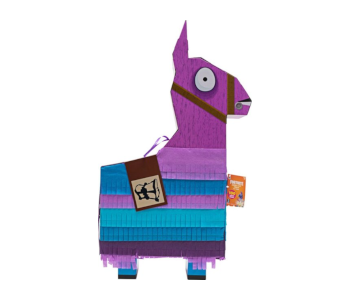 Fortnite Jumbo Llama Loot Pinata
Original Price: $79.99
Black Friday Price: $49.99
The "loot llamas" have become the mascot of Fortnite, but their in-game purpose is to provide players with the chance of earning rare items. This highly-detailed pinata extends that experience into the real world, which is an excellent way to liven up your parties. If you have kids that are Fortnite fans, they are going to absolutely love this Llama Pinata.
The best thing about the Llama Pinata is that it's not just an empty box. Breaking apart the Pinata releases exactly 100 pieces of small toys, building materials, and back blings all inspired by Fortnite. The Frozen Raven and Ice King action figures are particularly well-designed. These small toys can keep your kids busy for several hours, leaving you free to clean up after the party, chat with your guests, or simply to enjoy some quiet time.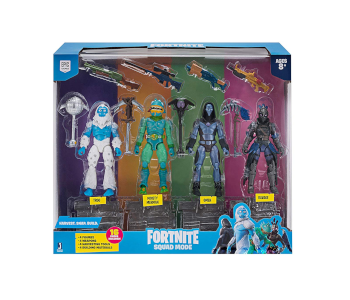 Fortnite Squad Mode 4-Figure Pack, Series 2
Original Price: $39.99
Black Friday Price: $29.84
Just like the cartoons of the 80's and 90's, Fortnite characters have naturally been translated into action figures. This set comes with four characters – Omen, Trog, Moisty Merman, and Ravage – along with a few weapons, harvesting tools, and building materials. The design of the figures looks incredibly faithful to how they look like in-game and each figure comes with an impressive 25 points of articulation.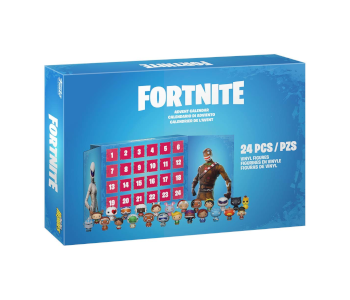 Funko Advent Calendar- Fortnite
Original Price: $59.99
Black Friday Price: $39.96
Who would have thought that Fortnite can make calendars fun? This advent calendar is a great way to have your kids count down the holidays. With each day that passes, a slot can be opened up to reveal a miniature toy of various Fortnite characters. You can even turn it into a lesson on delayed gratification! This advent calendar is sure to be a huge hit for Fortnite fans.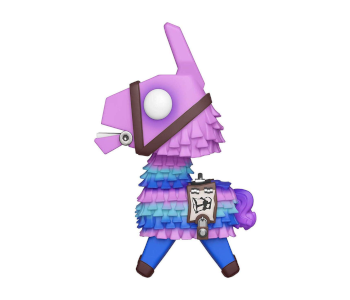 Funko Pop Games: Fortnite – Loot Llama
Original Price: $10.99
Black Friday Price: $6.99
Yes, we've already talked about the Loot Llama, but this Funko Pop version is too adorable not to talk about. The Funko Pop Loot Llama is a perfect representation of what makes Fortnite work – it has a unique and silly design that does not take itself too seriously. If you're the type of person who collects Funko Pops and is a Fortnite fan at the same time, then this is pretty much the holy grail. It's $4 cheaper this Black Friday, so don't let the chance to get it at a discount pass up.
Other Black Friday Fortnite merchandise
There are still a handful of Fortnite-themed board games, party games, and toys that have been discounted for Black Friday. If you've got a tight budget for the holidays, then these are excellent choices for affordable but fun gifts. That Fortnite branding does go a long way, after all. Grab one of these, and you're sure to gain a reputation as that cool uncle.