5 Best FPV Goggles & Headsets
3D Insider is ad supported and earns money from clicks, commissions from sales, and other ways.
You probably know it as First Person View (FPV) or Remote Person View (RPV). They both mean the same thing. The simplest definition is video piloting an unmanned aerial vehicle or UAV. To put it another way, it's flying a radio-controlled drone in the virtual pilot's seat. You get to see what the drone's camera sees—in real-time—and it's an experience like no other.
Budget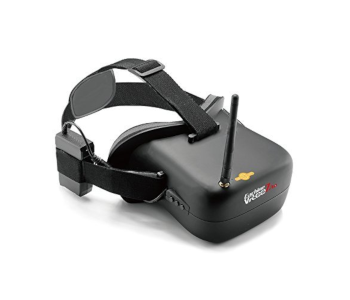 Eachine VR007 Pro
4.3/5.0
Resolution: 480×272
Screen size: 4.3″
All-in-one unit and comfortable to wear.
Check Amazon
Best Value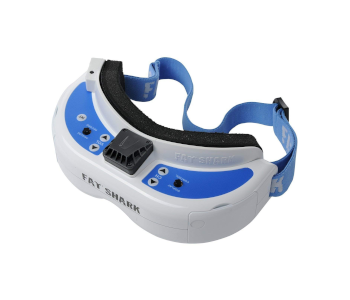 Fat Shark FSV1063 Dominator V3
4.5/5.0
Resolution: 800×480
Screen size: 16:9 wide
Provides a truly immersive FPV experience.
Check Amazon
Top Pick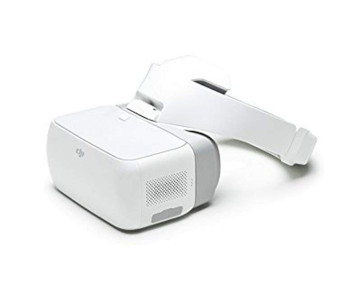 DJI Goggles 1080p HD FPV
4.6/5.0
Resolution: 3840×1080
Screen size: 5×2
Comfortable to wear and easy to use.
Check Amazon
Who Benefits from First Person View
Anyone who wants to be the eyes in the sky benefits from FPV. It's popular with drone racers who fly incredibly fast—often through obstacles—and out of the human line of sight (LOS).
It's also popular with drone aerial photographers and videographers. They can take their UAV to places they wouldn't otherwise be able to reach. It also allows them to record footage as they see it. That means no more guessing or hit-and-miss filming. Best of all is the actual FPV experience.
To enjoy FPV you have to have an FPV-capable drone. There are then three ways to view:
Via a mobile screen
Via a monitor
Via FPV goggles
#1 First person view with a screen lets you see what your drone camera sees via a compatible mobile device. All you do is download the company's dedicated app and take control. Most popular drones have apps that you can use on either Android or iOS mobile devices like smartphones and tablets.
#2 FPV via a monitor usually refers to a larger screen like a notebook computer or independent monitor setup. A bigger view suits some people but it makes your setup less portable.
#3 FPV dedicated goggles or VR headsets give the most immersive and rewarding FPV experience. This really does remove all external distractions and puts you firmly in the pilot's seat. It's not easy to explain. It's one of those things you have to experience to believe. FPV goggles are the way to go whether you're racing a quad at high speeds or taking stunning video and photos from above.
How First Person View Works
This isn't a technical guide so I won't bore you with technicalities. It is, however, useful to have a basic understanding of how things work at the layman's level. It all starts with the camera capturing the aerial footage. It then sends these live images to the drone's remote controller. This can be a purpose-transmitter or mobile device. The controller then translates those live images onto its display screen.
There's more to it than that but these are the basics of how you see what your camera sees.
Types of FPV Goggles
There are two basic types of FPV goggles. One is the compact type goggles and the other is a box headset design. The compact goggles come with two little screens—one for each eye. They're lighter, more portable, and smaller than the box headset. They look pretty cool too. The box style headset is bigger, heavier, and bulkier, and most have a single LCD screen.
Despite the bulk, the box headset is usually more comfortable than the smaller FPV goggles. They don't look it but looks can be deceptive. Overall, the box FPV headset gives the better experience and also provides a larger Field of View (FOV) than goggles. That said, you'll often see hear people refer to either style as FPV goggles or headsets.
About this FPV Guide
Not all FPV goggles are equal in design, quality, or compatibility. Buying the wrong headset or going for something too far down the bargain basement will result in a disappointing experience. It's also a false economy. I have sifted through the best FPV goggles available right now so that you don't have to. The five listed here are in order of price from the least to the most expensive.
The table below shows my top picks in the order they appear in this guide.
FPV Goggles & Headsets Comparison Table
Before You Buy Your FPV Goggles/Headset
Before you buy any FPV headset or goggles make sure they're compatible with your drone setup. Some FPV goggles only work with certain brands and operating systems. Another point worth noting is that drone technology, upgrades, and updates are constant. This is yet another reason to be certain that what you have is going to work with the FPV goggles or headset on your shortlist.
If in doubt contact the seller to get a quick response.
1. Eachine VR007 Pro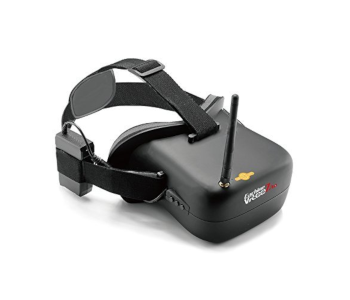 View on Amazon
Editor's Rating: 4.3/5
VR007 Pro FPV Goggles are the least expensive on this review page but hey, let's not cast them off just yet. The headset is well-constructed, nicely balanced, and fairly lightweight. They certainly feel comfortable once you've got them on properly. Inside the headset is a nice 4.3″ screen that has a pretty cool on-screen display. It shows all the essential info like battery life, channel, and so on.
They haven't specified the battery life on the Eachine's sales page but reports say it's fairly decent. The low battery indicator in the headset lets you land your drone safely in good time. Believe me; you don't want a headset to die on you when your UAV is up there, out there, somewhere, without your eyes!
Flying FPV with the Eachine VR007 Pro
The FPV experience is immersive and captivating. The screen—despite its actual size—looks big and impressive once you're in there flying as the virtual pilot. You can also adjust the color, brightness, and saturation, etc., to personalize your viewing preference.
The Conclusion
These have to be one of the best value-for-money FPV goggles around at the moment. It wouldn't be fair to compare it against products that cost a few hundred dollars of course. But it's certainly an outstanding and innovative product in its class. It even comes with a customized eyeglass so that folk with myopia below 400° don't even have to wear glasses with this headset.


Tech Specs
Size: 151x177x103 mm
Weight: 217g (7.7 oz.)
Screen resolution: 480×272
Screen size: 4.3″
Compatibility: Check with EACHINE
Head tracking: No
Battery life: Not specified
The Pros
Excellent value for money
Intuitive design
All-in-one unit
Comfortable to wear
Battery included
Auto-scan 40 channel
The Cons
No head tracking feature
No on/off button
No battery sleeve
2. Eachine EV800 FPV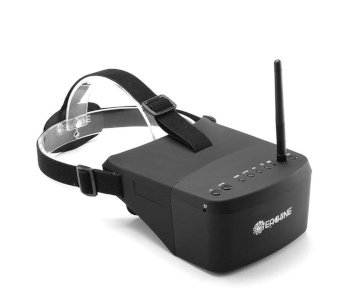 View on Amazon
Editor's Rating: 4.7/5
Eachine EV800 FPV goggles are incredibly popular and affordable, especially among drone racers. The cost is around 20 bucks more than the VR007 Pro so let's see what you get for the extra.
The design is smart with clearly labeled buttons along the top. The headset fits snugly on the head thanks in part to the comfortable face sponge. The goggles arrive with a built-in 3.7V/2000mAh battery, charging cable, and a few other essential bits. Inside is a bright 5″ 800*480px HD screen that Eachine have tuned specifically for FPV racing—but there's more.
Another nice touch is the separable design. It means you can use the 5″ screen as an external tripod-mounted monitor or attach it to a compatible radio controller. The built-in 5.8GHz 40ch receiver is ultra-sensitive which is particularly notable with Raceband. The innovative auto-search function displays the current frequency on the screen at all times.
The Conclusion
This is yet another light, comfortable, and durable FPV headset from Eachine. It's a particularly good choice for anyone just getting into drone racing. I doubt you'll find a better FPV racing rig for the money. It's super-easy to set up out of the box and which is another major plus point.


Tech Specs
Size: 180x145x82mm
Weight: 375g (13.2 oz.)
Screen resolution: 800×480
Screen size: 5″
Compatibility: Check with EACHINE
Head tracking: No
Battery life: 210 minutes (3.5 hrs.)
The Pros
Great value-for-money
Easy to setup/use out of the box
separable design
auto-search function
Comfortable fit, nice design
Built-in battery
The Cons
Auto-search a little too sensitive
Some reports of power button sticking
3. Flysight 40CH SPX02 FPV Goggles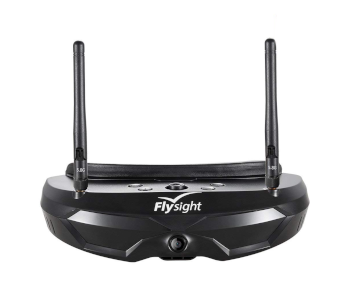 View on Amazon
Editor's Rating: 4.1/5
The Flysight 40CH SpeXman two FPV Goggles cost a fair bit more than the first two picks. So are they worth the extra? Let's get into the review and find out.
The goggles come with a decent hard shell carry case. Another nice touch is the attachments you get so that you can try them on with different eye fittings. These include eye caps, eye cups, and a premium leather faceplate. Most users opt for the latter option as it's incredibly comfortable.
The goggles have 5.GHz diversity and 40 channels NexWave + airwave. They support bands A, B, E, F and R (Race band). The field of view is 30-degrees. The FOV and 854×480 resolution are the same as the costlier Fat Shark FSV1063 Dominator V3 (next pick). The goggle's inputs include an HDMI port, AV inputs, and PPM input. You can use the HDMI for DJI Inspire, Phantom 3, and Phantom 4 drones.
Picture-In-Picture, Thumb-Stick Menu Control, and More
Another unique feature with these goggles is the picture-in-picture display or PIP Function. It may sound complex but it's not. As far as the wearer is concerned the PIP function is super-easy to configure and it works a treat. These FPV goggles are full of surprises.
Something else worth a mention is the thumbsticks at the top for navigating the menus. On the other side of the goggles is a headphone jack. All these things are unobtrusive and don't distract at all from the style or design of these goggles.
The Conclusion
I love these FPV goggles. They're great quality and the makers have put a lot of thought into their product. They're comfortable to wear and look a lot cooler than the familiar bulky box-style headsets. Heck, there's even an integrated fan to keep the unit cool which is more than a lot of FPV units offer.


Tech Specs
Size: 6.8 x 3.5 x 1.8 inches
Weight: 181g (6.4 oz.)
Screen resolution: 854×480 (WVGA)
Screen size: switches between 200×150 & 320×240 px.
Compatibility: Check with FLYSIGHT
Head tracking: No
Battery life: Not specified
The Pros
Unique design and various ways to wear the goggles
40 channels (including race band)
30° Field of View (FOV)
854×480 resolution
HDMI, AV, PPM inputs
Thumb-stick menu control
Integrated fan
Excellent after sales support
The Cons
Not ideal for larger heads
Instructions are not as clear as they could be
Quite expensive
4. Fat Shark FSV1063 Dominator V3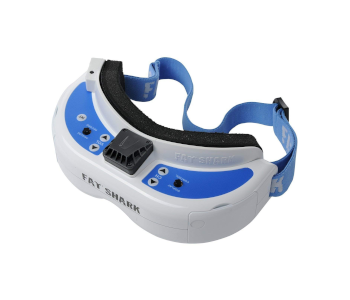 View on Amazon
Editor's Rating: 4.5/5
Fat Shark FSV1063 Dominator V3 is one of the better known FPV headsets around. At around $350 (at the time of writing), they're not what you might call a budget buy. So what's all the fuss?
Well, the Fat Shark Dominator V3 FPV goggles are affordable if you're an experienced drone pilot. They have particular appeal for anyone who wants a high-quality digital video for FPV racing. The Dominator V3 has a beautiful modulate design that fits comfortably on the head. FPV footage records with the onboard DVR. The product also supports HDMI-in @ 720p, sports WVGA1 6:9 images, and has a 30° field of view (FOV).
The headset can handle analog and digital inputs with ease thanks to its flexibility and power. It's this flexibility and range of functionality that give the Fat Shark Dominator V3 its broad appeal. It really is a great product for serious amateurs as well as professional UAV pilots.
The Conclusion
There are a lot of cheaper FPV goggles out there. Although they don't equal the characteristics of the Dom V3s you need to ask yourself if the extra cost worth it—to YOU. I'd say it's justifiable for anyone who has a good medium-sized budget that they're prepared to invest in quality FPV.


Tech Specs
Size: 4.3 x 8.2 x 5.7 inches
Weight: 907g (2 lbs)
Screen resolution: 800×480
Screen size: 16:9 wide, 30° diagonal FOV
Compatibility: Contact seller
Head tracking: Yes
Battery life: Not specified
The Pros
High-quality product
Comfortable to wear
truly immersive FPV experience
Geared for FPV racing
Superb 16:9 WVGA screen
On-board DVR
30° field of view
handle digital/analog inputs
Modular bays
The Cons
No cooling fan
High price tag
5. DJI Goggles 1080p HD FPV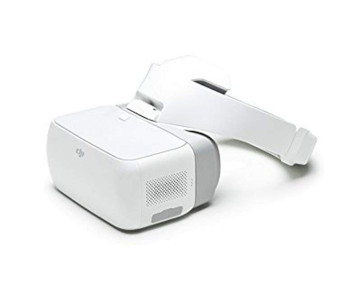 View on Amazon
Editor's Rating: 4.6/5
The last of my top picks is the DJI 1080P HD FPV headset. If you know about consumer drones you'll know that DJI is a major manufacturer and world leader in unmanned aerial vehicles. Their products aren't cheap but you're guaranteed high-quality and excellent value. This includes their goggles.
I've opted for a bundle here. It includes the first-rate DJI Goggles FPV Headset and a special goggles sleeve. There's also a DJI remote controller for the Spark quad. It's a great bargain but you can buy the goggles separately if that's all you need. This headset supports the Phantom 4 series, the Inspire series, and also the Mavic Pro. Here are some of the highlights:
Beautiful ergonomic design
Up to 6-hours battery life per charge
Supports intelligent flight modes
Ultra-high quality screens
Ultimate immersive experience
The DJI Goggles are incredibly comfortable to wear. That means the pilot can concentrate on piloting and forget about the headset. The two large high-quality screens provide direct visual control so you can capture video and aerial photos from above. These are serious goggles for serious drone operators.
The smart technology uses something called a beam splitter. This displays the image perfectly in front of each eye. Despite using two screens there's zero image overlap.
The Conclusion
These are comfortable and flexible FPV goggles that work with specific drones from the DJI series. The optical design is flawless and the 2K resolution will not disappoint virtual pilots. They also have head tracking which is a feature not found on a lot of FPV goggles at the moment. If you own one of the compatible DJI quadcopters you'll want to seriously consider the company's own goggles for your craft.


Tech Specs
Size: 195×155×110
Weight: 450g (1 lb.)
Screen resolution: 3840×1080
Screen size: 5×2
Compatibility: Contact seller for updates
Head tracking: Yes
Battery life: 6 hours
The Pros
High-quality, superior build
Comfortable to wear/easy to use
Feature-packed
High resolution
Large screen
Can wear eye glasses
Headless mode
The Cons
Bulky
A little on the heavy side
Not always easy to get hold of