List of Game Consoles: The Best Machine to Get for 2020
3D Insider is ad supported and earns money from clicks, commissions from sales, and other ways.
Gaming consoles are getting more popular and have become staples since they were first introduced. They have definitely come a long way from 8-bit systems of the past, and have transformed into beasts that can suck you into an immersive world to be entertained for hours.
The latest generation consoles now have a wide variety of features, capabilities, and hardware that can take your gaming experience to the next level. Now, those that can run games in 4K resolution are the norm, which reveals more details than you have ever seen.
Even though we are somewhat in between console generations, it's actually one of the best times to get one, especially the beefed-up versions like the PlayStation 4 Pro and the Xbox One X. These are well-established systems with their game selections almost complete, so you can simply pick a favorite one and start playing.
Game Console Comparison
There is strong competition in the game console space. It's not just a two-horse race between the PS4 and the Xbox One. Nintendo has joined in with their Switch and is changing the landscape.
To help you decide on what platform to get, we have done the research for you and chose the best ones on the market today. It's not just the powerful 4K-capable ones, but we have also included handheld consoles and even 2-in-1 machines that can stream both PC games and content. We even added an affordable retro option if you want one of those.
Here are some of the best game console that you can get for 2020. Gaming is an excellent distraction, and a good alternative to binge watching your favorite TV shows on Netflix.
PlayStation
4 Pro
Microsoft
Xbox One X
Nintendo
Switch
Nintendo
Switch Lite
Nvidia
Shield TV
Sega Genesis
Mini
Size
327 x 295 x
55 mm
300 x 240 x
60 mm
173 x 102 x
13 mm
208 x 91 x
14 mm
165 x 40 x
40 mm
154 x 116 x
39 mm
Weight
3.3 kg
3.8 kg
297 grams
277 grams
137 grams
875 grams
CPU
8 core x86-64
AMD
"Jaguar"
8-core
Custom
AMD CPU
ARM 4
Cortex-A57 +
ARM 4
Cortex-A53
ARM 4
Cortex-A57 +
ARM 4
Cortex-A53
Custom
NVIDIA
Tegra X1
SoC
ZUIKI Z7213
SoC
GPU
Custom
AMD
Radeon, 4.2
TFLOPS
Custom
AMD
Radeon, 6
TFLOPS
Custom
NVIDIA
Tegra X1
Custom
NVIDIA
Tegra X1+
Custom
NVIDIA
Tegra X1
SoC
ZUIKI Z7213
SoC
Memory
8GB DDR5
RAM
12GB DDR5
RAM
4GB
LPDDR4
RAM
4GB
LPDDR4
RAM
3GB RAM
256MB RAM
Storage
1 TB HDD
1 TB HDD
32 GB
eMMC
32 GB
eMMC
16 GB
512 MB
Flash
Video
Output
HDMI, 4K
HDR
HDMI, 4K
HDR
HDMI, FHD
1080p +
Built-in
Display
Built-in
Display
Only, 720p
HDMI, 4K
HDR
HDMI, 720p
Supported
Framerate
Up to 60 fps
Up to 60 fps
Up to 60 fps
Up to 60 fps
Up to 60 fps
Up to 30 fps
Wired
Connectivity
Ethernet
Ethernet
NONE
NONE
Gigabit
Ethernet
NONE
Wireless
Connectivity
Wi-Fi,
Bluetooth
Wi-Fi,
Bluetooth
Wi-Fi,
Bluetooth
Wi-Fi,
Bluetooth
Wi-Fi,
Bluetooth
NONE
Optical
Drives
YES, BD &
DVD
YES, BD &
DVD
NONE
NONE
NONE
NONE
Input Ports
Super-Speed
USB, AUX
Port
USB 3.0,
AUX Port
USB Type-C,
AUX Port
USB Type-C,
AUX Port
USB 3.0,
AUX Port
USB 3.0
The Best Game Consoles
Best Overall Game Console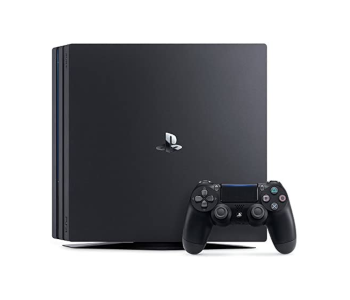 Retail Price: $399
Even though the PlayStation 4 Pro is not the most powerful in terms of hardware, it still is capable of offering stunning 4K gaming and streaming experience. On top of that, it also has HDR support allowing you to play your favorite games in detail you have not seen before.
Design and Build
The PS4 Pro continues with the design language of the original with a stacked design. Now a "triple decker," it adds a bit of weight and overall bulk to it, but it's a small compromise for the added power it comes with.
It still keeps its textured matte black finish, which is much more elegant than the original design of the PS4, which has a mix of both. Even though it's much larger, you can still position it horizontally or vertically, depending on the space that is available to you. The overall design blends nicely into your living room or entertainment center rather than stand out.
Controller
You will not be able to enjoy your game console with a controller. The good news is that the PS4 comes with one, and it's still the DualShock 4. There is a reason it still ships with this controller, it's just a really good one. The grip is fantastic, ensuring that you are comfortable, especially on long game sessions.
Hardware
This is where most of the difference between the PS4 and PS4 Pro can be found. Although it's not much of a difference, it's significant that you can now play the latest games on 4K with HDR enabled.
The PS4 Pro sports the same processor from AMD only overclocked from 1.6 GHz to 2.1 GHz. It also comes with improved memory bandwidth allowing for a snappier operation. The biggest upgrade is in the GPU. It still has eight cores but with upgraded capability from 1.84 to 4.2 TFLOPs, a significant bump in graphical performance.
The PS4 Pro is definitely a significant upgrade to the PS4, so if you have the rest of the hardware needed like a 4K-capable TV, it is an excellent console to get.
Display Features
If there is a more important accessory to get with your PS4 Pro, it's a TV that will allow you to enjoy the console. At the very least, make sure you have one with HDR even if it's not 4K, so you can enjoy the details of your game. Combine it with a 4K TV, then you should be able to get the best gaming experience with your machine.
The latest games will definitely support these features, and others are getting a remastered version just to have these available. These features also trickle down to streaming content from Netflix, Hulu, and others.
Game Library
A category where the PS4 ecosystem really shines is in its game library. They have a vast selection of games from exclusives to multi-platform titles that are available on the system. Most of the older PS4 titles are not Pro-enabled, which means that they are getting their 4K HDR treatment so you can take full advantage of the hardware.
Titles like The Last of Us, Uncharted 4, Shadow of Mordor, Rise of the Tomb Raider, and Infamous: First Light now work in 4K. Now, you do not have much of a reason to get an older PS4 than get the Pro version for a much smoother and snappier gaming experience.
Other Features
The added power also means much better compatibility with the PlayStation VR system. You can definitely use it on older PS4 variants, but with the Pro, you get much smoother framerates and better graphics. This means that there's less chance for you to get sick while wearing the headset and playing VR games.
If you are looking for a top-notch VR gaming experience, the PS4 Pro is one of those devices that is capable of giving it to you at an affordable price point.
The Sony PlayStation 4 Pro is one system that can compete with the graphical performance of most gaming PCs. The gorgeous 4K and added infusion of color, thanks to HDR, will take your gaming experience to the next level. It's also an excellent multimedia system that will enable you to watch your favorite content from Netflix, Hulu, and other streaming services in glorious 4K.
Why Get the PlayStation Pro 4
4K gaming and streaming capabilities
Comes with HDR compatibility
Supports PlayStation VR
Versatile multimedia system
Most Powerful Game Console
Retail Price: $529
If you are looking for a game console that has the power to let you play all the games at the best graphics quality possible, the Microsoft Xbox One X is the one for you. This console is capable of delivering the very best of gaming experiences, thanks to its 4K HDR capabilities. One of the most important features that differentiate it from the PS4 Pro is it can play Blu-ray discs for your entertainment needs.
Design and Build
Microsoft sure does love their minimalist boxy designs, and the Xbox One X is no different. It is a bit smaller than the PS4 Pro but a bit heavier. Now this box shape is not just for looks but also allows you some flexibility on how you want to position it on your entertainment center.
The entire device is wrapped with black matte plastic with openings that acts as vents so the internal hardware can breathe. At the back of the machine, it does come with a selection of ports that will allow you to take full advantage of the Xbox One X. It comes with HDMI, USB, Ethernet, and even S/PDIF ports.
Controller
The Xbox One controller is one of the best in the business. Its ergonomic and minimalistic design may seem counterintuitive. Still, it does have that appeal that attracts a lot of users to it. It probably also helps that it comes with plug and play Windows PC compatibility, so you do not have to open up a variety of configuration software to get it running.
Nothing much has changed when compared to its older siblings. However, it is noticeably slimmer and sleeker, making it more comfortable to hold, especially on long gaming sessions. You will have no issues using it for hours on end.
Hardware
The Xbox One X is packed with power, and this is where most of the difference between it and the PS4 Pro can be found. If you are the type of user who looks at the technical details of different machines before getting one, this is where you will appreciate the Xbox One X a lot more.
When it comes to specs, the Xbox One X is the king of consoles. A custom AMD 2.3 GHz processor makes up the brains of the machine, coupled with 12 GB of GDDR5 RAM, it's surely going to deliver a smooth gaming experience. The star of all of this is its custom AMD GPU that packs 6 TFLOPs of computing power that will ensure the most fluid possible gameplay at the highest framerates without any stuttering.
Display Features
Similar to the PS4 Pro, you will need a 4K TV, or at least one with HDR, to fully enjoy the capabilities of the Xbox One X. If you don't have one, then be sure to invest in one since it is going to take your gaming experience to the next level.
Developers have greatly enhanced some of the Xbox exclusives to take full advantage of the 4K capabilities of the console. Titles like Gears of War and Halo 5 Guardians definitely get their upgrade, allowing you to see a lot more details than their non-4K versions. Third-party games also get their share of enhancement from Assassin's Creed Origins to Star Wars: Battlefront II.
Game Library
One of the categories where the Xbox One X fall short is in their game library. There is a good selection of games, but it is not as extensive as you might expect when compared to the PS4 and even the Switch. You will miss out on some of the biggest game titles, but they a decent list to tide you over.
Of course, you will be able to play Halo, one of their more iconic exclusive games. The Gears of War series is also a title to look out for when you get the Xbox One X. If you are into racing games, you can also check out the Forza series, which is definitely going to give you your speed fix.
Other Features
The Xbox One X does come with a lot of power, and a little bit more. One of the added features that it comes with that's not found on other consoles is the ability to record gameplay in 4K. Even though it's limited to 30 seconds, you can still record some of your exploits and share it with your friends.
An underrated feature of the console is that it supports Blu-Ray playback making it more of a complete multimedia device. For one, PS4 Pro is capable of playing 4K, but you just can't insert a Blu-Ray disc and watch your favorite movie. You simply have to settle with streaming such as Netflix and Hulu. This is something that you can do with the Xbox One X.
Of course, streaming is also no problem for the console as it comes with that feature. It also supports 4K playback on those, so if your favorite movie or TV show comes with that resolution, you should be able to watch them with no issues.
The Microsoft Xbox One X is one powerful machine. It will not be able to replace a decent gaming PC, but it certainly comes close. With games that are highly optimized to its components, it delivers a true 4K gaming experience.
Why Get the Microsoft Xbox One X
Native 4K gaming at your fingertips
HDR support for both games and video
Capable of playing UHD Blu-ray discs
Complete multimedia device
Most Versatile Game Console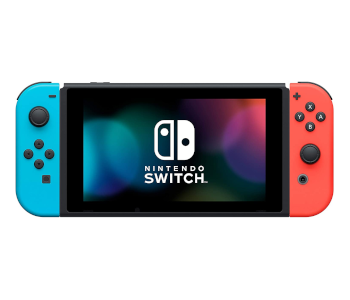 Retail Price: $390
The Nintendo Switch is truly a unique game console. It's more of a hybrid, and that's one of the reasons why it is so popular with a lot of gamers. It is not the most powerful or delivers the best graphics quality, and its claims to fame is its versatility and an impressive list of Nintendo franchises. But it still continues to captivate anyone looking for a good gaming experience.
Design and Build
At first glance, you can instantly tell that the Switch is not your usual game console. You might be used to a boxy machine that you can put on the shelf in your entertainment center, this one is far from that.
It has a very minimalist design with rectangles with rounded corners all wrapped up in matte plastic. One noticeable difference between the Switch and other consoles is that this comes with a built-in screen. The reason is that it also moonlights as a handheld device, not readily available with other gaming machines.
To get it to display on your TV, the Switch comes with a dock. Simply slide your Switch in it, and when it locks in, your game is rendered to your TV, giving you a much larger screen to enjoy it in.
Controller
As with most of the components that come with the Switch is a little different, and that includes controllers. They call them Joy-Cons, which are incredibly versatile pieces of equipment. They slide on both sides of the built-in screen and act as controllers when you want to go handheld mode, or you can use them separately for local multiplayer.
In docked mode, you can also use the Joy-Con Grip, where you can slide both the controllers and give you something that will feel similar. So, whether you are using the Switch as a handheld device or docked on your TV, you will have no problems with the controllers since you will be using the same set.
Hardware
This is where the Switch does have a few shortcomings compared to the more full-blown desktop console counterparts like the PS4 Pro and the Xbox One X. It's not the console to get if you are after stunning graphics quality and VR capabilities. The built-in screen can only offer a resolution of up to 720p to save batteries, and in docked mode, you can only go as high as 1080p.
Still, it comes with pretty decent hardware with an optimized engine that Triple-A games such as The Witcher 3 and Dark Souls can run on it. However, when it comes to the details, it is certainly no match to the traditional consoles.
Display Features
Other consoles can boast 4K and HDR capabilities, but that's not really the Switch's forte. No other console will also allow you to carry it with you and play any time you want to. In docked mode, you will get decent a Full HD 1080p experience, and that should be fine for most of the games on the Switch.
The place where it beats all the others is in its built-in 720p. Yes, it is not Full HD, but it will allow you to play your favorite games on a long flight or train ride and keep you entertained. No other console will give you the versatility that the Switch will.
Game Library
Nintendo is known for its game franchises, and all of them seem to have found a new home with the Switch. From The Legend of Zelda: Breath of the Wild, Super Mario Odyssey, Super Smash Bros. Ultimate, and Pokemon Sword and Shield, you will surely find your favorites here. If you have been an avid Nintendo player, then you will enjoy their game selection.
It's not all about the exclusive titles. Still, you will also not get left out since you will also get to enjoy games from third-party developers and publishers. The Witcher 3: Wild Hunt, The Elder Scrolls V: Skyrim, and Overwatch are some of the games that you will be able to enjoy on your Switch.
There are also a ton of indie favorites that have reached the Switch's game shops. If you think you are going to be left out, these game selections will prove otherwise.
Other Features
Not all consoles come with a battery pack. However, since the Switch is more like a hybrid and can be used as a handheld game device, it does have its own that will allow you to play for hours. More specifically, its batteries are capable of running games for up to 5 to 8 hours.
The Nintendo Switch is absolutely an excellent game console. As long as you are willing to take some hits in the graphics department, there is a lot of upside to it. From its versatility to a solid game library, you will surely enjoy playing on it for a long time. It will not offer you the 4K eye candy of other consoles, but you really can't bring those with you and play your favorite games on the plane, right?
Why Get the Nintendo Switch
One versatile game console
Excellent game selection
Different play modes for various situations
Handheld Gaming King
Retail Price: $290
The Nintendo Switch Lite can be considered a budget version of its large sibling, but it is a console of its own. It's a dedicated handheld that may have similar features and game selection as the Switch. Still, it is different enough to be considered in the same category.
Design and Build
Compared to the Switch, it is smaller and more comfortable to hold. It's just right for handheld gaming, making it travel-friendly, so it fits in pockets and bags. One of the main differences between this and the Switch is the removable Joy-Cons. This game device has its controllers built-in, so you do not have to worry about misplacing them.
It also lacks the docking features that will allow you to play on a much larger screen. However, if you are satisfied with its handheld capabilities and expect to play this on your daily commute, this is an excellent game console for you.
Hardware
There really is no difference between the Switch and the Lite version when it comes to internal components. It runs the same processor, graphics, memory, and others maintaining that experience between both devices. So, in terms of game performance, and you will not find any difference between the two.
It does have an improved battery over the original release Switch giving you about 5 to 7 hours of game time. This should be enough if you are using this on your daily commute. You should be able to play your favorite games without suffering from any power shortage.
Display Features
The Switch Lite only comes with its built-in 720p display. It does not offer a docked option like the Switch. There is definitely a bit of a compromise here, but it ensures that you are getting the best gaming performance, experience, and battery life.
So, you are not going to get the 4K HDR experience, but the Switch Lite's built-in display is bright enough, allowing you to pick out some of the details of your favorite games like The Legend of Zelda: Breath of the Wild. It also gives you a more immersive experience since you are closer to the action.
Game Library
As for game selection, you really have nothing to worry about since it's the same as the Switch. You will be able to enjoy all the Nintendo franchises and exclusives, plus games ported by third-party developers and publishers.
If you are looking for a more affordable entry point to the Nintendo ecosystem, this is the game console for you.
Overall, the Nintendo Switch Lite is a solid game console. It may not offer you the full Switch experience, but if you feel like you are not into the TV dock and only want to play your games on a smaller screen, this is the one to get. It is no question the best handheld gaming console on the market.
Why Get the Nintendo Switch Lite
Comfortable handheld design
Extremely portable game console
Top notch game library
Reasonably priced for a gaming device
Multimedia Powerhouse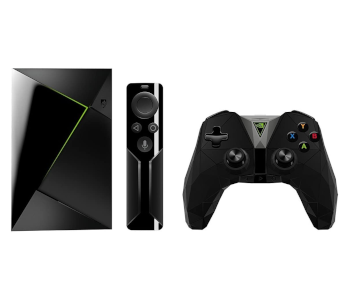 Retail Price: $359
If you think the Nintendo Switch is different than most game consoles on the market, the Nvidia Shield TV is a bit of an oddity. It's not a game console in the traditional sense, but it will allow you to run your PC games straight to your TV and stream 4K HDR content. It also comes with an AI upscaling feature that will make any 1080p video look incredibly sharp and detailed on your 4K-capable TV.
Design and Build
The Shield TV does not look like a traditional console or even a streaming device. If you are expecting something that has a boxy shape or a dongle, this seems vastly different. It's a small black cylinder that rests below your TV with a power and Ethernet port on one end and an HDMI and microSD card on the other. It's a simple design, which you might even mistake for a USB or HDMI hub.
Controller
Most game consoles have their own controller, the Shield TV comes with a remote since it's more a multimedia device. However, when it comes to gaming, you can connect just about any type of third-party controllers like the Xbox One or the DualShock 4. You are definitely getting the best of both worlds here in terms of gaming and content streaming.
Hardware
Even though it is built for streaming content and games, it still has a powerful Tegra X1+ processor that makes it snappy and quick in just about any task. It also has Dolby Vision and Atmos support, so you will be able to fully enjoy your 4K content.
Performance
On the gaming side of things, it's not really your full-fledged game console. Instead, it streams games from a remote server, be it in your home or otherwise. It's an excellent way to play your favorite PC games on your TV in all its 4K glory. So, for the Shield TV, it's all about latency. It performs really well and is capable of giving you a top-notch gaming experience when you are far away from your computer.
Game Library
This is where the Shield TV can have both an advantage or otherwise. What it will have is the entire game collection that you have on your PC, since it essentially streams them. As long as you have a decent gaming rig, it will be capable of pushing that performance to your Shield TV and ultimately to an external display.
However, if you are after game exclusives, especially those found in the PlayStation and Nintendo ecosystem, you will not have access to them. So, depending on your machinery, you will be able to enjoy top-notch graphics detail on the most demanding games. However, you will also not get some of those exclusive titles from other platforms.
The Nvidia Shield TV is a different beast. It is targeted at those who consume a lot of streaming content from Netflix, Hulu, or Amazon Prime but are also into gaming. It's an easy way to enjoy your favorite games on a large screen, 4K TV.
Why Get the Nvidia Shield TV
Incredibly smooth game streaming capabilities
Lots of third-party apps support
Excellent rendering of UHD 4K content
Proprietary AI upscaling works great
Best Retro Game Console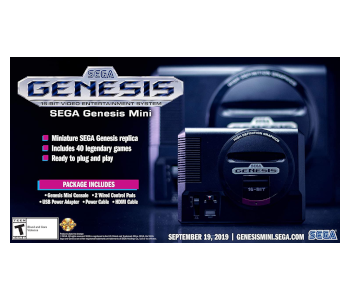 Retail Price: $79
The Sega Genesis Mini is a little different than all the other consoles here. It does not come with the latest hardware, but that's okay since it is meant to run many older games. In its heyday, if there was a game company that can rival Nintendo in the 90s, it was Sega, and here we get to see what made them rise to the top.
The Genesis Mini comes with a huge library of 42 built-in games that span the console's lifespan. It's not going to offer the best in terms of graphics, it's a retro system after all. However, if you grew up with these games, this machine is going to bring back a ton of memories.
Design and Build
There is really nothing remarkable about the Genesis Mini, after all, that's not what it's meant to do. But if you owned the Genesis console back in the day, you will instantly notice the similarities.
It is literally a minified version of the original Genesis, about 55 percent smaller. It comes with all the markings, prints, and logos. To add to the immersion, it even comes with a headphone volume slider that moves and a cartridge slot flaps that open and close, even though they do not have any function at all.
The build quality of the Genesis Mini is still top notch and matches other retro consoles on the market. You can see that the makers really put a lot of effort into this, and the attention to detail is just excellent.
Controller
If you think that the throwback designs end with the console itself, you are wrong. The Genesis Mini also comes with a pair of replica controllers that look and feel exactly like the original. The biggest difference is that they connect via USB, allowing you to use them on a lot of other devices such as your PC.
Performance
One of the notable aspects of the Genesis Mini is it's relatively easy to use. Setting it up is quick and convenient and mostly prioritizes user experience. It's really a plug and play console, and all you need to do is make sure it's got power and connected to your TV.
If you are a retro fan, the Genesis Mini gives you options on whether you display the game in 4:3 or 16:9 aspect ratio. You can also choose to have a CRT filter adding scanlines to your display, transporting you back to playing your favorite games when you were young. They hit the retro aspect out of the park with these additions, and if that's what you are after, you will appreciate the effort.
Game Library
You won't get the entire Sega Genesis roster of games, but you will definitely have access to 42 of the best titles. From Sonic to Virtua Fighter 2, there are a lot of games here for everyone. There are a few noticeable snubs, though, like OutRun and Battletoads, but it does give you a healthy slice of the experience.
Overall, the Sega Genesis Mini is as close to perfection as you can get with a retro console. You get a good game library with a variety of classic games to get you to reminisce about all those times you spent playing with your Genesis.
Why Get the Sega Genesis Mini
Extremely easy to operate and start playing
Reasonably priced system
Retro display options
Excellent build quality
The Best Game Console
Looking at sheer power and speed, you can only choose between two amazing game consoles, the PlayStation 4 Pro and the Xbox One X. They have roughly similar capabilities, so these two are a better comparison than all the other consoles.
It may not be the most powerful device on this list, but the PS4 pro is undoubtedly the best version of this popular console. It is one of the best plug-and-play game systems that you can get that's going to give you stunning 4K with HDR 10 compatibility.
What sets it apart from Microsoft's Xbox One X is its huge game library. A lot of games are available on both systems. Still, the PS4 Pro edges out its competitor when it comes to exclusive titles such as Uncharted, God of War, The Last of Us, Ghost of Tsushima, and Bloodborne. A number of JRPG favorites such as Persona and Final Fantasy are also available.
You will also get access to one of the most affordable premium virtual reality gaming experiences with the PlayStation VR. The Xbox One X is technically faster and more powerful than the PS4 Pro, but the game selection is one of its major downsides.
The Right One for Your Gaming Needs
Now, the best game consoles are not just about the PS4 Pro and the Xbox One X. We did not forget about the Nintendo Switch, which is a different beast in itself. There really are more considerations than just sheer power and display resolutions.
For one, you may not have a 4K-capable TV that will let you enjoy some of these awesome looking games. For that reason, the Switch may be a better option for you. It's not going to force you to get a 4K TV, it's not even going to give you the urge to buy a new one since it comes with a built-in screen. It also comes with handheld capabilities, so you can play it anywhere you want.
It's the same case for the Nvidia Shield TV, it's not your traditional console, but it's built for those who have powerful gaming PCs who want to play their games on a larger screen. Also, it's streaming capabilities are top-notch and quickly works as a 2-in-1 device for your entertainment center.
Then, there's the Sega Genesis Mini. Not all consoles are about the most current games, and this one proves just that. It's a retro machine that will take you back in time to playing on CRT TVs. It will definitely provide you tons of entertainment and bring back all those memories when you were a child.
Yes, there can be a most powerful game console, but it's not always the best one for you. There is also nothing wrong with having to choose more than one. The game exclusives will surely give you a reason to get more of these to satisfy your gaming needs.
What You Need to Know Before Buying a Game Console
Price
The latest game consoles can quickly go up in price. After all, getting more powerful components to run games at the best graphics quality possible can drive up costs. However, you really do not have to spend a fortune for an amazing gaming experience, and the Genesis Mini shows exactly that. The Switch is also relatively more affordable than both the PS4 Pro and the Xbox One.
Compatibility
This will really depend on what types of consoles you already have. If you have invested quite a bit in a particular ecosystem and enjoyed their games, then you are likely to buy a newer console from that company. You may be looking for that specific game experience, and others will not be able to provide that.
One of the few ecosystems that get this right most of the time is Microsoft's Xbox system. They really work on backward compatibility, which means that if you have games from their older console, there is a good chance you can still play it on their latest machine.
PlayStation is also developing this now with their PS Now streaming service. It will allow you to play older titles from previous consoles on your PS4.
Display Capabilities
It seems that the competition now is on display and graphics capabilities. Are you looking to play games in true 4K and not upscaled? If you strongly agree with this, then the Xbox One X is your best bet. It just has the capability to play games in stunning 4K HDR showing you details you might have missed on lower resolutions.
There is also the question of virtual reality gaming support, and we know right now that the PS4 Pro is the best console that can give you a full VR experience. If these are important factors for you, then these are the systems to get.
Wrap Up
The options for game consoles are growing and continues to. Newer models are coming, although it may still not be a good idea to get them. They are relatively new, and unless they have full backward compatibility, their game selections are not as fleshed out as these more established systems.
The best time to get any of these consoles is now. It's the time where the games are readily available, and you do not have to wait until they are released. You also have an entire collection to play through, so you always have a game ready for you to pop on there and start.
The best overall package, is no doubt, the PlayStation 4 Pro. However, each of these other systems can speak for themselves and come with their own set of advantages to keep you entertained, whether you are bored at home or on your commute to work.