6 Best Gaming Computer Cases in 2020
3D Insider is ad supported and earns money from clicks, commissions from sales, and other ways.
Any PC builder worth his salt will tell you that a quality case is the foundation of every successful build. After all, why spend lots of money on the latest graphics card & CPU only to throttle their performance or get a headache from all the noise they make? Top-tier PCs require cases that can keep up, and not all are up to the challenge.
A case intended for a gaming computer needs to satisfy several crucial requirements. It has to be built to last and have a logical layout that simplifies the building process while also allowing for cable management and storage. It has to provide ample cooling and offer diverse expansion options while remaining reasonably quiet under load. It needs to accommodate large components and have enough room to contain massive games & media libraries locally. Finally, the case has to look good and allow friends to gaze at its contents with delight or envy.
These are the six best gaming computer cases to get today. Some give a modern twist to tried & true designs while others blaze the trail for trends to come. Whichever you choose, expect your new setup to run at peak efficiency.
Budget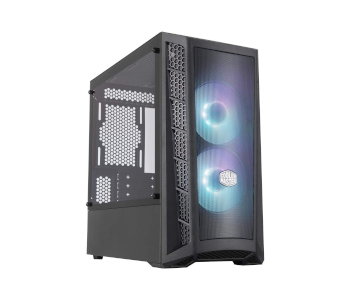 Cooler Master MasterBox MB311L
4.2/5.0
Dimensions: 17.1 x 8.5 x 16.1"
Weight: 12.1 lbs
Excellent airflow with room for improvement.
Check Amazon
Best Value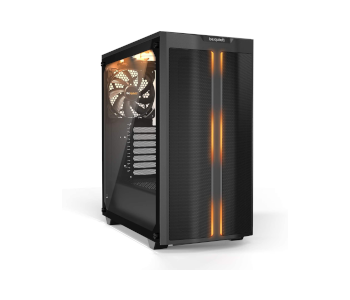 be quiet! Pure Base 500DX
4.5/5.0
Dimensions: 18.3 x 9.1 x 17.7"
Weight: 17.6 lbs
This has lots of room for water-cooling.
Check Newegg
Top Pick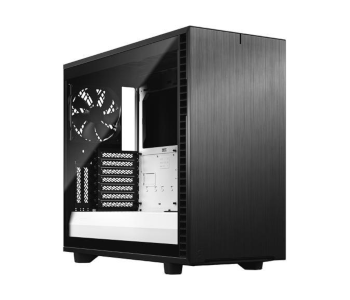 Fractal Define 7
4.8/5.0
Dimensions: 21.5 x 9.5 x 18.7"
Weight: 35 lbs
Ample room for lots of storage and cooling.
Check Newegg
Gaming Computer Cases Comparison Table
1. Best Overall – Fractal Define 7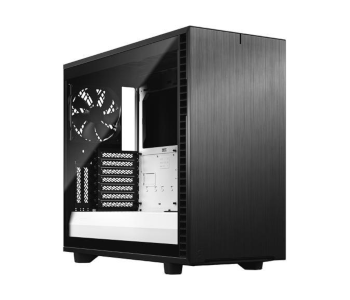 View on Newegg
Editor's Rating: 4.8/5
Fractal has undergone a reimagining of its brand, and the Define 7 is its first overwhelmingly successful product since removing Design frim the name. The Define is a continuation of the decade-old R series and can trace some of its design elements back to the earliest model. It has space for all the storage drives you'll ever need, lots of cable management options, and an effective cooling solution that won't compromise on the case's style.
Overview of Features
The Define 7 is a heavy and understated case that catches the eye with its imposing presence. You can get it in several color options and can choose between a heavily tinted and clear tempered glass panel. The front is made from sturdy aluminum and contains all the vents for the two 140mm fans you get. You'll find the generous I/O on top. It has five USB ports, one of which is USB-C.
The top side is completely solid, but it has a panel that you can replace with a mesh supplied with the case. This adds a cool-looking geometric panel prevalent throughout the Define 7's design and increases airflow. The magnetic filter underneath leaves lots of space between a radiator or a set of fans and the motherboard. Removing it reveals that the Define 7 doesn't have a crossbar, yet it is structurally sound nevertheless.
The back of the case accommodates seven expansion slots and another two for displaying your GPU vertically. The PSU hole isn't big enough for direct insertion, so you'll have to slide the power supply in from the side. Its shroud is solid and has holes for additional disk drives. You can install nine of them – seven 3.5" models and two 2.5" ones. You'll find room for most of them in the back as the SSDs go under the CPU cooler area while three HDDs can be screwed in close to the front.
The Define 7 has excellent cable management thanks to strategically placed grommets and Velcro straps. There's also a removable panel towards the bottom of the back that houses most cables for a clean appearance.
You'll have no overheating issues if you use the Define 7's stock configuration. Replacing the solid panel on top with the mesh results in a reduction of several degrees across the board and puts the Define 7 in excellent thermal territory. Its acoustics are average, hovering around 40dB at load.
What We Didn't Like
The Define 7 is a fantastic case, so these are complaints more than real shortcomings. Fractal is on to something with its interchangeable top mesh, so it's disappointing that you can't do the same to the door and exchange a few extra decibels for even better airflow. Some gamers might object to RGB's absence, while others will find this to be a plus.
Tech Specs
Dimensions: 21.5 x 9.5 x 18.7"
Weight: 35 lbs
Supported motherboards: Mini-ITX, Micro-ATX, ATX
Expansion slots: 7+2
Front connections: 2x USB 2.0, 2x USB 3.0, 1x USB Type-C, 3.5 mm audio & mic
Max. CPU cooler height: 7.3"
Max. GPU length: 18.4"
Internal bays: 7x 3.5", 2x 2.5"
Installed fans: 2x 140 mm front, 1x 140mm rear
Pros
Exceptionally sturdy and well made
Ample room for lots of storage and cooling
Great cable management
Excellent thermals
Cons
No RGB
Wasted opportunity to offer mesh front panel option
2. Best Value – be quiet! Pure Base 500DX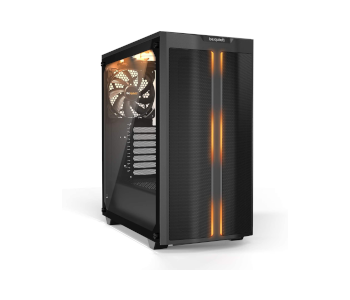 View on Newegg
Editor's Rating: 4.5/5
Be Quiet! pride themselves on creating some of the most silent cases on the market, but the Pure Base 500Dxis a welcome exception. It's still a quiet case that trades some of its silence potential for better airflow and thermals, a compromise most gamers will make in a heartbeat. It has excellent airflow potential while being great for liquid cooling too. Buy one, and you can look forward to painless installation and tidy cable management as well.
Overview of Features
Design-wise, the 500DX is a departure from the original Pure Base 500 and other be quiet! cases. It has a mesh front with two LED strips illuminating the middle. The mesh is large enough to offer a glimpse into the interior from the front. Popping the front panel off reveals a removable dust filter that doubles as soundproofing material, along with a pre-installed 140mm fan. You can mount one more or three 120mm fans instead or add a 360mm radiator.
The left side panel is made from tempered glass and has a thin bezel to better show off your components. The opposite side is completely solid since the front panel takes care of air intake. The top is more interesting since it has a magnetic vent with another 140mm fan underneath it. There's nothing remarkable on the back, except for the removable expansion slot covers secured with two sets of thumbscrews each. Like the H710i, the Pure Base 500DX has a full-length dust filter underneath you remove by sliding it forward.
The perforated shroud is the first thing that catches the eye once you peek inside the case. It has plenty of room for cable management, ventilation, and fan mounting. Installing the PSU and 3.5″ drives is similar to how you do it in the H710i as a PSU frame & drive cage slide out for easier mounting. The motherboard tray comes with pre-installed spacers and an aligning pin that helps with the mobo's precise placement.
There's 2.5 centimeters of room behind the motherboard tray for cable routing. There are no gutters, though. You get a set of four Velcro straps that help bundle and guide the cables instead. The result is no less clean and tidy. There's space for several SSDs in the back. You can mount two on the back of the CPU cooler vent and two more near the case's front.
We've seen less noisy cases from be quiet!, but the Pure Base 500DX is among their best when thermals and airflow are concerned. CPU cooling is especially impressive thanks to the large intake fan on top that blows air directly onto it. The GPU never gets toasty either, and both maintain adequate noise levels while idle.
What's Bad About It?
The Pure Base 500DX has a lackluster I/O panel. It looks like one of the 500's old ports has been repurposed into USB-C, leaving you with a single USB 3.0 connection. You'll have to be careful when handling the glass side panel since it scratches easily.
Tech Specs
Dimensions: 18.3 x 9.1 x 17.7"
Weight: 17.6 lbs
Supported motherboards: Mini ITX – ATX
Expansion slots: 7
Front connections: 1x USB 3.0, 1x USB Type-C, 3.5 mm audio & mic
Max. CPU cooler height: 7.5"
Max. GPU length: 14.5"
Internal bays: 2x 3.5", 5x 2.5"
Installed fans: 1x 140 mm front, rear, top
Pros
Excellent value for the money
Great airflow and temperature control thanks to three fans
Tidy cable routing
Lots of room for water-cooling
Cons
Side panel scratches easily
Only one USB 3.0 port on I/O
3. NZXT H710i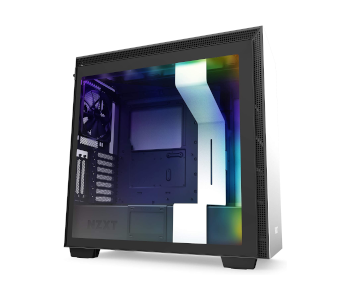 View on Amazon
Editor's Rating: 4.6/5
The i-series is a refresh of some of NZXT's most popular cases, and the H710i is the masterpiece. It's a beautiful case designed to show off your configuration while also providing optimal support for both air & water-cooling options. It's easy to work in, handles cable management well, and impresses with the thoughtfulness its engineers gave to small details.
Overview of Features
The H710i is a simple-looking, minimalistic case that attracts onlookers with a lack of gaudiness and the large glass side that effectively displays its innards. Everything is made from quality steel and constructed to the highest standards. The front is solid, but you can remove it to expose a dust filter covering three pre-installed 140mm front fans. The I/O is on top and standard for modern cases as it includes a USB-C port and an audio combo jack.
You can remove the top to reveal a mount for three 120mm or 140mm fans. Flipping it around gives a little extra space and lets you install a radiator. Speaking of which, there's ample room for another 360mm radiator in front. The back panel has a traditional layout, while a full-length removable dust tray lines the bottom one. The right side panel is solid apart from intake vents for the front fans.
The H710i's interior is ingenious. There's a PSU shroud complete with a mounting tray that eases the power supply in during installation. Several 2.5" bays face forward to proudly display our SSDs, while 3.5" disks have their own chassis you can easily reposition along rails. Both drive types now use screws. This extends the setup but ensures they'll stay in place.
The cable bar is a signature of NZXT's cases and hides a wealth of wires to keep your PC organized. There's lots of breathing room along with wide routing canals behind the motherboard tray, so you should be able to run any amount of cables both smoothly and tastefully. NZXT was also kind enough to provide spacers, so mounting the motherboard is only a matter of screwing it in.
Low thermals are the H710i's most outstanding achievement. Expect more than reasonable CPU & GPU temperatures even after hours of intensive gaming or running resource-heavy programs. It's impressive how a case with solid sides is able to pull such a performance off with just its four stock fans. Adding an AIO will make things even colder.
What We Didn't Like
The H710i isn't a good fit for people who need to swap out their disk drives regularly. You have to remove the 3.5" bays from the shroud and secure the drives with screws, which can get tedious if performed often enough. You'll want a different case if you plan on mounting the GPU vertically since it will press up against the glass and have no room for air intake.
Tech Specs
Dimensions: 20.3 x 9.1 x 19.4"
Weight: 27.1 lbs
Supported motherboards: Micro ITX – E-ATX
Expansion slots: 7
Front connections: 2x USB 3.2, 1x USB Type-C, 3.5 mm audio & mic
Max. CPU cooler height: 7.3"
Max. GPU length: 16.3"
Internal bays: 7x 3.5", 2x 2.5"
Installed fans: 3x 140 mm front, 1x 140mm back
Pros
Exceptional build quality
Excellent cable routing and management
Great cooling fur such a solid design
Easy to build in
Cons
Doesn't support vertically-mounted GPUs well
Installing 3.5" drives is a chore
4. ADATA XPG Battlecruiser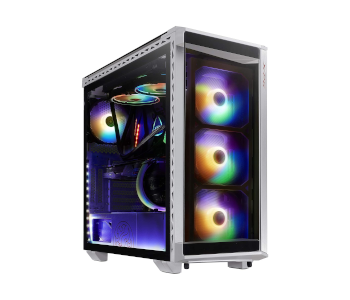 View on Amazon
Editor's Rating: 4.5/5
You can find RGB on most PC components these days, and what better way to show it off than with a case that's almost entirely made from glass? That's the idea behind Adata's XPG Battlecruiser, a thoroughly modern case with plenty of features to satisfy even the most nitpicky system builder. It's stylish, handles airflow well considering its construction, and can accommodate the beefiest components.
Overview of Features
You might know Adata as a dependable manufacturer of storage drives, but the XPG line is its first foray into case design. The Battlecruiser makes a strong statement and a favorable first impression since it combines a unique style with practical functionality. Four of its six sides are made from glass reinforced with aluminum on the top and in front. The glass is barely tinted, offering a clear view inside the case but also exposing your sloppy cable management, so keep things clean while building!
The XPG Battlecruiser comes with three 120m fans in the front and one in the rear. Its front panel has side vents that provide enough air for the fans to cool the interior down considerably. The fan in the back can be adjusted to sit lower or higher to optimize airflow. There's room for a 360mm radiator or twin fans on top. You can mount a slim 360mm radiator in the front or go all out at the price of removing the HDD bracket.
You can lift the front glass panel out by removing two thumbscrews on the bottom and pulling up. That will expose a front mesh that's easy to clean. The top of the front panel is skewed for an attractive non-symmetrical effect. There you'll find a modern I/O with two USB 3.0 and one USB-C port.
The PSU shroud is long and divided into two parts, one for the power supply and another for a drive bay that holds two disks. There are screw holes in place on the top of its left part to attach additional drives, and a cutout on the right side lets you comfortably install reservoirs or pumps.
The backside is unique in that it has numerous zigzagging rubber grommets that close the space off but move aside easily when you need to route cables. There are two more SSD slots in the back that secure the drives with tension levers and accommodate models of varying thicknesses.
The XPG Battlecruiser's thermals are average, which is impressive considering its supposed lack of airflow optimization. It's among the quietest cases we've tested when idle and barely breaks the 40dB mark when the system is operating under full load.
Are There Drawbacks?
The XPG Battlecruiser's I/O has a potentially infuriating design flaw. The reset and fan control buttons are identical in shape and next to each other, so accidentally resetting the system is likely. The USB-C is gen 2 but comes with a cable that limits it to gen-1 transfer speeds. You'll have to get a replacement to make full use of it.
Tech Specs
Dimensions: 19.9 x 8.9 x 19.1"
Weight: 35.1 lbs
Supported motherboards: Micro ITX – E-ATX
Expansion slots: 7+2
Front connections: 2x USB 3.0, 1x USB Type-C, 3.5 mm audio & mic
Max. CPU cooler height: 6.7"
Max. GPU length: 15.7"
Internal bays: 6x 3.5", 2x 2.5"
Installed fans: 3x 120 mm front, 1x 120mm back
Pros
Beautiful glass aesthetic that doesn't compromise the thermals
Versatile PSU shroud
Lots of grommets for cable cleanup
Supports large radiators in the front and on top
Cons
USB-C can't achieve gen-2 speeds without a cable upgrade
Fan management and reset buttons are easy to interchange accidentally
5. Lian Li Lancool 2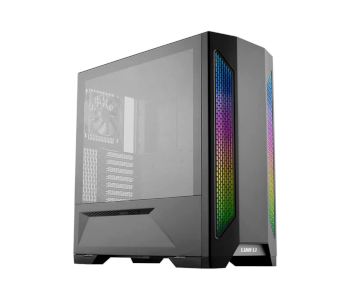 View on Amazon
Editor's Rating: 4.4/5
Do you value cool-running components above everything else but still want a gaming case that looks the part? The Lancool 2 by Lian Li is what you're looking for then! True to its name, it's the coolest case on review from a thermals perspective, but many gamers will judge its aesthetic and suicide-door glass panels equally. Add impeccable cable management & storage space on top of that, and you've got a versatile case for PC builders of all skill levels.
Overview of Features
Lian Li did an excellent job balancing the Lancool 2's aesthetics with its performance. For example, the front panel has two large side vents that expose the dust filter protecting the two 140mm front-mounted fans. The filter diffuses light, giving off a soft RGB glow that makes the Lancool 2 look impressive. The glass side panels are held by magnets and swing backward when opening. Removing them from their hinges is easy when you need access to the Lancool 2's interior.
Each glass sheet is also supported by a smaller metal panel you can flip outward. The left one has a vent that improves airflow while the one on the right supports two SSDs. The top holds the I/O and a dust filter that protects another 120mm exhaust fan. There's room for two more fans or a 240mm radiator, and any of them will leave some space above the motherboard. The back panel is standard but has removable expansion slots and an adjustable rear fan you can bring in line with the CPU.
The power supply shroud is perforated and has two large holes for cable routing. It accommodates long PSUs and has three 3.5" disk trays. You may install two more 2.5" SSDs on the motherboard tray's back, which brings the drive total to a respectable seven. Unlike the Battlecruiser, the Lancool 2 has covered openings that hide your cable management attempts and give the interior a clean look.
We were most impressed with the Lancool 2's thermal performance. Its stock configuration has enough fans and perforations to supply every component with an adequate amount of air and keep temperatures down.
What's Bad About It?
The Lancool 2's fans are loud, even when they aren't running at full speed. Your GPU's fan might overshadow them when playing demanding games, but you'll be aware of the noise otherwise. Lian Li has chosen to support the Lancool 2 with accessories like an LED strip and vertical GPU mount. The I/O's USB-C is also an accessory, meaning you'll have to pay extra to get it.
Tech Specs
Dimensions: 18.8 x 9 x 19.5"
Weight: 28.6 lbs
Supported motherboards: Mini ITX – E-ATX
Expansion slots: 7
Front connections: 2x USB 3.0, 1x USB Type-C, 3.5 mm audio/mic combo
Max. CPU cooler height: 6.9"
Max. GPU length: 15.1"
Internal bays: 3x 3.5", 4x 2.5"
Installed fans: 1x 120 mm front, top, rear
Pros
Outstanding thermals
Attractive design with lots of small, thoughtful elements
Tidy cables thanks to well-placed covers
Lots of disk drive placement choices
Cons
USB-C sold separately
Loud
6. Best Budget Option – Cooler Master MasterBox MB311L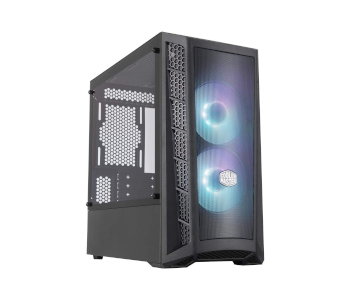 View on Amazon
Editor's Rating: 4.2/5
Frugal gamers tend not to buy the biggest motherboards, so why should they spend extra on needlessly large cases? That's the reasoning behind models like Cooler Master's MasterBox MB311L, a compact case designed for mini and micro ITX boards. Its size doesn't indicate a lack of quality as Cooler Master could concentrate on outfitting the small chassis with premium features like RGB fans and a tempered glass panel.
Overview of Features
The MasterBox MB311L is one of the best-designed cases on review, blending years of cooler Master's recognizable style with modern gaming must-haves like RGB fans. The front panel is particularly attractive as honeycomb-shaped intake vents on the sides flank its central mesh. You may tug on it from beneath to gain access to the mesh, add another 120mm fan, or upgrade to two 140m models. The fans the case does come with are placed centrally, which produces a cool-looking effect.
Cooler Master is another manufacturer that includes a magnetic mesh for the top panel. It keeps dust from reaching the space underneath, intended either for two 140mm fans or a 280mm radiator. There's room for a 360mm model in the front too, so the MasterBox MB311L is an excellent choice if you're into water-cooling.
The inside of the MasterBox MB311L is basic and functional. You can't remove the power supply shroud, but it has two mounting options for 2.5" SSDs on top and two larger ones inside. There's a hole towards the front for radiator placement and a dust filter on the case's bottom covering the PSU's fan opening. Turning the case around exposes two more spots for SSD placement as well as enough room to organize your cables. Unfortunately, there are no grommets to hold them in place.
We were pleasantly surprised by how easy the MasterBox MB311L is to work inside, given its size. Its motherboard dimension restrictions don't have a negative impact on the room around the mobo, and strategically placed holes ensure you can route cables to it without hassle. Installing storage drives is even easier since the process is toolless for both sizes as they're secured by pin screws you tighten manually.
The MasterBox MB311L is a balanced case, delivering average thermals and corresponding noise levels. It accepts GPUs 13.5 inches in length or less, so consider adding more fans if you plan on taking full advantage of that restriction to ensure it doesn't get too hot.
Are There Drawbacks?
There's evidence that Cooler Master cheeped out on some of the MasterBox MB311L's build elements. The lack of replaceable expansion slots and grommets isn't a deal-breaker, but it might put some users off from buying the case. The side panels are held in place with sets of four thumbscrews. A less noticeable design choice would have been better.
Tech Specs
Dimensions: 17.1 x 8.5 x 16.1"
Weight: 12.1 lbs
Supported motherboards: Mini-ITX, Micro-ATX
Expansion slots: 4
Front connections: 2x USB 3.0, 3.5 mm audio & mic
Max. CPU cooler height: 6.5"
Max. GPU length: 13.5"
Internal bays: 2x 3.5", 2x 2.5"
Installed fans: 2x 120 mm front
Pros
Excellent airflow with room for improvement
RGB and tempered glass at a low price
Straightforward disk drive installation
Comes with magnet dust cover
Cons
Corners were cut on less important design elements to keep costs low
Thumbscrews negatively impact the aesthetic