Gaming Keyboard Black Friday 2019 Deals
3D Insider is ad supported and earns money from clicks, commissions from sales, and other ways.
Whether you're a master of the hair-trigger or can cast spells like there's no tomorrow, you need a gaming keyboard that looks the part and can keep up. There are lots of excellent models to be had at rock bottom prices this Black Friday, and here are the ones you should grab before someone else does!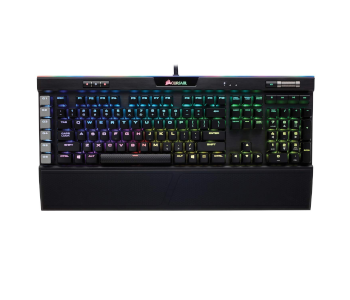 Corsair K95 RGB PLATINUM
Original Price: $199.99
Black Friday Price: $129.99
Are you looking for the ultimate RGB mechanical keyboard experience? If so, get your wallet ready for the platinum version of Corsair's G95. It's a massive keyboard with dedicated media keys, six macro keys on the far left, a volume roller, and a flippable hand rest. It will be $70 off at Newegg, making this a perfect time to strike.
Corsair focused on two things with this keyboard – bringing RGB to polished perfection, and ensuring that you have a pleasant tactile experience. The K95 Platinum is equipped with the best switches in the business, manufactured by Cherry. You can get it either in MX brown for a clicky, tactile feel, or MX speed if you need a silent operation and faster response times.
Both switch types have a transparent bottom that lets the light shine through better. Couple that with a bolder font designed to bring out more light, and you've got keys that are both colorful and clearly visible. Want more? There's also a customizable RGB light strip on the keyboard's upper edge and under the logo.
Customizing your own light show and macro keys is easy thanks to the Corsair Utility Engine. There you can assign colors to groups or single keys as well as select and combine multiple effects for a unique look. CUE also has a social component; Corsair fans can create and upload their lighting profiles for others to download and enjoy.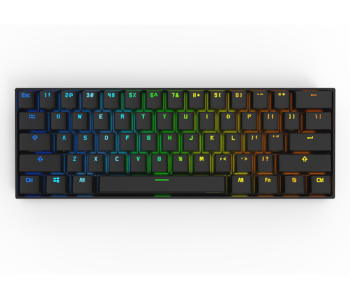 Anne Pro 2
Original Price: $149.99
Black Friday Price: $65.88
Anne Pro has an entirely different design philosophy than the K95 Platinum, yet it's equally awesome. Grab one if you have a cramped desk or are always on the go and need a wireless gaming keyboard that can keep up.
This is a 60% keyboard, meaning it is a little less than two thirds the size of a regular one. It lacks everything east of the Enter key, and there's no F row either. Anne 2 makes up for that by offering two function keys, one for media management & lighting, and another for the F row. The keys to the right of the spacebar double as arrows if tapped, and you can assign alternate tapping functionality to other keys too.
You'll love to take the Anne 2 to LAN parties or to the coffee shop as it connects wirelessly through Bluetooth 4.0. There's an on/off switch for the Bluetooth so that you don't accidentally drain the battery by pressing keys in transit. Once you're where you need to be, you can also hook it up through USB-C.
The keyboard comes with straightforward software that's been vastly improved since the original. You can use it to change the layout, assign different functions or macros, and tinker with the lighting profile. Unlike with the Platinum, the RGB is there but mostly limited to shining through the keys. That makes for an unobtrusive but effective style both you and people around you can appreciate.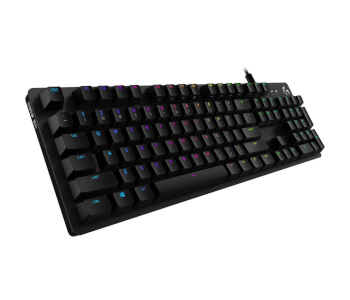 Logitech G512 SE
Original Price: $99.99
Black Friday Price: $69.99
Logitech's G512 SEE occupies a middle ground between the two previously mentioned models. It's a full-sized keyboard but has a small footprint for the category. RGB is there and customizable to a ridiculous degree, yet it doesn't look gaudy. The price is nothing to sneeze at either, so consider this model if you need an all-around gaming keyboard that won't leave your desk.
The G512 SEE doesn't come with special macro keys. Instead, its F-row lets you access media and RGB controls by simultaneously hitting the Fn key. It has six legs, two of which can be propped up to angle the keyboard upward. Underneath it is a clever trench designed for cable management. There's also a USB passthrough that lets you connect a mouse or USB headphones to the G512 SEE instead of your CP's case.
The switches have a medium actuation point and respond with a click when pressed. They aren't see-through though, so RGB is limited to the gently curved keycaps. There are lots of presets and cool effects to choose from in Logitech's Gaming Software. There you can set up profiles for specific games and endlessly customize the RGB either individually or in key groups. Logitech has an expansive line of other gaming peripherals and lets you sync all of their lights for an even better-looking effect.
Other notable gaming keyboard deals: