Corsair and Razer Gaming Keyboard Black Friday 2019 Deals
3D Insider is ad supported and earns money from clicks and other ways.
Are you still typing away on the $5 keyboard that came with your first PC? If you've upgraded everything else to a gamer's standards, it's high time you did the same for the peace of hardware that connects you to your rig. Black Friday offers enticing prices for some of the best models around, so check what's on offer and get a keyboard worthy of your gaming prowess.
Corsair K70 Mk.2
Original Price: $169.99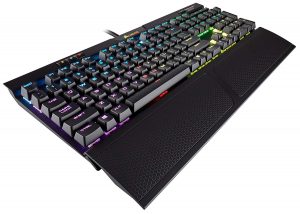 Black Friday Price: $109.99
The K70 was one of the best mechanical gaming keyboards to date, and its second iteration is even better. The keyboard is durable, has a beautiful appearance, and it brings out the best in you while typing or gaming. It was pretty expensive, too, but Black Friday brings the price down to more than acceptable levels.
This is a keyboard that's as beautiful as it is functional. Before turning the RGB on, your only clue that this is a gaming keyboard is its dedicated multimedia keys above the F row. It has a premium aluminum face and comes with a detachable hand rest. The K70 takes up two USB slots because it offers a passthrough that lets you connect USB sticks or other peripherals without having to access the back of your PC.
The keycaps are slightly indented and give a great tactile response. You can choose between different Cherry MX switches for everything from smooth & silent to clicky and forceful. The WASD keys are slightly textured, so you can easily find them without looking.
Color customization via the CUI software is where the K70 really shines, though. Corsair lets you tweak its lighting in every conceivable. You can have every key glow a different color, assign colors to groups, or mix & match numerous effects. Three profiles can be saved locally for gaming on the go while switching between different ones on a PC running the software is limitless.
Razer Cynosa Chroma
Original Price: $39.99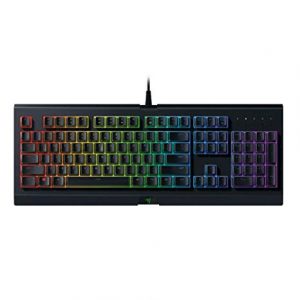 Black Friday Price: $59.99
Razer's budget gaming keyboard is the one to get if you aren't hung up on mechanical switches. It features a pleasant typing experience, in-depth color & key customization, and visuals that wouldn't go unappreciated in an office with the RGB turned off.
The Cynosa Chroma is an accomplished blend of subtlety and modern gaming aesthetics. The membrane keys subdue its lighting so that it provides a pleasant ambiance instead of a garish glow. They're a pleasure to type on, especially if you're using the keyboard for work as well. They don't have far to travel and are very quiet, making the Cynosa Chroma an excellent choice for gamers living in busy households.
Razer's Synapse control software powers the keyboard. Synapse is versatile and lets you customize every aspect of the keyboard's behavior. You can change key functions, assign complex macros to a single key combination, and adjust the RGB in myriad ways. There are eight lighting presets as well as custom ones for specific games. These are dynamic and can change based on what you're doing, which character you're playing as, etc.
There are no dedicated macro or multimedia keys, but you can disable the Windows key to prevent accidentally exiting a game.
Logitech G213
Original Price: $69.99
Black Friday Price: $41.49
Mechanical keys are a great thing, but so are convenience and affordability. You'll get plenty of the latter two with the G213 from Logitech. It's a gaming keyboard with the unobtrusive aesthetic of an office model. However, turn on its individual RGB lighting, and you'll see how looks can be deceiving.
The G213 is a thin, light gaming keyboard with a set of dedicated multimedia keys and a non-detachable yet comfortable hand rest. Its F keys are programmable, letting you map a frequently-used shortcut or complex macro to each one.
The lighting on the G213 is subtle. It shines through each etched key brightly enough to impress but not so bright that you couldn't look directly at it. Logitech selected an excellent, bold font to maximize the light's visibility while making keys easily readable.
The Logitech Gaming Software helps you disable specific keys during gaming, customize colors, and quickly change profiles. It's not as sophisticated as Corsair's CUI, but you can come up with unique patterns and color combos nevertheless.
Other noteworthy gaming keyboard deals