6 Best Gaming Keypads in 2020
3D Insider is ad supported and earns money from clicks, commissions from sales, and other ways.
Keyboards are instrumental as computer input tools, but they're based on a typewriter layout that's 150 years old. Even though they're a mainstay of PC gaming, regular keyboards weren't designed for the task. They're large, not particularly ergonomic, and can't be configured unless you spend extra on premium models.
Enter gaming keypads, an admittedly niche product some users will still find indispensable. They're built for use with your left hand, either mimicking the left part of an ordinary keyboard or adopting one that makes better use of all your fingers. They take up a fraction of the space and have wrist rests that let you enjoy your favorite FPS or MMO for hours on end without getting tired. Most come with powerful configuration tools that allow you to reconfigure what each key does and assign complex macros to a single press.
These are the six best gaming keypads still available today. They're adding breed, but models like Razer's Tartarus Pro prove that there's still a lot of interest for such peripherals in 2020. See which one fits your playstyle the most and get an edge over others today.
Budget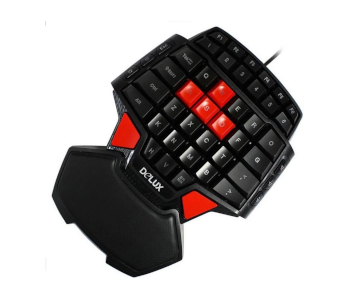 Delux T9
3.9/5.0
Inputs: 46
RGB: No. backlit
Has a set of multimedia keys.
Check Amazon
Best Value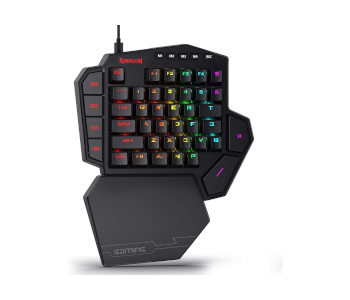 Redragon K585 DITI
4.4/5.0
Inputs: 47
RGB: Yes
Has tactile mechanical switches.
Check Amazon
Top Pick
Razer Tartarus Pro
4.6/5.0
Inputs: 32
RGB: Yes
Actuation implementation is excellent.
Check Amazon
Gaming Keypads Comparison Table
1. Best Overall – Razer Tartarus Pro
View on Amazon
Editor's Rating: 4.6/5
A gaming keypad is supposed to offer unprecedented freedom while taking up minimal space, and none does it better than Razer's Tartarus Pro. It's ergonomically sound, has a great wrist rest, and comes with the versatile Synapse configuration software. However, it's actuation customization that makes the Tartarus Pro superior to other such devices.
Overview of Features
Most keypads are designed to mimic the left half of a traditional keyboard. The Tartarus Pro dies this too out of the box, but it's built with more in mind. Firstly, its 20 keys are mapped with numbers instead of their corresponding places on a keyboard. That's to encourage you to experiment and assign different functions to them, but you can keep the standard QWERTY layout if you wish. There are 32 possible inputs in total, including a D-pad and a three-button scroll wheel.
Ergonomically, the Tartarus Pro is a pleasure to use. Its rest is high and comfortable, elevating your wrist into a natural position and letting you reach the keys & other controls easily. The 20 or spacebar key is the only exception as it's to the right and down. Other keys are spaced out in four rows that curve in a downward slope that makes it easier to press them without strain.
Each key has its own LED that you can configure separately in Razer Synapse. That's also where you'll tackle the Tartarus Pro's most impressive feature – key actuation. The keypad has optical switches with varying actuation points. That means you can set the keys to either act as hair-triggers or be harder to press in varying degrees. You can even set two actuation points for each, which lets you execute an action by gently tapping a key or another by pressing down more firmly.
Synapse is comprehensive and easy to use. You can rebind any key or the D-pad, assign macros to them, or set up an unlimited number of game-specific profiles. You'll have to make an account and provide an email address to use it, though, which is a practice other manufacturers don't use.
What We Didn't Like
The Tartarus Pro's actuation control is superb if you stick to a single layer but can be hit & miss when using both. The second control will sometimes fail to register, or the keypad will perform it only after executing the one mapped to a higher actuation point. The spacebar is placed awkwardly. It's fine if you need to occasionally press the key, but holding your thumb on it for long periods might cause discomfort.
Tech Specs
Dimensions: 2.7 x 8.4 x 5.8"
Weight: 12.8 oz
Switches: Optical
Inputs: 32
RGB: Yes
Pros
Actuation implementation is excellent
Has comfortable ergonomic wrist rest
Agnostic key labeling encourages experimentation
Comprehensive configuration software
Cons
The spacebar is awkwardly-placed and uncomfortable to use for long stretches
Secondary actuation points don't always behave as they should
2. Best Value – Redragon K585 DITI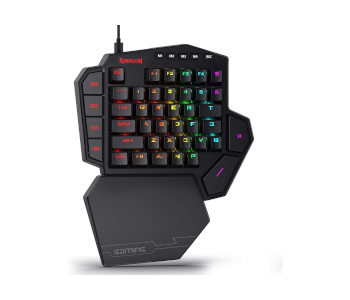 View on Amazon
Editor's Rating: 4.4/5
Do you like the idea behind the Tartarus but want a more familiar layout at an appealing price? Redragon's K585 DITI is the ideal choice since it looks and behaves like a sawed-off keyboard with several welcome improvements. It's tactile & responsive, comes with straightforward configuration software, and has a detachable wrist rest you'll love using.
Overview of Features
The K585 DITI doesn't break new ground with its layout. It's a copy of a standard keyboard's left half with the addition of the N and P keys. You'll find four macro keys to the left of the Tab column and one on the far right that's perfect to function as the Enter key. Underneath it is an oddly-shaped spacebar that's easier on your wrist than the one you get with the Tartarus.
Redragon outfitted the K585 DITI with Outemu switches, meaning it's a full-fledged mechanical keypad. You can choose between blue and brown. Get blues if you want the trademark mechanical keyboard clickiness or go with brown if you want a quieter option that's as tactile. The keycaps and switches are built to last, but replacing a defective one is easy with the included tools.
The K585 DITI comes with a wrist rest that holds onto it with magnets and is easy to detach. That's great news for gamers with limited desk space in front of them, but keeping it is a better idea if you have the real state since it makes using the keypad much more enjoyable. You connect the K585 DITI with a USB-C cable and get a passthrough that lets you connect headphones or USB sticks without reaching for the PC case.
Customization options for the K585 DITI are fairly standard and easy to access through its companion software. There are lots of RGB tweaks, including five presets, millions of colors, and settings that affect transitions or pulse speed. Assigning a function to any of the K585 DITI's keys is simple, as is recording or executing a macro. You may save a maximum of four profiles and call them up by selecting the corresponding keys above the F row.
What's Bad About It?
While it does its job, the K585 DITI's software is glitchy. It's prone to slowdowns and may even interfere with other Redragon products. The G1 custom key is located above the spacebar and impossible to reach for people with small hands without lifting them from the keypad.
Tech Specs
Dimensions: 2 x 11 x 9"
Weight: 12.8 oz
Switches: Mechanical
Inputs: 47
RGB: Yes
Pros
Excellent value for the money
Has tactile mechanical switches
Straightforward control and RGB configuration
Detachable wrist rest
Cons
G1 key is positioned awkwardly
Glitchy software
3. Logitech G13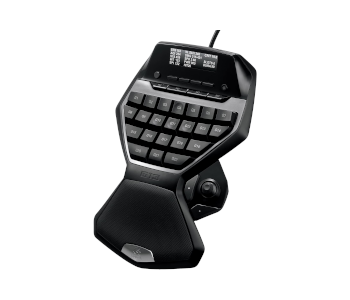 View on Amazon
Editor's Rating: 4.5/5
Regular keyboards were designed for text input, and that's what keypads like Logitech's G15 abandon in favor of a setup that's better suited for executing complex maneuvers in games. It's an MMO player's dream, offering more than a score of inputs along with a four-way analog stick. The keypad also has a versatile screen, a comfy wrist rest, and the ability to record macros without entering its companion software.
Overview of Features
The G15 is a likely inspiration for Razer's function-agnostic layout as its keys are also numbered rather than labeled. There are depressions in four of them, and these correspond to WASD by default. However, they're in the middle of the keypad instead of to the far left. This encourages you to use your pinky and ring fingers more to utilize all the keys to the left and give you access to more readily available commands. Just by making that adjustment, you immediately have nine keys within easy reach.
Getting to each key is more natural than on a traditional keyboard as the G15 adapts itself to your hand's contour. Add to that its padded wrist rest, and you have a peripheral you can use for raids that go on for hours without feeling strained. The analog stick can be pressed down and used with your thumb, but its functionality is limited to one of two axes at a given time.
A small LCD is another of the G15's unique features. It shows pertinent information like your current profile or macro settings. You can also set it up as an RSS feeder or a stopwatch. Its most useful feature in and out of games is that of a status monitor as the screen displays RAM and CPU usage.
The G15 is self-sufficient since you can switch between three profiles and record macros without accessing its software. However, doing so opens up a wealth of customization options. You can assign any key of the keyboard, a combination, or a complex macro to any of the G15's keys. More importantly, you can save a layout for each game or application you use and seamlessly adapt them since the keypad recognizes each program as it launches. You may even engage the LEDs and cycle between several colors.
Are There Drawbacks?
The G15's main drawback is its age. It's been around for a long while and is hard to come by, usually at inflated prices. The keys are responsive ad sturdy, but the same can't be said for the two action buttons next to the joystick. They're prone to input failure, so it's best to avoid using them.
Tech Specs
Dimensions: 1.3 x 7 x 10"
Weight: 20.1 oz
Switches: Mechanical
Inputs: 28
RGB: Yes
Pros
Excellent layout that encourages more button use
Informative LCD screen
Seamlessly switches configurations based on active program
Doesn't cause discomfort with prolonged use
Cons
Spotty availability and high price
Mediocre action buttons
4. Koolertron Programmable Gaming Keypad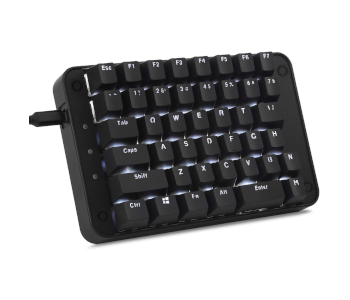 View on Amazon
Editor's Rating: 4.3/5
Koolertron has given its gaming keypad a unique twist. It can cat as a standalone product, replacing the left half of your keyboard, or you can pair it with a right half that's sold separately and create a fully functional split keyboard. It's made from quality materials and comes in a variety of choices sporting genuine MX switches. There's also onboard memory to help you seamlessly transition between devices.
Overview of Features
There's nothing subtle about Koolertron's keyboard design – it's a rectangular slab that looks like someone chopped a regular-size keyboard in half. That's not to say it's without its charms; the keys have a pleasant white glow and three LEDs on the far left that indicate when the lock keys are active.
Koolertron didn't skimp on build quality since the keyboard comes with MX Cherry switches. Blue is the most popular for all-around use and also the loudest. Red switches are intended for gaming, easier to press down on, and produce less noise. A cheaper variant that uses red Gateron switches is available too, as is a special PUBG edition where the keys glow amber and are labeled with that game's specific controls instead of regular letters and numbers.
You get a MicroUSB cable along with the keypad that lets you hook it up to tablets and smartphones. Doing so will give you a significant advantage over players who use their imprecise screens and touch controls to perform actions a keypad can execute in a fraction of the time.
The config software is nothing special. It's limited to key remapping and macro creation. There are no profiles to cycle through, but you do get to save one configuration to the keypad's onboard memory. The same set of keys will then be recognized on any device you connect it to in the future.
What We Didn't Like
Koolertron's keypad might have MX switches, but it's an expensive purchase nevertheless. It also lacks a wrist rest. That's not as much of a problem as you might think since you can angle it more comfortably, and it has four rubber feet that keep it in place. Still, a wrist rest would have been nice.
Tech Specs
Dimensions: 9.5 x 6.7 x 1.6"
Weight: 20 oz
Switches: Mechanical
Inputs: 43
RGB: No, backlit
Pros
Comes with genuine MX switches
Can be paired with a right half for a full keyboard experience
Stores one profile locally that works on all connected devices
Held firmly in place by rubber feet
Cons
Expensive
Lacks a wrist rest
5. ACEPHA T9 Pro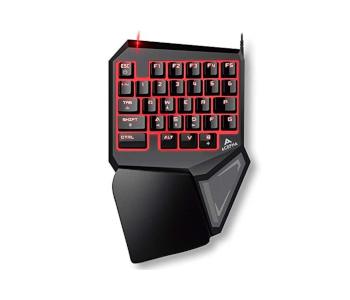 View on Walmart
Editor's Rating: 4.1/5
Acepha might not be as known as some of the other names on the list, but that doesn't mean you should dismiss the T9 Pro. It's an attractive buy because of its competitive price and small form factor that will make the keypad welcome on even the most cramped desks. Its feature set is straightforward, but you're getting solid performance with minimal hassle.
Overview of Features
The T9 Pro is among the smallest and lightest gaming keypads on review. Its layout is limited to 29 keys in the standard QWERTY arrangement with a separate spacebar key on the right you can easily reach with your thumb. We were pleasantly surprised to see a braided cable in the back since you wouldn't expect this feature at this price point.
The size of the T9 Pro's keys is another point in the T9 Pro's favor. There's only 29 of them, so the keys can be comparably large. The T9 Pro slopes gently downward, allowing you to reach any row of keys with a natural movement. Its wrist rest is fixed in place and has a slight texture that keeps your hand from slipping. It tapers and angles towards the desk to provide optimum wrist support.
The T9 Pro uses membrane keys, which isn't unusual if you consider its price. The keys respond well and don't feel mushy. Plus, they're much quieter than mechanical ones and will allow you to game in a room occupied by other people without disturbing them. The keys have anti-ghosting and 16-key rollover, ensuring that you can execute long DPS rotations quickly without messing up.
The T9 Pro's configuration options are basic. You can remap its keys, cycle through one of seven colors, and set the color to either glow constantly or pulsate gently.
What's Bad About It?
The T9 Pro is another older model whose drivers haven't been updated to comply with Windows 10 standards. Some OS updates might cause conflicts with the drivers that result in BSODs. The separate spacebar is flimsier than the other keys. It doesn't always respond promptly and can even stick.
Tech Specs
Dimensions: 1.6 x 9.3 x 6.2"
Weight: 18.4 oz
Switches: Membrane
Inputs: 30
RGB: Yes
Pros
Takes up little space
Textured wrist rest
Simple to remap
Has a braided cable
Cons
Driver issues in Windows 10
Sticky spacebar
6. Best Budget Option – Delux T9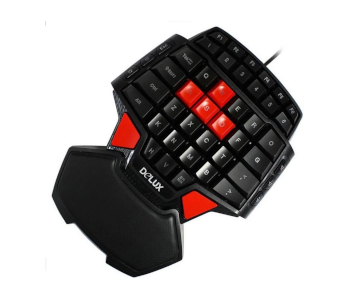 View on Amazon
Editor's Rating: 3.9/5
Not to be confused with Acepha's keypad, the T9 by Deluxe is an affordable alternative for people who want a plug & play solution and don't care about remapping. It's comfortable enough for long gaming sessions thanks to a padded wrist rest, has lots of extra keys, and lights up in the dark so you can find your way around more easily.
Overview of Features
The T9 combines a mostly traditional half keyboard layout with a sci-fi aesthetic that makes it look cooler than most rivals. Some letter choices are strange, though, as you'll find O next To R and a fourth bottom row with a jumble of letters anyone with ingrained QWERTY muscle memory will need to adapt to first. WASD is colored red to stand out from the crowd, as are the twin spacebar keys that flank the T9's base.
There's a total of 47 keys with one less function on account of the spacebar. Several of them are unique to the keypads we've tested, like the volume control keys on the right and the home key on the left. You'll also find a special key with Chinese characters next to V. Pressing it toggles between WASD and arrow key functions, which can be convenient if you're using the T9 to navigate webpages or spreadsheets.
The T9 is plug & play, meaning it will connect to your computer and be ready for use without the need for additional drivers. That also means it won't run into conflicts like the T9 Pro and is, therefore, more futureproof. Lastly, you can turn on its blue LEDs with a button next to the Esc key. It has two brightness settings and illuminates each key in a vivid blue.
Are There Drawbacks?
The T9 has two unfortunate design flaws. It's far too easy to accidentally press the mode shift key, which can cost you precious seconds as you try to figure out what went wrong. The twin spacebars sound like a fun idea on paper, but they're small and awkward to press in practice.
Tech Specs
Dimensions: 3.4 x 11.2 x 9.4"
Weight: 17.6 oz
Switches: Membrane
Inputs: 46
RGB: No. backlit
Pros
Plug & play for instant accessibility out of the box
Has a set of multimedia keys
Mode key is useful for web & business use
Has strong illumination
Cons
Twin spacebar design needs work
Unfortunate mode key placement.