7 Best Expensive Gaming Mice Above $100
3D Insider is ad supported and earns money from clicks, commissions from sales, and other ways.
You've grown up through the years, and so have the video games that you're playing. Far removed from the simple video games of our childhood, the games we have right now are far more complex, offering more dimensions of gameplay experience. Fortunately, we're also better equipped now with more sophisticated controllers and gaming devices.
A good gaming mouse is an essential part of any gaming rig. If you play any multiplayer FPS games, a good gaming mouse may be the difference between making accurate headshots or being the noob who constantly gets shot down. Are you willing to spend to achieve gaming supremacy? Then one of these expensive gaming mice may be just what you need.
What to look for in an expensive gaming mouse
In coming up with this list, we restricted our selection to gaming mice that cost more than $100. This is a relatively huge amount considering that you can get a standard gaming mouse for as little as $10. With such a premium price tag, you would want to make sure that the gaming mouse you get has all the features you need. What should you be looking for when shopping for an expensive gaming mouse?
1. Response time
In either single-player or multiplayer gaming, reflexes are the key to winning. While some aspects of input response are dependent on your skill as a gamer, others depend on the gaming equipment you're using. A good gaming mouse should have as little latency as possible so that your inputs are translated to the screen almost instantly.
Just as important to the response time is the sensitivity of the mouse's sensor. This allows the mouse to detect even the smallest movements, allowing you to finely adjust your aim. A 12,000 DPI resolution is considered the minimum for a good gaming mouse. Basically, a higher DPI rating is better. Some gaming mice also offer an adjustable DPI option so you can set its sensitivity according to what you need.
2. Remapping options
Competitive gamers often find ways to tweak with their equipment to optimize their input options. One thing to remember about gaming mice is that they don't come with just the usual left and right buttons and scroller wheel of normal mice – a gaming mouse can have up to 11 (or even more!) buttons with unique functions. A good gaming mouse should offer remapping options for each of these buttons. By offering customizable buttons, a gaming mouse can be optimized for near-instant and intuitive input.
3. Ergonomics
Gaming mice nowadays offer different grip options that offer enhanced comfort for long hours of gaming or simply feel more natural. The most common types are the Palm grip and the Claw grip. A Palm-type mouse is more classic and traditional and is still preferred by a majority of gamers. The design allows you to rest your wrist and push the mouse around with your thumb and palm.
The Claw grip mouse is a newer take on the classical mouse design. This type of mouse is held with a sideways grip that has you moving it around using your thumb and fingertips. In theory, this should allow you to move the mouse faster and with more precision. The only downside is that it takes a bit of time to get used to, simply because of the lifetime of experience you've probably had using palm-style mice.
4. Weight
You've probably seen gaming mice that are deliberately designed to be as light as possible. While this is a fine design for cheaper alternatives, more expensive gaming mice offer something more premium: customizable weight. Some gamers prefer a gaming mouse that has a bit more heft because of the added precision it provides. On the other hand, those who prioritize speed over precision will choose something lighter.
A good gaming mouse can offer either or both a system of removable weights, or an adjustable center of weight. With this feature, you can tailor-fit the speed and precision of your gaming mouse according to your style.
5. Wired or wireless?
The distinction between wired and wireless gaming mice has been blurred over the years, but this is still a matter of contention between many gamers. Some prefer the reliability and the theoretically lower lag that a wired gaming mouse can promise. However, there is no question that a wireless gaming mouse is so much easier to use and bring around.
In the past, a wireless gaming mouse was considered to be inferior to a wired option because of a noticeable input lag. Nowadays, advances in wireless communications technology have reduced this input lag by a huge margin and made them more competitive with wired gaming mice.
6. Durability
Since you're spending a pretty large amount on your next gaming mouse, you want to make sure that it will last a few years, at least. The longevity of your gaming mouse will, of course, depend on how often you use it and how well you take care of it. If we're basing the durability of a gaming mouse purely on numbers, then you should be looking for a model that is rated for at least 50 million clicks. We also suggest looking for a gaming mouse with a body made with some sort of metal alloy instead of plastic, keeping in mind that it will also have an effect on the weight of the mouse.
This seems like a really long list for such a small device, but you are looking to spend at least $100 for it. Make sure that you have your priorities set before looking over the list of our recommendations below.
The top 7 gaming mice that cost more than $100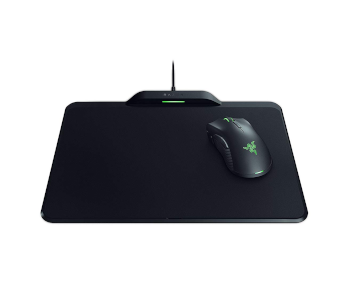 In terms of both style and performance, the Mamba Hyperflux from Razer looks like it trumps many other options in this price range. This gaming mouse, which can be used in both wired and wireless modes, comes with a wireless charging pad which also doubles as a mouse pad. This means that the mouse is continuously being charged as you use it, so you never have to worry about the mouse running out of power in the middle of a game.
Moreover, the Mamba Hyperflux is one of the most sensitive gaming mice in the market. Its 16000 DPI optical sensor can detect even the smallest movements and does not suffer from sensor jumping issues typically encountered with laser sensors. You can lower the DPI settings to fine-tune the sensitivity of the mouse to the level that you're comfortable with.
As with many gaming devices, Hyperflux mouse pad has a customizable RGB color profile with more than 16 million possible color combinations. The mouse itself has nine buttons which can all be remapped and reprogrammed. In terms of customization, the Mamba Hyperflux will not leave you disappointed.
The Hyperflux is a very light gaming mouse, but those looking for a little extra heft may be disappointed by the lack of any options to add weight.
Technical specs
Type: Wired/wireless
Sensor: 16000 DPI optical sensor
Buttons: 9 programmable buttons
Weight: 96 grams
Durability: 50 million clicks
PROS
Comes with a wireless charging pad
Highly sensitive optical sensor
Adjustable sensor sensitivity
Stable wireless signal
Customizable RGB color profile
CONS
No weight adjustment options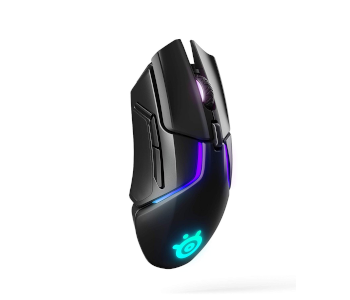 The Rival 650 is the SteelSeries wireless alternative to their other wired gaming mice. While it offers no option to be used in wired mode, SteelSeries claims that its performance is similar to any SteelSeries wired gaming mouse without being tethered.
The Rival 650 is equipped with the proprietary TrueMove 3+ optical sensor which promises to deliver true one-is-to-one movement input. The sensitivity performance of the Rival 650 has been great, but a lot of credit has to go to its adjustable weight system. With eight removable weights, the Rival 650 offers 256 different weight combinations so that you can tweak the weight and center of gravity of the mouse to what you are most comfortable with. This unique combination of sensitivity and accuracy makes the Rival 650 one of the best gaming mice, performance-wise.
The only major gripe with the Rival 650 relates to its build quality. The sides of the mouse are lined with a rubber grip which tends to come loose after just a few months of use. This definitely has to do with the use of a low-quality adhesive, which is very disappointing for a gaming mouse that costs well over $100.
Technical specs
Type: Wireless
Sensor: TrueMove 3+ 12000 DPI optical sensor
Buttons: Programmable buttons
Weight: Adjustable
Durability: 60 million clicks
PROS
Charges very quickly
Adjustable weight
Dual sensors
CONS
No wired option
Rubber grips come off easily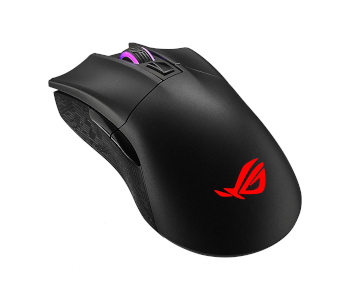 Another entry from the ASUS ROG product line, the Gladius II is a wireless gaming mouse that can be used in both palm and claw grip styles. It does not offer a wired option, although there is a wired version of the Gladius II which is an entirely different product.
The 16000 DPI optical sensor of the Gladius II is one of the best in the market, instantly elevating the status of the Gladius II. The highly sensitive optical sensor of the Gladius II is perfectly complemented by the hefty weight of the mouse, enhancing the precision and accuracy of aiming in FPS games. The Gladius II does not have an adjustable weight which, when combined with its large footprint, may make it uncomfortable for gamers with small hands.
Aside from the array of programmable buttons, the Gladius II comes with the signature ASUS ROG swappable switches. If you want to replace broken switches or want to swap out your current switch to change its resistance, you can do so easily with the included screwdriver. The stock switch is rated for 50 million clicks, so you shouldn't need to get a replacement even after a year or two.
Technical specs
Type: Wireless
Sensor: 16000 DPI optical sensor
Buttons: Programmable buttons
Weight: No info
Durability: 50 million clicks
PROS
Swappable switches
High-sensitivity sensor
CONS
No wired option
Heavy with no weight adjustment
Too big for small hands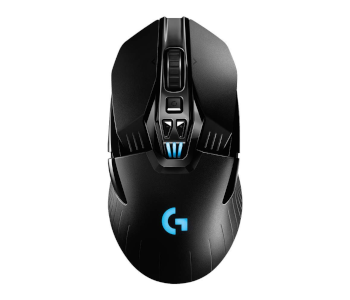 Left-handed gamers have always faced the dilemma of having to look for a gaming mouse that is designed specifically for left-handed use. In most cases, left-handed and right-handed gaming mice are designed exclusively. The Logitech G903 bucks this trend by being a completely ambidextrous gaming mouse, which is one of its more unique characteristics.
The G903 boasts of a super-sensitive 16000 DPI optical sensor, precise metal spring buttons, and up to 11 programmable buttons. The sensitivity of the mouse can be adjusted from 100 to 16000 DPI, which should help in customizing the gaming mouse to exactly how you want it.
The use of a high-capacity LiPo battery gives the G903 a long battery without weighing it down. You can also get the POWERPLAY charging pad, which is sold separately, to charge the mouse wirelessly during use.
The downside of the G903 is that it somewhat had to sacrifice ergonomics to achieve its ergonomic design. Its grip doesn't feel so comfortable as exclusively left-handed or right-handed mice, and the placement of the programmable switches also doesn't seem intuitive.
Technical specs
Type: Wired/Wireless
Sensor: 16000 DPI optical sensor
Buttons: Up to 11 programmable buttons
Weight: 3.84 ounces
Durability: No info
PROS
Ambidextrous design
Comes with high-capacity LiPo battery
Compatible with wireless charging
Adjustable DPI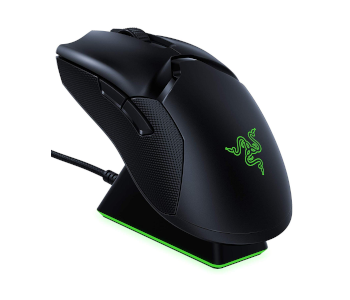 The Hyperspeed gaming mouse from Razer was built with one major objective – speed. This 74-gram wireless mouse is the lightest entry in this list and has the most sensitive optical sensor with a 20,000-DPI rating. That's not even where it ends because its buttons are light actuated to increase the response time based on your input.
If your gaming style relies on speed, then this is absolutely one of the best choices for you. It even has an ambidextrous design with eight programmable buttons on either side of the mouse. The eight-button selection is nothing impressive, and there are lots of alternatives that offer more customization options.
While this gaming mouse is great if you're already used to using very light gaming mice, it can be tough to adjust if you like your mouse to have a bit more heft. Because of its ultra-sensitive sensor and lightweight build, it's easy to have your aim go all over the place. If lightweight mouse gameplay isn't your style, then this can be a tough sell.
Technical specs
Type: Wireless
Sensor: 20000 DPI optical sensor
Buttons: 8 programmable buttons
Weight: 74 grams
Durability: 70 million clicks
PROS
Light actuated buttons
High-sensitivity sensor
Very fast mouse
CONS
Ambidextrous design
Small selection of programmable buttons
May be too light for some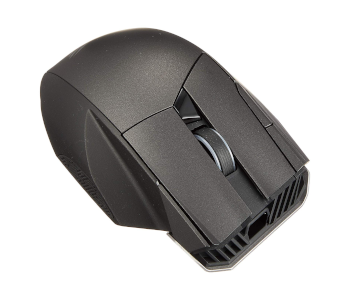 The Spatha gaming mouse from the ASUS ROG line is one of the best in terms of customizability. Not only can the mouse be used in either wired or wireless modes, but it also has an impressive array of 12 programmable buttons. The click resistance of the thumb buttons can also be adjusted to make them exactly as sensitive as you'd like them to be. The sockets of the ROG Spatha can even be uncovered to install easy upgrades.
The magnesium alloy body of the ROG Spatha gives it a nice heft which simply feels more premium. Combined with the ergonomic design and the adjustable click resistance, the ROG Spatha might be one of the most comfortable gaming mice. Just holding it in your hand already feels great.
Where the ROG Spatha falters is in the performance department, which is admittedly a pretty major failure. The 8200 DPI laser sensor just isn't sensitive enough to translate your inputs into on-screen actions. If you've gotten spoiled with more sensitive gaming mice before, the lag caused by the low-sensitivity sensor will feel more palpable and will be hard to overcome.
Technical specs
Type: Wired/wireless
Sensor: 8200 DPI laser sensor
Buttons: 12 programmable buttons
Weight: No info
Durability: No info
PROS
Customizable click resistance
Customizable RGB lighting
Magnesium alloy body
Smooth tracking
CONS
Heavy mouse with no weight adjustment
Low sensitivity sensor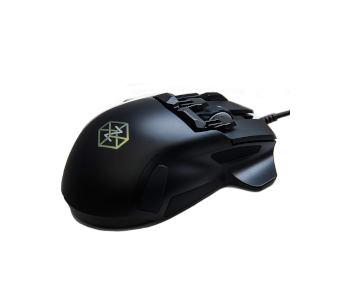 The Swiftpoint Z Gaming Mouse has been billed as three gaming devices in one: a gaming mouse, a handheld controller, and a joystick. The list of tech in this gaming mouse is quite impressive. It has a built-in accelerator and gyroscope that detects rotational motion so you can do pitch, tilt, and roll motions for flight sims. The buttons have force sensors and tactile feedback that work great for racing games. Naturally, the mouse comes with a high-sensitivity sensor for quick aiming in FPS games.
In terms of customization, there's probably no other gaming mouse that has what the Swiftpoint Z offers. Because of the uniqueness of the buttons, remapping and reprogramming feel more intuitive and purposive. The three-axis control is a very unique addition and could open up your gaming avenues to new dimensions.
The complexity of the Swiftpoint Z may also be its downfall. With so many customization options and an unconventional button layout, the Swiftpoint Z may not appeal to gamers who traditionally use mice for FPS gaming. It requires quite a steep learning curve and a relearning of new gaming habits.
Technical specs
Type: Wired
Sensor: 12000 DPI laser sensor
Buttons: 13 programmable buttons
Weight: 178.5 grams
Durability: No info
PROS
Provides more degrees of control
Comes with pressure sensors in the buttons
Lots of customization options
CONS
Very complex button mapping
May have more buttons than you'll need
Final thoughts
For gamers who take their multiplayer rankings seriously, the importance of a good gaming mouse cannot be understated. It's the weapon of choice for those quick headshots, even when you've been flanked by several enemies. With this in mind, it's not surprising that many gamers are willing to splurge on a high-quality gaming mouse.
As with most other products, you get what you pay for when shopping for a gaming mouse. You can't have it all, of course. Do you prefer something lightweight or something with a bit more heft? Is a high-sensitivity sensor your priority, or is customizable button mapping more important? In any case, a good gaming mouse is certainly worth the extra cash and time spent deliberating.