6 Best Gaming Mice Under $100 in 2020
3D Insider is ad supported and earns money from clicks, commissions from sales, and other ways.
Determined gamers can make do with any peripheral for years, even the cheap mice and keyboards you get with pre-built computers. However, there comes a time in any serious gamer's life when three buttons and a fixed DPI just can't cut it anymore. The good news is that some of the best gaming mice can be had for a reasonable price, so saving up for one won't take long.
So, what defines a good gaming mouse? Accuracy and smoothness are at the top of the list; the mouse needs to effortlessly glide over your desk or mat and deliver pixel-perfect precision. It should have at least two additional buttons and come with software that lets you reprogram them. RGB isn't a requirement, but it helps distinguish your rodent from others if you're part of the tournament scene.
All the features mentioned above and more can be had at great prices, especially during frequent online sales. We've selected the six best gaming mice under $100 that will have an immediate positive impact on your performance. Some of them are better-suited for MOBAs or MMOs, while others deliver the necessary precision for long-distance sniper kills. Look up their stats, read the reviews, and start gaming with more confidence & style.
Budget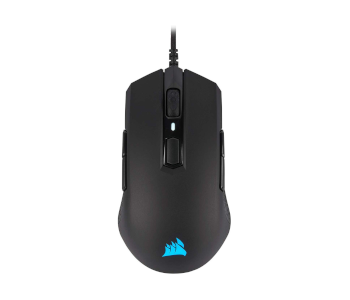 Corsair M55 RGB Pro
4.1/5.0
Buttons: 8
DPI range: 100 – 12,400
DPI switch is colored for more intuitive switching.
Check Amazon
Best Value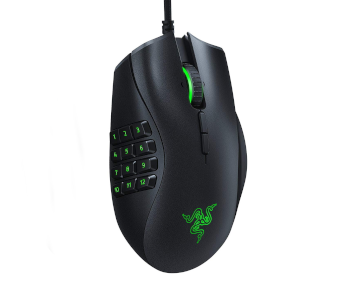 Razer Naga Trinity
4.5/5.0
Buttons: Up to 19
DPI range: 100-16,000
Side panels are easy to swap and hold on tight.
Check Amazon
Top Pick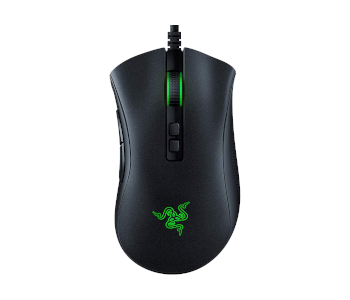 Razer DeathAdder v2
4.7/5.0
Buttons: 8
DPI range: 100 – 20,000
Its buttons are durable and responsive.
Check Amazon
Gaming Mice under $100 Comparison Table
1. Best Overall – Razer DeathAdder v2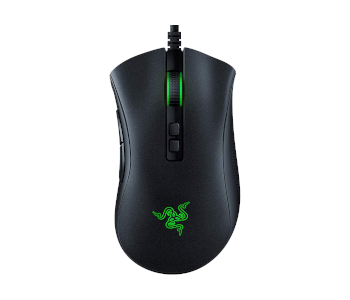 View on Amazon
Editor's Rating: 4.7/5
Razer's DeathAdder is one of the most iconic mice of all time, as evidenced by more than ten million copies sold worldwide. No matter the genre, gamers come together in celebrating its accuracy, comfortable shell, and ease of use. The trend is sure to continue with the venerable rodent's second official version as it's better than the original in almost all respects. It might have fewer bells & whistles than other mice on review, but nothing is as dependable as the Blackadder whether you're embarking on a deathmatch, game of LoL, or a raid.
Overview of Features
Owners of the original DeathAdder will notice that little has changed in the V2's outward appearance. That's a good thing as it had one of the most ergonomically sound shells out there. The V2 is the perfect fit for right-handed gamers regardless of hand size and preferred holding method. There are a few subtle changes like two separate sensitivity buttons and a new scroll wheel that moves smoothly yet has a tactile and precise feel. The braided cable has been improved too and is now much less prone to snagging and moving at inappropriate times.
A new sensor and optical switches are the backbone of the V2's improvements. Focus+ is a newly-developed sensor capable of covering 650 inches per second and reaching a DPI of 20,000. These are a marketing gimmick more than anything else; the sensor's responsiveness and smoothness are not. The V2 glides along any surface thanks to special new feet coated with a non-stick material. Combined with the sensor, this gives the mouse impressive freedom of movement and accuracy. Razer ditched mechanical Omron switches in favor of optical ones for the left and right mouse buttons. These now have better response times and are rated at 70 million clicks.
You customize the mouse through Razer's Synapse software. It has a pleasant look and lets you get to any setting in a few clicks. You can customize button functions, add macros, play with the RGB lighting, and map DPI settings so you don't have to cycle through all of them. There's also the option of creating game-specific profiles and button layouts and saving five of them onto the V2's new onboard memory.
What We Didn't Like
This review features multiple Razer mice, and all of them have the same issue with Synapse. Unlike other configuration software, it requires you to register an account and provide an email address. The new switches take some getting used to as they're stiffer and louder than mechanical ones.
Tech Specs
Dimensions: 2.9 x 5 x 1.7 in.
Weight: 2.9 oz.
Buttons: 8
DPI range: 100 – 20,000
Ambidextrous: No
The Pros
Supremely comfortable
Buttons are durable and responsive
Onboard memory for five profiles
Improved scroll wheel and cable
The Cons
Razer Synapse is more intrusive than other configuration software
Optical switches are louder and stiffer than mechanical ones
2. Best Value – Razer Naga Trinity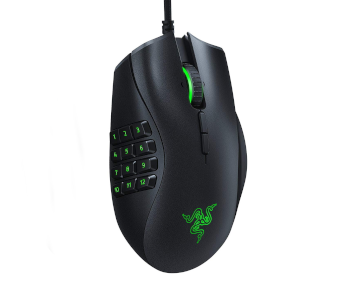 View on Amazon
Editor's Rating: 4.5/5
Back in the heyday of MMOs, having a Razer Naga meant you were seriously committed to tackling the hardest content. Investing in a mouse built exclusively for MMOs isn't as common nowadays since there are lots of other multiplayer-focused games to play. That's why the Naga Trinity offers three distinct panels for different genres. It costs as much as most mice on review but gives you three specialized rodents for the price of one.
Overview of Features
Even though they share the same manufacturer and penchant for minimalism, the Naga Trinity and DeathAdder V2 are two different peripherals. The Naga Trinity is flatter and broader. It's still firmly in comfortable waters for players of most hand sizes but forces a more palm-heavy grip due to its width. The shell has a pronounced curve and a pinky rest, so lefties are out of luck.
The three interchangeable side panels are the Trinity's main selling point. Razer did an outstanding job coming up with their design as the panels snap into place with magnets and will not wiggle no matter how many buttons you press. All the buttons are satisfying to press, and switching panels has no impact on the admirable performance of the sensor.
The basic one has two buttons and is best used for shooters and office work. The second panel comes with seven buttons arranged in a ring with lots of room to rest your thumb inside the center. It's balanced for MOBAs and RTS games that require more buttons than an ordinary two-button side setup can provide. Finally, there's the numerical pad that made the original Naga so recognizable. It has four rows of three buttons that angle towards the middle to make distinguishing them easier.
An abundance of buttons makes Razer Synapse all the more useful. The Naga Trinity stores separate configurations for each side panel, and these take effect as soon as you swap without having to do anything on the software end. Synapse behaves as it does for the DeathAdder in other respects. You do get more color customization since the two button-rich panels add one more color zone. You can't control button color individually, which is a good thing as it prevents the Trinity from turning into a Christmas tree.
What's Bad About It?
The Naga Trinity's unusual shape means it won't be a good fit for many. On the one hand, its size means people with small hands likely won't find it comfortable regardless of holding style. On the other, everyone else will have to grip it with the palm, so claw-style gamers are out of luck too. The two main buttons tend to either not register clicks or double click when pressed once. This issue doesn't happen to everyone and occurs after prolonged use when it does.
Tech Specs
Dimensions: 4.7 x 2.9 x 1.7 in
Weight: 4.2 oz.
Buttons: Up to 19
DPI range: 100-16,000
Ambidextrous: No
The Pros
Three versatile gaming mice in one
Side panels are easy to swap and hold on tight
Good sensor and overall build
Lots of configuration options
The Cons
Fit is not for everyone
Left and right buttons prone to double and misclicks after extensive use
3. Roccat Kone Aimo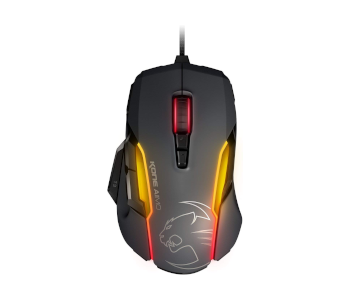 View on Amazon
Editor's Rating: 4.6/5
Razer's mice might be comfortable and accurate, but what if you're looking for something with more flash and customization options? In that case, Roccat's Kone Aimo is the ideal choice. The mouse features five separate LED areas, an intuitive function shift system, and an unmistakable design. It's a rodent that will get you noticed on LAN parties and might just help you win a tournament or two with its flawless performance.
Overview of Features
The Kone Aimo is in stark contrast with Razer's fluid, simple design. Angles abound, giving the Aimo a bulky and industrial look. They don't detract from the ergonomics, however, as right-handed people will take to using the Aimo in minutes. Of special note is the concave left side with room for the ball of your thumb and two buttons that are close together but easy to distinguish.
An array of LEDs is the most noticeable thing about the Aimo. There are five customizable areas divided into the scroll wheel, two large side panels, and two stripes that run alongside them. Each zone can have a different color, and the sidelights even support a color gradient that brings the total number of lights to eleven. You can adjust the brightness to make the mouse less distracting for gaming in dimly-lit rooms or have it respond with various effects when clicking.
The Aimo has eight physical buttons but extends their usefulness with gestures and combos. For example, the scroll wheel acts as three buttons since side presses are registered separately from central ones. There's also an Easy-Shift button under the thumb rest. Holding it down and pressing any other button activates a secondary function.
The mouse uses a PixArt 3361 sensor and Omron switches to deliver precise performance, whether you're gaming or filling out a spreadsheet. Roccat Swarm allows you to change the polling rate and DPI to a maximum of 1,000Hz and 12,000 DPI, respectively. Limiting DPI selection to five presets is another useful option. It shines in shooters where you'd want faster movement for normal combat and more precise aiming for sniper fire.
Are There Drawbacks?
Roccat Swarm is an in-depth customization tool but can be tough to navigate due to an abundance of options and a color scheme that's hard to read. It doesn't let you adjust X and y-axis sensitivity separately, which could be a problem for people with large monitors running at 4K. The Aimo is a large mouse and may not work well for people with smaller hands who aren't used to a palm grip.
Tech Specs
Dimensions: 5.1 x 3 x 1.6 in.
Weight: 4.6 oz.
Buttons: 8
DPI range: 100 – 12,000
Ambidextrous: No
The Pros
Bold design that's both noticeable and comfy
In-depth LED customization
Lots of buttons and intuitive alternate functions
Excellent handling and accuracy
The Cons
Swarm takes some getting used to and doesn't support individual axis calibration
Too large for people with small hands
4. SteelSeries Rival 600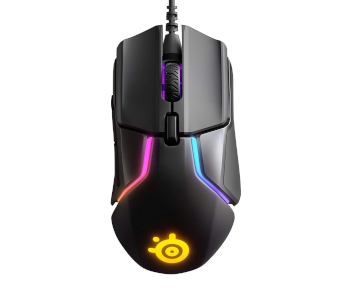 View on Amazon
Editor's Rating: 4.5/5
Do you ever subconsciously lift the mouse once you run out of space? That small change can cause normal mice to move slightly and mess up what would have been a game-winning headshot. Such an issue might not matter for casual play but makes all the difference for pros. That's why SteelSeries' Rival 600 includes a separate sensor to ensure lifting the mouse has no impact on your performance.
Overview of Features
The Rival falls in the middle between Roccat's and Razer's models design-wise. It retains a fluid shape you can tell is pleasing to hold just by looking at it while giving you more LED zones to customize. There's a single DPI button that toggles between two settings, and the scroll wheel has tiny tire treads for superb traction. The overall finish is soft to the touch, while silicone side grips help keep your hand in place.
The new TrueMove3+ sensor is responsible for the Rival's precise movements. It's made up of two units. One is a regular sensor with a max DPI of 12,000 and instantaneous response times. The other monitors the Rival's position relative to the surface. It can stop the mouse from registering movement when it's as little as 0.5mm in the air, ensuring that the crosshair stays perfectly still.
Weights are another uncommon feature with great implementation. The sides open up to reveal four square compartments each. You can place as many 4-gram weights in any configuration you like. That way, you get to make the rival more top, bottom, or side-heavy, or increase its weight in a balanced way for smoother aiming. Doing so lets you bump up the DPI and get the same level of accuracy while minimizing movement.
SteelSeries uses the excellent Engine software for all manner of customization. It looks similar to Swarm but is more intuitive to use. There are dials for either sensor's sensitivity along with graphs for polling rates, acceleration, and angle snapping. Changing any of the eight color zones is a snap, and you can assign different effects to each. There's even an option to light the mouse up differently based on in-game notifications. That feature is of questionable use since you aren't likely to be glancing at the mouse during a full-on firefight.
What We Didn't Like
The weights are a good idea on paper, but their implementation is lacking. Getting the sides off is a hassle and the compartments barely fit each weight, so you'll want to find your sweet spot ASAP and not use the feature again. The Rival's cable can be detached for portability. It's also rigid, meaning you'll have to pay attention to its placement to avoid accidental mouse movement.
Tech Specs
Dimensions: 2.7 x 5.2 x 1.7 in.
Weight: 3.3 oz.
Buttons: 7
DPI range: 200-12,000
Ambidextrous: No
The Pros
Superb responsiveness and liftoff movement negation
Weights offer deep balance customization
SteelSeries Engine is versatile and intuitive
Ergonomic shell that's easy to hold onto
The Cons
Moving the weights around can be a hassle
Rigid cable
5. Razer Mamba Wireless Gaming Mouse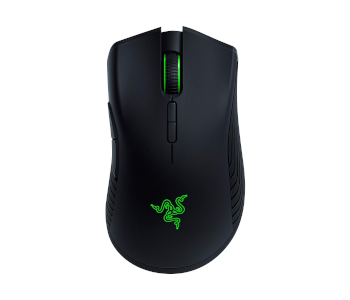 View on Amazon
Editor's Rating: 4.3/5
Wireless mice are essential for gamers on the go who never want to switch to a model whose layout and ergonomics might not be pleasing. Trouble is, most wireless mice either die in a couple of hours or have too many latency issues to be eligible for anything other than casual singleplayer games. Enter Razer's newest iteration of the Mamba, a wireless gaming mouse that behaves like a wired one in every sense while being free to venture far from your desk.
Overview of Features
The Mamba shares many design features with the DeathAdder. It's understated yet eye-catching and feels just right when held. Its matte black surface ensures even sweaty palms don't slip while the ridged sides provide a comfy place for your thumb and pinky. Older Mamba versions had an LED strip. That has since been removed, leaving you with a cleaner-looking scroll wheel and Razer logo light combo.
Razer went back to the drawing board and designed a much better and more convenient way of maintaining a wireless connection for the Mamba. Earlier, you were forced to deal with a clunky charging dock. Now you get a tin USB dongle that plugs into your PC and takes up a compartment inside the mouse for safe transport. The dongle provides an excellent connection and ensures lag-free operation. Unloading a magazine in CS:GO or Overwatch feels indistinguishable from playing with a wired mouse, as does precision work like micro-managing your inventory in DOTA 2.
Best of all, the Mamba sports a 50-hour battery life. That's Razer's maximum estimate, and whether or not you'll consistently get so many hours out of the Mamba with each charge is debatable. However, expect it to last more than 45 hours regardless of how intense your gaming sessions become.
The Mamba's experience with Synapse is on par with the DeathAdder's. Its only major difference is the inclusion of four onboard profiles instead of five and one less button to map.
What's Bad About It?
You can't use the Mamba while charging. The mouse becomes completely unresponsive until you remove its proprietary USB charging cable, forcing you to plan recharging times in advance. There have been instances of some units developing annoying clicking issues over time. The most common ones are double instead of single clicks and failing to keep a click registered while you're still pressing down. Razer will honor the warranty after some back and forth, but you're on your own if the issue happens once it expires.
Tech Specs
Dimensions: 1.7 x 4.9 x 2.8 in.
Weight: 4.8 oz.
Buttons: 7
DPI range: 100 – 16,000
Ambidextrous: No
The Pros
Superb, lag-free responses indistinguishable from wired mice
Long battery life
Simplistic yet comfortable design
Unobtrusive RGB
The Cons
Doesn't work while charging
Might start to develop clicking issues with use
6. Best Budget Option – Corsair M55 RGB Pro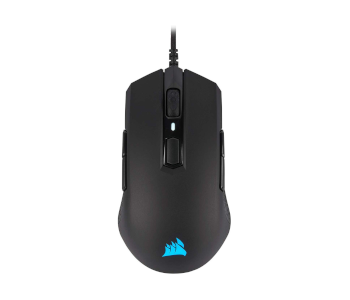 View on Amazon
Editor's Rating: 4.1/5
The mice we've talked about so far had one thing in common – they're meant exclusively for right-handed gamers. It's tough being a leftie when you're in the market for a gaming mouse. Corsair knows this and has created the M55 RGB Pro to address this glaring issue. The mouse fits in either hand equally well, promptly responds to input, and has several clever design implementations that make it a joy to use.
Overview of Features
At first glance, the M55 looks like most ordinary office rodents. It has a pleasing symmetrical shape and a black, mostly barren finish. Corsair's logo and a DPI selector light are the only hints that there's more to this mouse than meets the eye. Looking closer reveals two rubberized side panels with a dimpled texture that prevents your thumb and pinky from slipping. Each side also houses a set of buttons with a split in the middle for better individual operation.
Corsair was very considerate when designing the M55. Installing the iCUE software and hooking the mouse up prompts you to select what hand you use. The left or right side buttons will be disabled by default, depending on your choice. Alternately, you can enable all four if you're confident in your pinky clicking abilities.
The M55's jack-of-all-trades character shows in its performance as well. It's a competent peripheral whether you're surveying the battlefield in a Total War game or looking around a capture point before using a scope. The DPI switch comes in handy for the latter. You'll never wonder what setting it's on either since the color of its light changes with each toggle.
Are There Drawbacks?
It's a good thing that a set of side buttons gets disabled by default as they're easy to press accidentally. iCUE is an effective configuration utility, but it's also resource-intensive for what it offers. The installation alone takes up half a gigabyte while running it in the background eats close to 200MB of RAM.
Tech Specs
Dimensions: 4.9 x 2.2 x 1.6 in.
Weight: 3 oz.
Buttons: 8
DPI range: 100 – 12,400
Ambidextrous: Yes
The Pros
Fits people with either hand preference well
DPI switch is colored for more intuitive switching
Solid performance across all genres
One set of side buttons Is disabled by default
The Cons
Buttons on the pinky side are easy to press
iCUE takes up a lot of resources