8 Best Gaming Mouse Pad Picks for 2020
3D Insider is ad supported and earns money from clicks, commissions from sales, and other ways.
Mouse pads have come a long way from the simple accessories that only used to protect our desks from wear. Nowadays, manufacturers pay particular attention to how their surfaces affect mouse accuracy and ensure tracking is on point. You can get pads that focus more on speed as well as ones built for precision. The most advanced ones even have fancy features like QI charging and LED lights.
Here are the eight best gaming mouse pad picks you can get today. We've rounded up models for every budget and preference, so finding one with which to enhance your performance won't be a problem. Don't make the mistake so many others do and get a mouse pad worthy of your battle station.
Budget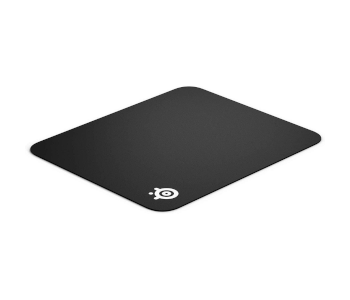 SteelSeries QcK
4.3/5.0
Stitched edges: No
Has RGB: No
Unusual and effective bottom design.
Check Amazon
Best Value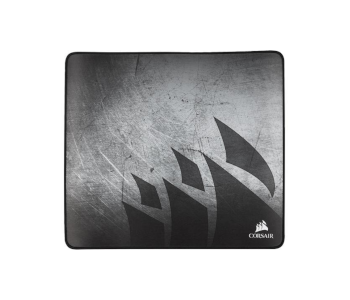 Corsair MM350
4.4/5.0
Stitched edges: Yes
Has RGB: No
This mouse pad is thick and sturdy.
Check Newegg
Top Pick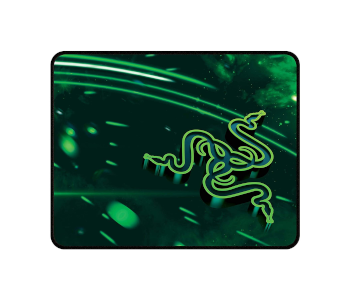 Razer Goliathus Speed
4.7/5.0
Stitched edges: Yes
Has RGB: No
Outstanding build quality and stitching.
Check Amazon
Gaming Mouse Pads Comparison Table
1. Best Overall – Razer Goliathus Speed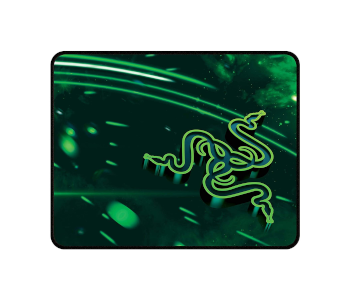 View on Amazon
Editor's Rating: 4.7/5
Razer makes some of the best mice in the world, so it's no surprise that their pads are among the finest as well. Case in point – the Goliathus Speed. Built with the pro gamer in mind, the Speed offers a fabric surface that meets your mouse with no resistance and allows its sensor to perform at its peak. The pad looks good, won't break the bank, and is built to last.
Need a more precise pad with the same build excellence? Consider Razer's Goliathus Control instead.
Overview of Features
We wouldn't usually comment on a mouse pad's packaging, but the Goliathus Speed's is cleverly designed. There's nothing inside other than the Goliathus Speed, but you can feel the pad through a cutout and decide if it's the right fit if you're buying from a brick and mortar store. The pad will need a day to unfold entirely and has no bumpy or uneven surfaces after that.
You can get the Goliathus Speed in two designs, both featuring the company's recognizable logo and green designs inspired by the earth or stars. Examining the top surface more closely reveals a slick, tiny weave designed to reduce friction and allow for fast gliding with minimal effort. The bottom is rubber and made with the opposite philosophy, as evidenced by bright green bubbles that stop the pad in its tracks.
You'll feel the difference if you're stepping up from a bargain mouse pad. Even other high-end models have trouble competing with the feeling you get when first using the Goliathus Speed. Mouse movements are tracked flawlessly, which anyone who depends on precise movements will appreciate. The surface even accommodates a screen's ratio. It offers slightly more resistance when you move a mouse up and down.
What We Didn't Like
The Goliathus Speed has no noteworthy flaws. It could stand to be thicker, and not everyone will like the green theme, but these are not serious enough to count as real flaws.
Tech Specs
Dimensions (Medium): 14 x 10 x 0.12"
Size range: Small – Extended
Materials: Micro-woven cloth, non-slip rubber
Stitched edges: Yes
Has RGB: No
Has QI charger: No
Pros
Fantastic tracking
Outstanding build quality and stitching
Offers just the right amount of resistance for quick movements
Comes in several sizes
Cons
Could be thicker
Green theme might not be for everyone
2. Best Value – Corsair MM350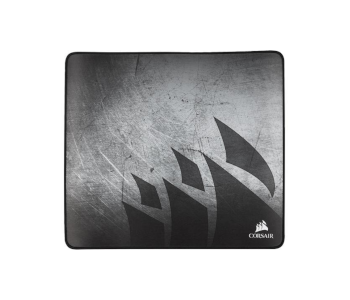 View on Newegg
Editor's Rating: 4.4/5
Corsair's MM300 line of mousepads gave gamers what they were looking for – speed, responsiveness, and a superb gliding surface. The MM350 improves on that with even better materials and thicker padding that ensures more comfort. It's a large pad and built to last, so it's well worth the asking price.
Overview of Features
The MM350 comes in two variants – extra-large and extended. You'll love the extended version if you want a large non-slip area for your keyboard as well, while the extra-large version offers plenty of room for the mouse alone. We're partial to the print, a grungy, scratchy gray abstract canvass with Corsair's logo proudly sailing in the bottom right corner.
Corsair used high-grade micro-woven cloth for the top and durable rubber for the bottom. The top provides a silky-smooth surface mice glide along effortlessly yet isn't prone to tearing or snags. The bottom has a standard diagonal pattern and doesn't move. The MM350 is 5mm thick and weighty, so moving it unintentionally is almost impossible.
The pad performs well in practice, regardless of what kind of sensor your mouse is using. The layout and size of its feet don't matter either since they're met with little resistance. It's smooth to the point that gamers used to rougher pads might need a few hours to learn how to ease up on their movements. Once they do, however, they won't want to look back.
What's Bad About It?
The MM350 is currently only available in two sizes, so you'll have to get the older MM300 if you're after a more compact pad. The rubber it's made of has a harsh, unpleasant smell. It should clear out a couple of days after you unpack the MM350, but some people find it annoying until then.
Tech Specs
Dimensions (Medium): 17.7 x 15.7 x 0.2"
Size range: Extra-large – Extended
Materials: Micro-woven cloth, non-slip rubber
Stitched edges: Yes
Has RGB: No
Has QI charger: No
Pros
Excellent value for the money
Smooth surface for effortless mouse movement
Thick and sturdy
Has cool-looking print
Cons
Limited size selection
Smells bad for the first couple of days
3. ASUS ROG Balteus Qi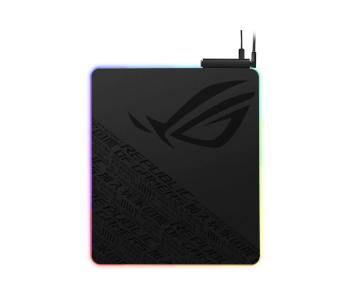 View on Amazon
Editor's Rating: 4.5/5
A mouse pad is the simplest item in your gaming arsenal, right? Asus aims to change that with the Balteus Qi, a high-tech pad outfitted with more bells & whistles you thought were possible. It has a QI spot for wireless charging, a USB passthrough, and fifteen RGB elements you can customize individually through a fun configuration utility. It looks fantastic in the real world, but you'll have to pay for that dearly.
Overview of Features
The Balteus Qi is partially made from plastic, meaning it arrives in a large box and can be used straight away since it isn't folded. The pad is intended to be used in portrait orientation, as indicated by a control station on its top left. There you'll find a button that adjusts the lighting, a USB 2.0 passthrough, and a MicroUSB that powers the Qi charger.
This is a hard pad with a texture gamers used to softer surfaces might find abrasive at first. However, it offers medium resistance and excels at stopping your mouse in a split-second. FPS players relying on it to stop their mouse in its tracks at a moment's notice will find the Balteus Qi indispensable. The bottom is among the hardiest we've seen and clings to your desk no matter what it's made from.
The Balteus Qi is 8mm thick and designed with a gentle slope that makes the transition to your desk less abrupt. The LEDs are located towards the bottom, and you can control them with ROG Armory. The software is a pleasure to use since setting up each individual light, and choosing effects is straightforward. You may also set the button to either cycle through several effect presets or adjust the brightness. The pad supports Quick Sync and will glow in unison with other Asus components you own.
Are There Drawbacks?
The Balteus Qi is prohibitively expensive, costing five times as much as some of the pads we're reviewing. It's available in only one size and might not fit smaller spaces.
Tech Specs
Dimensions: 14.6 x 12.6 x 0.3"
Size range: Medium
Materials: Micro-textured plastic, non-slip rubber
Stitched edges: No
Has RGB: Yes
Has QI charger: Yes
Pros
Exceptional build quality and precise control
Has a QI charger and USB passthrough
RGB is easy to customize and sync
Great traction
Cons
Very expensive
Available in one size only
4. Cooler Master MP510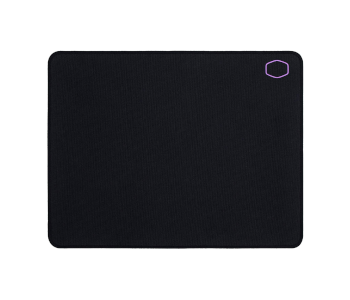 View on Amazon
Editor's Rating: 4.5/5
Do you wear your mouse pads out frequently and wouldn't mind paying a few extra bucks for that problem to go away? What you need is a pad that's made from sturdier stuff, and nothing is as tough as the Cordura fabric used on the MP510's upper surface. The pad has excellent build quality and no tracking issues, plus it comes in a variety of sizes.
Overview of Features
The MP510 is a minimalist mouse pad you wouldn't necessarily associate with gaming from a distance. It is completely black apart from a purple hexagon representing a stylized version of Cooler Master's label. You'll find no RGB here, but the logo is coated with a fluorescent material that gives off a cool green glow when it's dark. The pad arrives with minimal packaging and is rolled up to save space. Leave it alone for a few hours, and the MP510 will assume its original shape.
Taking a closer look at the MP510's top reveals a honeycomb-shaped surface. It's made from Cordura, a highly durable fabric that resists splashes and tearing. The underside is made from textured rubber and has a tire tread pattern that keeps the MP510 in place no matter how quickly you swipe a mouse across it.
The MP510 falls under soft mouse pads, yet doesn't feel like any of its competitors. Mice glide along it seamlessly, and the softness doesn't impact pointer accuracy or responsiveness during regular use. It might get indented if you put too much pressure on the mouse, but the MP510 bounces back to its original form as soon as the pressure relents.
What's Bad About It?
The MP510 works best when coupled with mice that have broad feet. Models with more small feat will have a harder time as they tend to dig into the soft fabric more. Cordura can be rough on sensitive hands if you use the mouse extensively and make lots of sudden movements.
Tech Specs
Dimensions (Medium): 12.6 x 10.6 x 0.12"
Size range: Small – Extra-large
Materials: Cordura, textured rubber
Stitched edges: Yes
Has RGB: No
Has QI charger: No
Pros
Excellent build quality and durability thanks to Cordura
Bottom surface keeps the pad in place
Logo glows in the dark
Cons
Mice with more small feet can snag if pressed too firmly
Cordura can rub on sensitive skin during long gaming sessions
5. BenQ Zowie GS-R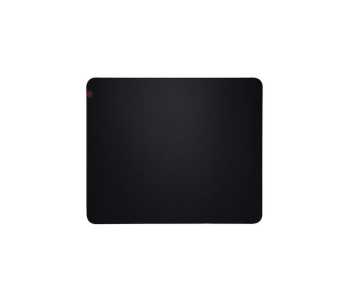 View on Newegg
Editor's Rating: 4.4/5
Many of the pads we've discussed so far are built for speed, but what if you're more interested in executing headshots with pinpoint precision? That's the idea behind the Zowie GS-R, a pad whose top surface offers an enticing mix of smooth gliding and split-second stopping power. It's unassuming, works equally well with all kinds of sensors, and provides plenty of room.
The G-SR is only available in one size, but the P-SR is identical yet smaller.
Overview of Features
BenQ will have none of that gaming nonsense as the GS-R is completely black, save for the Zowie logo stitched to its side. That might upset someone looking to match their peripherals with the rest of their setup. On the other hand, it's great for people who want to bring a high-quality pad to their workplace.
The weave on the GS-R is large and coarse. That's to prevent your mouse from moving when you don't want it to and bringing it to a dead halt instantly. Luckily, the GS-R is still smooth enough to offer uninterrupted gliding you won't have to put more force into if you're coming from a pad focused on speed.
The GS-R is put together well. Its stitching is flawless, and the rubber at the bottom won't budge unless you move it intentionally.
Are There Drawbacks?
The GS-R is the most expensive mouse pad on review that doesn't have any special features like QI or LED lighting. It's also one of the most demanding when it comes to maintenance as it will absorb sweat and needs to be washed every couple of months to maintain peak performance.
Tech Specs
Dimensions: 18.9 x 15.7 x 0.14"
Size range: Large
Materials: Micro-woven cloth, rubber
Stitched edges: Yes
Has RGB: No
Has QI charger: No
Pros
Great for controlled, deliberate movements
Minimalistic appearance makes it an excellent choice for offices
Quality stitching
Cons
Expensive for a basic pad
Needs to be washed frequently
6. Corsair MM800 Polaris RGB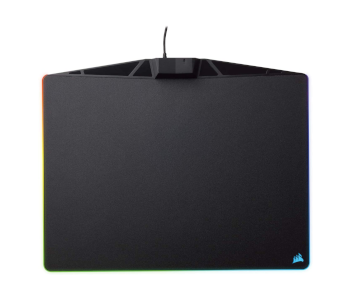 View on Amazon
Editor's Rating: 4.4/5
Do you want your mouse pad to shine in 16 million colors and couldn't care less about a Qi charger? In that case, Corsair's MM800 Polaris RGB is the ideal and more affordable alternative to the Balteus QI. It has a similar plastic surface, a wealth of RGB customization options, and works well with any kind of mouse sensor.
Overview of Features
Unlike the overwhelming number of its LED's color choices, the MM800 Polaris RGB is a plain black. The Corsair logo and USB hub are the only elements that break up the uniformity, and the former acts as one of the pad's 15 RGB channels. Like the model from Asus, the MM800 Polaris RGB offers a passthrough you can plug your mouse into directly.
The plastic top surface is textured and stiff, meaning you'll need to get used to it if you're coming from a soft cloth model. It has no trouble recognizing laser or optical sensors, and there are no inconsistencies or lag when tracking mouse movements.
Owners of other Corsair peripherals already know how easy iCUE is to use. It's no different for the MM800 Polaris RGB. It offers extensive RGB configuration, including setting each of the fifteen channels individually. The software comes pre-programmed with many eye-catching lighting effects like pulses or rainbows. It even has a sync feature that makes your entire Corsair collection glow in unison.
What We Didn't Like
The MM800 Polaris RGB's USB hub is elevated and positioned centrally. This might cause your mouse's cable to snag and hamper its movement for a crucial instant. Like the Balteus QI, it's available in a single size, albeit in landscape orientation.
Tech Specs
Dimensions: 13.7 x 10.2 x 0.2"
Size range: Large
Materials: Micro-textured plastic, non-slip rubber
Stitched edges: No
Has RGB: Yes
Has QI charger: No
Pros
Feature-rich RGB customization
Has USB passthrough
Good tracking performance
Solid build quality
Cons
Only one size
Passthrough hub might obstruct mouse cable
7. HyperX Fury S Speed Edition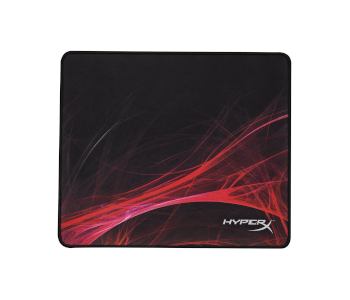 View on Amazon
Editor's Rating: 4.3/5
HyperX is one of the oldest brands to make gaming-specific mouse pads. Its rich tradition continues with the Fury S series. We're reviewing the pad's Speed variant as it focuses on smooth operation and rapid movement at the cost of stopping power. There are four sizes to choose from, and all of them offer a favorable mix of value and quality.
Overview of Features
Lovers of abstract designs will appreciate the Speed Edition's look. Its top is a mixture of wispy red lines on a black background with a flat HyperX logo in one corner. Its size ranges from small to extra-large, and the larger pad you get, the more the pattern is revealed.
The Speed Edition has a unique bottom rubber texture that looks like spheres held together by sets of strings. It's unique to look at while doing its job as good as more traditional designs. The micro-woven top is dense and smooth to the touch. It's reminiscent of the Goliathus Speed, if a shade rougher.
The pad's performance is reliable. The speed in its name suggests a lack of friction, and that's exactly what you can expect. Sweeping gestures are a pleasure to pull off, and you'll learn how to compensate for reduced stopping power with use.
What We Didn't Like
Many rolled-up mouse pads take a while to become perfectly straight, but the Speed Edition is particularly bad at this. It can take upward of a day to become usable, even if you put a thick stack of books on it to speed up the process. Long gaming sessions and sweeping mouse movements might cause the pad to irritate some people's skin.
Tech Specs
Dimensions (Medium): 14.2 x 11.8 x 0.12"
Size range: Medium – Extra-large
Materials: Micro-woven cloth, rubber
Stitched edges: Yes
Has RGB: No
Has QI charger: No
Pros
Speedy performance almost on par with Razer's pad
Nice abstract design
Unique pattern on the bottom
Cons
Takes a long while to become flat
Might cause skin irritation
8. Best Budget Option – SteelSeries QcK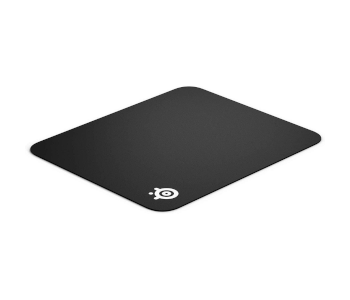 View on Amazon
Editor's Rating: 4.3/5
The QcK from Danish manufacturer SteelSeries is among the best-selling mouse pads in the world, and for good reason. It's affordable, tracks your movements perfectly, and won't come apart after one too many angry swipes. It's a workhorse you'll love using and won't mind replacing with the exact same one after years of loyal service.
Overview of Features
Aesthetically, the most exciting thing about the QcK is its packaging. The pad arrives in an orange & white box and is rolled up to save space. It has a pungent smell like the MP510 that's not as offensive and dissipates quicker. The pad is as sparse as it gets, a rounded rectangle with SteelSeries' round white logo in one of the corners.
You can get the QcK in several sizes, ranging from medium to an XXL mat that's large enough to accommodate any mouse & keyboard combo. Its top is a micro-weave cloth material that's rough to the touch. The rubber bottom part ditches traditional diagonal textures in favor of small circles that make up lots of SteelSeries logos. They do an excellent job of anchoring the pad and hold on tight, even on smooth desk surfaces.
In practice, the QcK offers a considerable degree of resistance in use, but that doesn't hamper your movements or reaction speed. If anything, you're able to exercise precise control with only negligible loss of speed compared to models like the MM350.
Are There Drawbacks?
A raised logo is the QcK's most significant shortcoming. It's bumpy and will affect a mouse's performance whenever you stray too close to the edge. Speaking of edges, they aren't stitched. Corsair offers a whole line of QcK pads, including ones that are either thicker or have stitched edges. These cost more and aren't as available.
Tech Specs
Dimensions (Medium): 12.6 x 10.7 x 0.08"
Size range: Medium – Extended
Materials: Micro-woven cloth, non-slip rubber
Stitched edges: No
Has RGB: No
Has QI charger: No
Pros
Impeccable performance at a bargain price
Straightforward appearance
Unusual and effective bottom design
Cons
Raised logo
Basic version doesn't have stitched edges