8 Best Garage Door Alarm & Safety Sensors
3D Insider is ad supported and earns money from clicks, commissions from sales, and other ways.
Garage burglars are mostly opportunist thieves who look for weak, unlocked, or unsecured doors. A simple door sensor is an effective way to let you know if criminals are trying to break in. Or, there may be times when you can't remember if you closed the garage door or not. Smart sensors enable you to check the door status too. This short introduction explains how these ingenious gadgets work.
Budget
Doberman Wireless Alarm
4.4/5.0
Dimension: 0.5 x 1.5 x 4.5"
Weight: 2.88 oz.
Quick to install and easy to configure.
Check Amazon
Best Value
First Alert Leak Alarm
4.7/5.0
Dimension: 7.9 x 6.1 x 4.8"
Weight: 17.6 oz.
It includes three water detectors.
Check Amazon
Top Pick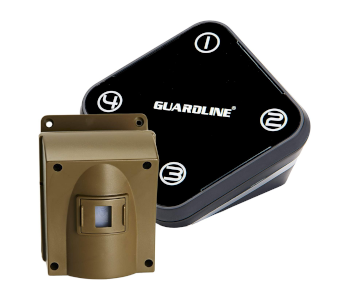 Guardline Wireless Garage Alarm
4.6/5.0
Dimension: 5.5 x 4 x 5.5"
Weight: 32. oz.
Has a weather shield sensor protection.
Check Amazon
Types of Garage Door Sensors
Security sensors are typically in the form of smallish ABS boxes that attach to doors and windows. They are simple in design yet play a vital role in home safety and security.
There are 3 types of door sensors:
Infrared (IR) door safety sensors
Pressure door safety sensors
Motion security sensors
Garage safety sensors work with automated doors. Their primary purpose is to stop them from closing if there's an obstruction. Elevator doors work on the same principle.
How Infrared Door Sensors Work
IR Sensors come as a pair and attach to the opposite rails to create an IR beam. The automated door simply pulls back up whenever a person or thing breaks that beam.
How Pressure Door Sensors Work
Pressure Sensors attach to the bottom of the garage door. Again, if someone or something contacts the sensor, the door stops closing and pulls away. These sensors are not door openers or closers, though. That's a job for the powerful motorized mechanisms.
How Monitor Security Sensors Work
It's wise to install Monitor Sensors on garage doors. These neat little boxes can fit any door or window around the home. Use monitor sensors to check the status of the garage door at any time. If it's open, you can close it remotely either via a smart device app or by voice activation.
Garage Door Alarm Sensors
Garage door alarm sensors are for security purposes. The idea is to connect them to an existing alarm system. There are two types of door alarms, i.e., Contact and Tilt.
How Contact Sensors Work
Contact sensors come in two parts, namely the sensor box and a magnet. The sensor box typically goes onto the garage doorframe. The adjacent magnet sits on the actual door and separates from its sensor as the door opens. That movement triggers a device known as a reed switch, and then the attached alarm system kicks in. These sensors also alert you if someone tries to cut their wires.
How Tilt Sensors Work
The job of a tilt sensor is to detect the open/closed status of a garage door based on its position. The tilt sensor is vertical when the garage is closed and moves to a horizontal position as it opens. Thus, the alarm activates if someone tries to open the armed door. The alarm system responds based on whatever type of security setup you have configured.
About My Garage Door Alarm Systems' Guide
There are 8 mini-reviews here for popular garage door alarms. They range from around 20 dollars up to 100, and prices between the two. Most, though, are simple sensors in the lower price bracket. The first 3 reviews are the Editor's Choice for the Best Budget sensor, then Best Value, and the Top pick. What works best for you depends on your exact needs and expectations.
Garage Door Alarm Systems Comparison Table
1. Doberman Wireless Garage Alarm | Best Budget
View on Amazon
Editor's Rating: 4.4/5
The Best Budget pick goes to the Doberman SE-0119A wireless garage alarm system. It's an affordable compact device that's quick to install and easy to configure using the included remote.
Doberman SE-0119A Alarm Highlights
Doberman's SE-0119A door alarm comes with two remotes. That's handy if more than one person needs to use the garage at different times of the day. You can close the garage door and then use the remote to arm the alarm from the other side. There's also an option to turn it ON and OFF manually. And despite its small size, this thing is loud enough to have any wannabe criminal running for the hills.
Doberman Setbacks
The materials used for the alarm have a cheapish feel, but then it is an economy product. There shouldn't be any risk of breaking the unit once it's securely in place. I would recommend using some strong double-sided tape as the alarm's own adhesive is weak. Despite that, everything works as promised and offers excellent value for under 20 dollars (at the time of writing).
Tech Specs
Brand: Doberman Security
Color: Silver/Black
Alarm Type: Doors
Batteries (Alarm): 3 x AAA
Battery (Remote): 1 x CR2032
Remote Range: 32ft (9.7 meters)
Product Dimensions: 0.5 x 1.5 x 4.5"
Product Weight: 2.88 oz.
Warranty: 1 year limited
The Pros
Quick to install, easy to configure
Magnetic trigger technology
Includes 2 remotes
Manual or remote ON/OFF
Loud 100dB siren
Excellent value
The Cons
Cheapish materials
Weak adhesive
2. First Alert Leak Detection Alarm | Best Value
View on Amazon
Editor's Rating: 4.7/5
First Alert's WA100-3 Leak Detection Alarm takes the Best Value slot. Too many homes suffer from unexpected water damage every year. These 3 water detection units can help to prevent that.
First Alert WA100-3 Alarm Highlights
The WA100-3 Water Alarms are not only for properties in high-risk flood areas. These detectors can identify any type of leak. That makes them ideal for garages, basements, bathrooms, and utility rooms. All you do is place the leak alarm at the bottom of the pipes or appliance that could potentially leak. Examples are sinks, washing machines, dishwashers, and toilets, etc.
An 85dB alarm sounds the moment it detects water and won't stop until someone turns it off. The units are water-resistant, so there's no risk of leaks causing malfunction. The sensors run on 9V batteries (included) and can function in a temperature range of 32°F to 120°F.
First Alert Setbacks
The detectors don't have a low-battery indicator, so users must remember to check them periodically. Also, there's no ON/OFF switch. Thus, users must remove and replace the battery to stop the alarm sounding. Still, it's a reliable system, and there are no reports of false alarms.
Tech Specs
Brand: First Alert
Product Color: Grey
Alarm Type: Leak/flood detection
Batteries: 9V (included)
Sensor Range: 6ft (1.8 meters)
Dimensions: 7.9 x 6.1 x 4.8"
Product Weight: 17.6 oz.
Warranty: 2 years
The Pros
Includes three water detectors
Water and splash-resistant units
Dependable system
Batteries included
Alarm sounds until silenced
85dB Alarm
Wide operating temperature
Extended warranty
The Cons
No battery level indicator
No ON/OFF switch
3. Guardline Wireless Garage Alarm | Top Pick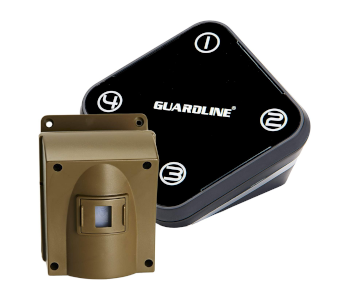 View on Amazon
Editor's Rating: 4.6/5
The Editor's Top Pick is for Guardline's wireless garage and outdoor motion sensor. It lets you know the moment a vehicle, person, or thing comes into your property and where they are—exactly.
Guardline Wireless Alarm Highlights
Consider the wireless Guardline driveway/garage alarm if you want extensive outdoor protection. Set up is quick and easy. You only need to pair the sensor with its receiver, then fix it to a place of your choosing. You then get an advanced warning when any person, vehicle, or large animal is on the driveway or approaches your garage, etc. The potential for this motion detection system is vast.
The 30 melodies provide a unique extra feature. When there are two or more sensors, you can choose a unique ring tone for each one. That helps you to identify the motion-detected area by ear alone.
Wide-Ranging Potential
This alarm system is expandable up to 16 sensors. That's good to know for those with larger gardens and long driveways. The sensors have a quarter-mile wireless range, so there's plenty of cover. There are no limits on how many receivers you can add. That means you never need to miss an alert notification wherever you happen to be in or around your property.
Guardline Setbacks
There are a couple of small setbacks with this system, but no deal-breakers. One is that the sensor housing seems overly soft and cheap to the touch. Guardline could have offered more rugged protection for a product in this price category. The other complaint is the short mounting screws.
Tech Specs
Brand: Guardline
Product Color: Black/Green
Alarm Type: Outdoor motion sensor
Batteries (Sensor): 4 x AA
Battery (Receiver): 4 x AAA
Wireless Range: quarter-mile
Product Dimensions: 5.5 x 4 x 5.5"
Product Weight: 32 oz.
Warranty: 2 years
The Pros
Reliable, dependable system
DIY plug-n-play simplicity
Weather shield sensor protection
Only picks up motion and heat
Expandable up to 16 sensors
Add unlimited receivers
30 selectable melodies
Adjustable alert volumes
The Cons
Cheap sensor housing
Short mounting screws
4. SABRE Wireless Burglar Alarm for Garage Door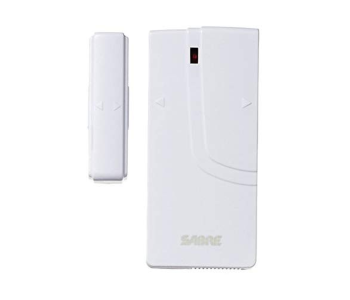 View on Amazon
Editor's Rating: 4.3/5
The SABRE Wireless Door and Window Burglar Alarm is the most affordable product reviewed here. It works well with all types of windows and doors, including garages, sheds, side doors, and attics, etc.
SABRE Door Alarm Highlights
These sensors are for use with the WP-100 Wireless Alarm System. Don't let the low price put you off either. SABRE has the highest certifications and produces globally-accepted and accredited systems. You can install its door and window sensor here in only a few minutes, thanks to the easy-to-follow guide. And no wires mean they keep working if there's a power outage.
SABRE Setbacks
There's just one downside to SABRE's magnetic door and window sensors. That is, they're not universal, meaning they only work with the SABRE WP-100 Wireless alarm system.
Tech Specs
Brand: SABRE
Product Color: White
Alarm Type: Door and Window sensor
Batteries: 2 x AAA
Sensor Range: 500ft (152 meters)
Product Dimensions: 2 x 0.6 x 3.5"
Product Weight: 2.72 oz.
The Pros
Low-cost, effective sensors
Super-quick to install
Easy-to-follow instructions
Versatile usage
Compatible with any WP-100 Wireless Alarm System
Long-range
The Cons
Only works with SABRE WP-100 Wireless alarm
5. KERUI Indoor/Outdoor Garage Door Alarm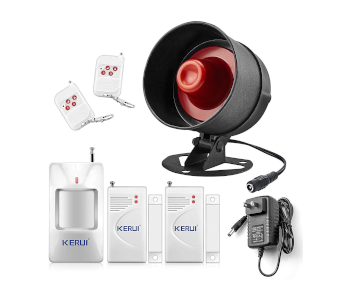 View on Amazon
Editor's Rating: 4.4/5
Meet the KERUI door alarm. It's another affordable outdoor weatherproof alarm system. Some garages can get cold and damp, or hot and humid, and this product performs well in all extremes.
KERUI Garage Door Alarm Highlights
KERUI's highly-affordable DIY wireless alarm system gives a lot of protection for a little money. The kit includes a 110dB horn, 2 door/window sensors, a PIR motion detector, and 2 remotes. The installation is quick and easy for anyone with basic DIY skills. This standalone alarm system can support up to 30 wireless sensors, 8 remote controls, and 4 doorbells. And the remote's SOS button is a welcome extra.
KERUI Setbacks
On the negatives, the palm-sized horn doesn't sound very loud. It's perfectly audible in the dead of night, of course. But it's less noticeable during the day when hidden in a garage or the side of a building. It's possible to create a louder alarm by adding more black horns to the expandable system. Some users may find the 3ft cable too short and need to add an extension.
Tech Specs
Brand: KERUI
Product Color: Black/white
Alarm Type: 110dB horn
Batteries (Door Sensor): 23A 12V
Battery (Remote): 23A 12V
Battery (Motion Sensor): 9V 6F22
Max Sensor Range: 230ft (70 meters)
Product Dimensions: 6 x 6 x 3.5"
Weight: 32 oz.
The Pros
Quick and easy to install
Arrives fully-programmed
Expandable alarm system
110db horn, PIR sensor
SOS button on remote control
Includes door sensors
Comes with 2 remote controls
Excellent value
The Cons
Horn not very loud
Horn is quite small
Short cable
6. Skylink HA-434RTL Garage IR Alert & Alarm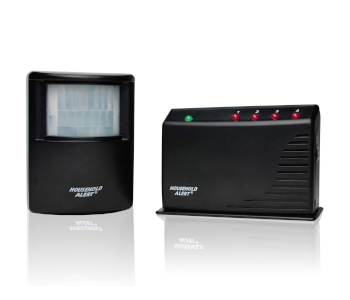 View on Amazon
Editor's Rating: 4.2/5
This review looks at the Skylink HA-434RTL infrared wireless garage alert and alarm. It's an affordable, easy to use system that consists of four sensors and one receiver.
Skylink HA-434RTL Alarm Highlights
This is an effective and versatile home wireless alarm system. It takes only minutes to set up once you decide where to place the sensors. It's expandable as well, with an option to add up to 16 sensors in total. The included receiver has three ways to notify. The choices include Alert mode, Alarm mode, and a Mute mode. The latter displays the zone lights without any accompanying sounds.
Four Different Sensors
Skylink's four sensors all serve different purposes. There's one specifically for the garage door, a general door/window sensor, a water sensor, and a motion sensor. The garage door sensor gives out an audible alert whenever someone opens it. And the window/door sensors notify you the moment someone tries to break in. It also has a built-in siren to ward off intruders.
The motion sensor is ideal for places that you want notification of activity. The front door is a common spot, but it can be anywhere indoors, or outside. And finally, the water sensor. It goes wherever there's the potential for leaks like the restroom, utility room, as two examples.
Skylink Setbacks
This system is not app-controlled, so it doesn't work with smartphones or other devices. You must rely on the included household alert receiver for notifications. It works flawlessly, but you need to have it close by. There's not a volume dial either, which would have been welcome. Also, a remote for more flexible control and to mute the receiver would have been useful.
Tech Specs
Brand: SKYLINK
Product Color: Black
Alarm Type: Multi-purpose home alarm
Receiver Power: Power outlet
Battery (Sensor): CR2032
Sensor Range: 800ft (244 meters)
Motion Detection Range: 40ft (12.1m)
Dimensions: 5.9 x 4.9 x 3.3"
Sensor Weight: 5.6 oz.
Warranty: 1 year
The Pros
Versatile home alarm system
Takes only minutes to set up
Sensors cover 4 zones
Garage door sensor
Window/door sensor
Water leakage sensor
Motion detection sensor
Expandable up to 16 sensors
Three useful alert modes
Built-in 95dB receiver siren
Automatic battery monitoring
The Cons
No app control
No volume dial
No remote control
7. BISTEE Wireless Garage 500ft Motion Detector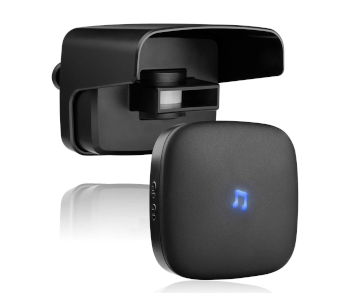 View on Amazon
Editor's Rating: 4.5/5
Our penultimate garage alarm goes to the BISTEE Motion Detector. It has a wireless 500ft sensor-to-receiver range. And the PIR sensor detection range is around 13ft give or take.
BISTEE 500ft Motion Detector Highlights
This budget-priced home alarm system has full waterproof protection and a compact design. It's an ideal outdoor alarm to place at the front of garages, sheds, porches, and driveways, etc. The DIY set up only needs you to plug in the receiver and mount the detector. This system is also expandable and allows unlimited receivers and up to 20 motion sensors.
The passive infrared (PIR) sensors detect the motion of people, animals, and vehicles within the zone. The audiovisual notifications include a flashing LED and chime. There are 52 unique rings to choose from and 4 different sound levels. These features give BISTEE's alarm system an edge over much of its competition within the same price category.
BISTEE Setbacks
BISTEE's detection range is only 13ft (4m). The sensor's plastic casing feels quite cheap and fragile. That shouldn't be a problem once fixed into place, though. A lesser gripe is that the screws are quite short. Some buyers may need longer screws depending on where they attach the sensor.
Tech Specs
Brand: Bistee
Product Color: Black
Alarm Type: Outdoor/Driveway
Sensor Detection Angle: 30
Receiver: AC100~240V
Batteries (Sensor): 4 x AA
Sensor Range: 13ft (4 meters)
Product Dimensions: 5.2 x 3.2 x 3.2"
Product Weight: 10.2 oz.
Warranty: 1 year
The Pros
Quick to install, simple to use
Compact design
Waterproof casing w/ sunshade
Adjustable angles
Long sensor–receiver range
Expandable up to 20 sensors
Works with unlimited receivers
52 chimes to choose from
4 sound levels
The Cons
Short sensor detection range
May need longer screws
Sensor made with cheap plastic
8. Govee Garage WiFi Motion Sensor Alarm Set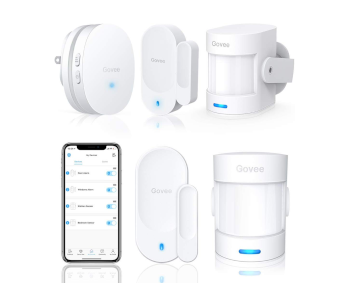 View on Amazon
Editor's Rating: 4.2/5
Last up is a home and garage WiFi Motion Sensor Alarm Set by Govee. It's an app-controlled system that's straightforward to use for inexperienced users. The kit sports a full 360° rotating sensor. The box includes 2 PIR motion sensors, 2 open door sensors, and 1 plug-in gateway.
Govee Garage Motion Sensor Alarm Highlights
Govee's Door Motion Sensor Set is a feature-packed alarm system with a plethora of user controls. All you need to get it up and running is a home WiFi and a regular smartphone. Setting up is a cinch following the company's WiFi connection video tutorial. The system has push notifications that send out email alerts the second the sensors detect motion.
This versatile system is suitable for all indoor applications. You can also control it with Alexa—Amazon's speech-activated virtual assistant. Voice commands include START (Arm), STOP (disarm) detection. Another option is to manually schedule the sensor to arm and or deactivate at set times.
Govee Setbacks
The sensor is suited for indoors as it only has an IP44 rating. That gives it minimal defense against flying storm debris and protection only against splashes. Thus, it needs to go inside garages and sheds rather than outside. Consider a full waterproofed product if you need outside sensors. Lastly, there isn't an audible alarm built into the gateway. All audio and visual alerts are via a mobile device.
Tech Specs
Brand: Govee
Product Color: White
Alarm Type: Indoor PIR sensor
Batteries Type: Alkaline
Battery Life: 1 year
Product Dimensions: 2.6 x 2 x 2.6"
Product Weight: 16.16 oz.
Warranty: 1 year
The Pros
Easy to set up with video tutorial
Simple to use and feature-packed
360° rotating sensor
2 doors sensors
2 motion sensors
Auto email notifications
1 year battery life
Low-battery indicator
Scheduled settings
Works with Amazon Alexa
The Cons
Not suitable for outdoor use
No audible device alarm