Garmin Cyber Monday 2019 Deals (Fenix, Forerunner 235, and more smartwatches)
3D Insider is ad supported and earns money from clicks, commissions from sales, and other ways.
No matter your activity preference or fitness lever, Garvin got you covered. The American multinational technology company delivers innovative GPS technology across diverse markets with its wearables. They have wrist-worn devices that cater to people of all ages. From fitness trackers to advanced smartwatches, they help you track your activity and save, plan, and share your progress with others.
Garmin offers products in a wide range of prices. This Cyber Monday, get the chance to save up to 55% off on your preferred activity companion.
The Best Garmin Cyber Monday Deals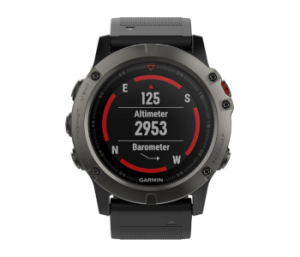 One of the best Garmin deals you can get is with the Fenix 5X Sapphire. Enjoy up to 50% off when you purchase the product this Cyber Monday.
The Garmin Fenix 5X Sapphire is the ultimate multisport GPS smartwatch. It uses wrist heart rate technology and a wrist-based Pulse Ox sensor to check your blood oxygen saturation levels for altitude acclimation and advanced sleep monitoring. It also features color TOPO maps with Trendline™ popularity routing to help you find and follow the best paths.
Fit for adventure, the Fenix 5X sports a rugged design with a scratch-resistant domed sapphire lens, stainless-steel titanium bezel, and rear case. Its battery lasts up to 20 days in smartwatch mode and up to 13 hours in GPS mode. You can also sync Spotify® to play your favorite songs from your watch. Furthermore, you can make convenient payments with the Garmin Pay ™, so you can leave your cash and card at home.
The Forerunner® 235 is a GPS running watch with wrist-based heart rate technology. It also tracks the distance, pace, and time you ran. You can even download data fields, watch faces, widgets, and applications from Connect IQ™. Furthermore, it counts your daily steps, distance, calories, and sleep.
The Garmin GPS running watch boasts connected features. It has live tracking, social media sharing, smart notifications, and audio prompts. It also automatically uploads data to Garmin Connect™, so you can create new workouts, build courses, and challenge your friends.
This Cyber Friday, you can enjoy as much as 55% OFF on Garmin Forerunner® 235. Set yourself up to reach your fitness goals by downloading advanced training plans and workouts.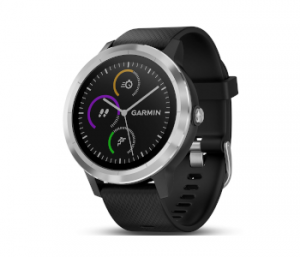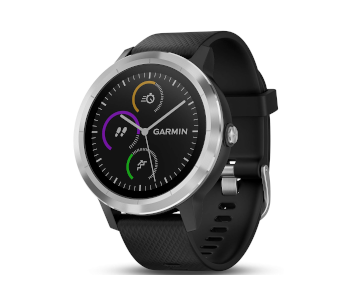 The Garmin Vívoactive® 3 is a GPS smartwatch that supports contactless payments, so you don't have to bring cash or card. It has over 15 preloaded GPS and indoor sports apps, like swimming, yoga, and more. It also allows you to monitor your fitness levels with VO2 max and keep an eye on your stress levels.
Get up to 48% discount when you purchase the Vívoactive® 3 today. It has a great battery life, which can last up to 7 days in smartwatch mode and 13 hours in GPS mode. It also includes some of the features of the Forerunner® 235, such as smart notification, live tracking,  Garmin Connect™, and personalization with watch faces, apps, and widgets from Connect IQ™.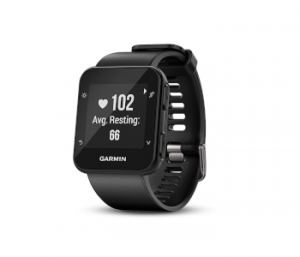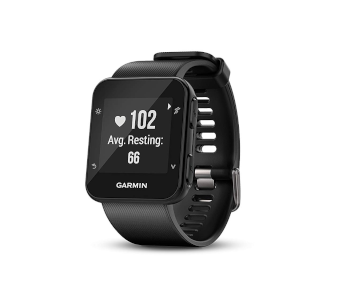 GARMIN FORERUNNER 35
Cyber Monday Price: $129
Retail Price: $249
The Garmin Forerunner® 35 is an easy-to-use GPS running watch that monitors your heart rate all day and night. It features Garmin Elevate™ wrist heart rate technology, so you can track how fast your heart beats during activity and rest. It also boasts a built-in GPS that monitors where you run, how far, and how fast.
This Cyber Monday, get a 41% off on the Forerunner® 35 and run your heart out. It includes the connected features of the best Garmin smartwatches, such as live tracking, music control, smart notifications, and access to Garmin Connect™. It also tracks your steps, calories, and intensity minutes. Furthermore, it reminds you to move when you have been idle for a while.
Garmin Smartwatch Deals
The Forerunner® 645 Music is a GPS running smartwatch that plays music and supports contactless payments. You can download up to 500 tracks to your watch and connect with Bluetooth headphones for phone-free listening. It also syncs music from select streaming services for offline listening. Furthermore, it provides advanced running dynamics and monitors your performance.
The battery of the Forerunner® 645 Music lasts up to 7 days on smartwatch mode and 5 hours on GPS mode with music. That is more than enough time to finish your workout.
GARMIN VÍVOACTIVE 4S
Cyber Monday Price: $299
Retail Price: $349
The Garmin Vívoactive® 4S is a smaller-sized GPS smartwatch designed for your active lifestyle. It tracks everything, including your menstrual cycle, hydration, respiration, sleep, stress, blood oxygen saturation level, and heart rate, to help you achieve your fitness and health goals. It also features preloaded easy-to-follow workouts and built-in sports apps to track your movement.
If you want a personal running coach on your wrist, get the Vívoactive® 4S at a discounted price today. You will love its Body Battery™ Energy Monitoring feature that tracks your energy levels throughout the day to help you find the best times for your workouts and rest.
The Garmin Instinct Tactical Edition is a rugged, reliable outdoor GPS watch with tactical features. Built to withstand the harshest environments, it comes with a fiber-reinforced polymer case and a chemically strengthened, scratch-resistant display. It also features fully vented silicone bands to ensure a secure fit. More impressively, you can use the watch for up to 14 days in smartwatch mode, 16 hours with GPS, and 40 hours in UltraTrac™ battery saver mode.
Enjoy tactical functions at your fingertips with the Instinct Tactical GPS watch. It is also compatible with smartphones for on-wrist messaging and notification.
More Deals
Premium Garmin Smartwatch Deals
GARMIN DESCENT MK1
Cyber Monday Price: $1,299
Retail Price: $1,479
The Garmin Descent™ Mk1 is a premium Garmin smartwatch that works as a full-featured dive computer with surface GPS. It has a sleek watch-style design with a bright 1.2" color display and TOPO mapping for a versatile feel. It also comes with built-in sensors as well as GPS and GLONASS capability for surface navigation. Furthermore, its battery can last up to 19 days in watch mode, 13 days as a smartwatch, 40 hours in dive mode, and 20 in GPS mode.
Breathe easier and dive better with the Descent™ Mk1. This premium Garmin smartwatch is on sale today, and you can save as much as $180.
The Fenix 5X Plus is the ultimate multisport GPS smartwatch. It has a rugged design, which is fit for any adventure, and a superb battery performance that can last up to 13 hours in GPS mode with music and 20 days in smartwatch mode. It also features a Wrist-based Pulse Ox sensor that monitors blood oxygen saturation levels and Garmin Pay™ contactless solution for convenient payments. Moreover, it syncs with online streaming services like Spotify®, so you can play your favorite music from your watch.
Your roadmap to success is on sale today. Get the Garmin Fenix 5X Plus to save as much as $200.
More Deals
Garmin Fitness Tracker Deals
The Vívosmart® 4 is a slim, smart fitness tracker that allows you to keep an eye on your wellness and fitness activity with style. It has a fashionable design with a bright, easy-to-read display and stylish metal accents. It also features health and fitness monitoring tools to make sure you are in optimum health. Furthermore, you can time your runs, strength training, pool swims, and yoga.
The Garmin fitness tracker boasts advanced sleep monitoring with REM sleep and a wrist-based Pulse Ox² sensor to measure your blood oxygen saturation levels during the night. It also sends alerts for all notifications, including text messages and calls. More impressively, you can use the Vívosmart® 4 for a week wherever you are, even in swimming pools and showers.
This Cyber Monday, save as much as $30 when you purchase the Garmin Vívosmart® 4. Take your daily fitness and wellness monitoring to the next level with a stylish, smart design.
More Deals