Best Gas Powered Drones of 2019
3D Insider is ad supported and earns money from clicks, commissions from sales, and other ways.
We live in a world obsessed with green living and small carbon footprints. But that doesn't mean we can't have a little fun and enjoy gasoline powered drones, does it? Quadcopters that run on gas are virtually emission-free compared to gas-guzzling cars, trucks, buses, and motorbikes.
The question you may have is why even bother? After all, battery-operated drones provide us with everything we need, don't they? Well, not quite. Before we look at the tiny handful of gas-driven alternative quadcopters, let's first take a look at their advantages over battery-powered options.
The Benefits & Drawbacks of Gas-Powered Drones
Do You Need a Gas-Powered Drone?
Decision Time – What's It to Be?
Best Gas Powered Drones Comparison Table
1. Meet the Yeair Hybrid Quadcopter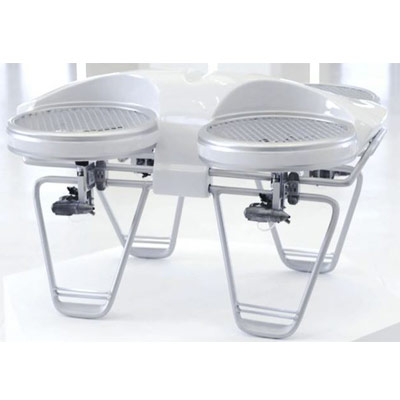 View on Site
Editor's Rating: 4.9/5
The team behind the Yeair project tells us to expect great things. It has more of what we demand, they say. That's more style, more flight time, more speed, and more payloads. Are they right?
Best feature 1: Fast top speed
Best feature 2: Amazing range
Plus points: Decent payload, next-generation GPS, programmable LEDs, lift up legs, WiFi
Minus points: High price (potentially), noisy
This two-stroke combustion engine hybrid quadcopter project is so refreshing. It's like writing about a more conventional battery-operated drone—plus some. Think about all the common gripes with electric drones—then remove them. That's the Yeair quadcopter. No more moaning about pitiful flight times, long charging times, slow speeds, and tiny payloads. Let's look at some of those claims.
The Gas/Electric Quadcopter
The Yeair's fuel tank holds 1.5lt of gasoline. There's also a tiny 1,250 mAh battery onboard but you won't have to recharge that between flights. The two-stroke engines make sure the battery stays fully-charged. And the quad's electric motors are responsible for starting the gas engines. It's all clever well-coordinated stuff of a hybrid.
The Best of Both Worlds
You can expect the combustion engines to keep the Yeair airborne for a whole hour on a full tank. And boy is this puppy fast. It boasts a top speed of 100 Km/hr or 62 mph. Electric-powered drones have been the most reliable up until now. The promise of the Yeair is to combine reliability with power. In other words, this is the quadcopter that delivers the best of both worlds.
The 55 km (34mi) range is also incredible and a major selling point. Most makers of electric quads measure the range in meters. The maximum 5kg payload is no minor detail either. A few of the other key features include the next-generation GPS, programmable LED lights, lift-up legs, and WiFi.
Who Is the Yeair Hybrid Quadcopter For
I can't think of any enthusiastic drone pilot who wouldn't love the Yeair. However, its target buyer is industry due mainly to its potential to serve.
Here's a shortlist of the industries that could benefit most from this hybrid quadcopter:
Delivery services
Wildlife documentaries
Motion picture production
The sky's the limit but the three industries above will find this drone a particularly useful tool. There's a lot going on with the Yeair which has something appealing for all drone pilots—aside from the price. Still, the cost is subjective and depends on who wants it for what purpose.
The Downsides
The work is done and the testing complete. The Yeair is now ready for mass production the moment the campaign reaches its target. This unusual looking bird is going to turn many heads and make a lot of drone makers sit up and take note. Alas, it'll be outside the budget of most hobbyists with its anticipated price tag of over $1700. I doubt the cost will deter industries though.
The only other gripe, at this moment, is the noise level. Gas-powered drones do make quite a racket compared to battery operated models. Not that noise will be a deterrent for Yeair fans.
Tech Specs
Type: Hybrid quadcopter
Product Weight (empty): 11 lbs. (4.9 kg)
Key function: Industry
Payload: 11 lbs. (5kg)
Engine type: Hybrid setup uses two-stroke 10cc gasoline engines w/ traditional electric motors
Power: 8.6 HP
Fuel: Regular motorbike/scooter fuel
The Pros
Fast top speed
Good payload for size of drone
Lift-up legs
Incredible flight range
Long flight time
Next-generation GPS
Programmable LED lights
Integrated WiFi
Autonomous flight option
The Cons
High price tag
Noisy engine
2. Meet the Goliath Quadcopter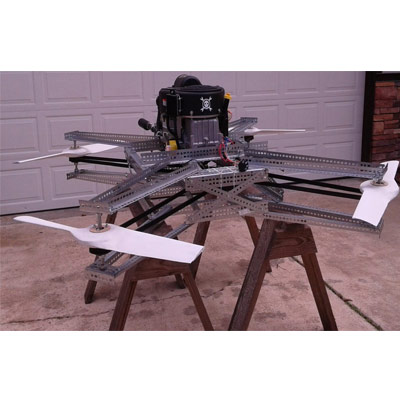 View on Site
Editor's Rating: 4.7/5
You have to see the Goliath Quadcopter to believe it. It looks like a giant Meccano DIY project for adults. It kind of is, but it's also a serious prototype with a lot of practical functions.
Best feature 1: 30 HP engine
Best feature 2: Open source (creative commons license)
Plus points: Lightweight construction, low-cost frame, lifts a heavy payload
Minus points: Not for the faint-hearted, heavy
The Goliath Quadcopter packs a lot of oomph with its 39HP engine. Those who get their hands on one of these beasts will be happy to know they have lots of control over their investment. Being able to customize the open source software and flight controller is a huge appeal to a project like this.
A good old-fashioned gasoline-powered V-twin lawnmower engine takes the Goliath up and away. We expect it to be a capable flyer despite the size and heft, thanks in part to the aluminum frame. The earlier Mk-I prototype frame used heavier slotted galvanized angle, which is a cheaper alternative to stainless steel. There have been plenty of changes and tweaks along the way as with all prototypes.
Goliath the Workhorse
The newer lightweight frame and the more powerful engine should make the Goliath a workhorse. I've read somewhere that the ambition is to reach a maximum of 40 lbs. payload capacity. Unfortunately, I wasn't able to find the top speed goals at this point. Watch this space because things can and sometimes do change overnight.
The Downsides
This is not the kind of project you can play around with in a backyard or at a local park. It's a real enthusiast's project and aimed at those who really know what they're doing. It's certainly not for the faint-hearted that's for sure. It's big and heavy compared to electric quadcopters. There are potential dangers and disadvantages to the craft's heft.
Tech Specs
Type: Quadcopter
Product Weight (empty): 170 lbs.
Key function: Lifting drone
Payload: 40 lbs.
Engine type: 30HP V-twin lawnmower
Power: 30 HP
Fuel: Regular gasoline
The Pros
Hackaday Prize Entry
Open source SW and controller
Powerful engine
Lightweight frame construction
Heavy payload potential
The Cons
Serious project, not for the faint-hearted or novice pilot
Heavy end product
3. Meet the Incredible HLQ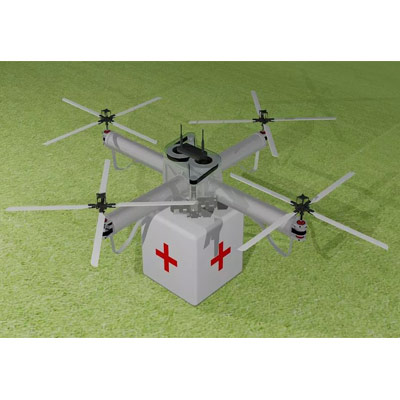 View on Site
Editor's Rating: 4.8/5
We have mechanical engineering students from San Joe in California to thank for the Incredible HLQ. It began life as a model in a Kickstarter campaign and it seems like things have been paying off.
Best feature 1: Heavy lifter
Best feature 2: Open-source flight control
Plus points: Two engine design, multi-application use
Minus points: Gas guzzler, noisy, heavy
HLQ is short for Heavy Lift Quadcopter. There were 211 backers at the last count who pledged a total of $11,538. It's going to be interesting to see how the final project comes to life. The idea is to produce a powerful gas-driven quadcopter that's capable of lifting and delivering payloads up to 50 pounds. That's quite an ambition and has a potential for many practical applications.
How the Incredible HLQ Flies
The power comes from a couple of two-stroke engines with 12.5 HP each. This may not sound a lot but combined these two engines provide—or should provide—plenty of power and stable control. There are four commercial helicopter rotor heads used in the construction each equipped with 435mm blades. Aluminum tubes form the frame at the time of writing but remember this is still at the prototype stage.
The team has used the open source Ardupilot module for the flight controller. This is handy as it's easy to reconfigure things during tweaks and testing.
The Downsides
The Incredible HLQ is a pretty large quadcopter and that means it loses points on portability. The two 2-stroke engines are likely to guzzle a lot of gas too and that'll restrict how far the quad can fly. From what I can see it's going to be heavy and noisy even after project completion.
Tech Specs
Type: Quadcopter
Product Weight (empty): Not specified
Key function: Heavy lift quad
Payload: 50 lbs.
Engine type: Two gasoline two-stroke
Power: 25 HP (12.5 HP each)
Fuel: Two-stroke
The Pros
Heavy lifting and delivery potential quadcopter
Open source controller
Two engine design
Lots of potential for industries like search & rescue
The Cons
Gas-guzzling potential
Heft
Noisy
4. Meet the Nitro Stingray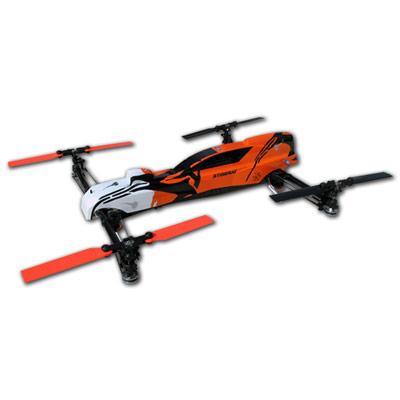 View on Site
Editor's Rating: 4.3/5
There's actually an electric-powered version of the Nitro Stingray. This special gas-powered model is an alternative to that but why would you bother?
Best feature 1: Powerful 2-stroke Scorpion motor
Best feature 2: Stable and agile, good for aerial photography
Plus points: More realistic flight sensation
Minus points: Noisy, harder to handle than electric alternatives
The Nitro Stingray is a strange looking beast powered by a powerful 2-stroke Scorpion motor. Pilots like this drone for its reliable stable flying helped by the 110mm blades on each corner. The stable performance of this consumer quad makes it a good choice for aerial photography.
The dedicated controller gives a pilot full control over the craft at all times. It can do a lot of what the electrical version can do but with more effort and careful control. I'm not sure about the quadcopter's overall appeal though.
Pilots can perform all the usual 3D stunts and traditional maneuvers. The main difference is that the flying experience is extra engaging. The result is a more realistic flight sensation compared to the electric alternative. If that appeals to you then the Nitro Stingray could be right up your alley.
The Downsides
The Nitro Stingray is as noisy asa swarm of angry hornets. It's not a beginner's craft either. It has the ability to fly and perform better than the electric alternative but it's harder to master.
Tech Specs
Type: Quadcopter
Product Weight (empty): Not specified
Key function: Fun flying/racing
Payload: Xxx lbs. N/A
Engine type: two-stroke Scorpion
Power: Not specified
Fuel: Two-stroke
The Pros
Powerful gas-powered quad
Stable and agile even in winds
Good choice for aerial photography
Realistic flight sensation
The Cons
Noisy
Harder to handle than the electric alternative