GE Aviation Announces 3D Printing Quests
3D Insider is ad supported and earns money from clicks, commissions from sales, and other ways.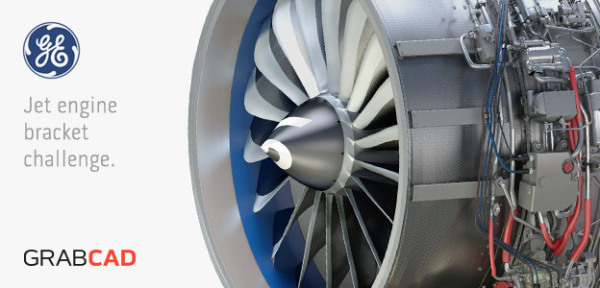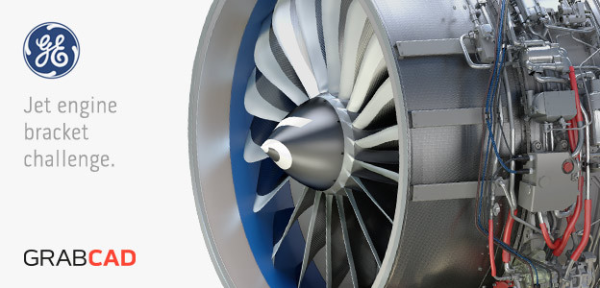 The other week we reported on GE Aviation's advancement in the field of 3D printable aircraft components and their research into jet engines. Now though, GE has announced at the RAPID 2013 Conference that it is launching a couple of global additive manufacturing quests. These challenges will include technologies used in healthcare and a 3D Printing Production Quest for an aircraft engine bracket, among other things. The quests are intended for entrepreneurs, institutions and companies.
The challenges are intended to make participants completely re-imagine design processes and the way objects are built. GE hopes that an aircraft bracket developed by participants will be completely revolutionary and be up to 30 percent lighter.
GE Aviation have already shown their intention to print fuel nozzles for new jet engines. Advanced technologies researcher at GE, Michael Idelchick said  "We already know that it can be done, we've been playing with it for a while."
Idelchik also stated that "Now we want to develop an ecosystem of designers, engineers, materials scientists, and other partners who can learn with us. We have a number of products that we are going to be launching and we want to challenge people to get into business with us. If the ecosystem grows, the entire industry will grow."
"You need to understand software and creative design, the unique properties of the printing machines, and meet the functional requirements of the parts like strength and the ability to handle vibrations," Idelchik says. "If we can make a relatively simple part like the bracket so much lighter, imagine what you could do with complex parts. We would like to see some of the people who enter the challenge to become our suppliers as we launch new products."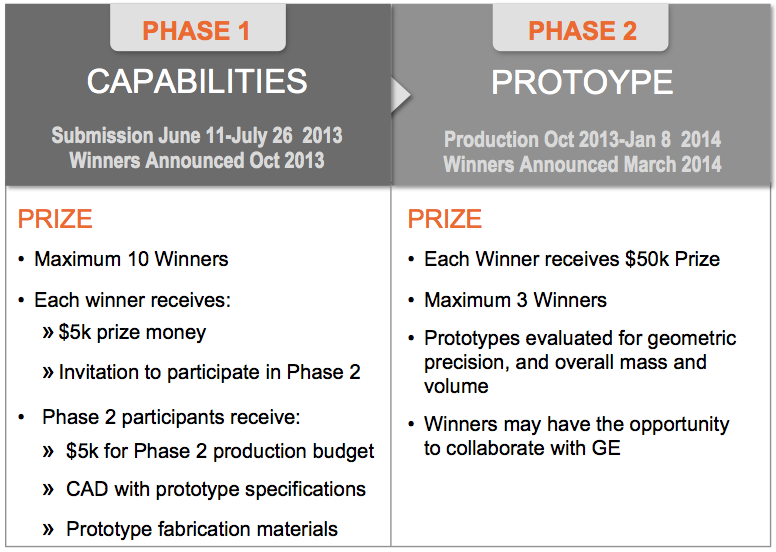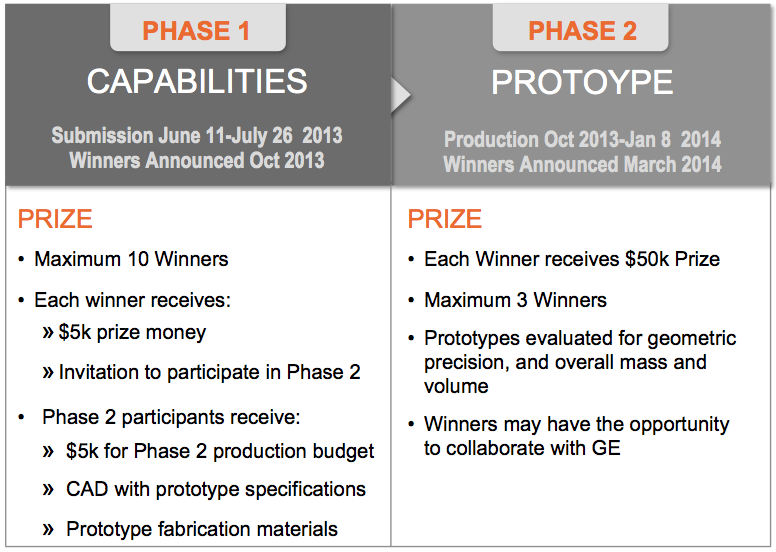 The details and awards for the 3D Printing Design Quest are as follows:
PHASE I: Submit an improved design based on the provided diagram and specs from June 11 to July 26. These designs will be analyzed and evaluated via simulation with the top ten designs awarded $1,000 each.
PHASE II: The top ten optimized engine bracket designs from Phase I will then be additively manufactured and subjected to a given loading scenario. The top 8 designs will receive awards from a total prize pool of $20,000. Phase II will run from August 15 to November 15.
The details and awards for the 3D Printing Design Quest: High Precision and Advanced Materials  are as follows:
PHASE 1: Capabilities submissions from June 11 to July 26 up to 10 of the most promising Entrants each being awarded $5000 and an invitation to continue onto Phase II.
PHASE 2: Prototype fabrication from October 1 to January 8, 2014, with specified materials and a production budget of $5,000 allocated to each participating Entrant. Up to three winning prototypes will each win a $50,000 cash prize.
Idelchik says that the time is right for 3-D printing. "How this ecosystem will develop will define how far additive manufacturing will go," he says. "I believe that we will get some outstanding participants with breakthrough ideas who will like to start a business."
To get more information on the GE's challenges take a  GE's innovation page here.
Warning; 3D printers should never be left unattended. They can pose a firesafety hazard.