10 Best and Essential Gear VR Accessories
3D Insider is ad supported and earns money from clicks, commissions from sales, and other ways.
The world of virtual reality is relatively new. The idea existed, for quite some time, but technology has just recently caught up that it is now viable for regular consumers. This current trend first started with mobile headsets, where your smartphone acted as a screen. Then it's evolved to standalone devices that are connected to a VR-ready computer.
Virtual reality technology is still in its infancy, but it's slowly gaining traction. Mobile VR headsets, especially those from Samsung and its latest iteration, have become more polished and refined.
The Samsung Gear VR
If there's a benchmark for all mobile virtual reality headsets, it's the Samsung Gear VR. It is by far the best option to get into the virtual world and explore the things and experiences you can do. One of its remarkable characteristics is that its performance can be closely compared to the expensive dedicated VR sets.
The Gear VR draws its performance from your mobile phone, and it's compatible with some of the best ones on the market. This is the main reason why it holds its own against the big guns.
Maximizing your entire virtual reality experience is more than just strapping on the headset and looking into it. There's more to it, and it's a great deal that the Gear VR comes with a handheld controller to help you navigate the virtual world. There are times, however, that it may not be enough.
The Gear VR comes with a wide array of accessories that you can use to further build on your virtual reality experience. No matter what activity you choose, adding any of the accessories we have determined will give you an edge. Let's take a look at those and see how it can significantly improve your entire experience.
Gear VR Accessories to Get
For the Next Level VR Gaming Experience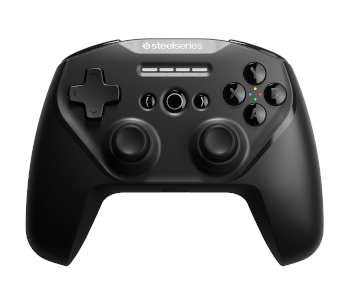 Retail Price: $59
A lot of your experience with the Gear VR does not necessarily require a controller unless of course, you're gaming. Even then, the wireless remote control should suffice for most virtual reality games. However, if you're a gamer and would love to maximize the immersive experience with the Gear VR, you'll need a quality game controller like the SteelSeries Stratus Duo.
The Stratus Duo is a high-performance wireless gaming controller that is built for mobile devices, especially those that you can slap onto your Gear VR. The fact that it's wireless is a plus since you don't want to trip on any dangling wires while you're wearing the headset. You don't even want any wire to touch you since that would immediately kill the immersive experience.
Responsive Controls
A crucial feature of a game controller, especially when you're playing in virtual reality, is how responsive it is. You don't want to be pushing on a button, and it's not responding. You can't just look down to see what's wrong. We're glad to tell you that all the controls of the Stratus Duo are responsive. The buttons are clickable, and the analog joysticks give you a precision performance so you can do all your aiming and control by feeling without having to look at it.
Ergonomic Design
Holding on to the Stratus Duo is comfortable, which is essential in a virtual reality game since you don't want your hands to tire out quickly. The gamepad is also a true pair-and-play device, you don't need to download or install any software to use it. It easily pairs with Android phones that you can connect to your Gear VR, which makes it the perfect gaming companion.
Additionally, it comes with a rechargeable battery that offers up to 20 hours of uninterrupted game time. You don't necessarily need it, but it helps that you can play for a couple of hours and drop the controller and not worry about the battery levels.
The SteelSeries Stratus Duo is an excellent gaming companion. Its compatibility with any Gear VR-ready device is extensive so you can be sure that you'll be able to use it. Its wireless features are brilliant since playing a game where you're transported to the virtual world requires maximum immersion.
For an Immersive Sound Experience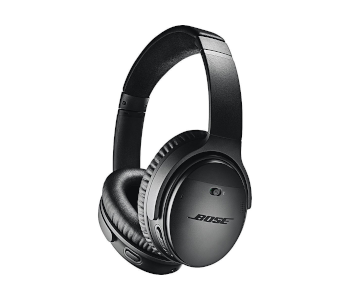 Retail Price: $299
Headphones are one of those devices that you'll always grab as soon as you're planning to use your Gear VR. Almost all of the experiences in virtual reality are greatly improved with a quality headset. Whether you're going to watch a movie or play a game, you want to pick up the Bose QuietComfort 35 II noise-canceling headphones. Put them over your head and enjoy the beautiful sounds it produces.
Noise Cancellation for Total Immersion
The most notable feature of this pair of headphones is its noise-canceling technology. Being able to clear away the distractions of the outside world is extremely useful when you want to start binge-watching your favorite shows on Netflix. Wearing the QC 35 II will block out the outside world and all that matters is you and your virtual reality experience.
The headphones come with three levels of noise cancellation to minimize outside noises in any environment. This ensures a better listening experience and dramatically improves your VR experience.
Quick Connectivity
It comes with the Bose Connect app where you'll be able to adjust your noise cancellation levels. You can easily control how much noise you want to eliminate. This is particularly useful when you're in an environment with a variety of sources for background noise. Bluetooth pairing is hassle-free with the help of the app so you can pair the headphones with your phone without the added stress.
The Bose QuietComfort 35 II provides balanced audio all the time and is perfect for just about any activity you want to do while wearing the Gear VR. It's wireless so you can quickly slap it on without worrying about tangling wires. The noise cancellation technology ensures that no matter what you do, you will be fully immersed.
An Affordable VR Audio Option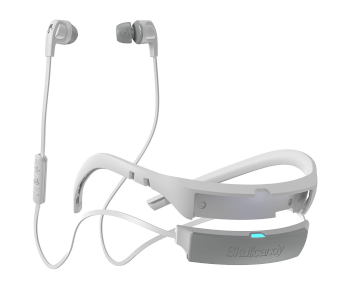 Retail Price: $29
If you're looking for a more affordable audio option for your Gear VR, the SkullCandy Smokin' Buds 2 is a great option. You will be able to experience rich audio with the freedom a wireless design provides. This makes an excellent companion to all your virtual reality experiences like watching movies, socializing, or playing games.
Excellent Sound Quality
Surely you won't get the noise-canceling effect of the QC 35 II, but for a fraction of the price, you can experience crisp and precise audio. So, you can continue to have that immersive experience with your Gear VR.
The sound quality is further improved due to the shape of the earbuds. They are designed to fit snuggly in your ear. This significantly improves comfort and provides the right amount of noise isolation without the expensive tech.
Convenient and Comfortable
A significant characteristic of any excellent VR-ready device is that it shouldn't bother you with whatever it is you're doing. The Smokin' Buds 2 does an excellent job with that. It's lightweight and comes with a soft, flexible collar so that it stays on you while you're in the virtual world. It comes with button controls just below the left earbud so you can adjust the volume without interrupting your VR activity.
The 6-hour battery life is more than enough for any of your Gear VR experiences. That's easily a couple of movies, a handful of episodes to binge-watch, or even a decent amount of game time. You won't have to worry about recharging in the middle of what you're doing as that will totally disrupt the immersive experience.
The SkullCandy Smokin' Buds 2 is an excellent companion to your Gear VR. It's affordable and provides superior sound quality with all the comfort and convenience.
Create Your Own VR Content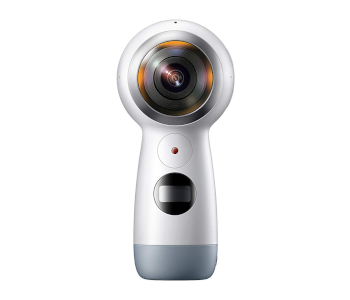 Retail Price: $199
Most of the products we've reviewed so far are about consuming media from others. The Samsung Gear 360 4K VR camera, on the other hand, is all about creating your own VR-ready content. This camera allows you to capture every angle so you can watch it later with your Gear VR. On top of that, you can also share instantly on social media for others to enjoy.
Your vacation photos and videos will never be the same again with the Gear 360 camera. It is equipped with two 180-degree lenses that when combined capture the entire picture. These lenses can take photos of up to 15 megapixels and record stunning 4K videos. It even connects to your phone, so you can live stream what you're doing in a VR-friendly format.
The camera is light and handy, in fact, it fits in your pockets, so you can take it anywhere you go. It also comes with an IP53 water-resistant rating, so you don't have to worry even if you're recording memories under the rain.
The Gear 360 4K VR camera is definitely a great device to have so you can create content that you can share with everyone. You can now relive your experience once again in full 4K resolution when you watch your content on the Gear VR.
More VR Experiences with Added Storage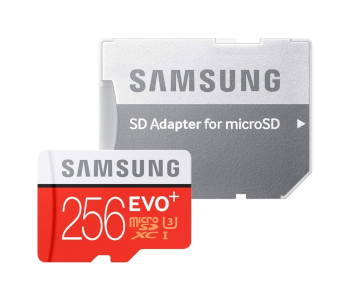 Retail Price: $55
It's widely known that files meant for virtual reality setups are significantly larger than regular ones. If you want to watch videos with the Gear VR, viewing on 4K is the way to go. However, when you have limited storage space, you won't be able to enjoy them as much.
To maximize your Gear VR, you might want to expand your phone's storage space. This is where the Samsung EVO+ Plus 256GB microSD card comes into play. It is capable of providing you with about 12 hours of 4K video. That translates to roughly 5 to 6 movies or a good number of episodes of your favorite TV shows. Apart from videos, VR games also take up a lot of space. Getting an excellent storage solution for your phone will definitely ease your anxiety when your phone is running out of space.
The EVO+ Plus microSD card is a high-performance card that is capable of fast read and write speeds. This allows you to quickly transfer files between your phone and your computer so you can continue to enjoy your favorite VR experience.
Cool Your Phone Down for Longer VR Sessions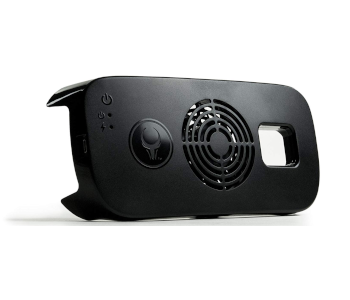 Retail Price: $49
A common problem with headsets like the Gear VR is that the phone you use as a screen gets hot really fast. One way to mitigate that is by using a cooling fan. But where exactly do you slap on a fan on your virtual reality headset? Well, there is a place, and this cooling fan from Asterion replaces the cover of your Gear VR. Now, instead of a cover that traps heat, you have a fan that cools your phone down.
The Asterion cooling fan comes with a built-in rechargeable battery, so you don't have to worry about where you need to plug it in, so it works. It comes with a cable though, but that's just to charge up the batteries in between sessions. However, when the time comes to use it, you won't need it.
The fact about fans is that they produce quite a bit of sound. If you're in the middle of your virtual reality experience, external humming sounds can throw off the whole immersive experience. It's a great thing that the Asterion fan is as quiet as you can get it to be.
The Asterion cooling fan is an excellent attachment that you can use to ensure that your phones don't overheat. A hot phone means it's going to slow down and that could eventually ruin your watching or gaming experience.
For Safe Storage of Your Gear VR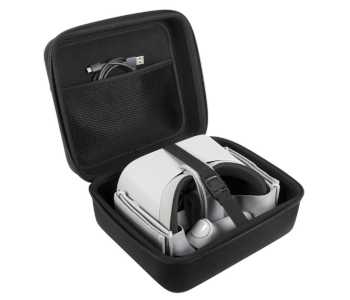 Retail Price: $15
One of your concerns, when you have a Gear VR, is how to store it and travel with it. You won't have any problems with your phone, but with the headset, if you leave it lying around it can easily collect dust and ruin the lenses. It's best to have excellent storage and carrying solutions like the JSVER Gear VR case.
The case is large enough so that it fits the headset and even a gaming controller. You can also slap in a cooling fan in there, replacing the cover. You can even put cables and even headphones as the case comes with a mesh pocket where you can squeeze them in.
Since it's also a carrying case, it is equipped with an internal elastic strap to keep your headset and other accessories you have packed in place. This secures them so they won't jump around as you carry it. The bag is waterproof, so you can get a few drops here and there without worrying that your hardware will be ruined. It is also shockproof, and it does provide the right amount of protection from bumps and scratches.
If you love to travel and can't imagine how to and enjoy your VR experiences at the same time. Getting the JSVER will undoubtedly give you that peace of mind. As far as storing your gear, it does an excellent job as well since it will keep it dust-free.
Extend Your VR Sessions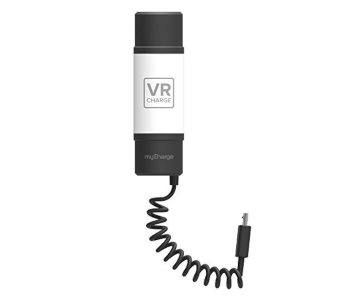 Retail Price: $15
Virtual reality activities on your phone can be taxing to the batteries. Watching movies or playing games with the Gear VR can significantly eat up your battery reserves and the only way for you to address the issue is to either stop everything and charge your phone or plug it in.
Charging your phone while it's in the Gear VR is possible and won't really pose a problem. However, now you'll have to deal with a dangling cable that you won't see. You'll feel it, but you won't see it. If you're playing games or watching movies, feeling it can be a bother as it totally ruins your immersion. One way to deal with that is by using a portable charger like the MyCharge VRCharge.
It delivers up to 4 hours of power so you can continue with your experience. This is particularly helpful when you're playing since there are games when you just can't hit the pause button. You can significantly extend your watch or game time with this little dongle.
It is wired, and it does need to be plugged into the Gear VR's USB slot. However, the battery pack is designed to be clipped on to the straps of the headset. This eliminates dangling wires, and nothing is going to hit you while you're enjoying the virtual world.
The MyCharge VRCharge portable charger is an excellent must-have accessory if you're into playing a lot of virtual reality games. It also comes in handy when you're binging on your favorite TV shows or having a movie marathon with the Gear VR.
Added Comfort While You're Wired In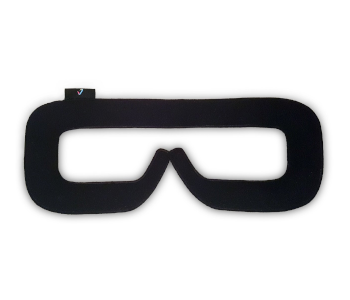 Retail Price: $19
If you love to use your Gear VR regularly, you'll inevitably suffer from some wear and tear. The first part where you'll usually encounter that is on the face pad. It's that part of the headgear that actually touches your face. Living in a warm environment, it can quickly get dirty. If you didn't know that you can replace it, then you'll just rip it off and suffer the consequences.
The great thing is that VRology has a replacement face pad for your Gear VR. It's exceptionally comfortable and is able to provide you with longer virtual reality sessions. It's made with a light, breathable soft fabric that cushions your face and nose. An advantage of this is that it can significantly reduce lens fog, which is a plus when you spend hours wearing a headset.
The replacement face pad is quick and easy to install, all you need to do is attach the Velcro back, and it's ready to use. Taking it off is equally straightforward. A notable feature of the replacement pad is that it's machine washable. You just pop this into the washer, dry it out and use it again.
Now, you don't have to worry about a dirty face when you're on one of your VR sessions. Replacing your face pad with this will make you feel like you're not wearing a large headset as you do about your virtual activities.
Stream and Share Your VR Experiences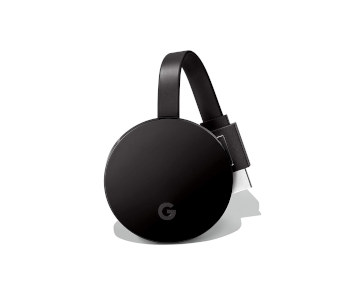 Retail Price: $69
The Chromecast Ultra is a somewhat new addition to this list of accessories. It's only recently that the Gear VR was updated to accommodate this piece of tech. Now, what exactly does this do, you may ask? This opens up an entirely new experience. You can now cast whatever it is you're doing in the virtual world into a TV set.
The Chromecast Ultra allows you to enjoy games with your friends since you can now show them what's it like even without wearing a VR headset. They can have a piece of the action even when they're just sitting beside you and watching it.
Casting your virtual reality experience opens up new possibilities, and this will continue to improve.
Virtual Reality Experiences with the Gear VR
You can consider the Gear VR as a mid-range virtual reality machine. It's not as polished as the dedicated ones, but it also has enough power that it can provide you with a number of high-quality VR experiences. Of course, it draws much of its power from the phone that's attached to it, but in tandem, they still do wonders.
Next Level Gaming
An experience you can enjoy in the Gear VR is gaming. It's companion virtual reality app store, Oculus, has many free and paid games that you can enjoy. These games have excellent graphics that are fit to be considered a VR game. With the right accessories, such as a suitable gaming controller and a headphone, you can genuinely play these games and be immersed in the environment.
Immersive Viewing
The Gear VR can surely deliver an immersive viewing experience. There are a lot of apps where you can watch movies and TV shows like Netflix, Hulu, and Youtube. You also have the entire library of Facebook's 360 videos. There are also apps for sports fans where they take you courtside or ringside, so you'll feel like you're in the arena.
There are a lot of video viewing options with the Gear VR, and these will provide you with an experience unlike any other.
Virtual Field Trips
Education is another experience you can get with the Gear VR. You can take virtual field trips so you'll be able to understand more about a particular subject. Some apps can transport you anywhere in the world where you can virtually walk up or down a street. Some VR apps can even take you to Mars.
Final Thoughts
The Gear VR is admittedly new technology, and it can provide you with a ton of new experiences. However, merely putting on the headset may not be enough. There may be other factors that would ruin what you're doing.
Getting these accessories can turn everything around. You're suddenly able to play your favorite game better with a controller. You'll be able to concentrate on the movie your watching by using a quality headphone. These little things can improve your whole VR experience and allow you to embrace it fully.