Geoweaver 3D Printing Robot Prints On The Move
3D Insider is ad supported and earns money from clicks and other ways.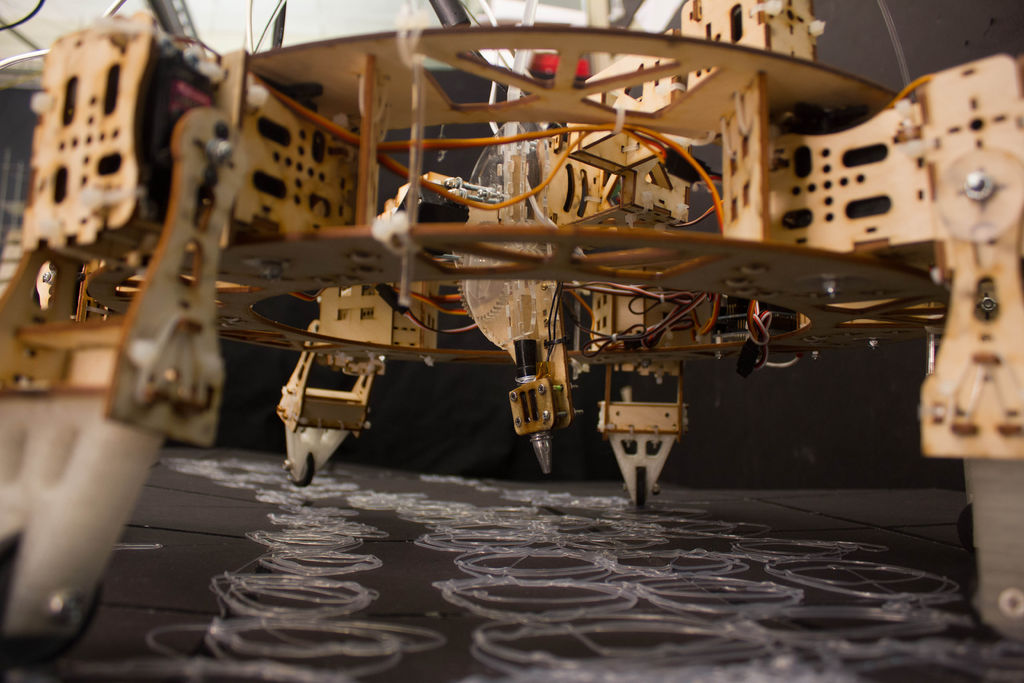 Need a 3D printer with a large build volume but you just can't find one? A team of students from the California College of the Arts (CCA) in San Francisco may have the solution you need. Team members Jia Wu, Mary Sek, and Jeff Maeshiro have developed Geoweaver, a 3D printing Hexapod robot that walks and prints at the same time.
Geoweaver is based upon a 12-servo hexapod with a slight difference. In the center there is a extruder/hot glue gun that lets Geoweaver create 3D objects anywhere. The extruder is controlled via three servos that allow for basic XY plane movement and forced extrusion through the print head. Filament is fed through from above and printed on the found below.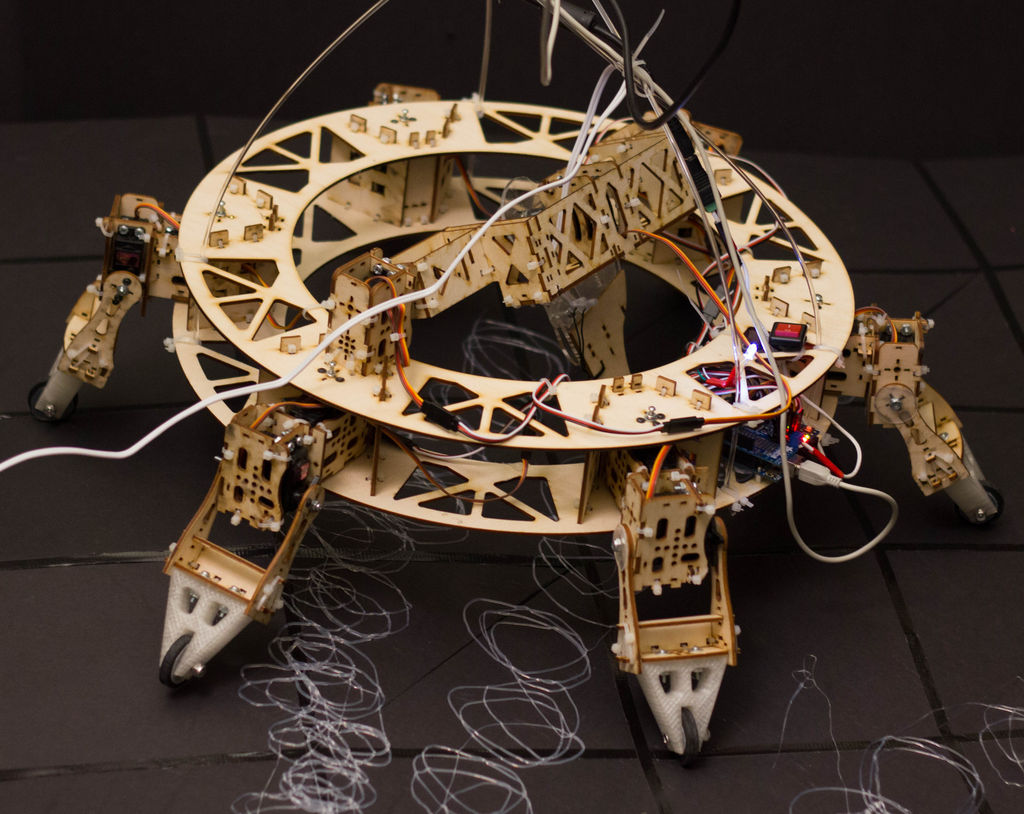 Multiple walk modes let Geoweaver create objects and move across unstable terrain.  It can walk in a straight line, curved lines, rotate, dance, and print while walking, it can tackle slopes, as well as step over obstacles. Controls are sent to Geoweaver by an Arduino Uno controller and Firefly. Firefly is a plug-in created by Professor Jason Kelly Johnson for the CAD software Rhinoceros 3D. Jason Kelly and professor Michael Shiloh assisted the students in developing the 3D printing robot.
A webcam is used in conjunction with reacTIVision fiducial markers to calculate position and topography. The team believes at a larger scale, Geoweaver has the potential to bring satellite level intelligence and translate it into print making on the ground.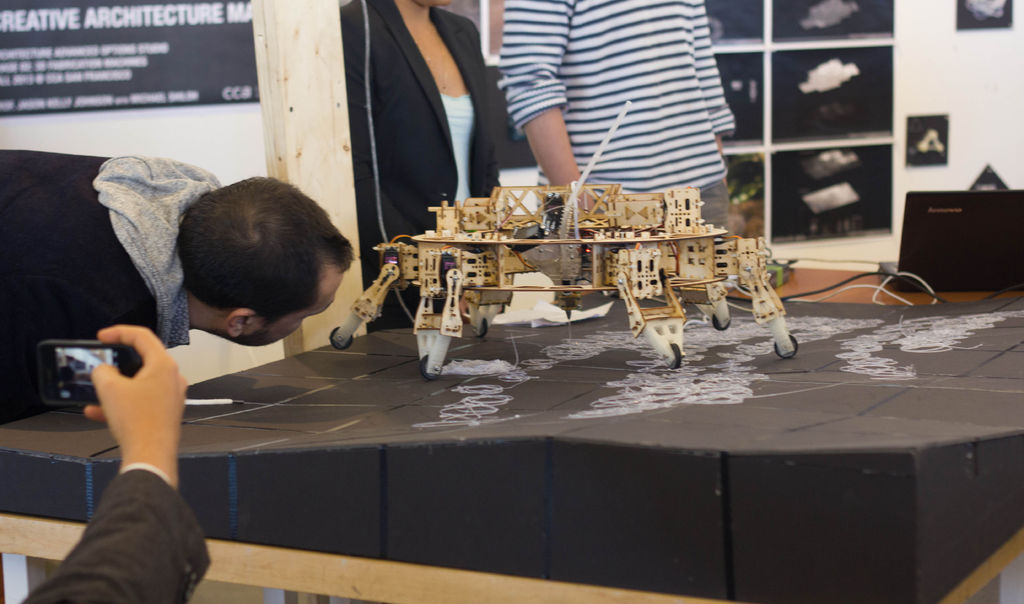 The students found an Instructable's page, Hot Glue Gun Extruder for Your CNC Machine or 3D Printer, that gave them a great starting point for their print head. Overall it took about 60 days to research and prototype Geoweaver. Below is a video of the development process.
Instructions on how to build a Geoweaver for yourself have been uploaded to Instructables but the team says that it "is not a project to be tackled for the faint of heart." If you're willing to give it a go, the students say that it is an awesome project to work on.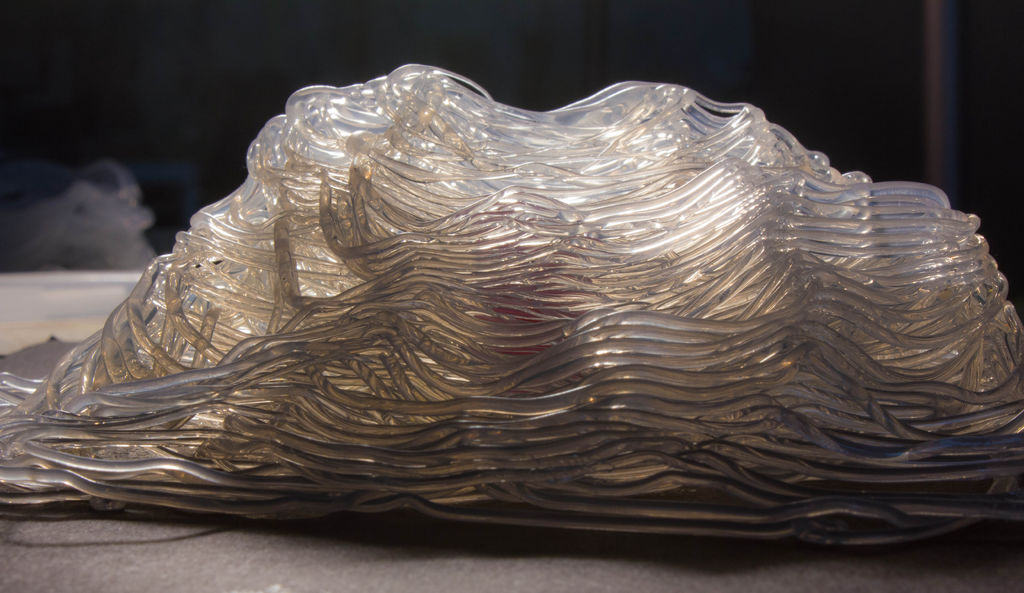 Here's a list of parts and materials you will need:
Materials
15 high torque servos (complete with the "+" shaped servo horns and servo center screws that should come with the kit
Bolts and locknuts (about 48 of them), or whatever bolts fit through your servo flange holes (the side holes). At least 3/8" long (enough for the 1/4" plastic or Al and a locknut to fit on there)
1/8" at 24" x 48" sheet of plywood (for legs/center mechanism)
1/4" at 24" x 48" sheet of plywood (for body)
2 bags of hot glue
1/8" at 11" x 17" sheet of acrylic (for extruder)
3 bags of 100ct mini zip ties
Small gauge wire
Dowels
6 rubber sink washers
Electronics
Arduino Uno
Servo shield
Computer
Male headers
Jumper wires (or single core wire suitable for breadboards)
Servo extension cables
Warning; 3D printers should never be left unattended. They can pose a firesafety hazard.