6 Best Glass Break Sensor Picks in 2021
3D Insider is ad supported and earns money from clicks, commissions from sales, and other ways.
Motion-activated window alarms are inexpensive and popular, but persistent burglars won't have trouble circumventing them. After all, why try to pry the window open when you can smash it in and get inside without disturbing the alarm? You need to swing the odds back in your favor, and a glass break sensor is just the right tool for the job.
Glass break sensors react to the vibrations and sounds that result in attempted forced entry. Some of them should be mounted on a wall opposite your windows. These cover a wide area and listen for the distinct frequencies breaking a window produces. Other models attach directly to a window and react to vibrations even if the burglar is probing the glass. The most sophisticated sensors even integrate into smart alarm systems and send notifications to your phone regardless of location.
These are the six best glass break sensor models you can get today. All of them are effortless to set up, go off at the first sign of warning, and can serve you faithfully for many years. We've included single units as well as bulk options to make securing your home even more straightforward. Get a glass break sensor today and start sleeping soundly for years to come.
Budget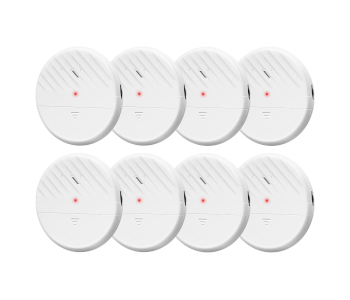 Wsdcam Window Alarm Sensor
4.4/5.0
Dimensions: 3.4 x 3.3 x 0.7"
Weight: 1.7 oz
Exceptional, adjustable sensitivity.
Check Amazon
Best Value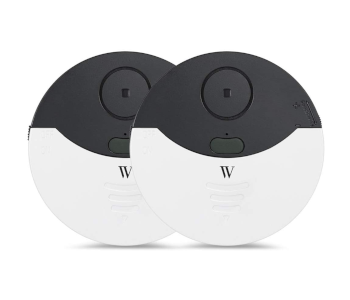 Wasserstein Smart Window Alarm with Vibration Sensor
4.5/5.0
Dimensions: 3.5 x 3.4 x 1.5"
Weight: 4.6 oz
Detects glass breaks as well as tampering.
Check Amazon
Top Pick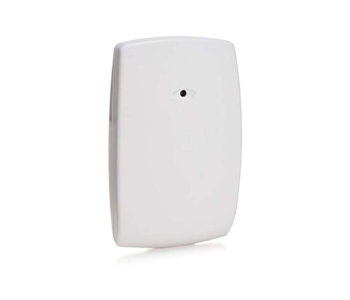 Honeywell 5853 Wireless Glass Break Detector
4.7/5.0
Dimensions: 5.2 x 3.1 x 1.4"
Weight: 2.4 oz
Recognizes several different glass types.
Check Amazon
Glass Break Sensors Comparison Table
1. Best Overall – Honeywell 5853 Wireless Glass Break Detector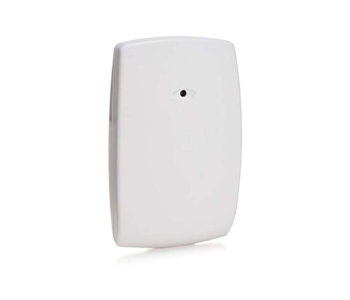 View on Amazon
Editor's Rating: 4.7/5
False alarms are the last thing you want from a glass break sensor, and avoiding those is the 5853's specialty. The sensor ties into various Honeywell security systems and provides impeccable surveillance when it comes to different types of glass. It costs more than most, but the peace of mind this one-time purchase affords you is more than worth it.
Overview of Features
Honeywell's 5853 doesn't follow the conventional glass break sensor aesthetic as it's elongated, rectangular, and has rounded corners. Its glossy white surface is broken up only by a small hole for the microphone. This extends the range and lets the device distinguish between different sounds better.
Excellent accuracy is the 5853's main selling point. It's precisely calibrated to recognize the sound of different glass breaking. This extends from ordinary glass panels to less common variants like laminated and wired glass. You may choose from four sensitivity settings and use the 5853 at a maximum range of 25 feet. This makes it economical. It lets you place the sensor on a wall opposite a row of glass windows and use only one per room instead of having to buy multiple single-window units.
Installing and mounting the 5853 is straightforward. Its top has an indentation that lets you access the inside. There you'll find breakers used to specify the desired sensitivity along with a battery. The battery has a tab you need to pull for it to provide electricity. It lasts ten years after activation.
What We Didn't Like
The 5853 Wireless Glass Break Detector is the most expensive single model on review. It has a tamper switch consisting of an inner and an outer part. Most units are fine, but some may have internal parts of the tamper switch that don't connect to the device's circuitry and are therefore useless in preventing tampering.
Tech Specs
Dimensions: 5.2 x 3.1 x 1.4"
Weight: 2.4 oz
Placed on: Wall opposite window(s)
Range: 25'
Pros
Dependable glass break detection
Recognizes several different glass types
Wide coverage area
Easy to install and set up
Cons
Expensive
Might come with a faulty tamper switch
2. Best Value – Wasserstein Smart Window Alarm with Vibration Sensor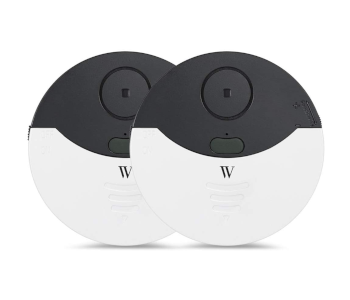 View on Amazon
Editor's Rating: 4.5/5
Honeywell's sensor might be the best at detecting breakage sounds, but it requires that you already have an expensive security setup. Wasserstein's smart window alarms are independent gadgets you place on your windows. They'll detect when the window is either moved or broken, thus preventing any burglars from getting in either subtly or with brute force.
Overview of Features
Wasserstein's sensors have the puck shape you'd expect from such devices. Still, their two-tone design suggests more attention to detail and better build quality than the cheapest alternatives. The bottom part of the front plate is white and has a Wasserstein logo. Removing it lets you access the battery compartment. An on/off switch is to the left, while a sensitivity dial can be found to the right.
Setting Wasserstein's sensors up is a breeze since they attach directly to the windows they're guarding. Each comes with a piece of plastic that protects a layer of adhesive tape in the back. Peeling the plastic off and securing the sensor on a clean, dry part of the window is all it takes. You get the necessary batteries as part of the package, and an LED indicator shines red when they're low.
The sensors are an effective local deterrent since any excess vibration triggers their blaring 130dB alarms. They're also smart, meaning that they wirelessly connect to your home's 2.4GHz Wi-Fi network and can send notifications to the Wstein companion app.
The app is simplistic but useful, showing you the active sensors and their activity at a glance. It displays notifications once someone has tampered with a sensor or when the battery is low. You may also share the information with a list of contacts, so each family member gets notified simultaneously.
What's Bad About It?
You'll want to turn the Wasserstein sensors' sensitivity down while you're at home as they react even to slight vibrations. The app's current problem is more serious, though. A recent update has caused some users to log out randomly and unintentionally. You won't be able to receive real-time notifications if that happens. An update will hopefully fix the issue soon.
Tech Specs
Dimensions: 3.5 x 3.4 x 1.5"
Weight: 4.6 oz
Placed on: Window
Loudness: 130dB
Pros
Excellent value for the money
Has a companion app that sends notifications to multiple users
Easy to install with adhesive tape
Detects glass breaks as well as tampering
Cons
Needs to be set to lower sensitivity while someone is at home
App might unexpectedly log you out
3. SimpliSafe Glassbreak Sensor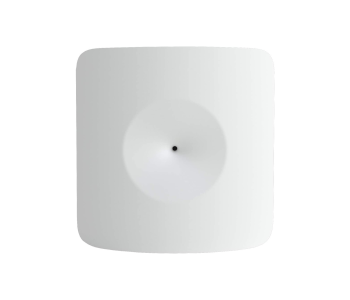 View on Amazon
Editor's Rating: 4.6/5
SimpliSafe is one of the best DIY security systems on the market, and it just got better with the addition of the Glassbreak Sensor. This small device works similarly to Honeywell's model, except its range is shorter by five feet. The gadget integrates seamlessly into SimpliSafe's vast ecosystem, works out of the box, and shows impressive results.
Overview of Features
SimpliSafe's sensor is the most plain-looking one on revive. It's a small rectangular unit with a concave circle in the middle that deepens towards the microphone in the middle. You install it either with adhesive tape or the mounting plate and two screws you get with it if you're after a more permanent solution.
Coverage is set at 20 feet, meaning you can monitor two to three windows in a mid-sized room economically. The sensor will instantly recognize the sound of a window breaking. It will also disregard similar noise like broken dishes, so false alarms are not a problem.
The SimpliSafe ecosystem makes monitoring and setting up one or multiple glass break sensors a breeze. Theoretically, you can have a hundred sensors all communicating with the SimpliSafe hub without interference. Getting the app will also send notifications to your phone if a window is broken, while pairing glass break and motion sensors will ensure maximum security.
Are There Drawbacks?
You have to pay for one of SimpliSafe's monthly security plans to use the app. Without it, you're left with the main unit's 96dB siren neighbors might not hear. SimpliSafe states that the sensor can run from three to five years on the provided attar. Real-world user experience suggests that the length is closer to two years, so keep an eye on the battery status.
Tech Specs
Dimensions: 2.5 x 2.5 x 1.3"
Weight: 4"
Placed on: Wall opposite window(s)
Range: 20'
Pros
Effective, nuanced detection that distinguishes between accidents and actual break-in attempts
Installing one unit and adding multiple others is easy
Intuitive and useful app
Decent coverage
Cons
App access restricted behind a paywall
Batteries don't last as long as advertised
4. Interlogix 5150W Glassbreak Shock Detector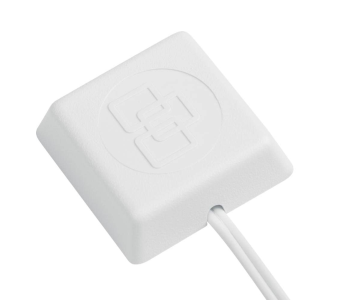 View on Amazon
Editor's Rating: 4.4/5
Do you have an older security system whose glass break sensors need sprucing up? In that case, GE's Interlogix 5150W is the ideal solution. It has a limited range but attaches to individual windows, so the chance of setting off a false alarm is next to nothing. The device is small, straightforward to set up, and effective at deterring breaking attempts.
Overview of Features
The Interlogix 5150W is among the thinnest detectors on review. It attaches to the window directly via adhesive tape that displays an unmistakable warning that the window is under surveillance. There are no buttons or access points on the device otherwise.
The detector works on its own in the sense that an LED light will change once the glass shatters, but you need to use the two provided wires to connect it to an existing alarm to trigger it. The best thing about this is that even old systems are supported, so there's no need to spend money on a complete overhaul.
The Interlogix 5150W is ideal for large glass panes as it has a radius of ten feet. You don't need batteries to power the detector since it runs on a piezoelectric charge generated when sufficient force is applied. Ordinary operations like opening, cleaning, or even knocking on the window will not trigger it. However, a forceful bang with a tool or a real break is guaranteed to activate it.
What We Didn't Like
The Interlogix 5150W needs to be wired to your alarm system, so you wouldn't want to do the installation yourself if you don't possess elementary electrical knowledge.
Tech Specs
Dimensions: 4 x 3 x 0.5"
Weight: 0.6 oz
Placed on: Window
Range: 10'
Pros
Exceptional accuracy and reliability due to placement method
Works with large window panes
Lets burglars know the window is under surveillance
Cons
Tricky to hook up if you don't know what you're doing
5. EVA LOGIK Window Alarm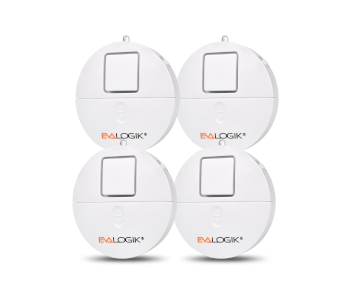 View on Amazon
Editor's Rating: 4.4/5
Do you like the idea behind Wasserstein sensors but don't mind trading in app support for more units? That's the idea behind Eva Logik's sensors. They're equally sensitive and easy to operate, plus you get more of them for better coverage at a similar price point.
Overview of Features
Eva Logik sensors follow the puck-shaped design of many other models. However, they breathe distinctiveness into it with the company's logo and a large square indent where the sensor is located. They also have red LEDs that stick out from the top. These flash once every four seconds, letting you and would-be intruders know that the system is doing its job.
Each sensor takes two AAAs instead of coin cells, ensuring you can use it longer without investing in more batteries. The indicator light will start to flash continuously once the batteries are at their limit, so you don't need to do anything special to keep tabs on them.
The installation process is as straightforward as with Wasserstein's sensors. Each unit has a round piece of adhesive tape and a warning label indicating that the house is under 24-hour protection. The 3.2 x 3.5-inch pucks are large enough for their warning signs to deter criminals during the day, and the LEDs take over once night falls. A loud 120dB alarm is triggered when the window breaks if they're still foolish enough to try.
What's Bad About It?
The LED on Eva Logik's sensors is controversial. On the one hand, it lets unsavory types know they should stay away. On the other, it might entice kids to play pranks or start snooping around your property since it's visible from a long distance. Eva Logik needs to invest more in quality control as packs of multiple alarms can contain defective units.
Tech Specs
Dimensions: 3.4 x 3.2 x 2.5"
Weight: 1.7 oz
Placed on: Window
Loudness: 120dB
Pros
Accurate sensor
LED indicator light is an effective burglar deterrent
Installs via adhesive tape
Takes AAA batteries
Cons
LEDs might attract unwanted attention
Quality control issues
6. Best Budget Option – Wsdcam Window Alarm Sensor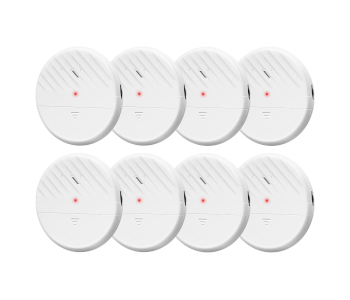 View on Amazon
Editor's Rating: 4.4/5
Our list ends with an economy-sized package of glass break sensors made by Wsdcam. You get eight of them, which amounts to less than $9 apiece yet helps you protect an entire floor or apartment's worth of windows from break-ins. The sensors are impressively sensitive, have a loud alarm, and take less than a minute to install.
Overview of Features
Wsdcam's sensors are slim and small. They don't have a warning label on the backside but should catch a burglar's eye and make them think twice nevertheless. The sensors are also eye-catching in a positive way, thanks to a wavy pattern on the upper part of the front plate.
These might be the cheapest models on review, but they're also among the most sensitive. You can turn them on or off on one side and adjust the sensitivity using a knurled dial on the other. Cranking the value up will sound the 125dB alarm even if there's only a gentle tap on the window. The lowest setting is considerably less jumpy but will still trigger the alarm without fail if the window vibrates, let alone breaks.
Wsdcam's sensors use three coin cell batteries each. You get enough batteries to power them all as part of the package. Wsdcam claims that they last for a year, and there are no complaints that would suggest otherwise. You access the compartment from the front and slot the cells into three slots. Sticking the units to your windows using the provided double-sided tape is the only other thing you need to do to install them. The whole process takes a minute per device.
Are There Drawbacks?
The overly sensitive nature of these sensors might prove problematic. It takes little to no effort to set them off at max, and this might not change as you turn the dial if the particular unit isn't calibrated correctly. Such incidents aren't frequent, but they do happen.
Tech Specs
Dimensions: 3.4 x 3.3 x 0.7"
Weight: 1.7 oz
Placed on: Window
Loudness: 125dB
Pros
Enough capable sensors to protect eight windows
Long-lasting batteries included
Exceptional, adjustable sensitivity
Easy to mount
Cons
Might not be properly calibrated, leading to false positives