10 Great Ideas for Glow-in-the-Dark 3D Printing
3D Insider is ad supported and earns money from clicks, commissions from sales, and other ways.
If you've gotten bored of printing with plain old PLA or ABS, the great news is that there are so many other 3D printing filaments to choose from. A glow-in-the-dark filament is one of the most fun to use and will certainly change the way you look at designing models for 3D printing.
Take note that some of these designs may require having a dual extruder 3D printer. We have also included some nice prints that can be done with just a single extruder, just to make sure that everyone gets a slice of the fun.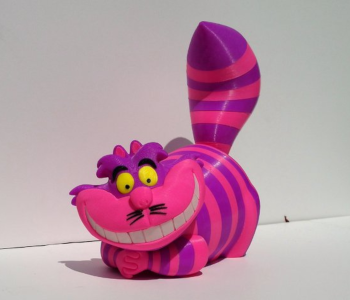 This Cheshire Cat model is pretty much a showcase of glow-in-the-dark 3D printing. When done right, the eyes, teeth, and stripes of the Cheshire Cat glow in the dark, giving off an eerie yet also adorable vibe.
This is an expertly done 3D model that does not require a multi-extruder 3D printer. Instead, the parts in different colors are printed separately and assembled. That said, it can be quite a challenging project with 54 separate files to print. Be sure to take note of which parts are supposed to glow and which are not. You might need to buy a couple of new filament spools if you intend to be faithful to the character's color scheme.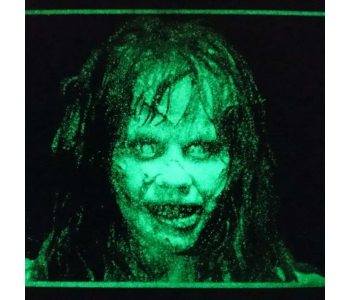 A scary face that shows up when you turn off the lights – what could be more shocking than that? This 3D drawing of Linda Blair's character in The Exorcist is basically a lithophane that is meant to be printed with glow-in-the-dark filament.
The project involves doing a switch from black to glow-in-the-dark filament midway through the print. This can be done manually, although it's a lot easier to execute this with a multi-extruder 3D printer. The first few layers will be printed in black to provide good contrast to the glow-in-the-dark layers highlighting the scary face of the possessed girl. This makes for a great and surprising display for the coming Halloween.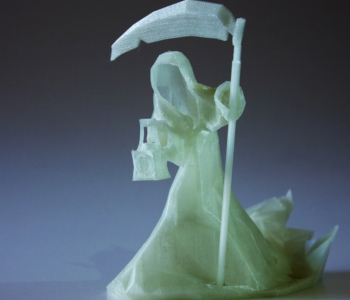 This Digi-Reaper 3D model is a great imagining of one of the horrors of modern life – seeing the blue screen of death on your computer. The blocky geometry and handheld lamp make this print an interesting conversation piece, even if the message is not immediately apparent.
While the designer of the model does not specifically state that it is meant to be printed with glow-in-the-dark filament, we think that it would make this model look even better. Some white glow-in-the-dark filament would contrast very well with a red LED on the figure's lamp. This is a low-key display piece that works well on Halloween but also makes sense to keep around all year round.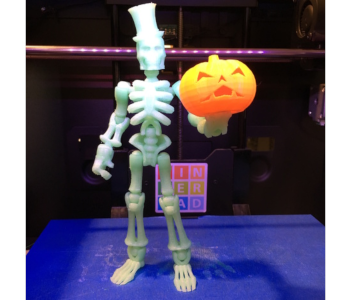 Articulated figures are always impressive, especially when done using a 3D printer. This poseable skeleton prints in several separate pieces to give it an impressive degree of articulation. With so many ways to pose the skeleton, plus the top hat and pumpkin accessory, this is a figure you won't get tired of interacting with.
Glow-in-the-dark filament is the perfect material to print this model with. Seeing a skeleton posed in wacky ways in the dark is just the sort of bizarre fun that the model likely aspires for.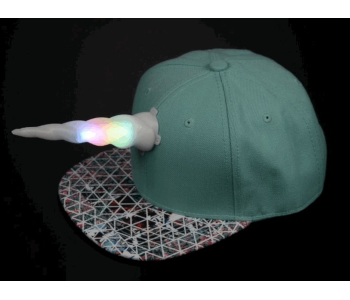 If you're looking for a lazy add-on to your Halloween costume, then you might be interested in this mountable unicorn horn. This unicorn horn comes with a base that has screw holes in it, so you can easily attach it to a standard cap or headband.
The unicorn horn can be printed in two separate colors as the model has been split in two. You can print it with two different glow-in-the-dark filaments, or print the whole thing in a multi-color or rainbow glow-in-the-dark filament. You can never have too many colors – this is the horn of a unicorn that we're talking about, after all.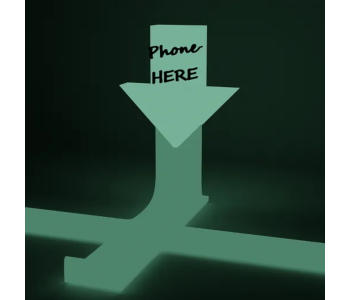 Here's one of the few applications of glow-in-the-dark filament that are considered practical – a stand for your phone to put on your bedside table. If you have ever had to stumble around in the dark for a place to put your phone after you have turned off the lights in your bedroom, then this 3D-printed project is perfect for you.
The phone stand is just a simple bracket with enough space even for a tablet. To make the design even cheekier, the stand comes with a large arrow with the words "Phone Here" prominently displayed. It is a very cheeky thing to put inside your bedroom, but it is pretty useful.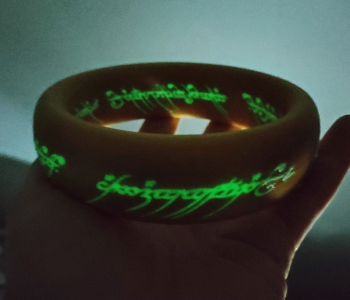 While there are lots of 3D printable models out there for "The One Ring," this design makes use of the capabilities of a multi-extruder 3D printer coupled with a glow-in-the-dark filament. The result is a mesmerizing print of the powerful ring with a glowing Elvish inscription.
This is pretty much the best version of The One Ring that you can 3D print, especially if you have some gold filament to go with the glow-in-the-dark writing. Take note that the ring isn't exactly the size that you can wear on your finger – FDM printers simply cannot achieve that level of resolution yet. Instead, you will have to print a super-sized ring. The ring, of course, is magical and will adjust to the size of the bearer's finger, so it's all consistent with the lore.
Ghosts and glow-in-the-dark decals are a perfect combination, but it does not mean that you always have to 3D print something spooky. With that in mind, there is no friendlier design than Casper the Friendly Ghost. This would be a great display piece in a kid's bedroom, with the glow-in-the-dark effect adding an ethereal glow to Casper's ghost form.
Take note that this decal has a large surface adhering to the print bed, so warping might be a problem. You can consider printing with a raft, but make sure to not have any cooling and to try and print in an enclosure. The designer states getting good results by reducing the printing speed to 30%.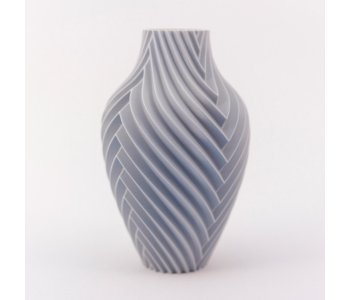 Vases are a-dime-a-dozen in the world of 3D printing but this particular vase maximizes the effect of a glow-in-the-dark filament. The dark grooves of the vases create shadows that contrast well with the glow of the material. The result is a vase that is unique and looks mesmerizing in the dark.
A unique aspect of this vase is that it's meant to be printed using two different materials. If you have a multi-extruder printer, you can combine a glow-in-the-dark filament with a standard filament that has a similar color. You can try out different color combinations to see how the effect changes in the final product. This is a great way to do something different from the same old boring 3D-printed vase.
Bedroom decals are probably the most common applications of glow-in-the-dark filaments, so we're ending this list with a classic. If you have small kids around the house, they will certainly get a kick out of this Good Night Wall Decal. When the lights in their bedroom are turned down, the decals give off a gentle and gradually diminishing glow, lulling them into sleep.
Again, the design being flat might cause warping problems. It's best to use a PLA-based glow-in-the-dark filament for this model, as it might help avoid warping. Make sure to not have any cooling during printing and to print slowly, particularly for the first four layers.
Final thoughts
Glow-in-the-dark filament is an incredibly fun material to 3D print with, and the results are often surprisingly pleasant. Just keep in mind that the glow-in-the-dark particles are abrasive and may wear down a brass nozzle. If you're planning to make lots of glow-in-the-dark prints, then it's worth the money and effort to swap your brass nozzle for one made of hardened steel.
Warning; 3D printers should never be left unattended. They can pose a firesafety hazard.