gMax 3D Printer Prints Big Objects – Launches On Kickstarter
3D Insider is ad supported and earns money from clicks, commissions from sales, and other ways.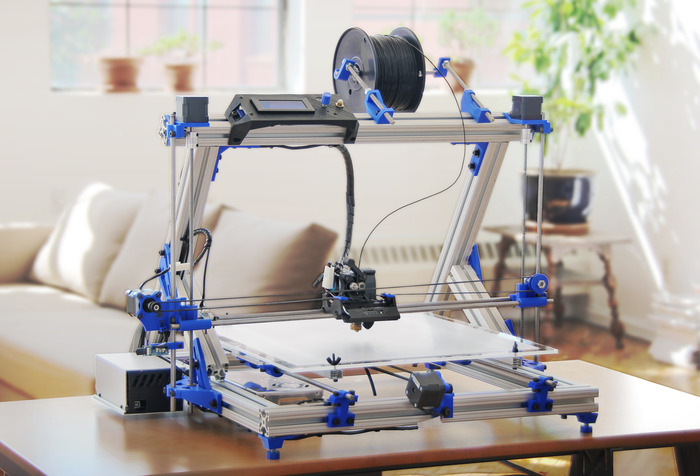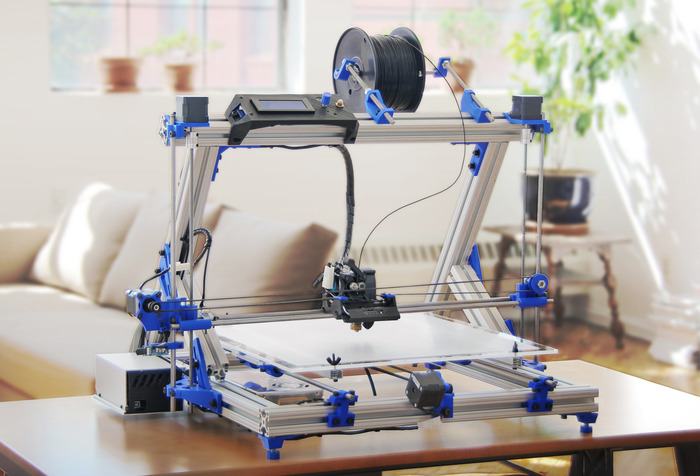 There seems to be a lot of 3D printers out there with small to average sized print volumes and Brooklyn, NY based Gordon LaPlante seems to think the same. LaPlante's new gMax 3D printer has just launched on Kickstarter with a huge build volume of: 16" x 16" x 9" (2,304 cubic in) / 406 x 406 x 229 mm.
3D printing has been a passion of LaPlante's for a while now and with experience in the field of architecture he believes that he can improve 3D printing. In the winter of 2010, he bought a Prusa RepRap kit from the usual sources, and started assembling in his free time. LaPlante's main problem with the Prusa was the limited build volume, so he decided to design and build his own.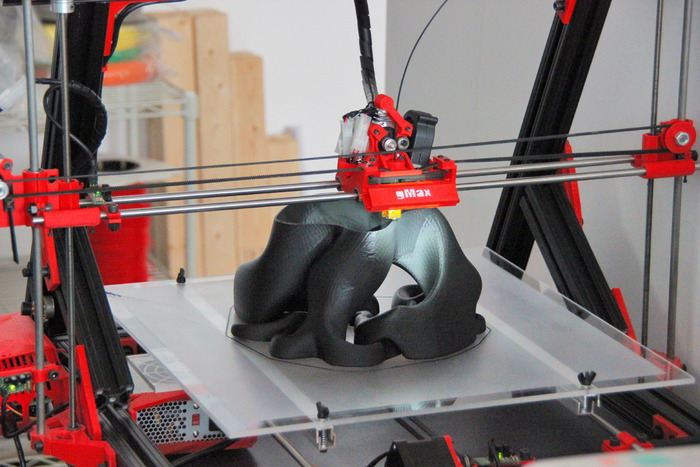 The gMax has been designed to be as modder friendly as possible and the extruder module can be popped off and replaced with a number of future tool heads. Some of the future tool heads could include drill heads, laser etching, light CNC milling or roller blade's for paper cutting. LaPlante has also created all of the coloured parts of the gMax from 3D printer for easy replacement or modification.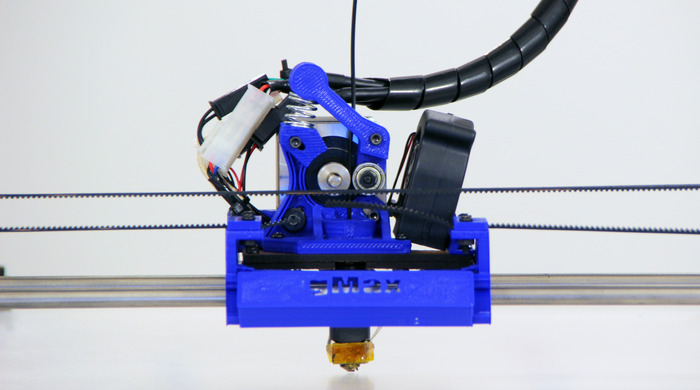 LaPlante's design philosophy for the printer is:
One of the interesting things about the gMax design was that it was purposely over-developed to make it more beneficial for the user. The reason behind this was to make the parts easy to disassemble and modifiable to your liking. For example, the extruder purposely has the extra bolts and seemingly superfluous pieces in order to be able to modify each part individually rather than have to take the entire thing apart to get to one specific element.  This also applies to many of the brackets and connectors on the printer. An added benefit is that it makes the parts easy to assemble as all of the parts simply need to be slid in and bolted together.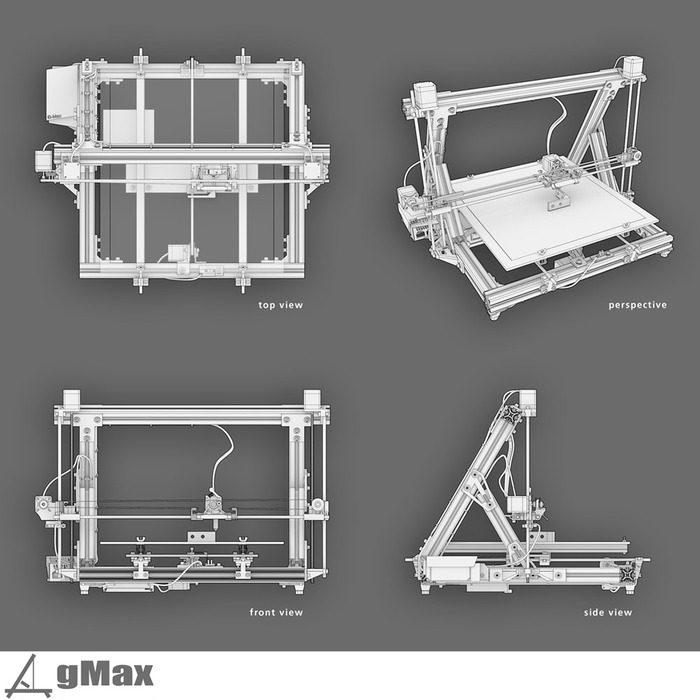 Specifications of the gMax:
Build volume: 16" x 16" x 9" (2,304 cubic in) / 406 x 406 x 229 mm
Resolution: 75 micron (0.075mm/0.0029") to 350 micron (0.35mm/0.0138") layer thickness depending on nozzle
Nozzle: 0.35mm or 0.5mm diameter
Extruder: MK-7 drive gear, J-head hotend, LED light, integrated blower fan
Electronics: RAMPS v1.4 electronics preloaded updated and customized Marlin firmware
Motors: NEMA 17, 1.8o step angle with 1/16 micro stepping
Dimensions: 28.5"W x 24"D x 21.5"H (724 x 610 x 546 mm)
Weight: Approx 35 lbs (16kg)
Filament: ABS or PLA
Power Supply: 120 VAC 340 Watt power supply (printer uses approx. 40 watts)
At the moment it is possible to reserve a gMax kit for $1,295 which includes  An all-inclusive gMax 16" x 16" x 9" Printer Kit with the added LCD screen and filament spool holder. The estimated delivery date for the printer is December this year.
Warning; 3D printers should never be left unattended. They can pose a firesafety hazard.