15 Best GoPro Accessories
3D Insider is ad supported and earns money from clicks and other ways.
When it comes to action cameras, no other brand comes close to GoPro. With the compact design and unequaled durability of their cameras, GoPro has taken over the action camera market through the years and shows no signs of slowing down. One of the selling points of the GoPro is its sheer versatility: it can be worn on your body, mounted on a bicycle helmet, or tethered to a tree, all in the name of capturing the best action shots of your adventurous escapades.
On its own, the GoPro is nothing more than a glorified mini-camera. You will need the right accessories to unlock the full potential of your GoPro action camera. In this article, we have compiled the best GoPro accessories that we think you should get before your next adventure starts.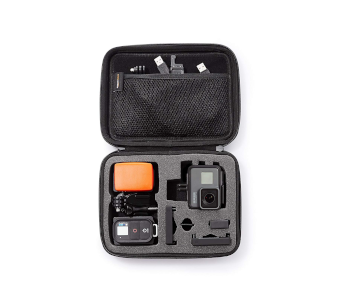 The nice thing about GoPro cameras and their accessories is that they were made to withstand very rough conditions. You will not need to spend too much on a waterproof and shock-proof carrying case for your GoPro, but it would be nice to have a carrying case for store the camera and all its accessories neatly. This AmazonBasics Carrying Case is small enough to fit in most daypacks, but has enough space to accommodate the GoPro camera, its various mounts and housings, extra batteries and SD cards, and all of its various cables. This is a cheap and no-fuss carrying case – nothing more than exactly what your GoPro needs.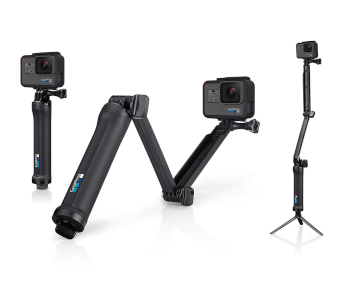 GoPro sticks are pretty much an industry of its own, with dozens of variants out in the market today. However, we like GoPro's very own 3-Way stick due to its unequaled versatility. As the name implies, the 3-Way converts to 3 modes. Its standard configuration is a 2-jointed extension which provides length and flexibility for those hard to reach shots. The handle can be separated from the rest of the contraption, allowing you to use it a short grip for handheld shots. Inside the handle is a removable tripod that can be used on its own or attached to the rest of the handle for extra height.
Whether you are trying to get handheld action shots or time lapse shots in low light, the Go-Pro 3-Way stick has a solution for you. At its price, this product is a deal considering that you are essentially getting 3 products in 1.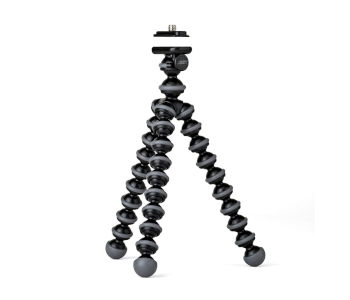 The Joby GorillaPod looks strange, but with a little creativity, it might be one of the most versatile accessories you could get for your GoPro. It is THE original GorillaPod from which all imitations were modeled from. Aside from acting as a normal tripod, the GorillaPod can mount your GoPro to any object that it can wrap around. Tree branches, hand rails, bike frames – all of it is fair game with the GorillaPod. You can compose your shot any way you like, as it also comes with a ball head that is capable of panning 360 degrees and tilting 90 degrees.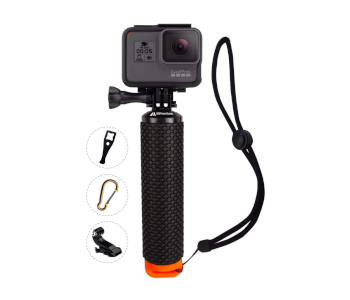 At first glance, The Handler looks just like any other GoPro stick. Its strength lies literally beneath the surface though: The Handler was especially designed to keep you from losing your GoPro in water. The first measure of safety lies in its non-slip foam handle that allows you to keep a grip even when your hands are wet. It maintains positive buoyancy which will make it pop right up if you happen to drop it in open water. Lastly, it comes in either bright yellow or bright orange colors, making them easier to find while they float.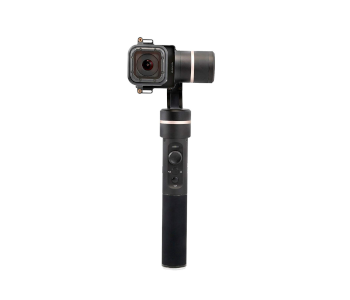 Documenting your rugged adventures sounds like great fun, but if you want to get footage that you can be proud of, you will have to figure out a way to keep the video stable. This is where a gimbal comes in – it uses an inertial measuring unit (IMU) to keep the camera stable on all three axes while the camera is moving. Th Feiyu Handheld Gimbal has a rugged metal design that keeps it splash-proof. Controlling the gimbal movement is done easily with the attached 4-way joystick, while different modes can be accessed with just a click of the function button. The Feiyu Gimbal even comes with a smartphone app that provides remote control movement. This is a really excellent product, and you would probably find it difficult to look for a better gimbal.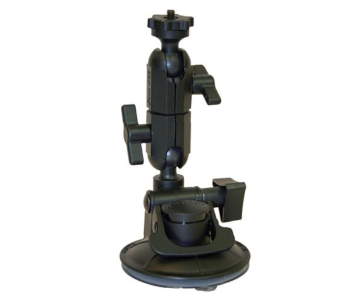 Similar to how a GorillaPod wraps around objects to turn them into makeshift tripods, this Suction Cup Camera Mount makes a tripod out of any smooth surface. Extremely versatile in its application, this camera mount is perfect for the exterior of cars and boats. The suction cup is made of lightweight but high-grade material and maintains suction in either hot or cold weather. With an embedded ball head, shot composition is still fully in your control wherever you choose to mount your GoPro. The PanaVise Suction Cup will stay stuck on your car's hood even when moving at high speed or over bumpy roads.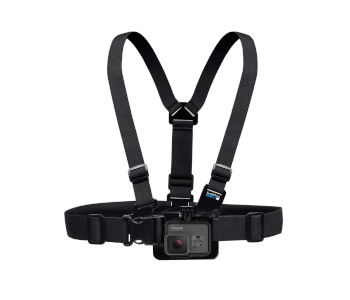 Could there be a video more immersive than the one recorded directly from your chest? GoPro's official chest mount, fondly called the Chesty, wraps over your lower chest and shoulders to make your body the ultimate GoPro mount. All the straps are adjustable for all adult sizes, but GoPro also sells a special Chesty for kids. The Chesty is great for capturing videos from your intense biking and skiing runs, and for all those times that you do not want a video that swings along with your head. The biggest downside of using a chest mount is that your video will have a lot of hands and knees.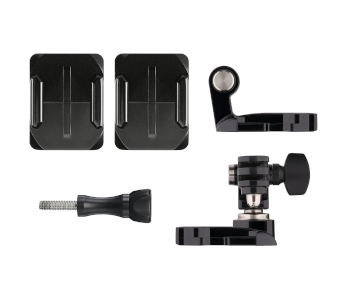 It's super cliché at this point but mounting a GoPro on your helmet still provides one of the best perspectives for an action adventure video. With this helmet mounting kit, you can mount your GoPro pretty much anywhere you want on your helmet. The kit comes with very strong adhesives that keep the mount attached to you helmet even in high speeds or wet conditions. The mount has swivel and rotate functions, allowing you to film at almost any angle.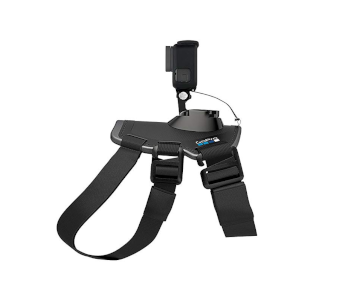 Wouldn't it be nice to see the world from the eyes of your dog? Figuring out the answer to that question was probably the motivation behind the development of the GoPro Fetch. The Fetch is the Chesty for your dog. It allows for the camera to be mounted on the dog's back or below its chest, giving you 2 unique perspectives. You need not worry about the Fetch getting stinky after a while – it is made of washable material.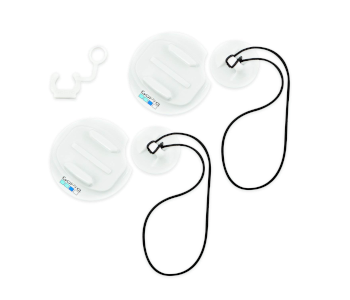 What do you do when you get tired of taking action videos while biking, skiing, or skydiving? How about taking your GoPro surfboarding? The GoPro Surfboard Mount is perfect for mounting the GoPro to your surfboard to record all the times when you get to ride the perfect wave. The Surfboard Mount can be attached either by using an adhesive pad or via the FCS center fin socket. In either case, the attachment is very secure – crucial in keeping your GoPro from swimming in the ocean. The term "Surfboard Mount" understates what this mount can do, as it can work perfectly well with kayaks, paddleboards, and actual boats. If land and air adventures are a bit old hat for you, rest assured that your GoPro can still follow you into the water.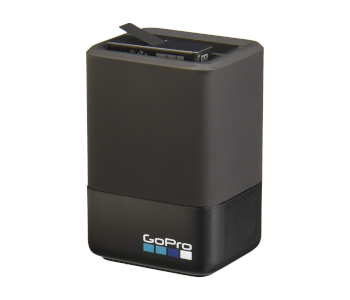 Everyone who has had a GoPro for a long time knows that a single battery cannot last thru an entire day of adventure. The downside of having several batteries is that charging them can be quite a hassle. Make your life easier with this Dual Battery Charger that can charge two batteries to full capacity in approximately three hours. You have the option of purchasing the Dual Battery Charger with 1 or 2 extra batteries; a great deal if you don't have extra batteries yet.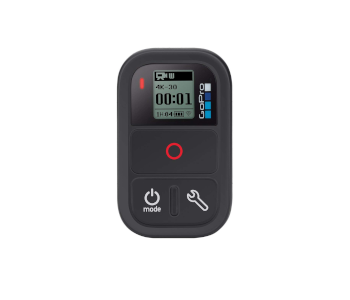 Whether it's mounted on your helmet, on the hood of your car, or on the hull of your boat, having to physically touch the GoPro camera to operate it is next to impossible while you are in motion. With this Smart Remote, you can stop and start video recording, take photos, and change the camera settings from a maximum of 600 feet away. Even though it's meant to work at a distance away from the GoPro, the Smart Remote is still built with durability and waterproofing in mind.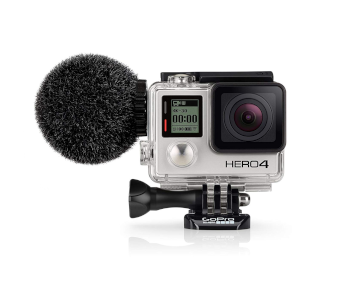 It can be frustrating trying to record audio to go along with your GoPro action videos. No matter how you try to avoid it, the wind and ambient sounds can ruin the quality of your audio recording. The Sennheiser MKE2 solves these problems by a technology that screens out wind noise and other structure-borne sounds. It has an omni-directional microphone capsule that records sound in the 20 Hz to 20 kHz frequency range, which defines the range of sounds audible by humans. It also has a rugged design that keeps it waterproof at 1 meter for up to 30 minutes, so feel free to have it mounted on your surfboard or paddleboard.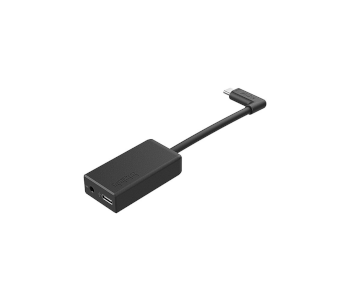 Using a professional-grade camera with your GoPro is a massive step-up from its built-in microphone. This adapter allows you to connect a microphone with a 3.5-mm jack to your GoPro via its USB-C port, which also provides power. It also has a 106dB stereo analog-to-digital converter. Take note that this adapter is not designed for rugged use. Connecting it to the GoPro will require the side door to be open, rendering it vulnerable to water damage. While it's great for general vlogging use with its ability to delivery quality audio, you probably should not use it to record outdoor activities.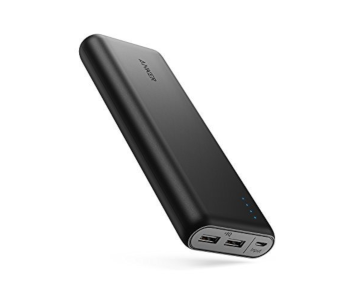 When you run out of extra batteries in the field, it would be nice to have another backup power source. You might also run out of batteries while shooting a long time-lapse video, where switching batteries mid-way will ruin the whole footage. With its huge 20100 mAh capacity, the Anker Powercore is the perfect solution for these situations. It can charge a GoPro Hero 6 battery more than 10 times over, which is good news considering how quickly a GoPro battery can get drained doing continuous video coverage. With so much juice, this portable power pack might just be your new best friend to keep all your mobile devices fully charged. It also comes with the PowerIQ smart charging feature and VoltageBoost current stabilization to ensure that charging is done in the fastest and safest way.
Final thoughts
The camera capabilities of GoPro action cameras may not be as impressive as they used to be. In fact, the camera specs of the GoPro Hero 7 are basically the same ones that can be found in most flagship smartphones. However, the rugged and waterproof design of the GoPro cameras still remain top of the line in the action camera field. With all the mounting options provided by its various accessories, the versatility of the GoPro cameras is also unmatched.
For adventure junkies, having a GoPro is still invaluable. Having the right accessories lets the GoPro show off just why it still sits on top of the action camera market after all these years.