15 Best GoPro Fusion Accessories
3D Insider is ad supported and earns money from clicks and other ways.
When it comes to action cameras, GoPro is the name to beat. With high quality cameras integrated into a rugged form factor, GoPro action cameras can bring anywhere and mount on anything. The GoPro Fusion may just be the most versatile camera ever released by GoPro. With front and back cameras, the GoPro Fusion has a 360-degree capture area all the time. The best way to maximize the features of the GoPro Fusion is to use it with great accessories. We're here to help you pick the best ones out of the array of accessories available for the GoPro Fusion.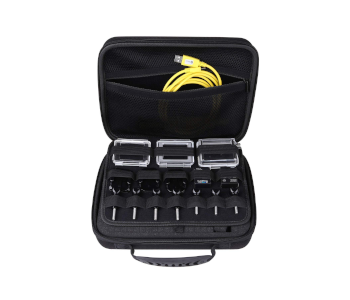 The GoPro Fusion is durable enough on its own but that's no excuse to be sloppy with it. This carrying case by CamKix can carry multiple GoPro cameras. It has a customizable MagicFoam interior for all your accessories. An extra accessory flap on the top cover provides additional storage space for batteries, mounts, or cables. The exterior of the carrying case is made of flexible but durable nylon with anti-slip finish. It comes with an adjustable and removable shoulder strap that is made with a car seatbelt material, durable enough for any adventure you might bring it to. With the perfect combination of durability and comfort, the CamKix Carrying Case is the perfect abode for your precious GoPro Fusion and its accessories.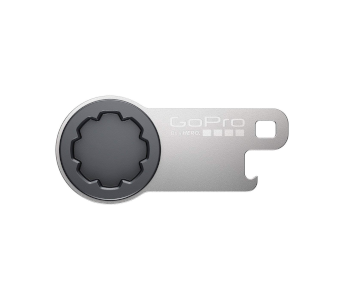 As its name implies, if you are going to bring along a tool when you go on adventures with your GoPro Fusion, then it would have to be The Tool. The chief function of this tool is to help tighten the hand screws when mounting the GoPro Fusion. A properly tightened screw prevents the GoPro Fusion from tilting up or down when the camera undergoes rigorous movement. To top it all off, the tool comes with a small notch that can be used as a bottle opener or can opener. It even comes with a small hole for attaching to a keychain or lanyard, so you can just attach it to your existing tools. It's a very cheap, small, and lightweight tool so there's really no reason not to get it.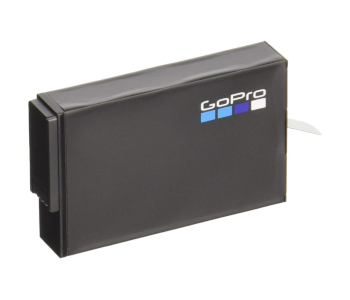 The compact design of the GoPro cameras is one of its selling points but it comes with the drawback of having similarly small batteries. If you're planning to spend an entire day filming with your GoPro Fusion, then you are definitely going to need several extra GoPro Fusion Batteries. This Li-ion battery has a capacity of 2620 mAh, enough to give you between 1.5 to 2.5 hours of battery life. Fortunately, the GoPro Fusion Battery is very small and fits in most carrying cases.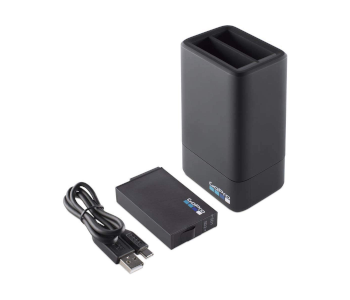 Having multiple batteries sounds like a great idea when you're thinking of all the videos you can capture. It's also easy to forget that charging multiple batteries can be such an excruciating task. Lessen your suffering and get the official GoPro Fusion Dual Battery Charger. As the name implies, this device can charge two GoPro Fusion Batteries at the same time using a USB port. A smart charge management system prioritizes charging of the battery with the higher remaining power so you can use it right away. Dual LED light displays show the charging status for each battery. The best thing about this package is that it comes with an extra 2620 mAh GoPro Fusion Battery – another one to add to your collection.
There are many after-market versions of the GoPro Fusion battery and battery charger, but we would rather stick with the GoPro brand on this one. We prefer the peace of mind that the branded GoPro batteries can give rather than save a few dollars on an after-market counterpart.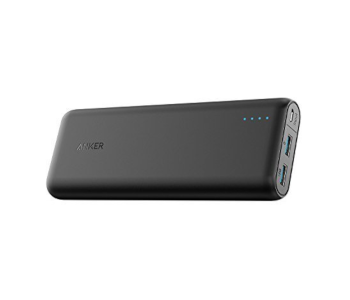 Even if you have 3 or 4 extra batteries on hand, it is still a prudent measure to have another backup power source. The problem with having to replace batteries is that it might need to happen in the middle of capturing a long video with your GoPro Fusion, such as a time lapse video. You certainly can't jump in and replace the battery without disturbing the recording. A power source that connects directly to the GoPro Fusion is the best solution in this case.
In this day and age of constant connectivity, not having a portable power source shows a tremendous lack of foresight. If you end up not needing it for your GoPro Fusion, then you can certainly use the Anker Powercore to charge all your other electronic essentials such as your smart phone, tablet, or even your laptop.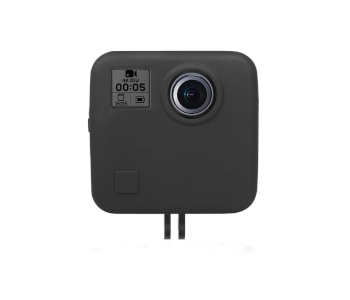 The GoPro Fusion may be tough, but it would not hurt to add another layer of protection to it. This protective silicone case envelopes the GoPro Fusion with a snug fit, shielding it from dirt, dust, scratches, bumps and knocks. It has provisions to allow easy access to all essential ports and buttons. It's rubber-like softness makes installation and removal of the case quick and easy, and also makes cleaning a breeze.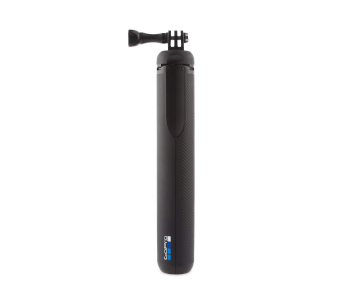 Although there are probably dozens of GoPro sticks available from different manufacturers, we still choose to stick with the GoPro Fusion Grip. Its clean and sleek design betrays just how many things it can do. From its basic camera grip orientation, a telescoping pole extends and locks into place by twisting to be used as an extension pole. Foldout magnetic legs can then be opened to act as a tripod which can be used on practically any level surface. Combined with the 360-degree scope of the GoPro Fusion, this grip allows you take shots of everything from practically anywhere. If there's an accessory that further improves the versatility of the GoPro action cameras, then it is this 3-in-1 grip.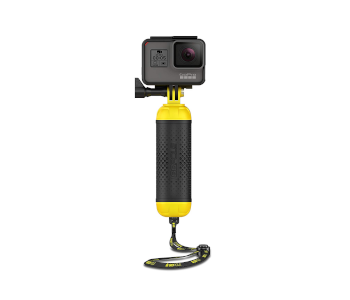 Even though the GoPro Fusion has excellent water resistance, dropping it in water can still spell trouble. The GoPole Bobber is basically the life-vest for your GoPro Fusion. It is a hand grip that doubles as a flotation device. Combined with its bright yellow color, losing your GoPro Fusion in open water should no longer be something to worry about. Not that they want you to let go of the hand grip, though – it also comes with a wrist strap and carabiner attachments to quickly attach it to your gear when not in use. If you are planning to go diving with your GoPro Fusion, then the GoPole Blobber is an essential to make sure your camera does not end up on the ocean floor.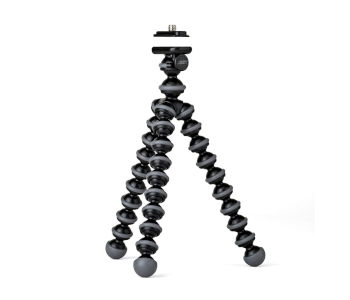 Although the design has been copied by camera equipment manufacturers the world over, Joby will always hold the distinction of being the original makers of the GorillaPod. This compact and nifty little device turns practically any beam or pole into a makeshift camera mount. With TPE joints, each leg of the GorillaPod has several articulation points that will make it stand stable in the toughest terrain. Made with strong ABS plastic, the GorillaPod is made to endure all the rough conditions that adventure junkies thrive in. Take note that this particular model does not come with a ballhead connection, but other variants of the GorillaPod do.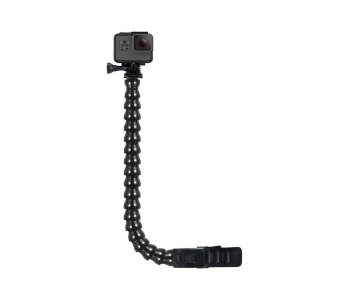 This Gooseneck Mount may just be one of the strangest-looking mounts we have seen, but we can also see how many potential uses it has. The gooseneck attachment has 19 articulating points, perhaps making it the most versatile mount in terms of the camera angles it can achieve. Supporting the gooseneck is a clamp mount that can be secured to your bike's handlebars, a tree branch, or even just your tabletop. It's quite a bulky piece of equipment, so finding room for it in your backpack might be hard. For road trips and quick photoshoots, the Kupton Gooseclamp Mount could be pretty useful.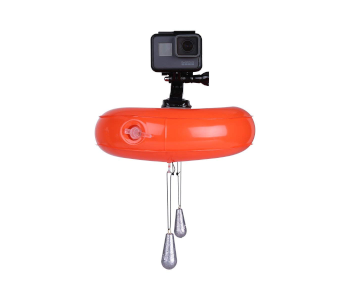 Not even the lack of land can stop you from getting perfect actions shots with the Floating Disc from TELESIN. It's basically an inflatable tube where you can attach your GoPro Fusion to get stable shots either above or below the water surface. The top section has a double-sided adhesive where you can mount the GoPro Fusion for a 360-degree view of the surroundings right above the water. For underwater shots, all you need to do is to attach the GoPro to the bottom of the Floating Disc using a 5-meter rope and the Go-Pro's J-hook buckle. The Floating Disc comes with two plumb bobs that help keep it stable and level even in moving water.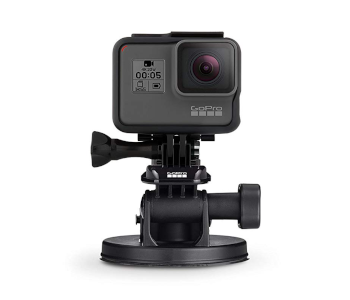 The GoPro Suction Cup is pretty much a standard part of the array of accessories of adventure-hungry filmmakers. One of the best uses of a GoPro Fusion is in recording action shots. With the Suction Cup, all you need is a smooth and clean surface to mount your GoPro Fusion and you'll have footage right in the middle of the action. Whether you mount it on a car, a boat, or a bike, you are sure to get exciting and unique videos.
The GoPro Suction Cup is made from the finest engineering materials to ensure that it's as durable as your GoPro Fusion. The suction it creates is industrial-level and has been tested to stay put at speeds of up to 150 mph. You don't need to worry about losing your GoPro Fusion – you just do your thing and let the Suction Cup do its work.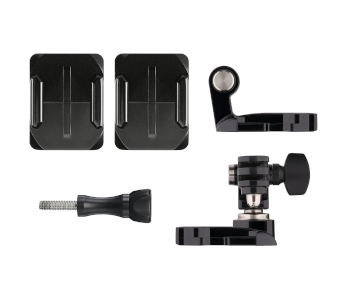 You have undoubtedly seen GoPro videos taken from cameras mounted on helmets, commonly done while biking or skydiving. It's one of the most common things people do with GoPro cameras, but doing it with a GoPro Fusion just might be the next level of first-person action footage. Mount your GoPro Fusion using the official GoPro Helmet Mount which allows you to install the action camera either on the top or the sides of your helmet.
The Helmet Mount allows you to swivel and rotate the camera to get just the right angle that you want. The 3M adhesives that come with the package perform exceptionally well even at high speeds, or even in hot or rainy weather. Take note that having a camera mounted on your helmet will be a little uncomfortable if you're moving at high speeds due to the additional wind drag.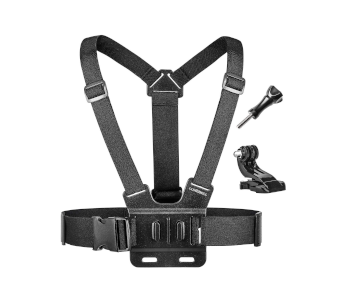 If you want to capture action shots but don't want them to rotate every time you turn your head, then a chest mount harness is just the thing for you. The chest harness from Luxebell wraps around your upper chest and shoulders with completely adjustable straps that ensure a snug but comfortable fit. The GoPro Fusion is mounted to the chest harness using a J-hook that is included with the package. The J-hook allows for some swivel for the GoPro camera, which is nice for customizing the angle of your footage. If you want to shoot hands-free but do not have the luxury of wearing a helmet, then the Luxebell Chest Harness is your best option.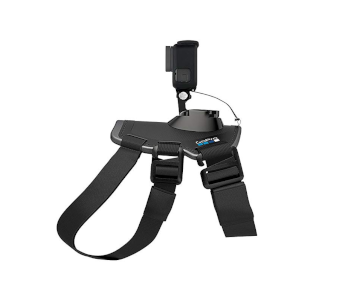 Getting action shots from a GoPro that is attached to your body in some way is great, but how about changing it up and attaching it to your dog? Worry not, because the fine folks at GoPro have also thought of this and come up with the Fetch harness for dogs. The Fetch is the chest harness for dogs – it fits small and dogs alike and has mounting positions for the back and chest to provide a variety of perspectives. All adjustment points are padded for your pet's comfort. The harness is bound to get dirty, so the whole things is completely washable.
Final thoughts
The GoPro Fusion is an amazing piece of technology that enhances the action video capabilities of its predecessors with seamless stitching to produce 360-degree images and videos every time. True to the brand, it retains the ruggedness and durability that GoPro is known for. We're very excited for all the amazing videos that thrill-seekers can do with the GoPro Fusion. From what we have seen, it blows all other action cameras out of the water.
Despite its amazing features, the full potential of the GoPro Fusion can only really be realized with the right set of accessories. GoPro likes to play the versatility card when it comes to selling their products, and true versatility can only be achieved with the variety of mounts and harnesses that can work with the GoPro Fusion.