Best GoPro Gimbal Stabilizers
3D Insider is ad supported and earns money from clicks, commissions from sales, and other ways.
It's a funny word—gimbal—but it's a serious contraption all the same. It's a smart piece of equipment that you need if you're serious about quality. It can be the difference between an okay video or still image and something award-winning. Yes, gimbals really matter to perfectionists and professionals.
We look at the eight best GoPro gimbals in this guide. There's a stabilizer for every budget from cheap to expensive.
Budget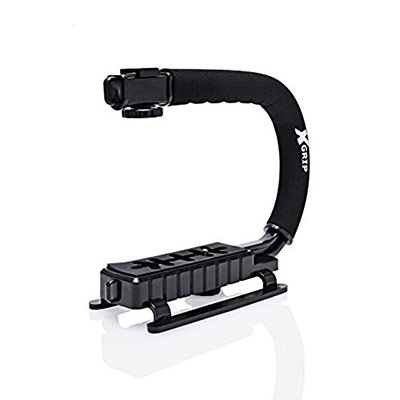 Opteka X-GRIP Professional
4.6/5.0
1.01 lbs
1.5 hours
Sleek ergonomic design and on the fly camera controls.
Check Amazon
Best Value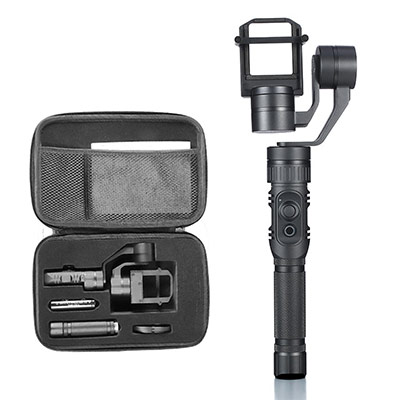 Hohem 3 Axis Stabilizer
4.5/5.0
3.96 lbs
6-hours battery life
Full 360-degree gimbal and unique camera clip design.
Check Amazon
Top Pick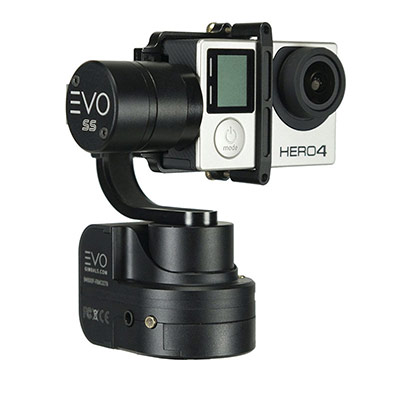 EVO SS 3-Axis Wearable Gimbal
4.6/5.0
1.6 lbs
4-hours battery life
Smooth, steady footage and telescoping extension pole.
Check Amazon
Feel free to jump straight to the reviews if you already know about gimbal technology and what you need. I recommend you read this short intro if you're not sure what gimbals are or what to look for. A little basic knowledge is certain to help you make a better buying decision.
Gimbal Stabilizers Changed Everything
The 3-Axis System
Types of GoPro Gimbals
GoPro Gimbal Drawbacks
Batteries for 3-Axis Gimbals
About this Gimbal Guide
This guide looks at some of the best GoPro gimbal options around right now. Not all GoPro gimbals are equal and they don't all look the same or operate in the exact same way. My choices here are the result of extensive checks. Before I made a final decision I read through dozens of user reviews for each product. I also took the opinions of industry experts into consideration.
Best GoPro Gimbal Comparison Table
At the end of each short review is a simple table. In the left side column are the most important tech specs. These include the size and weight of the gimbal, type of battery, battery life, and compatibility. There are two other columns that list any pros and cons for each product.
This table shows each product in the order it appears in the guide. I've ordered them as handheld gimbals first and then wearables. At the very end is an affordable compromise which is a kind of stabilizing handle rather than a gimbal. I've included it so that people on the fence can see what a difference a little stabilization can make. If you're impressed you may think about moving on to superior stabilization at a later date. Each category starts with the least expensive product at the top.
The first four picks are all handheld gimbals and three of them are 3-axis. The first one is a cheap stabilizer. It's ideal for folks who are not ready to spend a lot on the costlier motorized options. It does, however, still provide you with smoother footage than if you were to shoot without it.
1. OFFICIAL ROXANT PRO Stabilizer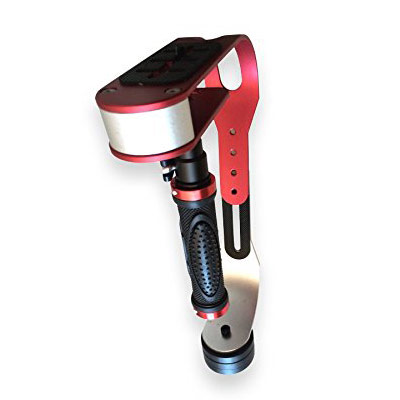 View on Amazon
Editor's Rating: 4.7/5
The OFFICIAL ROXANT PRO is a popular and affordable stabilizer that's easy to use. Compared to similar products in its class this one is incredibly cheap, but what does it offer?
Best feature 1: Compatible with GoPros and many other brands
Best feature 2: Durable gyroscope
Plus points: Easy to use, solid construction, supports up to 2.1 lbs., amazing value
Minus points: Heavy, average stabilization
You can't expect the same results as you'd get with a motorized gimbal at four times the cost. The quality is still good, just not exceptional. The first thing you have to do with the Roxant Pro is "stabilize" it for your GoPro or another compatible camera. This is a simple case of moving all the parts around until you've got it just right. It's not difficult but the initial setup may take a while.
The Roxant Pro Test Run
To appreciate just how good the ROXANT PRO Stabilizer is you may want to do a comparison. The best test is a walking or running shot without the stabilizer and the same shot with it. You'll soon see what makes this handheld stabilizer such excellent value. It can accommodate cameras up to 2.1 lbs.
It's also possible to further improve the stabilization in the final footage if you need to. The way to do this is to fine-tune it using your video editing software.
The Not So Good
The ROXANT PRO feels comfortable in the hands and it's easy to use but it is heavy. This is a problem shared by most handheld gimbals. The stabilization isn't 100% but it's pretty good for the money.

Tech Specs
Compatible: GoPro, DSLR, Smartphones, other recording devices
Dimensions: 2.24 x 13.39 x 8.07″
Product Weight: 1.83 lbs. (0.8 kg)
Battery: N/A
Max battery life: N/A
The Pros
Amazon's Choice Product
High rating positive reviews
Affordable
Easy to set up and use
Solid construction
Supports up to 2.1 lbs.
The Cons
Heavy to handle after a while
Average stabilization
2. Hohem 3-Axis Handheld Aluminum Stabilizer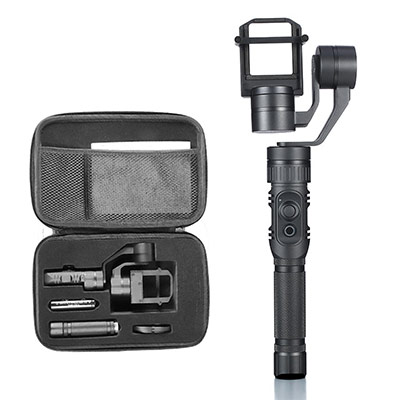 View on Amazon
Editor's Rating: 4.5/5
The Hohem is the first 3-axis handheld stabilizer in this review and the least expensive. It has an aluminum construction and is compatible with the GoPro Hero 3, 4, and 5 among other devices.
Best feature 1: Integral Micro USB charging port
Best feature 2: Full 360-degree gimbal precision
Plus points: Aluminum Alloy, 5-way joystick, multi-function button, camera clip design
Minus points: Won't work with GoPro Sessions, buttons not the best
The Hohem 3-Axis handheld stabilizer is an all-metal gimbal that looks good and works great. It sports a smooth aluminum alloy construction that feels nice in the hands. A foam handgrip might have been even better but it's not a major disadvantage. The gimbal helps to produce very good stabilized footage and you probably won't find a better product at this price.
The Hohem Feature Packed 3-Axis Gimbal
This quality handheld gimbal even has a built-in Micro USB port. It's a nice touch for charging your GoPro or other attached camera battery while on the move. There's a built-in Bluetooth 4.0 as well. This lets you connect to the Hohem Gimset app for more precise gimbal adjustments. Thanks to the unique camera clip design there's no need for additional counterweights.
When you're not using your gimbal it packs away in its own zipper case. It's a quality holder with cutouts for the various parts. I mention this because not all gimbals include their own case.
The Not So Good
Make sure this gimbal is compatible with your GoPro or other cameras before you buy it. It doesn't fit the GoPro Sessions and similar cams for example. I doubt it would accommodate smaller smartphones either. Another disadvantage is with the control buttons. They just seem a bit "clicky" and awkward to use at times though they still function fine. It may just be a case of getting used to them.

Tech Specs
Compatible: GoPro Hero 3/4/5, Yi Cam 4K, AEE Sports Cams
Dimensions: 14.2 x 11.5 x 2.6″
Product Weight: 3.96 lbs. (1.8 kg)
Battery: 18650 2000mAh 3.7V rechargeable
Max battery life: 6-hours (360 minutes)
The Pros
Nice design, quality build
Full 360-degree gimbal
Aluminum alloy
Built-in USB charging port
Multi-function button
Unique camera clip design
The Cons
Doesn't accommodate GoPro Sessions (and similar cams) or smaller smartphones
Buttons clicky and/or over/under sensitive
3. Feiyu G5 V2 3-Axis Splash-Proof Gimbal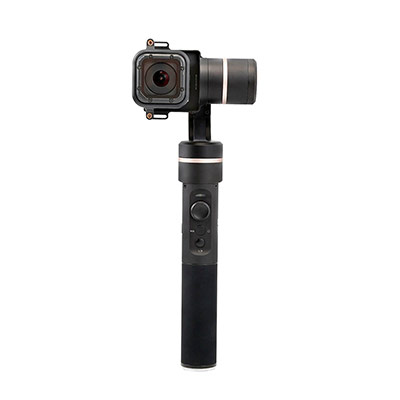 View on Amazon
Editor's Rating: 4.6/5
The Feiyu G5 V2 3-Axis Gimbal is a similar price to the Hohem above. This model has a few smart features that will surely make it more attractive to some users.
Best feature 1: Splash proof design
Best feature 2: Simple tap control
Plus points: Solid construction, smart user interface, FY Settings App
Minus points: Hard to source batteries, motor noisy
The Feiyu G5 V2 3-axis gimbal is a better product than the previous pick on the face of it. It has a built-in all-over splash proof design for one. I didn't get to test the extent of that protection so can't comment further. It does make it an attractive gimbal to use with the water proofed GoPro HERO5.
Using the Feiyu G5 V2 3-Axis Splash-Proof Gimbal
All functions are easy to access thanks to the simple softtap control feature. I think most folks prefer tapping to clicking which is more clunky and prone to error. The G5 has a smooth interface with a plethora of easily accessible controls. There's the smooth 4-way joystick to operate the gimbal. There's also a self-timer button—a feature some moviemakers find invaluable.
A solid construction and elegant design make using this device easy, but you'll notice its weight after a while. This is true of most handheld 3-axis gimbals. Another significant feature is that it doesn't need balancing which makes it stable and movie like from the get-go.
The Smart FY Setting App gives user's instant connection to the G5 via Bluetooth. You can control things like gimbal configuration, auto-calibration, and updates from any regular smartphone.
The Not So Good
The main gripe with the G5 handheld gimbal is with the rechargeable batteries. They seem to be unique to this product and hard to find replacements. If you decide to buy this product try to order spares at the same time. Another complaint from some users is an unnatural noise from the otherwise silent motor. These reported noises don't affect the gimbal's mechanical function.

Tech Specs
Compatible: GoPro Hero 3/4/5/6, GoPro Session, Yi Cam 4K, and AEE Action Cameras of similar sizes
Dimensions: 15 x 8 x 2.2″
Product Weight: 2.65 lbs. (1.2 kg)
Battery: Li-on 22650 rechargeable
Max battery life: 8-hours (480 minutes)
The Pros
Splash-proof design
Good anti-shake performance
Tap control
Solid construction, nice build
Intuitive interface
FY Settings App
Great value for money
The Cons
Spare batteries may be difficult to source at times
A little motor noise (some users only, but no effect on gimbal performance)
4. EVO GP-PRO 3 Axis GoPro Gimbal
View on Amazon
Editor's Rating: 4.1/5
I chose the EVO GP-PRO because it's a high-quality 3-axis handheld gimbal. That's not the only reason though. It's also here because it supports older GoPro models too, namely Hero 3 and the Hero 3+.
Best feature 1: Simple to setup
Best feature 2: Extended battery life via a built-in charging cable
Plus points: Aircraft grade aluminum, on-handle controls, wide compatibility
Minus points: Motor noise interferes with audio, hard to store, no carry case
This 3-axis gimbal costs slightly more than the previous two picks. It's pretty much plug-n-play out of the box so there's very little to set up from the user end. This gimbal also extends battery life with its built-in charging cable. It has high torque motors that deliver smooth reliable footage under a range of challenging conditions.
Wide Compatibility with Popular Action Cameras
The material used for the EVO is aircraft grade aluminum. It's a solid build with a high-quality finish and overall feel. There's a range of intuitive on-handle controls placed for easy access including a 4-way joystick. The gimbal accommodates lots of compatible devices including the family of GoPro action cameras. However, you have to buy an adapter (sold separately) for the GoPro Sessions.
The Not So Good
One of the problems with the EVO GP-PRO 3 Axis GoPro Gimbal is with the noise. The motors seem to interfere with sound to the point where the audio muffles. That's no minor criticism and will affect the buying decision for those who demand quality audiovisual. Hopefully, the company will rectify the sound issue in a future update.
There's no carry case with the EVO handheld gimbal either. It would have been a welcome extra at this price. And it's not the easiest gimbal to lug around as it doesn't have a compact fold-down design.

Tech Specs
Compatible: Hero3/4/5/6/ Yi 4K+, Garmin Virb Ultra 30, and others
Dimensions: 12 x 4 x 4″
Product Weight: 1.3 lbs. (0.59 kg)
Battery: 2 x 18650 Li-Ion batteries
Max battery life: 4-5-hours (240-300 minutes)
The Pros
Aircraft grade aluminum
Simple to set up, easy to use
Built-in charging cable
Intuitive on-handle controls
Wide action cam compatibility
The Cons
Audio interference from motor
Awkward to lug around
No carry case included
GoPro Sessions adapter an optional extra
The next three picks are all wearable gimbals and one is both wearable and handheld. It won't surprise you to see the GoPro official accessory here but its review might raise a few eyebrows.
5. Hohem Gimbal XG1 3-Axis Wearable Gimbal
View on Amazon
Editor's Rating: 4.5/5
This is my second Hohem product. It's the wearable XG1 3-Axis and comes ready to use right out of the box. It also accommodates a wide range of action cameras including GoPro.
Best feature 1: Plug-n-play
Best feature 2: Three operating modes
Plus points: All-metal construction, stable shake-free video, silent motor, carry case
Minus points: Clickable buttons not the best, no joystick
Wearable gimbals may sound awkward but they're a lot easier to wear and attach to things than they appear. The XG1 is plug-n-play and ready for action the moment you unbox it. It works with GoPro HERO5, HERO4, and Hero Session action cameras along with many other compatible models. It can carry a payload up to 170g. All you really need to know is whether it accommodates your camera.
The XG1 has an all-metal construction. The sturdy build and smart silent motor provide impressive shake-free video. The gimbal also comes with its own neat semi-hard splash proof carry pouch.
There's a ¼" thread at the bottom of the gimbal that supports helmet adapters, tripod, and monopods, etc. At just 1.5 hours the battery life is shorter than most handled gimbals but there's a USB port to keep the battery charged while using it.
Hohem GimSet App Control
The best gimbals come with app control and this one uses its own Hohem GimSet app. You can download it from Google Play and iTunes. It's a well-designed app and easy to use. Apps are invaluable for taking more precise control of a gimbal. With this one you can calibrate the gimbal from the app, alter the follow speeds, and control movements.
The Not So Good
The buttons are either too responsive or not responsive enough. You have to get the click just right. The buttons always work but it can be annoying getting used to them. There's no joystick either. It's a shame because so many people are familiar with joystick control on all kinds of devices.

Tech Specs
Compatible: GoPro HERO4, HERO5, Session, YI CAM, YI 4K, AEE, SJCam and other devices of compatible sizes
Dimensions: 5.9 x 5.9 x 2″
Product Weight: 3 lbs. (1.3 kg)
Battery: 18350 lithium-ion 900mAh
Max battery life: 1.5 hours (90 minutes)
The Pros
Easy controls
App support
Truly plug-n-play
Three operating modes
Well made all-metal construction
Silent motor
Purpose-made carry case
The Cons
Sometimes need to click the buttons two or three times to get them to work
No joystick control
6. EVO SS 3-Axis Wearable Gimbal for GoPro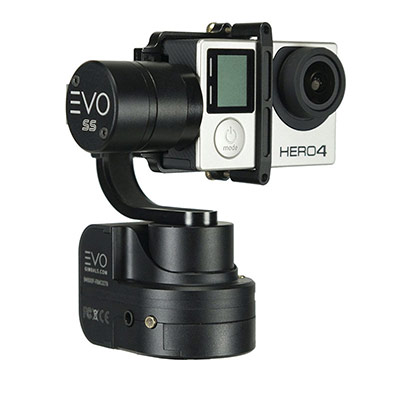 View on Amazon
Editor's Rating: 4.6/5
The EVO SS is a compact 3-axis wearable gimbal that mounts easily. It supports a lot of popular action cameras including most GoPros. The replaceable battery means it has a potentially longer life too.
Best feature 1: 3.5mm AV audio/video output port
Best feature 2: Plug and play
Plus points: extension pole, turn-back mode, built-in charging, multiple shooting modes
Minus points: GoPro 5 bracket, Bluetooth connectivity issues
This feature-rich PNP wearable gimbal has a lot to offer. There's the 3.5mm AV audio-video output port for attaching an external monitor. It's also got a standard size 1/4-20″ thread at the bottom to accommodate the telescoping extension pole (included). Add to this the built-in charging feature and multiple shooting modes and we have an impressive stabilizer.
The multiple shooting modes include:
Pan follow mode
Pan lock mode
Pan/pitch follow mode
Inverted mode
Turn back mode (new)
The new turn back mode is more than just a novelty. With the simple click of a button it rotates the camera 180° and starts to capture footage from behind. The SS has wireless Bluetooth as well so you can take control from a smartphone. Used properly you can expect silky smooth results every time. It's an affordable and effective gimbal whether attached to a person, a helmet, or some other fixture.
The Not So Good
The GoPro Hero 5 bracket doesn't work too well. It holds the camera in place but it's not a great fit. You'll probably hear some vibrating or rattling noise in the footage. The design of the bracket seems flawed and doesn't take the shape of the Hero5 into consideration.
The other gripe is that the Bluetooth connectivity tends to be spotty. I've read enough reviews to know that the occasional dropped connections were not unique to the model I had for testing.

Tech Specs
Compatible: GoPro Hero3/5 Black, Session, YI 4K, Garmin Virb Ultra 30
Dimensions: 5 x 5 x 5 inches"
Product Weight: 1.6 lbs. (0.7 kg)
Battery: 2 x 2 Lithium ion rechargeable/removable
Max battery life: 4-hours (240 minutes)
The Pros
PNP ready gimbal
Smooth, steady footage
Handy AV audio/video output port for an external monitor
Telescoping extension pole
Multiple modes including the new turn-back feature
The Cons
Hero GoPro 5 needs a redesign
Spotty Bluetooth
Swapping batteries can be fiddly due to tiny thumb screw on the battery door
7. GoPro Karma Grip By GoPro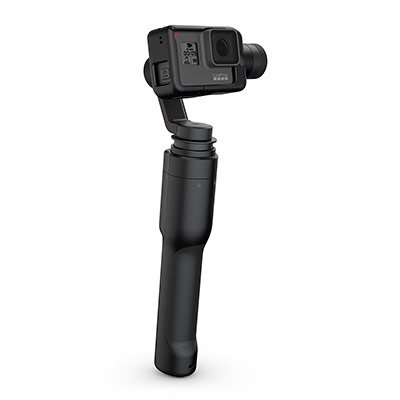 View on Amazon
Editor's Rating: 4.2/5
The GoPro Camera Karma Grip is an official GoPro accessory. It's not the most popular gimbal for GoPro cameras, though, but it's still a great product and worthy of a review.
Best feature 1: Handheld and wearable capability
Best feature 2: Includes Karma harness
Plus points: Sleek design, easy to use, on-the-fly camera control, powers grip and camera
Minus points: Not ready for all GoPros, Covers LCD screen (HERO5 Black), price
The good thing about the Karma grip is that you can wear it or hold it. That makes it extra flexible but it also has a few downsides (discussed below). The gimbal comes with the Karma harness which makes sense because you need it for the stabilizer. The harness also fits the HERO5 + HERO6 Black to the Karma drone. Alas, it seems that their only flying robot is soon to exit the aerial market though.
Ergonomic but Not Economical
If you have a GoPro HERO4 Black or a HERO4 Silver then you have to use a separate harness. This isn't included and costs somewhere in the neighborhood of 30 bucks.
The gimbal is well-made and has a sleek design. It's uncluttered and very easy to use with nice on the fly camera controls too. They include power on/off, start/stop recording, change modes, and more. It's a gimbal that provides a stable experience resulting in an almost cinema-like quality video. It's not the cheapest option out there but it's a capable gimbal that does a good job.
The Not So Good
Despite being an official GoPro accessory the Karma Grip doesn't accommodate all GoPros. It's this restriction that probably sees fewer sales than third-party gimbals. Although it has a nice ergonomic design it still has plenty of room for improvements. For example, on the HERO5 Black, the grip covers the LCD screen. That's a poor design flaw.
It's a quality handheld/wearable gimbal, but if GoPro hopes to make more sales separate from the Karma drone then it has work to do. They could perhaps start by lowering the price.

Tech Specs
Compatible: GoPro action cameras with compatible harnesses
Dimensions: 3.6 x 4.2 x 10.6″
Product Weight: 1.01 lbs. (0.4 kg)
Battery: Built-in rechargeable
Max battery life: 1.5 hours (90 minutes)
The Pros
Handheld and wearable
Sleek ergonomic design
Easy to operate
Karma Harness (HERO5 + HERO6 Black only)
On the fly camera controls
The Cons
Not compatible out of the box with all GoPros
Not compatible with third-party action cams
Grip covers the LCD screen on HERO5 Black
Quite expensive
The last gimbal is an inexpensive stabilizer that doesn't have any motors or electronic bells and whistles. It only costs a few bucks and it's a vast improvement on no gimbal at all.
8. Opteka X-GRIP Professional Stabilizer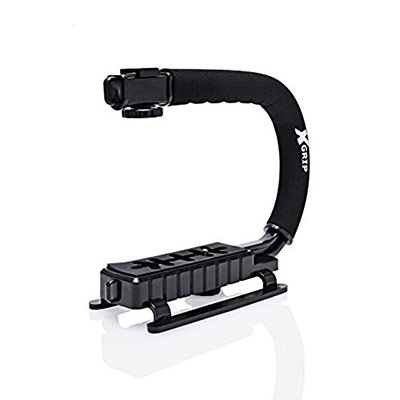 View on Amazon
Editor's Rating: 4.6/5
Because the Opteka X-GRIP is so cheap it's an affordable way to experiment with stabilization. But don't let the low price put you off. This beauty boasts some really valuable functions.
Best feature 1: Shockproof padded handle
Best feature 2: Shoe mount
Plus points: Versatile, non-slip rubber rails, five colors, 1-year warranty
Minus points: Takes practice, too light, plastic build
The shockproof padded handle feels nice and is comfortable to hold for long periods. The device has an adjustable screw that makes positioning a camera on the stabilizer simple. Another nice feature of the X-GRIP is it's removable shoe mount. This mount is invaluable if you want to add a camera flash, video light, or an external mic.
Once you get used to the stabilizer it becomes a versatile tool for very little outlay. You might even wonder how you ever managed without it. It's invaluable for capturing action at unusual angles, especially low down. You can also buy the X-GRIP Professional Stabilizer in five colors. The cosmetics are not a key selling consideration but a choice of colors is a nice touch all the same.
The Not So Good
There are a few downsides but there's very little to complain about for the money. I guess the biggest drawback is that it takes getting used to. My advice is to stick with it until you do. You'll be glad you did. Another minus point is the lightweight construction and plastic build. It's still inferior to some of our all-metal gimbals in this guide despite the high-grade ABS.

Tech Specs
Compatible: GoPro Hero 4, Hero 3+, Hero 3, DSLRs, Apple iPhone, and more
Dimensions: 8.2 x 3.5 x 9.8″
Product Weight: 7.2 oz. (204g)
Battery: N/A
Max battery life: N/A
The Pros
Padded shockproof handle for comfortable grip
Removable shoe mount
Versatile stabilizer idea for low-angles
Non-slip rubber rails
12-month warranty
The Cons
Learning curve
Lightweight
Plastic build