The 20 Best GoPro Hero 8 Black Accessories in 2020
3D Insider is ad supported and earns money from clicks and other ways.
There are a lot of action cameras in the market, but for many, the GoPro is still the best one out there. With the release of their latest camera, the Hero 8 Black, there are a lot of impressive new accessories out there that will help you take your shots to the next level.
You can choose from microphones, external displays, cases, mounts, clips, protectors, and a lot more. All of these are going to help you improve the quality of your videos. These accessories will allow you to record all of your adventures with ease.
GoPros are fast becoming popular travel cameras because of their compact and lightweight design, allowing you to capture all of your adventures without missing a second of it. There are definitely options for every type of user, from divers to hikers, and even bikers.
Getting the Most Out of Your GoPro
Accessories for the Hero 8 Black allows you to get the most out of your action camera. They allow you to capture your exhilarating downhill ride or your experience catching a monster surf wave or a view of the reef on one of your deep dives. There is an accessory out there that is going to be perfect for all of your adventures.
The cameras are definitely incredible on their own, but pair them with any accessory, and they will be able to transform your footage and take them to the next level.
Hero 8 Black Mods
GoPro took their accessory game to the next level with the launch of their Hero 8 Black model. They have expanded their line of accessories with their latest "Mods" that allows users to attach a high-quality shotgun microphone, a powerful compact LED light, and a flip display. Each of these is definitely useful. However, these Mods target vloggers and are more of an integrated solution than a do-it-yourself one.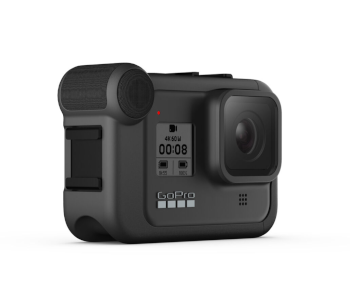 Retail Price: $79
The GoPro Media Mod for the Hero 8 Black looks a lot like their Frame housing for their previous action cameras. The main difference between these two accessories is that the Media Mod comes with a small integrated shotgun microphone that is capable of recording better audio than the Hero 8 Black's built-in one.
On top of the microphone, it also comes with a USB Type-C, HDMI, and 3.5mm ports built-in so you can connect a few more accessories apart from the microphone. It also has two cold-shoe mounts so you can attach other accessories with ease.
The Media Mod is designed as an all-in-one accessory add-on to bump up the production value of your video and keep it in a similar design language.
GoPro Media Mod

Media Mod
Built-in Directional Mic
Extra 3.5mm Microphone Port
Vertical Mounting Buckle
Thumb Screw

Specifications
Accessory Mounting
2 Cold Shoe Mounts
Video Output
Micro-HDMI
USB Interface
USB Type-C
Microphone Input
3.5mm Jack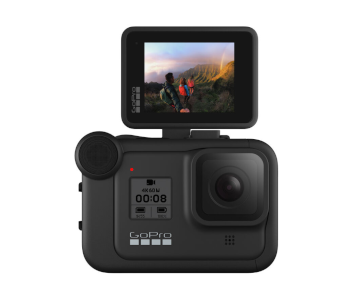 Retail Price: $79
GoPro's Display Mod is another one of those accessory sets that are for vloggers and content creators. It includes a 2-inch flip-up screen that allows you to see yourself as you shoot. This is especially helpful if you rely heavily on your GoPro whenever you go out and vlog. The screen is compact and matches the entire look of your Hero 8 Black.
You can fold the screen any way you want, which can surely come in handy to check whatever you are shooting whether the lens is facing towards or away from you. It also comes with a built-in rechargeable battery to extend your shooting sessions and a micro HDMI connector.
One requirement, though, with the Display Mod is that you need to have the Media Mod so you can attach the screen and take full advantage of it. However, if you are a content creator and use your brand new GoPro Hero 8 Black, you should consider getting the Display Mod.
GoPro Display Mod

Display Mod
2-inch Flip-up Screen
Built-in Rechargeable Battery
Micro HDMI Connector
USB-C Cable

Specifications
Screen Size
2-inch display
Connector
Micro-HDMI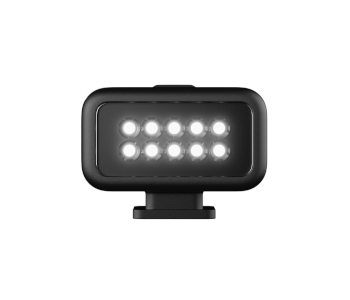 Retail Price: $49
If you are looking for additional lighting to improve your shot, one accessory to check out is GoPro's Light Mod. The add-on light comes with four brightness levels so you can get the right amount of light for just about any situation. There is also an overdrive mode where the bulbs produce maximum brightness for 30 seconds to give you the extra illumination that you need in low light conditions. It also comes with strobe mode allowing you to use it for signaling and making you visible in the dark.
The Light Mod also comes with a built-in battery, which definitely comes in handy for extended shooting sessions. Similar to the Display Mod, you will need the Media Mod to attach this to your Hero 8 Black.
GoPro Light Mod

Light Mod
Light Diffuser
2-Finger Adapter
USB-C Cable

Specifications
Color Temperature
5000 K
Color Accuracy
CRI 90+
Waterproof
Up to 33 feet
Power
Built-in Battery
Hero 8 Black Gadgets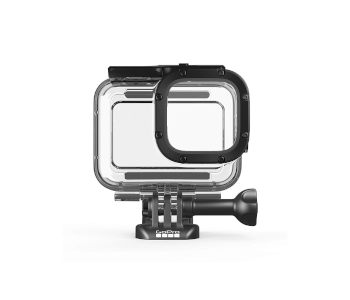 Retail Price: $49
All GoPro action cameras are rated waterproof. However, they only go up to depths of 10 meters. If you are planning to dive deeper than what their rating allows, you will want a more robust solution like GoPro's Super Suit dive housing.
This accessory is rated to go as deep as 60 meters or 196 feet, which is more than enough for casual divers. It has a flat glass lens that will not disrupt the ones on your Hero 8 Black allowing you to record everything under the water in detail.
Apart from the waterproof capabilities, the case also serves as protection against dust and debris that your camera will come across on your adventures. You can also swap out the watertight doors so you can access the rear touchscreen if you are using the Super Suit as a protective case.
What's in the Box

Protective Housing for Hero 8 Black
Skeleton Backdoor
Mounting Buckle
Thumb Screw

Specifications
Waterproof Depth
196 feet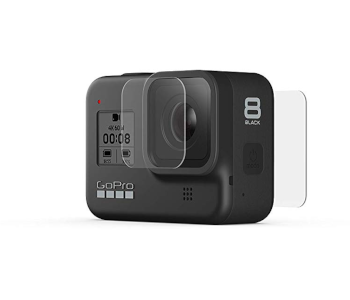 Retail Price: $19
The latest generation of GoPro Hero action cameras comes with a touchscreen for more straightforward navigation. It is undoubtedly a welcome move, but having these additional displays mean something to look after every time you use it. If you always use your camera, especially in rugged conditions, this can become a concern, so GoPro has created this solution.
The GoPro Tempered Glass Lend and Screen Protector is a reasonably-priced and straightforward solution that you can get to ensure that your screens and lenses are safe from scratches and smudges. They also reduce glare on extremely bright days and ultimately make the touchscreen a lot easier to use.
What's in the Box

2 Tempered Glass Lens Protectors
2 Tempered Glass Screen Protectors
Microfiber Cleaning Cloth

Specifications
Material
Glass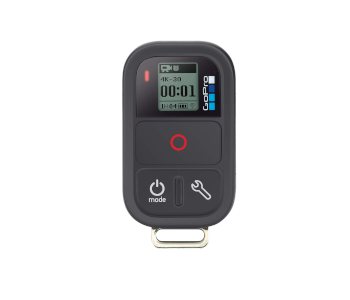 Retail Price: $79
GoPro cameras, especially the Hero 8 Black, comes with a lot of connectivity options. You can even control them with your phone. However, many phones are not capable of keeping pace with what your camera can do, so you will want to find a solution that can. This is where the GoPro Smart Remote comes in, and its most notable feature is its waterproof capabilities of up 10 meters.
Similar to your action camera, the Smart Remote is rugged, waterproof, and can take a lot of beating so you can surely carry it with you no matter the adventure. The remote allows you to control your GoPro up to 180 meters or 600 feet away. It also has a built-in LCD that can mirror your camera's screen for quick settings changes on the fly.
What's in the Box

Smart Remote
Attachment Key + Ring
Wrist Strap
USB Charging Cable

Specifications
Wireless Range
Up to 600 feet
Depth Rating
Up to 32 feet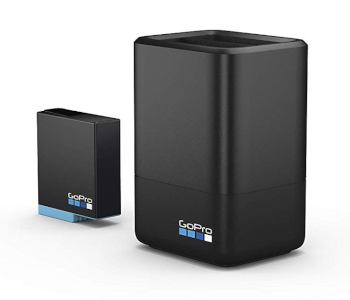 Retail Price: $49
If you are a serious GoPro user, then you are likely going to need some sort of charger and spare batteries. One of the best features of the Hero 8 Black is its removable battery pack allowing you to bring a few spare ones with you to extend your shooting sessions.
GoPro's Dual Charger enables you to charge two batteries at the same time, so you always have a spare ready whenever you need it. It also comes with an extra battery out of the box, so you do not have to spend more. This accessory is definitely must-have if you love using your action camera to record all of your adventures.
What's in the Box

Dual Battery Charger
Rechargeable Battery
USB-C Cable 1.5 feet

Specifications
Material
Metal & Plastic
Connector
USB
Supported Battery
4.7 W, 3.85 V, 1220 mAh Lithium-ion
AC Input
5 V, 3 A
Power Output
4.4 V, 1.5 A
Weight
86 g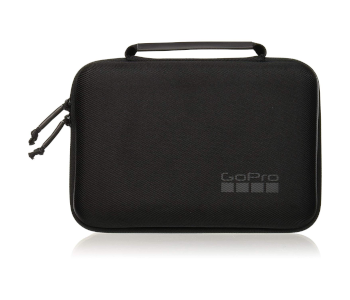 Retail Price: $49
The Casey is a simple-looking, semi-hard case that you can use to keep your GoPro Hero 8 Black and all of your other accessories safe whenever you travel. It comes with a customizable interior where you can adjust the dividers so you can fit all of your other accessories. On the inside, there is also a removable pouch so you can insert small items like SD cards.
The Casey comes with a hard shell that protects the contents inside against shocks. It also has a weather-resistant layer to keep moisture out of your camera and accessories.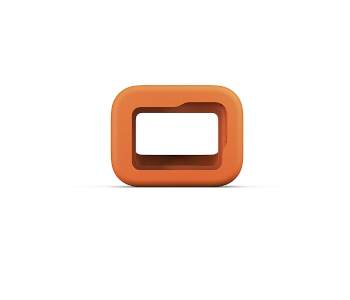 Retail Price: $29
The Hero 8 Black is waterproof, but without an additional layer of protection like the Super Suit, it can only go as deep as 10 meters. The GoPro Floaty is a case that keeps your action camera floating and prevent it from sinking, especially if you are using it in the open ocean.
The Floaty comes in bright orange so you can quickly spot your camera even if you lose grip of it. It also has protective padding so it can bounce around in the waves and not worry about it hitting anything hard like boat hulls.
If you love the ocean and want to bring your Hero 8 Black, as long as you are not planning on using it to record your dives, the Floaty is an excellent accessory to help keep your camera safe at all times.
What's in the Box
Specifications
Material
EVA, Plastic
Dimensions
3.5 x 2.7 x 1.9 in
Weight
41 g
Hero 8 Black Mounts
Retail Price: $39
One of the most notable features of all GoPro models is their compact nature allowing you to bring it with you everywhere and record all of your journeys. The small size enables you to wear the camera on your body, letting you record a point of view perspective of your adventures. This is where the GoPro Chesty Performance Mount comes into play.
If you love outdoor activities such as cycling, hiking, or other similar activities, mounting your Hero 8 Black on a Chesty is something that you should consider. First of all, it frees up your hands while recording your adventures at the same time giving your viewers a more immersive experience.
The Chesty is made with lightweight, breathable fabric so you can wear it and not bother you. It also comes with a quick-release buckle so you can put it on or take it off quickly. There are also adjustable straps so you can make sure that the fit is snug and secure so you can focus on your activity rather than at your camera.
What's in the Box
Performance Chest Mount
Vertical Mounting Buckle
Thumb Screw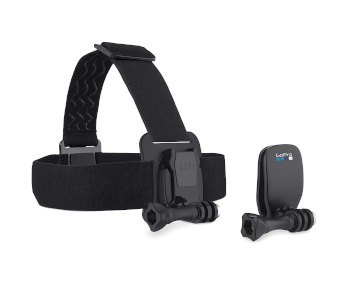 Retail Price: $19
The GoPro Head Strap and QuickClip combo is the accessory for you if you are looking for that perfect first-person perspective. Sure, the Chesty gives you an excellent point of view, but it is definitely a view a bit lower than eye level. If you are looking to maximize your viewer's immersive experience, the Head Strap and QuickClip combo is the way to go.
It comes with a fully adjustable head strap with a clip for quick installations to caps, belts, and other similar items. The Head Strap and QuickClip is a versatile combination that allows you to shoot with a first-person perspective with your hands-free.
What's in the Box

Head Strap
QuickClip
Thumb Screw

Specifications
Compatibility
All GoPro Models
Mount Type
Head Strap with QuickClip
Clamp Range
3 to 10 mm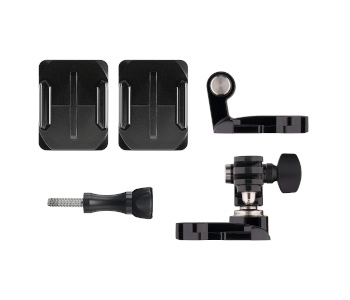 Retail Price: $29
The Head Strap can only do so much, but if you are into more active sports like cycling, then you will need a solution like the GoPro Helmet Front and Side Mount. The company does have quite a few helmet mounts, but this one is the most versatile since you will be able to stick this either to the front or to the side. You can always ensure that you install this in a place where you are most comfortable, so as it will not get in the way of your activity.
The accessory comes with a swivel mount assembly allowing you to adjust the angles so you can get the optimum shot even when it is on your helmet.
What's in the Box
Swivel Mount Assembly
2 Curved Adhesive Mounts
Vertical Mounting Buckle
Long Thumb Screw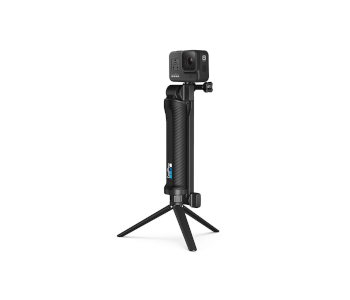 Retail Prices: $69
The GoPro 3-Way is an impressive accessory that can do it all. It's a 3-in-1 where you can extend it up to 20 inches to use as an extension arm or a selfie stick, fold it down and use it as a camera grip, or put it up vertically so you can use it as a tripod.
It is a versatile piece of equipment that can save you a lot of space whenever you travel with your entire GoPro gear with you since it can function in a lot of ways. Instead of lugging around three separate accessories, you will only need the 3-Way.
What's in the Box

Grip
Extension Arm
Tripod
Thumb Screw

Specifications
Pole Length
7.5 to 20 in
Compatibility
All GoPro Models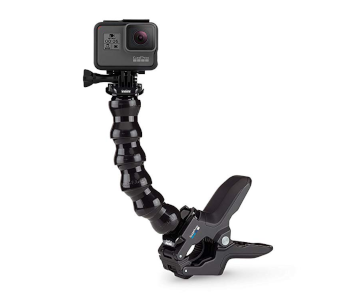 Retail Price: $49
If you shoot a lot of indoor videos and are looking for a way to attach your GoPro Hero 8 Black on objects in the room, the Jaws Flex Clamp is the accessory for you. You can attach it on objects with a size of 0.6 to 5 cm or about 2 in, so you can position the camera in spots where you might not be able to.
The Jaws Flex Clamp also has a bendable neck, so you can place it in even awkward positions to get the angle of the shot that you want. It also has the capability to remove the neck altogether and directly fasten your camera on the Clamp itself for lower profile shots. It can even grip to irregular shapes and surfaces so you can be sure that there is an angle out there that is perfect.
What's in the Box

Jaws Flex Clamp
Adjustable Neck

Specifications
Mount Type
Clamp Mount
Compatibility
All GoPro Models
Clamp Range
0.6 to 5 cm
Connectors
Quick-release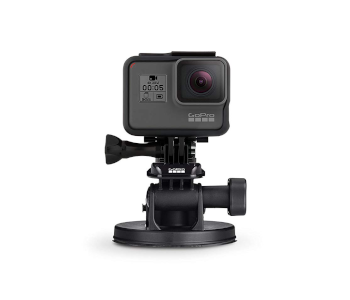 Retail Price: $39
If there are no surfaces to grip on to, you can always rely on GoPro's Suction Cup Mount to get the perfect window shot every time. This accessory is ideal if there is not a lot of surfaces where other types of mounts can hold on to. You can use this on car, boat, and plane windows allowing you to record the view outside without using your hands.
The cup's grip is tested to speeds up to 150 miles per hour, so you can fit this on any flat surface with your camera and push the pedal to the metal without worrying that your camera will come flying off.
What's in the Box

Suction Cup
Adjustable Arms
Standard Base
Quick Release Base

Specifications
Mount Type
Suction Cup
Compatibility
All GoPro Models
Speed Rating
Up to 150+ mph
Dimensions
8.6 cm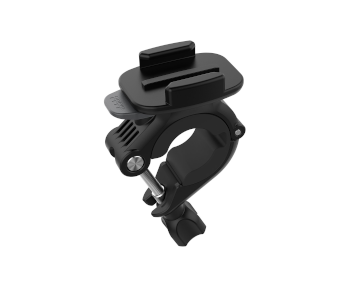 Retail Price: $45
The GoPro Handlebar Mount is not just for bikes. This accessory can be attached to ski poles, seat posts, or other similar objects. It uses a hinged, non-slip design to keep the mount and your camera in place so you can enjoy your activity without worrying about your recording equipment.
It comes with a 360-degree base so you can quickly adjust the angle, allowing you to get the perfect shot in any situation. The mounting system also comes with a quick swap feature so you can move your camera around and even transfer them to other mounts for a different point of view.
If you love recording your biking and skiing adventures, this is one where you will be able to put your viewers on a front row seat.
What's in the Box

Pro Handlebar, Seatpost, Pole Mount
4mm Hex Key
Five Rubber Inserts
Drawstring Storage Bag

Specifications
Material
Aluminum
Clamp Range
22.2 to 35 mm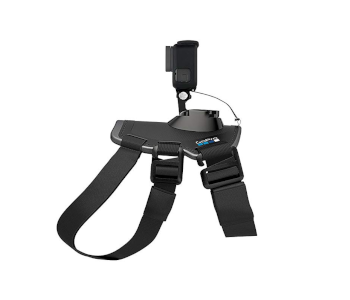 Retail Price: $39
Since GoPros are handy devices, you can definitely get your pets to carry them so you can view the world from their point of view. The GoPro Fetch is a harness where you can attach your camera on the back or chest of your dog, giving you a couple of different perspectives.
It is comfortable and breathable that your pets will barely notice it as they move around recording wherever they go. The Fetch is adjustable and comfortably fits dogs weighing 15 to 120 pounds. You can even fit this on even smaller puppies by removing the chest mount.
This is a fun piece of accessory that you will love, especially if you have pets around and want to film from their perspective.
What's in the Box

Fetch Dog Harness
Mounting Hardware
Camera Tether

Specifications
Size
Dogs weighing 15 to 120 lbs
Hero 8 Black Extra Accessories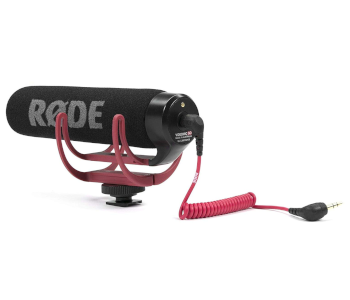 Retail Price: $98
The Hero 8 Black's built-in microphone has definitely gotten better than previous generations, but there is still room for improvement. GoPro's Media Mod also comes with an impressive recording device that should be enough for most situations. However, if you are looking for a professional quality microphone, you will want to check out Rode's VideoMic Go.
It is a high quality directional microphone that will significantly improve the audio of your recordings. It is also the right size for your Hero 8 Black since it comes in a similar form factor keeping your entire rig compact and lightweight.
What's in the Box

Rode VideoMic Go Shotgun Microphone
Coiled 3.5mm TRS Cable

Specifications
Frequency Range
100 Hz to 16,000 Hz
Capsule
Electret Condenser
Polar Pattern
Supercardioid
Diaphragm
0.5 inches
Maximum SPL
120 dBSPL
Weight
73 g
Dimensions
79 x 73 x 67 mm
Output
3.5 mm Audio Jack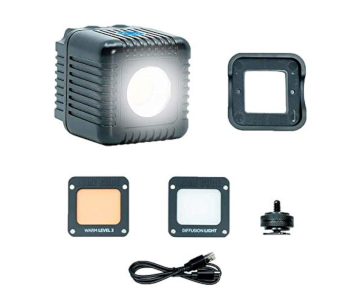 Retail Price: $89
The Lume Cube 2.0 is an alternative to GoPro's Light Mod for the Hero 8 Black. It is a small light source that gives you added illumination for all of your shots. It comes with a robust metal shell and is also waterproof similar to the build of your action camera so that you can bring it anywhere. It will be able to take the same amount of punishment as your GoPro, enabling you to shoot in a lot of different conditions.
The Lume Cube 2.0 is capable of producing a lot of light illuminating your subjects even in low light conditions. It excels at short distances but should be able to light up an entire scene without any problems.
If you are looking for a versatile and lightweight illumination solution for your Hero 8 Black, this is the accessory for you.
What's in the Box

Lume Cube 2.0
Modification Frame
Warming Gel
Soft Diffuser
Shoe Mount
USB Type-C Cable

Specifications
Beam Angle
80 degrees
Color Temperature
5600 K
Color Accuracy Standard
CRI 95
Waterproof
Up to 30 m (98 ft)
Dimming
YES, 0 to 100%
Battery
Lithium-ion
Battery Runtime
90 minutes
Dimensions
41 x 41 x 43 mm
Weight
99 g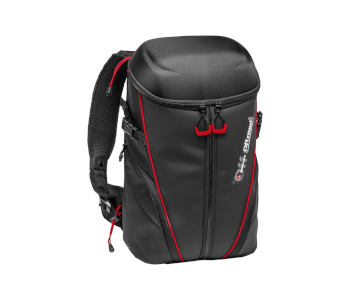 Retail Price: $115
There are a lot of GoPro backpacks to choose from, but the Manfrotto bag is one that is for action camera users who are always on the go. It is small enough that you will be able to take it as a carry-on whenever you travel. It can also hold your Hero 8 Black complete with all your accessories. A notable feature of the bag is that it comes with a built-in mount on one of its straps, allowing you to record all your adventures.
The bag may seem small on the outside but is impressively spacious on the inside since you will be able to fit a tablet and even a tripod. This is a bag that is perfect for your GoPro and all the accessories that come with it.
What's in the Box

Manfrotto Off Road Stunt Backpack
2 Zippered Equipment Inserts with Dividers
Rain Cover

Specifications
Material
Nylon
Water Resistance
Rain Cover
Weight
1 kg
Wrap Up
The Hero 8 Black is an impressive device, and GoPro's latest approach with the Mods takes them to the next level. GoPro action cameras are not just for recording outdoor adventure videos on your bike anymore.
Many content creators are using it to shoot their vlogs because of its recording quality and its compact and lightweight design. Taking full advantage of this, GoPro launched their Mods, which fundamentally transforms the camera into a full-fledged vlogging platform with a shotgun mic, an external display, and even additional lighting. In the past, some accessories can do this, but a more integrated solution that fits with the aesthetics of the GoPro is definitely welcome.
Whether you are getting these new Mods or the current line of accessories like mounts, straps, and others, using these with your GoPro is going to improve the quality of your footage.