GoPro HERO9 Black vs. DJI Osmo Action & Pocket – Which Camera Is the Best?
3D Insider is ad supported and earns money from clicks, commissions from sales, and other ways.
Fall is here, which means you can count on GoPro to release this year's version of their successful HERO camera. The HERO9 Black brings improvements across the board and is the most feature-rich release to date, but what about the competition? Let's see how the newly-released HERO stacks up against the best DJI has to offer.
Quick comparison
| | GoPro HERO9 Black | DJI Osmo Action | DJI Osmo Pocket |
| --- | --- | --- | --- |
| Dimensions | 2.8 x 2.2 x 1.3" | 2.6 x 1.7 x 1.4" | 4.8 x 1.5 x 1.1" |
| Weight | 5.6 oz | 4.4 oz | 4.1 oz |
| Waterproof | Yes, to 33' | Yes, to 36' | No |
| Field of view | 121° | 145° | 80° |
| Main display | 2.2" touchscreen | 2.2" touchscreen | 1.1" touchscreen |
| Secondary display | 1.4″ live-view monitor | 1.4″ live-view monitor | None |
| Max video resolution | 5120 x 2880, 30fps | 4096 x 2160, 30fps | 3840 x 2160, 60fps |
| ISO range | 100 – 6,400 | 100 – 3,200 | 100 – 3,200 |
| Image stabilization | HyperSmooth 3.0 | RockSteady | 3-axis gimbal |
| Still size | 20MP | 12MP | 12MP |
| Shutter speed | 30s – 1/8,000s | 120s – 1/8,000s | 8s – 1/8,000s |
| Audio format | WAV | AAC | AAC |
| Built-in speaker | Yes | Yes | No |
| Voice control | Yes | Yes | No |
| Wireless connection | Yes | Yes | Requires accessory |
| Battery | 1,720mAh | 1,300mAh | 825mAh |
| Price | $450 | $245 | $299 |
Build quality & waterproofing
Effortless underwater use is the trademark of any good action camera, and DJI & GoPro have mastered it. Neither the HERO9 Black nor the Action requires a housing to work underwater safely or effectively, but both support accessories that improve their diving capabilities. The Action has a slight edge out of the box since it can withstand three more feet of pressure.
The Pocket isn't waterproof on its own but has a case you can buy separately that lets it dive down to 196 feet. You'll have to pan & tilt by adjusting your hand while using it since the camera is locked into place. It's the most fragile out of the three due to its exposed camera.
+1 for DJI Osmo Action
Portability
The HERO9 breaks GoPro's streak of almost identical-looking devices that goes back to the HERO5. It's noticeably larger and heavier than its predecessors, as it needs to be to accommodate the new lens and front touchscreen. The Action is slightly smaller and lighter. Straps and mounts allow you to position both cameras on helmets, bikes, snowboards, etc.. They're unwieldy without such accessories.
The Osmo Pocket is true to its name and designed with portability in mind. While action cameras won't stand in your way when recording thrilling activities, the Pocket is perfect for taking out and filming any situation, mundane or otherwise. Its ergonomics are superb, and the device is light enough to be carried in your pocket the entire day without noticing.
+1 for DJI Osmo Pocket
Rear screen
The Pocket comes with a 1.1-inch touchscreen integrated into the gimbal handle. You can use it to frame shots and access most of the camera's settings, but it's too small to let you see details.
The screens on the Osmo Action and HERO9 Black are nearly identical, the former's being 0.02 inches smaller. They're both bright enough to use on sunny days and just below the water level. Both companies have also designed user-friendly interfaces that allow you to reach the most important settings with intuitive gestures.
Unfortunately, you'll encounter input lag on them as well. Osmo Action users are at an advantage since the lag disappears if you turn off RockSteady. GoPro buyers will need to wait for a software update to resolve the issue.
+1 for DJI Osmo Action
Front screen
The HERO9 Black is the first GoPro to feature a fully-functional front screen. However, the Osmo Action has been available for more than a year and a half, and its screen performs comparably. Both are 1.4 inches in diameter and let you align the shot for perfect selfies or view important stats like the mode you're in or the remaining battery life.
The Pocket doesn't have a front screen, which is understandable given its size.
+1 for DJI Osmo Action
Video quality
The new GoPro is the winner on paper in terms of video quality due to having the best resolution, but things aren't clear-cut. It maxes out at 5K, 30fps, which looks detailed and natural. However, 5K is an uncommon standard, and files shoot in it take up much space.
The Osmo Action shoots 4K video at 60fps in 16:9 mode with a slight crop. You can increase the size to cover the entire height of its 4:3 sensor if you're willing to drop the frame count to 30. Unlike the GoPro, the Osmo Action can apply HDR to videos, resulting in more balanced footage rich in detail.
The Osmo Pocket isn't out of the running either. Its resolution is technically the lowest, corresponding to the Action's at 4K 60fps in 16:9 mode. On the other hand, the pocket has a narrower lens with an 80-degree field of view that doesn't have the fish-eye look characteristic for action cameras at the cost of capturing less of your surroundings. It also has a higher max aperture of f/2, meaning it performs better in low light conditions than the other two.
Each camera has strengths and weaknesses in this category, so we're calling it a draw.
Video features
All three cameras deliver impressive time-lapse results, but the HERO9 Black and Osmo Pocket each have a standout feature. The GoPro has TimeWarp 3.0, a time-lapse setting that provides stabilized time-lapse footage you can slow down to normal or even half time by tapping the camera's screen. The Pocket has Motionlapse, a mode where you set the exposure time along with the start & end panning or tilting positions of the lens. Executing a Motionlapse yields unique videos with a moving scene.
Video output on each camera looks punchy with adequate white balance. The Pocket tends to overexpose, so you'll want to darken its video by dropping the exposure by an increment or two. You can also switch any of the three to a flat color profile suitable for tweaking in video editing software.
+1 for GoPro HERO9 Black
+1 for DJI Osmo Pocket
Stabilization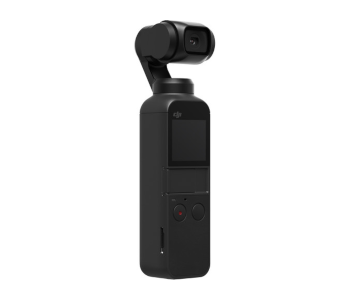 Each camera approaches stabilization in a unique way. The Pocket is a small-sized gimbal and the only model in our comparison to offer physical instead of digital stabilization. It eliminates camera shake brought on by walking and hand movement by moving the sensor in the opposite direction. That results in movie-like smoothness essential for longer videos you'd want to show a broader audience.
The HERO9 Black comes with the third iteration of GoPro's HyperSmooth technology, It relies on complex calculations and a slight crop to deliver footage that's as stable as the pocket's, more so in certain situations where bringing DJI's camera wouldn't be practical.
The Action has its own version of digital stabilization called RockSteady. It would have given the HERO7 and the first HyperSmooth a run for its money, but it lags a step behind the new HERO. RockSteady is by no means bad – it just doesn't offer as much room for unpredictable antics and rough shakes as HyperSmooth 3.0.
+1 for GoPro HERO9 Black
+1 for DJI Osmo Pocket
Vlogging
Action cameras were designed to capture one's adventures from a first-person perspective, but the two on review show that the trend is shifting to include vlogging as well. A front screen is invaluable for making sure you're in the frame and making adjustments on the fly. The GoPro app and Mimo both share images on social media effortlessly, and the HERO9 can livestream in 1080p.
That being said, the Osmo Pocket is still the best option for vloggers and selfie lovers. It has a comfortable and slip-resistant grip out of the box and can rotate the camera to face you. Its autofocus is also designed to lock onto and keep track of faces no matter where they are in the frame. Its biggest flaw is the lack of wireless connectivity, which you'll have to pay extra to get. Still, connecting the Pocket to a computer and transferring files via USB isn't bothersome.
+1 for DJI Osmo Pocket
Photo quality
The days of action cameras being used primarily for photography are long gone, but the feature continues to be supported and even updated in the HERO9 Black's case.
DJI's cameras offer the ability to shoot acceptable 12MP stills either in JPEG or JPEG+RAW. The latter allows experienced users to adjust the photo's levels in post-processing while keeping a good-looking version of it at hand in case you need a backup. Both cameras feature long exposure modes for night sky photography and support HDR. You'll want to turn HDR on to get more details in pictures with contrasting elements.
Photos have received a great deal of attention in this HERO update. The camera's resolution is now 20MP instead of 16, and you can even extract 14.5MP stills from 5K video footage. Split-second action shots are no problem either as the HERO9 Black can fire bursts of 25 frames per second.
+1 for GoPro HERO9 Black
Audio quality
Cameras aren't exactly known for their stellar audio quality, and that goes double for the ones on review. The HERO9 produces the best sound thanks to three integrated microphones and wind reduction settings, but that's not saying much. Its biggest advantage is the ability to add proper external microphones through the Media Mod's 3.5mm jack, so you'll have to get that upgrade if you want movie-grade audio.
Neither DJI camera is well-suited for sound recording. The Osmo Pocket has a single tiny microphone that produces tinny results, while the audio from the Action's mic is muffled.
+1 for GoPro HERO9 Black
Voice control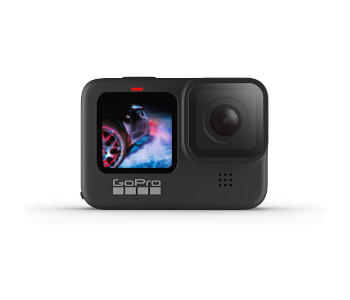 The Osmo Action has five simple voice commands you can use to turn it off, start or stop the recording, switch the screen, or take a photo. We like this straightforward approach to voice commands since you don't have to remember many phrases and can work the camera at a moment's notice without using your hands.
The HERO9's voice controls are more sophisticated. Mode commands switch between photo, video, and time-lapse modes. Action commands are similar to the Osmo's but include shooting bursts of photos and time-lapses as well. Moreover, The HERO9 recognizes several languages you toggle between in its settings.
The Pocket doesn't have voice commands.
+1 for GoPro HERO9 Black
+1 for DJI Osmo Action
Battery
Poor battery life has been a thorn in GoPro users' sides for generations, and now it's finally been addressed. A larger housing allows the manufacturer to outfit it with a larger battery with a capacity of 1,720mAh, 500mAh more than the HERO8. The HERO9 is more power-hungry since there's 5K and a second screen to consider. Even so, its output has seen a 30 percent increase. The battery now provides two hours of recording time at 1080p, slightly less at 4K and over.
The Action had nothing to catch up to since its battery was excellent at first release. DJI clocks it at 135 minutes when shooting at 1080p.
The Osmo pocket has the smallest battery capacity on paper offset by fewer extras it needs to power. That balanced performance nets you 140 minutes of recording time at 1080p, which is the best we've seen. However, the Pocket's Li-ion battery is built-in while the two action cameras have removable ones. That gives them an advantage since you can swap in a spare and recharge the battery at your convenience.
+1 for GoPro HERO9 Black
+1 for DJI Osmo Action
Accessories
GoPro has the widest selection of proprietary & third-party accessories, but the newest HERO's size differences makes many of these obsolete. Luckily, it still has the foldable mounting brackets on the bottom, which means you won't have to replace your old model's mounts yet. Waterproof housings, filters, and other kit that was tailored to older GoPro dimensions will have to go.
On the other hand, you can now get updated versions of the mods introduces with the GoPro HERO8 Black. The Media Mod is our favorite since it adds HDMI connectivity and several cold shoe mounts for flashes or external microphone. The Max Mod is a new addition that ramps the lens's field of view up to 150 degrees and introduces 360 camera features like horizon leveling for smoother footage.
The Osmo Action is compatible with GoPro mounts since it has the same system. There are also several useful accessories tailor-made for it, like a waterproof housing, ND filters, a mounting kit, and more. The Pocket's accessories are equally well-made but more interesting. They don't enhance the device as much as introduce capabilities that it should have had in the first place. Chief among them are Bluetooth & Wi-Fi, which you'll get access to with the Wireless Module. Other essential items include a charging cradle, a waterproof case, and a wheel that simplifies pan & tilt controls.
+1 for GoPro HERO9 Black
+1 for DJI Osmo Pocket
Pricing
It's been less than a month after the HERO9's release date at the time of writing, so it's no surprise that it is the most expensive camera in our comparison. It's a definite improvement over older models, but some users will rightfully wonder whether it's worth getting over the now discounted HERO8.
The barebones edition of the Pocket currently costs $300. A charging cradle, wireless connectivity, and waterproofing are essential if you wish to make the Pocket more rounded. These add up to cost more than the current HERO.
The Osmo Action hits the sweet spot between affordability and features. It's not that far behind the HERO in terms of specs and performance, but it's a steal at $200 less.
+2 for DJI Osmo Action
Conclusion
Why choose
GoPro HERO9 Black
(7 points)
DJI Osmo Action
(7 points)
DJI Osmo Pocket
points)

Superior audio &
photo quality
Improved battery
capacity
Excellent digital
stabilization
Innovative time-
lapse features
Abundance of
accessories

Affordable yet barely less
capable than the HERO9 Black
Excellent waterproofing &
build
Responsive front and rear
screens
Straightforward voice controls
Long-lasting battery

Lightweight and
portable
Excellent for vlogging
First-class image
stabilization through
gimbal
Cool time-lapse
features
It's tough to pronounce an undisputed winner since the contest is neck and neck, and we're glad it is! You'll find the exact match whether you're looking for the newest in action cam tech, a capable yet affordable all-arounder, or a vlogger-friendly camera that's ready whenever and wherever you are.