Best GoPro Ski and Winter Accessories of 2019
3D Insider is ad supported and earns money from clicks and other ways.
Skiing is a sport that rewards you with breathtaking views, adrenaline-filled rides, and the joy of conquering courses that seem impossible from the bottom of a mountain. Few activities offer a greater thrill, and fewer still look as good when captured with a GoPro action camera!
You wouldn't want to hit the slopes unprepared though, which is why we've put together this guide on the best GoPro ski accessories. In it, you'll find a variety of mounts as well as other essential items that make recording your runs safer & more enjoyable.
Mounts
Where you mount the GoPro in relation to yourself has a drastic impact on the kind of videos you can make. There are numerous mounts to choose from, so pick the style of video you're going for and take it from there.
Personal mounts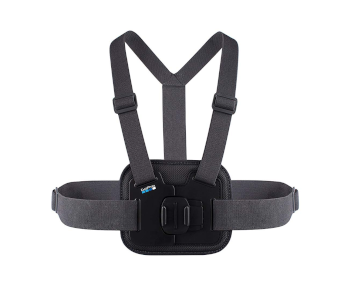 Personal mounts attach to various pieces of your suit like the chest, helmet, or even boots. They're great for creating first-person POV videos from different vantage points.
The GoPro Performance Chest Mount is a harness that's wide enough to put on over your ski suit without hindering movement. It has a quick-release belt buckle useful for easy removal when you're carrying gloves. The videos you'll get with it are shot from chest height, so the action is closer to the ground than with a head mount. The scenes are also more dynamic because your hands and more of your skis are visible.
There are two types of GoPro helmet mounts. You can attach the frontal mount closer to eye level for a realistic-looking first-person POV or place it on top of the helmet to maximize your viewing angle. Side mounts simulate an over-the-shoulder view. Footage captured when using them will show part of your helmet and cheek. It's a weird perspective but can produce interesting results.
Your GoPro comes with an assortment of straps. You can use these to secure it to your boot. This creates a perspective that's almost at ground level and works well when you want to capture the sense of speed that comes with barreling down a hill. The camera will capture the slope in great detail, but you might not be able to get more than a few usable minutes of action due to snow build-up.
Swivel mounts & selfie sticks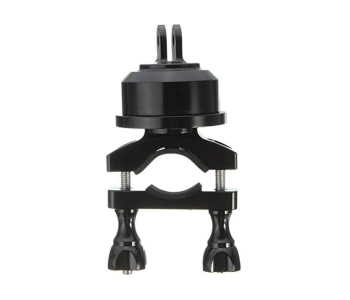 You'll need a selfie stick or swivel mount if you want to make videos in a third-person perspective. They require a more hands-on approach than personal mounts and aren't as beginner-friendly. The tradeoff is that the videos you're able to make thanks to them are dynamic and let you show off your skiing prowess.
The Hooshion 360 Degree Swivel Helmet Mount was made famous by motorbike users but works just as well for skiing. It has a hole through which you pass a telescopic rod. The GoPro goes on one end of the rod, and a counterweight sits at the other end to provide balance. You can screw the rod in place to get a fixed shot or let it swivel around freely as you slalom.
The first method produces videos with you at the center and the scenery moving backward as you race downhill. The second method is less predictable since the camera moves as you do, but it also makes for some stunning panorama shots while catching you from every angle. Keep in mind that this kind of mount is unwieldy and heavy because of the counterweight. You should avoid using them on crowded slopes.
In terms of bulk, the GoPro Pole Mount is the complete opposite. This small piece of gear fits onto your ski pole, reducing the weight and number of additional accessories. It turns the pole into a selfie stick with lots of different applications. You can point the GoPro away from yourself to record the scenery or bring the pole closer to the slope without fear of losing your camera. Alternately, you can film yourself from various angles if you reverse the GoPro's position on the pole.
If you snowboard as well as ski, you can use a regular selfie stick too, like the Sandmark Pole Compact. The Pole is waterproof and rust-resistant and weighs just 7 ounces. It is 10 inches long when compressed but extends to 25 inches! The rubberized handle is comfortable to hold and textured so it won't slip out of your grasp.
The last product in this category is an oddball. Veho's Muvi X-Pack is a backpack with an adjustable action camera mount. There's a baseplate inside the pack which reduces vibration. You attach as many as three aluminum boom poles to it and can position each at an angle. That lets you come up with unique POVs like an overhead view or a much better panorama mode than you could get with a helmet. The mount is more expensive than others, but you get a high-quality backpack along with it.
Gimbals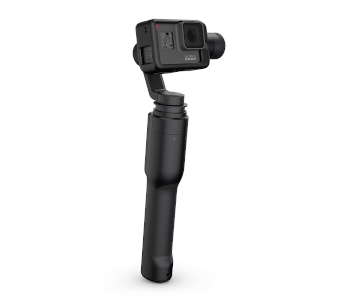 The HERO7 Black has outstanding image stabilization thanks to HyperSmooth. Older GoPro models aren't as advanced, so you'll need a gimbal if you want to create movie-grade videos free from shaking.
The Karma Grip is the official and best GoPro gimbal out there. It has a tubular design and features buttons for easier camera control. The Karma Grip features motorized components that keep the GoPro pointing straight ahead no matter how you move it. Best of all, you don't need to hold the Karma Grip as it has an attachment that's compatible with different GoPro mounts!
One of the four buttons is used to lock the camera in place at an angle if you don't like the Grip's default mode. A Li-ion battery powers the gimbal for two hours and recharges through a USB-C cable you can also use to transfer footage from the GoPro without removing the gimbal.
Other Accessories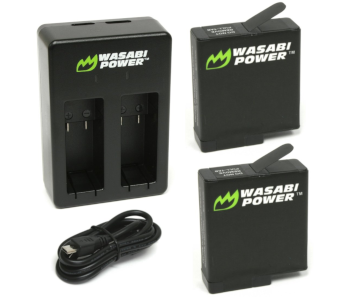 GoPro has many standout features, but good battery life is not one of them. That's why you need reliable extras like the Wasabi Power Battery & Dual Charger. This combo consists of two Wasabi 1,200mAh rechargeable batteries and a charger that juices up both simultaneously. The charger also has USB-C and MicroUSB ports so that you can charge your phone or GPS alongside your GoPro's batteries. You'll need to have a HERO5 Black or newer to use the batteries since they aren't compatible with older models.
While your GoPro can take a beating, it isn't completely protected. No one wants their ski adventure to conclude with a broken screen, which is why you should buy the Kupton Screen Protector. The kit contains two shatterproof tempered glass plates, one that covers the lens and another for the touchscreen. The plates are completely transparent and have no impact on the quality of your videos.
GoPro models older than the HERO5 aren't waterproof, so you'll need to use a housing when skiing. The housing might fog up and ruin your videos. Luckily, you can get CamKix Anti-Fog Inserts and not have to worry about it. The inserts are made of a combination of silica gel and cellulose fiber which soak up all the moisture inside your GoPro's housing. They're small enough to fit on either side of the camera, and you can use them multiple times.
Snow is notorious for creating glare, especially on sunny days. You'll want to invest in a proper lens filter kit like the one from Newer to counteract this. The essential items in that kit are the CFL filter and an assortment of neutral density filters. Equipping the CFL filter will eliminate distracting reflections and add more color to the video. Neutral density filters limit how much light the GoPro's sensor registers. Using them results in more balanced videos that are rich in detail and not ruined by overexposure.