GOTRAX Hoverfly E3 Hoverboard Review
3D Insider is ad supported and earns money from clicks, commissions from sales, and other ways.
Self-balancing hoverboards, usually simply called hoverboards, have been around for nearly a decade. They are light, portable, and fun alternative means of transportation which could also double as toys for kids.
The balance between power and portability has always been tough to perfect for hoverboard manufacturers. Ease of use must also be preserved – it is one of the biggest selling points of hoverboards, after all. With those qualifications in mind, how does the Hoverfly E3 from GOTRAX fare?
Overview
GOTRAX is a company that specializes in electric rideables with a portfolio consisting of e-bikes, electric scooters, and hoverboards. Despite only being founded in 2017, the GOTRAX brand quickly shot to popularity thanks in no small part excellent sales on their hoverboards and collaborations with famous celebrities and sports personalities.
The E3 hoverboard is one of two models categorized under the GOTRAX E series. This series, launched in 2020, represents the best hoverboards the GOTRAX has to offer – powerful motors, large batteries, and rugged tires. When you buy from the GOTRAX E series, you can be sure that you're buying one of the best hoverboards ever developed.
Build quality and visual appeal
The E3 hoverboard makes a good first impression. The futuristic look gives the E3 a sleek and striking appearance that is sure to make it stand out among other hoverboards. Even the hubs of the wheels have a unique pattern that goes well with the rest of the design. The E3 hoverboard is available in three colors – black, silver, and blue.
The body of the hoverboard is mostly made of tough plastic. The material keeps the hoverboard at a lean 22 pounds but feels tough enough to withstand riding in rugged conditions. This is important considering the purpose of the E3 as one of the most premium and robust hoverboards that GOTRAX has to offer.
The E3 comes with convenient built-in handles on both the front and rear sides, making it very easy to carry around. If you ride a hoverboard on your regular commute or to run chores around town, you will certainly come to appreciate having easily accessible handles.
Power and battery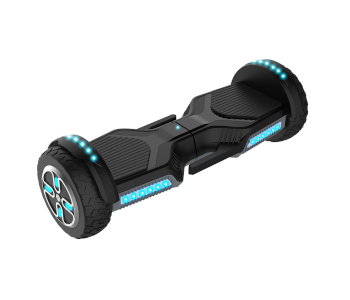 Power is a huge selling point for the E3. With a 500W motor, the E3 is one of the most powerful hoverboards in the lineup of GOTRAX. The E3 has a maximum speed of 8.1 mph – faster than any of their other hoverboards by a significant margin. However, GOTRAX only recommends a 220-lb. maximum capacity which is somewhat of a standard load capacity value for most hoverboards.
There's one other thing that the E3 has going for it – an off-road capability. Its 8.5-inch all-terrain tires are larger and more rugged than usual, making it more suitable for navigating through rough and uneven terrain. The deep treads give the tires an excellent grip even on soft or slippery surfaces.
The 36V battery of the E3 is quite underwhelming. Given how demanding the hoverboard's motor and all-terrain features are, the battery of the E3 only allows it a maximum distance of 5 miles. This is especially disappointing when we consider that some of the other GOTRAX hoverboards can cover much larger distances on a single battery cycle. For instance, the slightly cheaper and similarly all-terrain SRX PRO is rated for a maximum distance of 7.5 miles.
Safety features
When it comes to learning how to ride and balance on a hoverboard, the E3 is easily one of the best. This is possible through the Self-Balancing Mode, a mode where the internal gyroscopes of the hoverboard take over so that it can self-level. This drastically reduces the chances of someone wiping out on the hoverboard, although that's no excuse to lean on it to a degree that feels dangerous.
All GOTRAX hoverboards have undergone UL 2272 certification. This means that its batteries and other electrical components have gone through comprehensive testing that exposes them to all circumstances that a hoverboard will encounter. This includes drops, sudden impacts, continuous operations, and exposure to rain.
While the hoverboard market seems to have gotten over the spate of hoverboard-related incidents of the past few years, customers are still advised to ensure that they are getting UL 2272-certified hoverboards. Also related to the responsibility of hoverboard users is the wearing of proper safety gear. Even a crash on a slow-moving hoverboard can easily lead to serious injuries.
Lights and sounds
An important part of hoverboard safety is visibility in darkness, especially if you like to ride one at night. Fortunately, the E3 has got that area covered. The E3 not only has LED headlights, but it also has lights on the hub of the wheels and the mudguards. Simply put, the E3 is one of the brightest hoverboards you could get.
Bluetooth speakers have been staple features of hoverboards for the last couple of years, so it's a relief to see that that GOTRAX did not forego this feature with the E3. Pair the speakers with your phone and you can listen to music while you ride the E3. This is a much safer alternative to listening to music with headphones, which can keep you from hearing the sounds of vehicles in your surroundings.
Price
The E3 is the most premium hoverboard from the E3 line. As you might expect, it also comes with a premium price tag. At around $229, the E3 is their most expensive hoverboard and is more than twice more expensive than either the Hoverfly Eco or the Hoverfly Ion. Even outside the GOTRAX brand, you can probably find a lot of other hoverboard models that are cheaper than the E3.
Should you buy it?
Now comes the ultimate question – is the GOTRAX E3 hoverboard a good product considering its features and its price?
To answer that question, we'll have to figure out for whom the E3 has been developed and is being marketed to. The Self-Balancing feature makes it quite clear that the E3 is perfectly suitable for beginners. It's one of the easiest hoverboards to balance on for both kids and adults.
The E3 is also a rugged and very powerful hoverboard. The 8.1 mph maximum speed is by no means the fastest we've seen in hoverboards but feels like enough of an upgrade from the usual 7 mph limit of the other GOTRAX hoverboards.
All-terrain wheels are always nice features to have on hoverboards, especially if you're the type to ride off the beaten path. The extra-large wheels, however, are a bit of a downside if you like your hoverboard to be as portable as possible. This is somewhat offset by the inclusion of built-in carrying handles.
Although the E3 appears to be a good candidate for a commuting hoverboard, the 5-mile maximum distance is a bit concerning. Take note that this is a maximum value based on ideal conditions. Running near to maximum speed, riding over uneven terrain, or carrying a load near the maximum capacity can significantly reduce this distance. Batteries also deteriorate over time. With all these factors considered, relying on the E3 to commute over distances close to 5 miles isn't exactly a comforting thought.
However, the E3 is perfect for running small chores around town. If you just need to travel for a few blocks, then the E3 can take you to your destination quickly. It's also quite stylish, especially if you ride it at night.
While we wouldn't use the GOTRAX E3 as a replacement for a bike or electric scooter, it remains one of the best hoverboards in the market today. It's rugged, powerful, fast, and looks stylish. If you're looking for a high-end hoverboard and you're willing to spend a little more than usual for premium features, then you cannot go wrong with the GOTRAX E3.