GTX Graphics Cards Black Friday 2019 Deals
3D Insider is ad supported and earns money from clicks and other ways.
Nvidia's GTX graphics cards have dominated the PC-gaming world for years. Their ability to provide high-quality graphics performance continues to impress, and despite the increased competition from the likes of AMD, GTX graphics cards continue to be the go-to option for many gamers and graphics professionals.
Black Friday is set to offer a number of deals on these cards, and below we have listed some of the best for you to make a note of ahead of the big day. Major deals are expected across the board for these components, making now the perfect time to invest in the upgrade your PC is crying out for.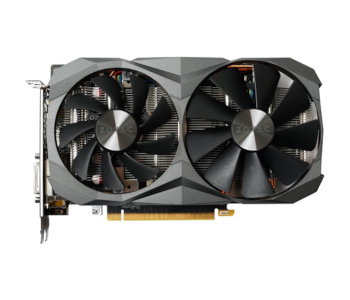 ZOTAC GeForce GTX 1060
Original Price: $229.99
Black Friday Price: $209.99
The GeForce GTX 1060 has been a popular choice among PC gamers for a while, thanks to its ability to comfortably run games in full HD. On top of this, the card also offers low power consumption and runs very quietly compared to a lot of other cards, making it both powerful and efficient.
When overclocked, the GTX 1060 can also run VR games remarkably well. It can even run regular games at 1440p, making it excellent value for money at this price point.
One of the reasons behind the GTX 1060's impressive performance is its use of Nvidia's Pascal architecture, which is widely regarded as the most advanced GPU architecture in the world. The card also features 1280 CUDA cores, which is a significant increase over the older GTX 960's 1024.
The card's performance can also be adjusted using FireStorm, which is a special tuning software developed by ZOTAC. This software gives you control over a number of aspects of the GTX 1060, including all the main elements such as clock speed, fan speed, and voltage.
The 1060 also includes a feature called Ansel, which you can use to capture 360-degrees screenshots in-game. You can then edit and view these screenshots on a mobile device or a VR headset, allowing you to create some interesting imagery.
MSI GeForce GTX 1650 Graphics Card
Original Price: $199.99
Black Friday Price: $154.99
The GeForce GTX 1650 is a dual-fan graphics card designed to act as a budget-friendly version of some of the more powerful cards on the market. It isn't going to blow your mind with stunning 4k graphics or smooth VR content, but if you are looking for a card that can comfortably run games at 1080p with high frame rates, it is an excellent option to consider.
To give you an idea of its performance, the card is said to be twice as fast as the likes of the GTX 960, as well as 50% faster than the GTX 1050. It also outperforms the 1050ti, albeit with finer margins.
This improvement in performance comes primarily from the fact that the card has more CUDA cores than both the 960 and the 1050s. However, the GTX 1650 is also clocked slightly higher than these cards, and its architecture supports concurrent FP32 and INT calculations, providing an extra boost.
All of this makes the GTX 1650 a very reliable card at this price point, and thanks to its modern architecture, it should also provide a decent level of futureproofing, at least until 4k gaming becomes the standard. The card is also a great option for compact builds, such as a PC that isn't primarily used for gaming.
Other Black Friday Deals