List of Handheld Game Consoles: The Best One for 2020
3D Insider is ad supported and earns money from clicks, commissions from sales, and other ways.
The best handheld game consoles are the ones that can keep you occupied and entertained for hours anywhere you go. While desktop consoles are more powerful, you really could not bring them anywhere with minimal effort, it's one of their major flaws.
To tide you over whenever you travel, your best bet is getting a portable gaming console. They have the power to run the latest titles but at a much lower graphical setting. In addition to that, they are also lightweight and extremely portable. This allows you to stash them inside your bag or pocket so you can quickly pull them out when you require your gaming fix.
An excellent feature of the modern handheld gaming console is that they are, for the most part, well-balanced machines that offer power, long battery life, and exceptional entertainment value.
Handheld Game Console Comparison
There are a lot of options available when it comes to portable gaming systems. Still, Nintendo has been the leader in this category for a few decades now. Although now there is a bit of competition, with the launch of the Switch, it has swung back again into Nintendo's favor.
Let's take a look at the best handheld game consoles so you can have an easier time making that decision on what to get.
Nintendo
Switch
Nintendo
Switch Lite
Nintendo
3DS XL
Nintendo
2DS XL
PlayStation
Vita
GPD XD
Plus
Size
4 x 9.4 x 0.6
inches
3.6 x 8.2 x
0.6 inches
3.7 x 6.3 x
0.9 inches
3.4 x 6.3 x
0.9 inches
3.4 x 7.2 x 0.6
inches
6.1 x 3.5 x
0.9 inches
Weight
399 grams
277 grams
329 grams
261 grams
219 grams
313 grams
Display
6.2-inch
Touchscreen
LCD
5.5-inch
Touchscreen
LCD
4.88-inch
Upper, 4.18-
inch Lower
Touchscreen
4.88-inch
Upper, 4.18-
inch Lower
Touchscreen
5-inch LCD
Touchscreen
5-inch IPS
Touchscreen
Resolution
1280 x 720
1280 x 720
800 x 240
800 x 240
960 x 544
1280 x 720
CPU
NVIDIA
Custom
Tegra
NVIDIA
Custom
Tegra
4x VFPv2
Co-Processor
4x VFPv2
Co-Processor
ARM Cortex-
A9 core
MediaTek
MTK8176
GPU
NVIDIA
Custom
Tegra
NVIDIA
Custom
Tegra
ARM11
MPCore
804 MHz
ARM11
MPCore
804 MHz
SGX543MP4+
PowerVR
GX6250
Storage
32 GB
32 GB
4 GB
microSD
4 GB
microSD
1 GB
64 GB
Expandable
Storage
YES,
microSD
YES,
microSD
YES,
microSD
YES,
microSD
YES, Sony
Memory Card
YES, SD
Card
Connectivity
Wi-Fi,
Bluetooth
Wi-Fi,
Bluetooth
Wi-Fi
Wi-Fi
Wi-Fi,
Bluetooth
Wi-Fi,
Bluetooth
Video
Output
YES
NO
NO
NO
NO
NO
Battery
4310 mAh
Lithium-ion
3570 mAh
Lithium-ion
1400 mAh
Lithium-ion
1300 mAh
Lithium-ion
2210 mAh
Lithium-ion
6000 mAh
Lithium-ion
Battery Life
Up to 8 hours
Up to 7 hours
Up to 7 hours
Up to 7 hours
Up to 4 hours
Up to 5 hours
Charge
Time
3 hours
3 hours
2.5 hours
2.5 hours
2.5 hours
3 hours
The Best Handheld Game Consoles
Our Top Pick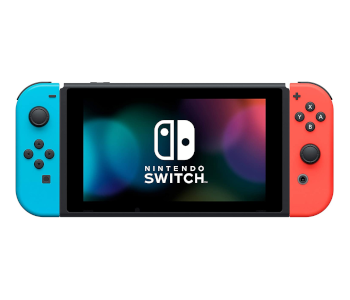 Retail Price: $390
The Nintendo Switch is probably the company's best console ever. It also happens to be a handheld making it one of the most versatile gaming machines on the market. You will be able to use it on the go like most handhelds or plug it into a widescreen TV and enjoy it from the comfort of your home.
You can think of the Switch as a hybrid console. The entire experience is as seamless as you can imagine whether you want to play on a big screen or not. This is one of the reasons why it's one of the most popular game consoles with developers jumping on board to fill up its game library.
There are the usual suspects that you expect from a Nintendo console like Mario Kart, Legend of Zelda, Animal Crossing, and Pokemon. Third-party developers and publishers have also joined in and put up titles like Dark Souls: Remastered, The Witcher 3, Minecraft, and a lot more. A majority of the most popular games from independent groups are also available, giving you a lot of choices.
The Device
The Switch is a bit larger than the usual handhelds, especially when its two controllers, called Joy-Cons, are attached to the screen. You can quickly slide these off and open the kickstand allowing you to play games without suffering from fatigue.
The Joy-Cons are rather small, especially when detached. They are not the best game controllers on their own, but you can always get a Pro Controller to make your life a lot easier. When you use it as a traditional handheld gaming system, though, the attached Joy-Cons work well and offers an excellent experience.
The Switch is a reasonably large device, but being able to play games at console-quality on its 6.1-inch screen at 720p resolution is astounding. It's the most powerful handheld game console since it will allow you to play Triple-A games.
There is a bit of an issue with the power that it packs. You do sacrifice a bit of battery life. It is still capable of lasting up to five hours of gaming, but running more graphics-intensive games can reduce this significantly. You will still get your gaming fix and decent playtime, but you can feel that there is room for more.
You can always plug it into a portable power bank. Still, it will add significant weight to your already large setup. However, if you are willing to deal with the extra bulk, it will give you that versatility that the Switch promises to allow you to game for hours without a wall socket near you.
The design of the Nintendo Switch is definitely unique. Still, the ability to play console-quality games while you are on the plane or a long bus ride home is absolutely welcome. The game choices are also excellent, giving you the best of both Nintendo's library and those from third-party developers.
Why Get the Nintendo Switch
Hybrid design gives you versatility
Excellent game selection
Built-in multiplayer with the Joy-Con
Lightweight console-quality device
An Excellent Alternative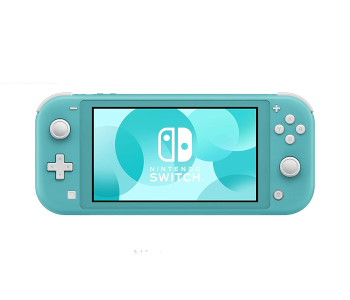 Retail Price: $290
If you are looking for a Nintendo Switch experience without the added bulk, then its Lite sibling is definitely for you. The Nintendo Switch Lite is more of a handheld system, but it also sacrifices some of the versatility of its larger older brother.
With a significantly smaller size, the Switch Lite does sacrifice some of the features that make the Switch an incredible game console. The first thing that you will notice is that the Switch Lite does not come with a dock. This means that you will not be able to play your favorite games on your large screen TV.
The second feature that you will be sacrificing with the Switch Lite is the Joy-Cons. The controllers on this handheld are permanently attached to the body, so playing some impromptu Mario Kart multiplayer is going to be a little harder.
Finally, a smaller size also means a battery with much lower capacity and lesser playtimes. However, you can still mitigate this with external battery packs, which are now easier to carry around since the Switch Lite is smaller and lighter.
Even though you are sacrificing some features and capabilities compared to the Switch, you still get the full Nintendo gaming experience. The complete game library is open to you, so whether you want to play Nintendo exclusives like Mario, Animal Crossing, Zelda, and Pokemon or the wide selection of third-party games. The Switch Lite will have no problem playing them as it comes with similar hardware.
The Device
The Switch Lite features a 5.5-inch display that allows you to play games at 720p resolution. It also weighs significantly less than the Switch at only 275 grams. It's not really much in terms of weight difference, but the overall package feels tighter and lighter compared to the Switch.
Apart from the build and size advantage that you get, you will also enjoy the significant price difference. At around $100, if you are only after the Nintendo experience, this is an excellent alternative.
Whether you are looking for a budget handheld game console or just not ready to get its bigger brother, the Nintendo Switch Lite is an excellent buy. You do make a couple of sacrifices here and there, but as long as you understand what you are compromising, this is still one of the best handheld game consoles out there.
It's the full Switch experience without the bulk and the added accessories. The Switch Lite is more of a dedicated handheld console compared to the Switch's hybrid design, and if that's your thing, this is a great device to have.
Why Get the Nintendo Switch Lite
Elegant, lightweight design
Outstanding game library
Much easier to carry around
Affordable for its gaming capabilities
Most Portable Game Console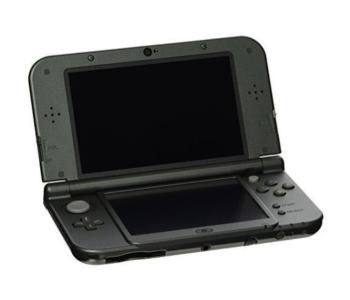 Retail Price: $325
Even with the focus on both the Nintendo Switch and Switch Lite, there is still room for a much older handheld game system. The New Nintendo 3DS XL is still an excellent choice for gaming on the go.
The main feature of this console is its dual screen design allowing you to play games with extra screen real estate for added controls. This gives you some added flexibility as you game since you get access to secondary game details like maps and inventories on the bottom screen. In contrast, the game runs on the top. The top display can also be adjusted, creating a stereoscopic image showing you a 3D effect.
One of the advantages of getting the New 3DS XL game system is its massive game library. The backward compatibility with all of the DS games is definitely something to look forward to, so you will need to get this console to play all of it. You virtually gain access to more than 15 years of games from DS favorites to the latest ones like Fire Emblem: Awakening, Pokemon Sun and Moon, and Legend of Zelda: A Link Between Worlds.
The Device
The New 3DS XL comes with a 4.88-inch top display and a smaller 4.18-inch on the bottom. Similar to its predecessors, it sports a clamshell design with face buttons on the bottom half.
The difference between the New 3DS XL and the previous version is the C-Stick right above the face buttons. It acts as a secondary joystick that you can use for better controls in many of the games that support its function.
The new iteration also comes with an updated Super Stable 3D. This feature detects the angle of your head with respect to the screen. It automatically adjusts the 3D effect to show you the optimum view at all times.
On the inside, the New 3DS XL comes with more power thanks to additional processing cores and an increase in RAM capacity of up to 256 MB. There is also an NFC chip that you can use with your Amiibo. Storage also gets an upgrade with support for microSD cards rather than the older SD cards.
The New 3DS XL is an extremely portable game console. The overall package is optimized to make sure that it can fit in pockets, bags, or a small purse. Lasting up to 7 hours on a single charge, it is capable of providing you with unparalleled enjoyment whenever you are on the go.
Why Get the New Nintendo 3DS XL
Extensive game collection that spans decades
Exceptional battery life
Incredibly portable with its clamshell design
Innovative 3D viewing display
Best Budget Handheld Game Console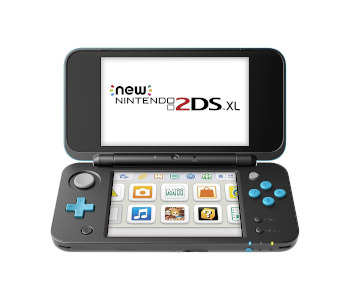 Retail Price: $149
The New Nintendo 2DS XL is exactly what you are thinking of. It's stripped down version of the 3DS XL system with all the essentials and without the gimmicky features.
The things that make the New 3DS XL good, also boosts this device. They share a similar library, which spans decades since it includes games from their predecessor, the Nintendo DS. The backward compatibility is definitely a plus allowing you to play older gems without having to get a different device. Whether you want older titles of Legend of Zelda, Animal Crossing, or Pokemon, you will surely be able to do that with the New 2DS XL.
Apart from the older titles, you also have access to the latest games from Nintendo, third-party developers, and even independent groups so you can enjoy a wide variety of games. You should have no problem playing your favorite games from well-known publishers like Capcom, Square Enix, and Atlus.
The Device
When it comes to hardware, both the New 3DS XL and 2DS XL are very much alike. You get the additional power with the updated processor, the C-Stick, and NFC for Amiibo support.
The main difference between the two is that this system does not have the auto-stereoscopic 3D feature of the 3DS. This means that Nintendo can make this a lot thinner and lighter for better portability. They also moved the microphone and camera to the hinge, further slimming down the top half of the game console.
It does support microSD storage, but this time is now more accessible via a flap allowing you to get it quickly if the need arises.
The New Nintendo 2DS XL is not the latest game console out there, and it can sometimes feel a bit dated. However, if you are looking for a way to play older classics, especially those from the DS era, this is one of the most accessible ways to do it.
This is one of the best travel game consoles. The portability is unparalleled and coupled with excellent battery life, you can play on it for hours. In terms of power and performance, you will still prefer the Switch, but this makes for an excellent alternative when you run out of batteries or a way to play those classic titles.
Why Get the New Nintendo 2DS XL
Sturdy and portable clamshell design
Game library is unmatched
Second screen has many uses in games
Best for Sony Fans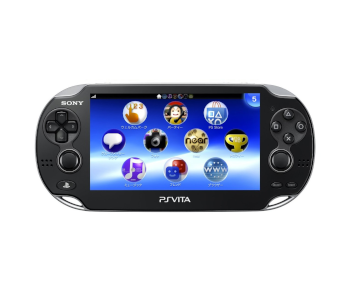 Retail Price: $499
The handheld game console market is not all Nintendo. In fact, Sony has a horse in the race with the PlayStation Vita, even though it is a bit old. However, if you have a PlayStation console in your living room, the Vita is an excellent way to stay in that ecosystem and even taking advantage of it for remote play.
The Vita is the handheld version of the PlayStation 3. You can tell since all of its exclusives like Uncharted and God of War have Vita versions. On top of that, it does have a good selection of games, especially Triple-A titles like Assassin's Creed III: Liberation and Gravity Rush. The gem, though, is its extensive collection of JRPGs and indie games.
The Device
The Vita is a device that comes with hardware that makes it more powerful than the PlayStation 2 and an excellent handheld companion to the PlayStation 3. A 5-inch screen sits in the middle of the device, and the characteristic PlayStation controls are found on both sides. It's certainly a portable device that allows you to play the best games of its time.
The display is a bright OLED with a resolution of 960 x 544. Although low for today's standards, remember that the Vita is about a decade old, and this is pretty decent for its time. It also sports a touchscreen display giving you an alternative when it comes to navigation. Although there are games that take full advantage of this capability.
Battery life is also decent able to last up to 6 hours of game time. It also charges quite quickly, getting you to full battery capacity in under 3 hours. Of course, you can always plug in an external power pack if you are traveling and will not have access to a wall socket.
One problem with the Vita is Sony's choice of using a proprietary memory card for storage. It does have an extensive digital game store, and not being able to choose your own storage device can be a problem for some. However, it's still available, so you should have no issues getting a high capacity one and enjoying your games.
The Sony PlayStation Vita is an excellent handheld game console. It is slim and sleek that still holds up well in today's design standards. The display still looks good, and the battery life can still provide you solid hours of gaming. Overall, the Vita can still compete with the best ones in the market today.
Why Get the Sony PlayStation Vita
Slim and sleek design
Great looking display
Excellent battery life
Third-Party Option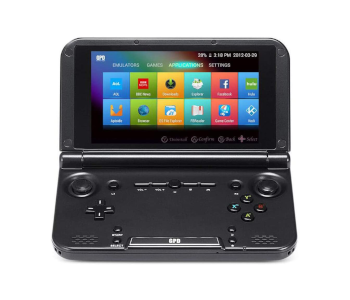 Retail Price: $225
The GPD XD Plus is not really a console in the strictest of sense, but does it come with a lot of games. If you are looking for a third-party option with access to the best games from different platforms, this is the handheld gaming device for you.
If we really try to define this machine, it is an emulator. It's a device that allows you to run games from other game systems such as the PSP, GameBoy Advance, N64, SNES, and others. It definitely has an extensive game library that will allow you to play the classics.
At its core, it's not really a dedicated gaming console, but more of a tablet with built-in controllers. For one, it runs on Android, and it will function like one. This means that you can connect to Wi-Fi and download Android apps on top of the games it can support. Browsing, watching videos, and emailing will be familiar, especially if you are used to Android systems.
The Device
At first glance, the GPD XD Plus looks a lot like the Nintendo 3DS XL. It has a similar clamshell design, but the main difference becomes obvious when you open the lid. This one does not come with a secondary screen but a selection of buttons apart from the usual face buttons. You can also find two analog sticks.
It does come with a bit of power thanks to its MediaTek MT8176 processor that offers a base frequency of up to 2.1 GHz. You will also find 4 GB of DDR3 RAM, which is enough to power emulators from older systems. You should have no problem running the classics but will run into some issues with PS2 and GameCube titles.
The 5-inch 720p screen is definitely welcome, allowing you to play your favorite titles in high-definition. Although much older games may not support it, it still helps when you are watching YouTube videos or movies that you have saved.
Battery life is decent, allowing you to play games for 4 to 5 hours. It's definitely an excellent companion on long trips since you have a lot of different games and platforms to choose from, so you will not get bored that quickly.
The GPD XD Plus is one of those handheld game systems that need a bit of tweaking as you use it. It's not for everyone, since it's not ready to play out of the box. You will need to find the emulators and games to run everything. However, if you are the type of person who loves all of these things, this is the perfect game system for you.
The variety of platforms and games that you can play with this is amazing. The added functions of being an Android tablet is also excellent, allowing you to do a lot more than just play your favorite games.
Why Get the GPD XD Plus
Supports multiple game platforms
Portable, lightweight design is excellent
More functions than your traditional game console
What You Need to Know Before Getting a Handheld Gaming System
There are a lot of handheld game consoles available on the market. The one you need will depend on how you want to use it. So, let's take a look at some of the common categories that you might check out before getting one for yourself.
Size and Portability
As a handheld gaming system, you obviously want it to be small and portable enough so you can carry it around. Most of these consoles are, but some are definitely larger than others like the Nintendo Switch. However, it still proves to be portable enough to not give you a hard time carrying it around.
Of course, you also do not want it to be too small since that will reduce the size of the display, and your gaming experience will be compromised. There needs to be a balance between an excellent gaming experience and portability.
This is where your decision will come in. Whether you are looking for an extremely portable machine or one where you can play the best games but will need to probably carry extra weight. One device may be better for your needs than others, so it's best to pick out the one that you think is right for your needs.
Game Library
Another thing to consider when getting a handheld console is the game selection. You do not want to be stuck with a device that can only play a handful of games. Also, just as important is the support of game developers and publishers, especially when it comes to launching the latest titles.
Nintendo seems to have perfected this balance of game exclusives and the latest Triple-A titles on their handhelds. The Switch is a fine example of that where you get all the Nintendo staples and a lot more with their third-party developer support. It will not seem like you are missing out since you can still play the best games like The Witcher 3, and the latest Pokemon releases.
The GPD XD Plus is also an excellent example of a vast game library, especially if you are into the classic games. The Vita also comes with PlayStation exclusives and a selection of JRPGs and indie games that are not available on other devices.
Ultimately, your choice will depend on what games you like to play. If you are a Nintendo fan, go with their system. A lover of classic titles, the GPD XD Plus is for you. If JRPGs are your thing, the Vita is something that you'll love carrying around with you.
Battery Life
Another feature that you will need to take a closer look at when choosing the right gaming device for you is the battery life. You don't want to set out on a long trip and have your source of entertainment shut down on you in the middle. If you are a frequent traveler or looking at a long daily commute, you want a console that's going to get you through it without the need for charging.
Most of these handhelds see battery life as a priority and see to it that they have at least 4 hours of juice on a single charge. However, some are definitely more powerful than others, like the Switch, and are likely to suffer from shorter battery life.
So, it's still about the right balance. If your total commute time every day is about two hours, then any of these is perfect. However, if you make some long trips regularly, then you might want to get one with better battery life or invest in accessories that will help you extend it.
Pricing
Of course, pricing is something to look at, there's really no other way. You might not have the budget, but still want to play certain platforms. The great news is that devices like the Switch Lite make the console accessible to those with a limited budget. You will still be able to play your favorite games without spending a whole lot. There will be some concessions, but if you are after the experience and game library, it's something to consider.
The 3DS XL also comes with its own budget version, the 2DS XL. It's a great thing that Nintendo does give you options when it comes to their systems, so you can still enjoy it even when you could not afford their flagship.
The Best Handheld Game Console for You
With all these to keep track of, it eventually boils down to the game console meeting your needs. There is no question that the best one is the Nintendo Switch since it does come with full-blown console capabilities. Its hybrid nature is absolutely awesome, giving you a whole lot of versatility.
The Switch Lite is an exceptional alternative since it has similar capabilities to its larger sibling. Its only downside is it does not have the 1080p TV support, but if you are after a solely handheld gaming machine, it's the best one to get out there.
The 3DS XL and it's a smaller sibling, the 2DS XL are a little dated but still delivers. They even have exclusive titles that will get you interested in them. One of their advantages over the Switch is their solid battery life that will enable you to play your favorite games on much longer trips.
The PlayStation Vita is one of the older handheld game consoles here, but there is still room for it. It shines with its game library that's filled with JRPGs and indie titles that you will not be able to play anywhere else. It's still a solid game system that you can pair up with your PlayStation 4, allowing you to play remotely anywhere. Imagine playing the best-looking games in the palm of your hands.
Finally, the GPD XD Plus is one of the more unique devices on this list. It's not the system that you expect, but it opens up a vast game library from classic consoles.
All of these are great handheld game consoles. The best one is the device that's going to give you hours of entertainment, especially during times when you can't play on a computer or desktop console.
Wrap Up
There is definitely a lot to consider when it comes to getting the handheld game console for you. As a whole, the handheld console market is a balance between performance, size, battery life, and pricing. The important thing is that it fits your game style, and it's the experience that you are looking for.
The Nintendo Switch is definitely one of the most powerful handheld consoles out there today. However, the Switch Lite comes at a close second and can give you a similar experience without spending a lot. It still boils down to your interests, and if a particular system really encourages it, by all means, get it. If it doesn't, there's surely one that will.