6 Best Handheld Game System Picks for 2020
3D Insider is ad supported and earns money from clicks, commissions from sales, and other ways.
The original Gameboy was released in 1989, and gaming on the go has never been the same since. Sure, today's smartphones can run games with stunning graphics on hardware that outclasses a Gameboy-era supercomputer, but using their screens for input just isn't the same. Lucky for us, some of the world's leading console manufacturers agree.
Modern handheld gaming systems have the same basic premise as old ones and even pay homage to them by allowing emulation. They have built-in physical controls, which makes executing precise or complex combinations a breeze. Smartphones are fine for casual or action games. However, try playing Mortal Kombat on one to instantly see why the tried & true handheld formula still works.
Here are the six best handheld game system picks you can get today. Some are the lead consoles in their manufacturer's current lineup while others appeal to an audience more interested in recapturing their youth with retro gaming through emulation. Whichever group you belong to, you'll never have a dull spare moment again if you get one of our top picks!
Budget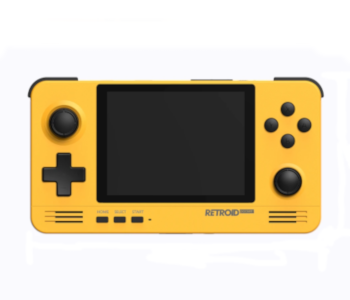 Retroid Pocket 2
4.5/5.0
Screen size: 3.5"
Internal storage: 8 GB
Excellent build quality and ergonomics.
Check Retroid
Best Value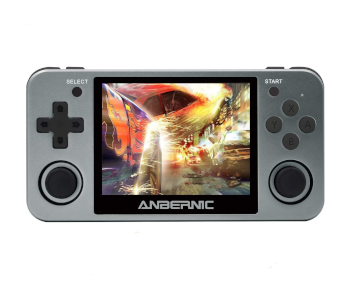 Baoruiteng RG350M
4.6/5.0
Screen size: 3.5"
Internal storage: 16GB
Flawlessly runs games up to the PS1 era.
Check Amazon
Top Pick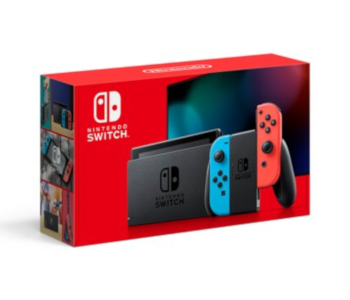 Nintendo Switch
4.9/5.0
Screen size: 6.2"
Internal storage: 32GB
Vast library of fantastic first- and third-party titles.
Check Bestbuy
Soundbars Under $200 Comparison Table
1. Best Overall – Nintendo Switch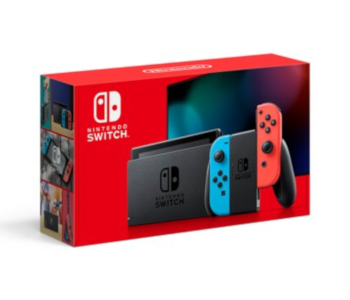 View on Bestbuy
Editor's Rating: 4.9/5
Nintendo chose to compete with the PlayStation 4 and Xbox One by only releasing a handheld console. It has paid off as the Switch is among their best-selling products ever. There are plenty of reasons for this: it's versatile, has innovative controllers, and brings a vast catalog of world-class titles to a format that's portable but doesn't need to be.
Overview of Features
The Switch's core looks uninspiring as it's just a matte black rectangle with a bright 720p IPS touchscreen. You insert cartridges on top, and that's where you'll also find the on button, a 3.5mm headphone jack, and volume controls. The bottom houses a stand that props the Switch up and conceals an SD card slot. Each side has a rail the Joy-Cons slide into when you're playing in handheld mode.
The two Joy-Cons are the Switch's most significant innovation. They're small yet responsive. Each consists of four action buttons, an analogue stick, two special action buttons that serve as Start and Select Home, and a screenshot function. The design might look peculiar at first glance, but things click into place once you realize each Joy-Con can be detached and used as a separate controller for local multiplayer.
You can use the Switch in three modes. Standard handheld mode is the most popular, allowing you to take the console anywhere and get from 4.5 to 9 hours of playtime on a single charge, provided you have the updated 2019 version. You may also dock the Switch and connect USB-C and adapter cables to its dock to play on a tabletop or bed. Lastly, you can connect the Switch to a TV via HDMI and enjoy all your games in crisp 1080p.
Choosing the Switch opens up the world of Nintendo exclusives; franchises like Zelda, Super Mario, or Animal Crossing that have become global phenomenons. Some massively successful third-party titles like the Witcher 3 or Skyrim have also been ported for it. Indie developers are supported as well with games like Cuphead, Celeste, or Stardew Valley making a strong case.
Nintendo's unwavering dedication to local, physical multiplayer is perhaps the greatest advantage the Switch has over other modern consoles. You can hook four Joy-Cons up to a single Switch and play split-screen or connect eight consoles locally, so you don't have to strain your eyes. Online multiplayer is available too, but you'll have to pay a monthly subscription to use it. Doing so gives you access to cloud saves and a back catalog of games for the NES and SNES, so it's a great deal.
What We Didn't Like
The Switch has only 32GB of internal storage, so you'll have to get an SD card if you want to buy games from Nintendo's online store instead of physical copies. The kickstand is made from thin plastic and feels like it could snap with minimal pressure.
Tech Specs
Dimensions: 4 x 9.4 x 0.6"
Weight: 14.1 oz
Screen size: 6.2"
Internal storage: 32GB
Battery life: 4.5-9 hours
Pros
Excellent screen and controllers
Vast library of fantastic first- and third-party titles
Outstanding local multiplayer support
Easily connects to a TV
Cons
Low-quality kickstand
Low internal storage
2. Best Value – Baoruiteng RG350M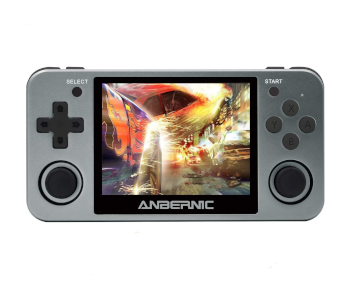 View on Amazon
Editor's Rating: 4.6/5
Why limit yourself to past and current Nintendo games when you could be playing almost every console game made in the 80s and 90s? That's what emulation is for, and the RG350M is among the best handhelds for the task. It has a revamped design, a sharp screen, and four shoulder buttons that smoothly emulate PS1 controls.
Overview of Features
The M in the RG350M stands for metal as its shell is an aesthetic and functional improvement upon the older, plastic version. The system is comfortable to hold and has two pads in the back that prevent your fingers from slipping. It doesn't have a touchscreen like the Switch, but the 640×480 IPS panel has a strong output that makes even the most pixelated NES-era games look sharp.
The dual-core 1GHz processor and 512MB of RAM at the RG350M's heart are enough to run any PS1 game without a hitch. It also supports Nintendo & Sega systems from the 80s and 90s, as well as the Neo Geo. Their sound is handled by a small speaker at the bottom that could get obstructed by your hand in the old design, or you can attach headphones to the jack on top.
The RG350M's controls are designed to emulate a PS1 controller's layout as much as a handheld console can allow. The two analog sticks are at the bottom of either end and accompanied by a responsive directional pad on the left & four buttons on the right. You get four shoulder buttons, two small ones closer to the center, and two that extend downward past the edges. The latter pair is easy to tap and excellent for games where fast reflexes and lots of firepower are key to success.
Internal storage is limited to 16GB, but that's much less of a problem for thee RG350M considering the small file sizes of retro games. However, you can still augment its storage with an SD card. There are two slots for those – one houses a card with the RG350M's software while the other is free for game storage. The device comes with a 2,500mAh battery and lasts for six hours per charge. It has a USB-C port for fast charging and hooks up to TVs through HDMI.
What's Bad About It?
The RG350M has a clunky menu system you'll need to adjust to before it becomes natural. The handheld is a great value, but its metal construction makes it more expensive than similarly-performing rivals.
Tech Specs
Dimensions: 2.8 x 5.7 x 0.6"
Weight: 14.4 oz
Screen size: 3.5"
Internal storage: 16GB
Battery life: 6 hours
Pros
Excellent value for the money
Flawlessly runs games up to the PS1 era
Great build quality and controls
Crisp screen
Cons
Convoluted menu system
More expensive than similar models because of its metal body
3. Sony PlayStation Vita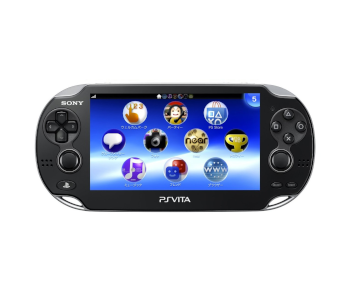 View on Amazon
Editor's Rating: 4.4/5
The PS Vita was released to western markets in 2012, so why are we recommending it eight years later? Because the console itself is still a pleasure to use, and continued support from a diehard community has turned it into one of the most versatile handheld systems on the market. It plays its own and many beloved PS2-era games, supports emulation, and can even stream contemporary titles from your PS4 or PC!
Overview of Features
The Vita was so well-designed that its ergonomics and layout are still among the most comfortable today. It has rounded edges and a control layout similar to a standard PlayStation gamepad with two analog sticks, a D-pad, and four buttons with Sony's instantly recognizable shapes. There are only two shoulder buttons, but a touchscreen in the back can act as more or even control unique gameplay mechanics in some Vita exclusives.
The original Vita's front screen remains one of the best in the business. It's touch-sensitive and among the first major examples of OLED technology. The picture is sharp & detailed, while colors are displayed accurately, especially blacks. The interface is equally impressive. You can rearrange icons, connect to social media, customize its appearance, watch movies, and much more.
The Vita was launched alongside 25 platform exclusives that were later bolstered by titles like Uncharted and Killzone. JRPG lovers will come into their own as the Vita supports many of the genre's classics, most notably Persona 4 Golden. Indie developers realized the Vita's potential long before the Switch's, so you can experience native versions of old favorites like Terraria, Minecraft, or Spelunky.
Sony has dropped official Vita support, but the console is far from dead thanks to its dedicated community. Nintendo 64 emulation has been introduced recently, and the Vita can already successfully run PSP, PS1, and old Nintendo & Sega games. You can hook the Vita up to your PC or PS4 through HDMI and stream current games, provided you have a PlayStation account or NVidia GPU, respectively.
Proprietary memory cards were the single worst thing about the Vita for years. The games and memory cards were expensive and hard to come by, limiting the enjoyment you could get from the Vita. You can now get custom-made inserts with SD card support to mitigate this.
Are There Drawbacks?
The Vita isn't being produced anymore, which means you'll either have to get it from resellers or at inflated prices. It has a non-removable battery good for only 3-5 hours per charge.
Tech Specs
Dimensions: 4 x 7.2 x 0.7"
Weight: 9.2 oz
Screen size: 5"
Internal storage: Not specified
Battery life: 3-5 hours
Pros
Exceptional versatility thanks to community support
Excellent screen
Good ergonomics
Solid catalog of original releases, indies, and PS2 remakes
Cons
Non-removable battery with a mediocre capacity
Expensive and hard to come by nowadays
4. Nintendo Switch Lite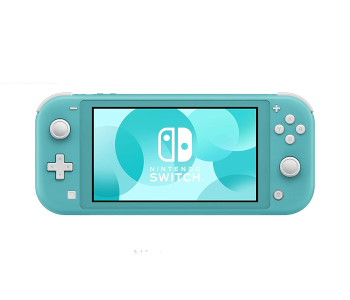 View on Amazon
Editor's Rating: 4.4/5
Are you mostly interested in the Switch's handheld aspect or can't find it at acceptable prices due to shortages? In that case, the Lite version is the perfect alternative. Everything about its core hardware is the same so that you can play the majority of Switch games as fluidly as with the regular version. However, the Lite cuts down on features some users might find essential, so it's a tradeoff you'll have to consider.
Overview of Features
The Switch Lite looks very similar to its older brother, but there are significant differences. It's colorful as the entire system is either yellow, blue, or light gray. It's also better made since there are no moving parts. The port layout & selection is the same, as is the screen's resolution. The panel is slightly smaller at 5.5 inches, so you're getting better picture quality since the pixels are smaller.
The Joy-Cons have undergone the biggest transformation. They're fixed in place now and don't need to be identical since you can't operate the Lite with just one. That means Nintendo was free to replace the four buttons on the left with the superior D-pad customers have enjoyed for years.
The Lite's handheld experience is arguably superior to the original Switch. It's smaller and lighter, so you can find room in a backpack more easily and get some exploring done in Animal Crossing during a break. The single-piece design is robust and means you never have to worry about the Joy-Cons slipping off or getting lost. Battery life is the only feature that's worse; the Lite can work for 4-6 hours, like a pre-2019 Switch.
What We Didn't Like
The Lite is a great handheld in its own right, but it's impossible not to judge it based on what you're losing compared to the Switch. There's no docking to a TV, no Joy-Con splitting, and no support for Nintendo's unique products like the Labo learning set and Ring Fit Plus.
Tech Specs
Dimensions: 3.6 x 8.2 x 0.6"
Weight: 9.8 oz
Screen size: 5.5"
Internal storage: 32 GB
Battery life: 4-6 hours
Pros
Cheaper than the original without compromising core hardware
Better build quality and controller layout
Improved portability
Lower cost
Cons
Can't connect to TVs
Lacks support for games that don't work in handheld mode
5. Nintendo New 2DS XL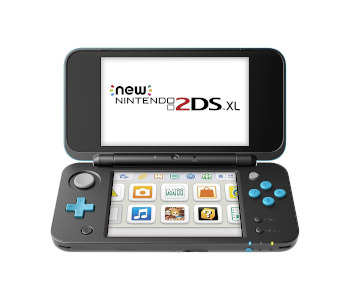 View on Amazon
Editor's Rating: 4.2/5
The third Nintendo handheld we're reviewing isn't a slimmed-down version, but a remake of the wildly popular 3DS. Don't let the New 2DS XL's name confuse you – it's more than capable of handling the 3DS's excellent games library. Its only omission is the lack of a 3D camera used in a handful of releases most users won't miss anyway.
Overview of Features
The New 2DS XL brings back the original 3DS's aesthetics with a few changes. The most notable is its hinge, which now protrudes from the handheld's back. The microphone hole and power button that were originally on the 3DS's top face are now on the hinge, which might explain its new position. The stylus and openings for SD cards & cartridges are now in the front.
The control layout remains largely unchanged, with circular & D-pads on the left. The right has seen an introduction of a small C-stick positioned above the Start, Select, and input buttons. The upper screen has a smaller bezel than before and boasts bright, vibrant colors.
So, why would you want to get the New 2DS XL when the Switch surpasses it in almost every way? The unique dual-screen setup seen on the 3DS makes emulation on the Switch difficult. You wouldn't want to miss out on the 3DS's library, though, especially if you're a fan of JRPGs.
The 3DS was among the best consoles for the genre, seeing landmark games like Bravely Default and beloved entries in the Shin Megami Tensei series. Even if you aren't the JRPG type, you'll still get to enjoy some of the most iconic titles from Nintendo's Metroid, Mario, Zelda, and Donkey Kong franchises.
The New 2DS XL has Wi-Fi and access to Nintendo's eStore. Taking advantage of these opens up an even greater wealth of opportunities since you gain access to regular Nintendo DS games along with select titles from their SNES and NES libraries.
What's Bad About it?
The New 2DS XL's screens have the same resolution as those on the 3DS, 400×240. That's annoyingly pixelated, especially if you compare it to the Switch's 720p screen. Battery life is on par with the PlayStation Vita's, so you'll either have to keep an eye on it or stay close to an outlet.
Tech Specs
Dimensions: 3.4 x 6.4 x 1.3"
Weight: 9.8 oz
Screen size: 4.9" top, 4.2" bottom
Internal storage: 4 GB
Battery life: 3-5.5 hours
Pros
Improvements to the 3DS design across the board
Lots of quality games to choose from
Backward compatible with the Nintendo DS
Cons
Weak battery
Outdated screens
6. Best Budget Option – Retroid Pocket 2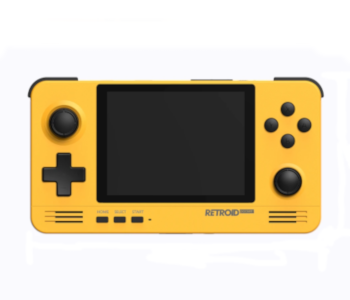 View on Retroid
Editor's Rating: 4.5/5
Our cheapest handheld game system recommendation is also quickly becoming the most popular retro gaming device. So popular, in fact, that Retroid can't currently keep up with demands for the Pocket 2. The second version has better hardware and ergonomics. It can emulate consoles up to the Dreamcast and Nintendo 64 and is built with comfort and precise control in mind.
Overview of Features
The Pocket 2 is a stark departure from the original's Gameboy-like appearance. It looks more like the RG350M it competes against, except its shell is plastic instead of metal. The bottom front is divided into two parts, with the lower housing a set of speakers along with Home, Start & Select buttons. The analog stick configuration mirrors an Xbox controller with the left one being above the D-pad. All the controls are responsive and made from quality materials.
The bottom pair of shoulder buttons extend down and around the Pocket 2's corner and are ideal as rapid-fire triggers. The two buttons above them are thinner but equally responsive. You'll find USB-C, HDMI, and headphone ports between them. There's also an On button with a multifunction status LED that tells you when the device is in standby or charging.
Early copies of the Pocket 2 ran on Android 6.0, which many users rightfully complained about since it was old and slow. An update due to arrive in October will upgrade the Pocket 2 to Android 8.1. Using Android as the system's basis was smart since it gives you access to lots of different emulation options. Even Steam Link is supported and lets you access your Steam library and stream games from it directly onto the Pocket 2 or a connected TV!
Retroid doesn't specify the Pocket 2's battery life, but expect to get more than four hours from it. There's only 8 gigs of internal storage, but that goes a long way with games released in the last millennium. Unlike the RG350M, the Pocket 2 reserves part of its space for the OS. That brings its actual capacity down to 6 GB. Luckily, you can gain more space with a TF card.
Are There Drawbacks?
The Pocket 2's only serious current drawback is lack of availability. It's already been sent out in three waves, with the fourth scheduled for early 2021. Some users might find the placement of its left analog stick awkward to get used to, but that's nitpicking.
Tech Specs
Dimensions: 3.2 x 5.9 x 0.7"
Weight: Not specified
Screen size: 3.5"
Internal storage: 8 GB
Battery life: 4+ hours
Pros
Powerful hardware can run Dreamcast and Nintendo 64 games
Excellent build quality and ergonomics
Bright screen
Android opens up numerous emulation and streaming options
Cons
Limited availability, but that's sure to change
Awkward analog stick placement