6 Best Handheld GPS of 2019
3D Insider is ad supported and earns money from clicks and other ways.
Braving the most far-flung corners of the outdoors has become much easier ever since the GPS network has been made available to the public. Now you can be as far away from civilization as you wish and still sleep soundly knowing that the way home is mapped out in detail. Even though you may be tempted to leave GPS navigation to your smartphone, a dedicated handheld GPS device is a far better choice.
Why would you need a handheld GPS tracker in this day and age? They can withstand the elements much better than smartphones and are easier to control with gloves on. GPS also drains a smartphone's battery quickly and may leave you stranded if you didn't bring a power bank. Finding spares for a GPS anywhere in the world is easy, as is bringing some along. A GPS unit should never be a complete substitute for a map and compass, but it makes using them and marking all the interesting things you see on your journey simpler.
We've assembled and tested the six best handheld GPS devices for this comprehensive overview. All of them are made by Garmin, the forerunner in the world of GPS navigation. Nevertheless, some are better suited for beginners or light travelers while others feature outstanding reception and resistance to the elements. Read their reviews and pick the ideal GPS for your budget and adventuring needs!
Budget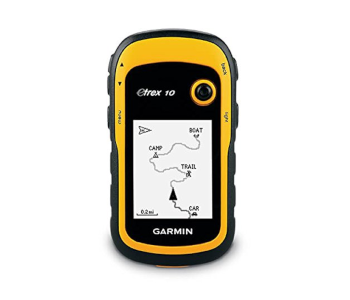 Garmin eTrex 10
4.0/5.0
Weight: 5 oz.
Screen size: 2.2 in
Affordable and its screen is readable in any lighting.
Check Amazon
Best Value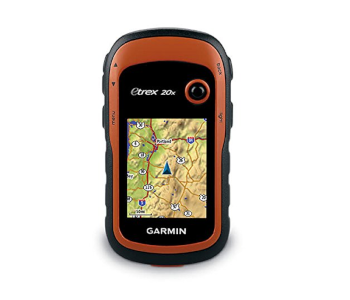 Garmin eTrex 20x
4.6/5.0
Weight: 5 oz.
Screen size: 2.2 in
It has a bright screen with easy to read font.
Check Amazon
Top Pick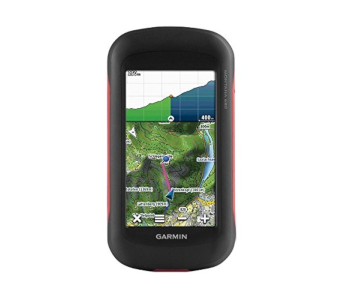 Garmin Montana 680
4.8/5.0
Weight: 10.3 oz.
Screen size: 3.5 in
It has two power sources and an 8MP camera.
Check Amazon
Handheld GPS Comparison Table
1. Best Overall – Garmin Montana 680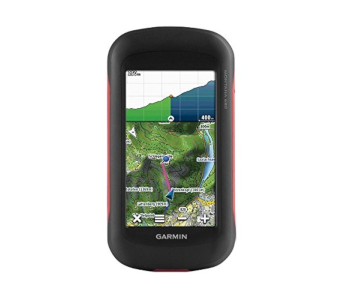 View on Amazon
Editor's Rating: 4.8/5
Good GPS reception is key for an enjoyable and safe outdoor adventure. Garmin offers quite a few GPS devices, but none is as accurate or has better reception than the Montana 680. This hefty GPS redraws maps instantly, has a lag-free electronic compass, and is simple to use even for people who've never navigated with a GPS before. It also has one of the largest screens and best touch interfaces we've tested. The Montana 680 isn't cheap, but it's a well-rounded GPS you'll want to have on your day hikes, motorbike tours, or fishing trips.
Overview of Features
The first thing you'll notice about the Montana 680 is its bulk. It weighs 10.3 oz. and won't fit in most pockets. On the other hand, the GPS is water- and weather-resistant, has a bright screen, and can be used while wearing light gloves. There are two battery options – an included rechargeable NiMH battery good for 16 hours, or 3 AAA batteries that last 4 hours more. The battery compartment is easy to get to even in a hurry or with gloves on thanks to a back cover that unscrews quickly
Excellent reception is this model's standout feature. It connects to both GPS and GLONASS, meaning you'll get uninterrupted operation even in canyons or densely-wooded areas. Taking advantage of dual satellite systems also gives the Montana 680 superb accuracy. Set a marker, go in any direction for as long as you want, and expect it to guide you back to within inches from where you started!
The unit's internal storage is 8GB and expandable through an SD card. So much space is available to house Garmin's detailed maps as well as the pictures you take with the Montana 680's 8MP camera. You can tag any waypoint with a photo and its description and GPS data will be added to it automatically. The route you take can be augmented with topographical and 3D terrain data too. Coupled with your own snapshot waypoints, this creates a unique, shareable map of your adventures.
Are There Drawbacks!
This unit's weight and size make it a poor choice for lightweight hikes. While the screen is visible in daylight, you'll need to turn it away from direct sunlight as there's a lot of glare.

Tech Specs
Dimensions: 2.9 x 5.7 x 1.4 in
Weight: 10.3 oz.
Screen size: 3.5 in
Battery life: 16 h (NiMH) / 22 h (AA)
Internal memory: 8 GB
The Pros
Fantastic signal strength and accuracy
Easy to understand for beginners
Two power sources
8MP camera
The Cons
Large and heavy
Lots of glare in direct sunlight
2. Best Value – Garmin eTrex 20x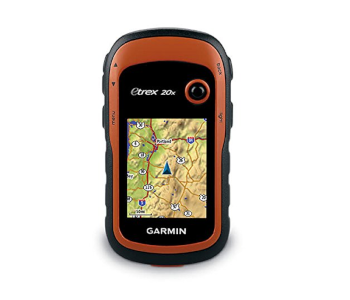 View on Amazon
Editor's Rating: 4.6/5
If you enjoy exploring the outdoors in the winter, you need a reliable GPS which can withstand sub-zero conditions and that is easy to use even with gloves on. The eTrex 20x has amazing value as it can handle the toughest conditions, has excellent readability, and its battery lasts for a respectable 25 hours. All of this is yours for less than $150! You won't find some of Garmin's flashier features on it, but there's no better GPS for any adventure where the goal is to pack light and safely return home.
Overview of Features
The eTrex 20x is a small and light GPS that can easily fit in a pocket or be worn around the neck if you attach a lanyard to it. There's a single toggle button on the front and five more buttons for menu navigation & access, zooming, and backlight operation on its sides. The buttons are responsive and easy to distinguish even when wearing thick gloves. You can quickly get to the battery since there's a screw on the back that lets you remove its cover without requiring precision.
Like the device itself, the 2.2-inch screen is on the smaller side. Fortunately, Garmin's menu design is on point – there are only a few categories represented with large icons and an easily readable font. The screen is visible even in glaring sunlight so you can take quick glances at it without needing to stop.
Navigating with the eTrex 20x can be done in two ways. You either follow a pre-planned route or set up waypoints. 3.7 GB of internal memory lets the GPS hold 200 routes and ten times as many waypoints along with any custom maps you download. If you plan your routes ahead in Garmin Basecamp and upload them onto the eTrex 20x, it will signal when you need to turn and is quick to update your location.
What We Didn't Like
Even though the eTrex 20x has fantastic value, it lacks some welcome advanced features like an altimeter and electric compass. You'll just have to bring another kind of compass along and approximate your altitude. You'll also want to update the GPS with more detailed topographical maps since it only comes with a base map which doesn't show hiking trails and lesser-known paths.

Tech Specs
Dimensions: 2.1 x 4 x 1.3 in
Weight: 5 oz.
Screen size: 2.2 in
Battery life: 25 h
Internal memory: 3.7 GB
The Pros
Excellent value for the money
Easy to operate with gloves on
Fast position updates
Bright screen with easy to read font
The Cons
Lacks an altimeter and compass
Preloaded basemap isn't detailed
3. Garmin GPSMAP 64s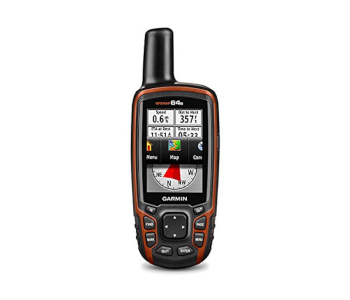 View on Amazon
Editor's Rating: 4.5/5
Do you often find yourself outdoors in extreme weather? Your GPS needs to keep up in that case. The GPSMap 64s is the toughest device out there – it is completely waterproof, has easily-accessible controls, and can sync with your phone to receive messages or transmit map data. The newest model in Garmin's s series is among the least buggy devices out there and its reception is strong as well. Get the 64s and be prepared for any eventuality.
Overview of Features
A quad helix antenna is at the heart of the 64s's tracking capabilities. It ensures outstanding coverage by connecting to both GLONASS and GPS satellites. Its performance doesn't let up in areas other models might have trouble getting a signal as a result. Once the 64s establishes your coordinates, it keeps you locked on no matter how difficult the terrain is. It has an advanced processor that quickly redraws maps, eliminating most of the annoying lag lesser devices experience.
True to Garmin's tough yet accessible design philosophy, the 64s is easy to handle and can take a beating. It has an IP rating of 7 for liquid protection, meaning that its electronics won't be harmed even if completely submerged. The screen is scratch-resistant and the entire unit is proofed against fall damage. Accessing its controls is straightforward due to the logical layout of its ten physical buttons. Their reaction time is a little slower than that of a touchscreen, but they're more reliable if your fingers are wet or you're wearing gloves.
This model comes with smart connectivity, hence the s in its name. You can connect it to your phone via Bluetooth and access the mobile version of Basecamp to upload your trails, waypoints, and routes. The same can be shared with owners of other Garmin handhelds wirelessly too.
The 64s comes preloaded with a base map of the world along with 250 thousand geocaching locations for you to uncover. You also get a 1-year subscription to BirdsEye Satellite Imagery. This feature lets you download hi-rez satellite images onto the device for a more detailed overview of your surroundings.
What's Bad About It?
As with the eTrex 20x, the basemap you get on the 64s is simple and should be replaced with a more detailed map immediately. You'll need some time to master this model as some of its features are tucked away inside its menus. The manual doesn't do a good job of explaining its various functions so even experienced users might not understand everything right away.

Tech Specs
Dimensions: 2.4 x 6.3 x 1.4 in
Weight: 8.1 oz.
Screen size: 2.6 in
Battery life: 16 h
Internal memory: 4 GB
The Pros
Excellent weatherproofing
Responsive controls
Wirelessly connects to smartphones
Good signal strength
The Cons
Low-quality basemap
Takes time to master
4. Garmin inReach Explorer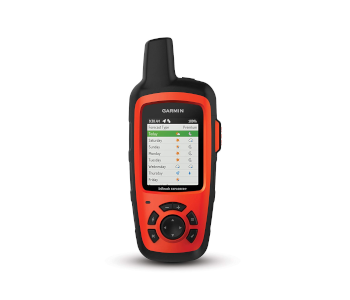 View on Amazon
Editor's Rating: 4.5/5
Disappearing into the wilderness for days at a time is dangerous even for seasoned explorers. The inReach Explorer allows you to get off the grid but still be able to contact emergency services or loved ones in a pinch. It's a satellite messenger, capable SOS tool, and GPS device in one! Its outstanding battery life, nuanced communication options, and ease of use make this device a must-have for any serious adventurer.
Overview of Features
The inReach Explorer is a rugged device designed to reliably track your progress and let you take quick action in the event of an emergency. The battery can last 100 hours if used sparingly and is rechargeable via USB. The screen is 2.4 inches in diameter and easy to make out in daylight. All buttons except the dedicated SOS are placed under it. Even though they're smaller than ones seen on the eTrex 20x, the buttons still responsive and easy to press.
The main appeal of this device is its satellite connection. This lets you send SMS messages and emails to anyone no matter how far from civilization you are. Messages can be sent indiscriminately, to people on your contacts lists, or to emergency services. You can store many pre-made responses to speed up communication and not have to fiddle with the device's keyboard. To send out an SOS, you have to open up a small compartment designed to shield the SOS button and eliminate accidental activation. Pressing the button will send a message with your GPS data to emergency services.
The inReach Explorer helps you navigate by providing accurate weather reports and live trail maps. Basic weather stats like the temperature, wind speeds, and barometric pressure are available for free while more data is accessible if you pay a subscription. inReach has a website of route planning that lets you create and upload routes to the device. Your progress can also be shared in real time if you send someone your Mapshare URL.
What's Bad About It?
Using the Explorer's satellite functions isn't free. Subscription plans start at $12/month, but you'll want to at least get the 2nd-level subscription because it comes with unlimited free tracking points. This option costs a steep $25/month but is worth it since you'll otherwise have to pay $0.10 per point. inReach was owned by a company called DeLorme and still uses their older route-planning software which is inferior to Garmin's own Basecamp.

Tech Specs
Dimensions: 2.7 x 6 x 1.5 in
Weight: 7.5 oz.
Screen size: 2.4 in
Battery life: 100 h
Internal memory: 2 GB
The Pros
Lets you communicate with others from anywhere
Excellent battery life
Diverse messaging options
Real-time route sharing
The Cons
Satellite features require monthly subscription
Basic route-planning app
5. Garmin Foretrex 601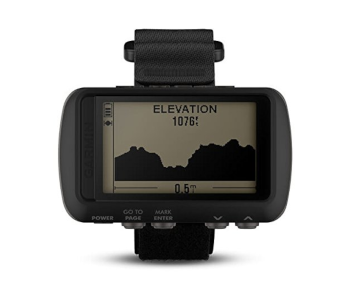 View on Amazon
Editor's Rating: 4.3/5
A good GPS should be portable and unobtrusive. What better way to have it always at the ready than to strap it onto your wrist? The Foretrex 601 is Garmin's hands-free GPS intended for military use, hunting, kayaking, or any other situation where reaching for a GPS into your pocket isn't practical. It is lightweight, has excellent battery life, and gives you all the info you need to keep on track in a condensed format.
Overview of Features
This is the successor to Garmin's Foretrex 401 and brings many design improvements. It's even more durable, has a screen with four grayscale colors, and double the resolution. Its battery is the greatest step up since it now lasts 48 hours with GPS on or a whole week in standard watch mode. The 601 can take a beating and won't be affected by splashes of water.
The 601 has access to GPS, GLONASS, and GALILEO. It is one of the most accurate devices we've tested and has good reception to boot. You control it with five physical buttons located on the bottom. They're small yet each stands out, making them easier to press if you're wearing light gloves. The LCD display is monochrome and clearly visible during the day. It has a backlight with variable time settings and a mode that lets you see the screen in complete darkness while wearing night vision goggles.
One of the 601's strengths is being able to customize its information screens to suit your needs. You can easily mark waypoints and then follow the breadcrumb trails back to them or see your average speed and ETA to a waypoint. Basic information like a compass, elevation, and changes in the later are available too.
What We Didn't Like
The 601 only comes with a base map, meaning you can't upload more detailed topographical maps onto it. The batteries are also awkwardly placed. To get to them, you have to remove a strap which may be unpractical out in the open.

Tech Specs
Dimensions: 1.7 x 2.9 x 0.9 in
Weight: 3.1 oz.
Screen size: 2 in
Battery life: 100 h
Internal memory: Not specified
The Pros
Lightweight and portable
Customizable screen
Excellent battery life
Well-built
The Cons
Doesn't support topographical maps
Batteries are hard to get to
6. Best Budget Option – Garmin eTrex 10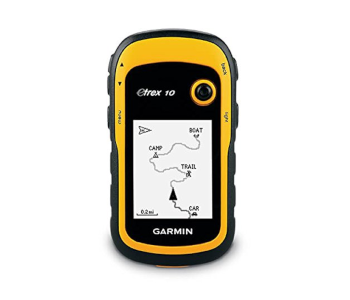 View on Amazon
Editor's Rating: 4/5
The only thing some outdoor lovers need is a compass, a map, and a GPS with which they can tag their camp and other landmarks for easier navigation. If you're one of those or are just starting to learn about GPS, the Garmin eTrex 10 is the perfect choice. It's basically a stripped-down version of the eTrex 20x with a monochrome screen. It's also by far the cheapest reliable model we've tested.
Overview of Features
Physically, the eTrex 10 is identical to its big brother except it comes with a yellow trim instead of orange. This means that the controls are logically spaced out and respond well while wearing gloves. It will also get the same 25 hours out of two AA batteries. Its monochrome screen is lit up and performs well under any lighting. Unfortunately, neither a strap nor a lanyard come with this model.
This GPS is best used as an addition to a map and compass since the maps lack detail and color. You can either pre-load trails onto it using Garmin Basecamp or navigate by setting waypoints. The trackback feature lets you designate a waypoint and provides a breadcrumb trail back to it, perfect for when you want to go off the beaten trail and return to camp safely. The eTrex 10 connects to your computer via USB and uploads trail data which you can then analyze with more sophisticated mapping tools.
Are There Drawbacks?
While the eTrex's side buttons work well, the joystick in the front can be temperamental. It will often interpret a downpress as directional movement and shift to the next setting instead of confirming the one you wanted. This is an older model and has just 8 megabytes of memory. You can download additional maps onto it, but even smaller ones will eat up most of its memory and slow the device down.

Tech Specs
Dimensions: 2.1 x 4 x 1.3 in
Weight: 5 oz.
Screen size: 2.2 in
Battery life: 25 h
Internal memory: 8 MB
The Pros
Affordable
Good accuracy and battery life
Screen is readable in any lighting
Great for beginners
The Cons
Very limited internal memory
Joystick prone to misinterpreting commands