3 Best Hard Mouse Pads
3D Insider is ad supported and earns money from clicks and other ways.
Mouse Pads are a piece of computer accessory that some people use and some don't. It all depends on the surface on which the mouse is used by the consumer. If the surface is flat and smooth enough, then the mouse sensors tend to work as intended. However, there are some surfaces on which mouse sensors don't respond very well. In such cases, a mouse pad is a must.
If you happen to buy an expensive mouse, then you probably want to protect your investment and ensure that all the sensors function properly. In such a case, you will probably look to purchase a mouse pad along with your mouse. After all, you want to get the most value out of your investment.
Once you have decided to purchase a mouse pad, you will probably find yourself faced with two choices, either opt for a regular mouse pad or select a hard mouse pad. A hard mouse pad is generally made of either metal or hard-surface plastic. Your goal would be to pick a mouse pad that can serve your purpose for a few years to come.
Top-rated hard mouse pads
Now let us look at some of the top-rated hard mouse pads which are available in the market: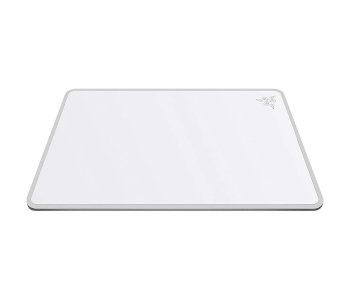 Razer is a very well-known brand among computer gamers. The Razer Invicta Mercury Edition mouse pad is unique among Razer's product line because it is a 2-in-1 mouse pad. The mouse pad has two sides, one is a smooth surface and the other is a slightly rough surface.
The smooth side is great for anyone looking to glide their mouse freely over a slick surface. This is great for certain uses which do not require pixel-precise movement.
The rough side is great for gamers and designers who want a high level of accuracy as to where to mouse pointer moves. Imagine playing an FPS game where you really have to pin-point your cursor in a couple of seconds. That is where the rough surface comes in handy.
With the Razer Invicta Mercury Edition, you really could work on conventional activities during the day and then turn into a gamer by night. All you have to do is flip your mouse pad from the smooth side to the rough side.
The Razer Invicta Mercury Edition measures 10.1 inches (H) by 14 inches (L) by 0.2 inches (D). It weighs a mere 1.5 pounds. There are actually two versions of this mouse pad, Quartz and Mercury. The Mercury, in our opinion, has better aesthetics. The Quartz looks a bit odd with its pink-colored edges.
The Mercury has a cleaner look with a silver edge. The Razer logo, located on one of the four corners, gives the mouse pad a solid look. The lighter pearl white-colored surface is the smooth side while the slightly darker grey colored surface is the rough side.
The colors on the Razer Invicta Mercury Edition are selected in a way to keep the reflection down and let the sensors work at an optimal level. The base of this mouse pad is made of aluminum. The plastic surface is then applied on top of the aluminum layer. The presence of the aluminum base makes the mouse pad rigid.
Having a rigid mouse pad also makes it easy to move around. The mouse pad moves in one single piece. The aluminum also makes the mouse pad a lot more durable. Interchanging the surfaces by flipping the pad around is also quite easy.
This mouse pad isn't cheap. It will cost you north of $50 to purchase one.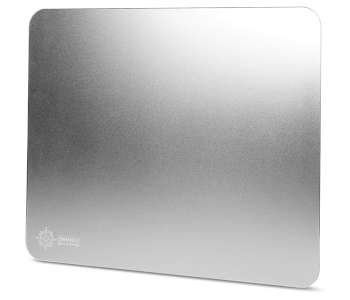 ENHANCE isn't as big a brand name as Razer. But, there is more to a mouse pad than a brand name. You won't expect your mouse pad to require technical support or have regular software updates. Hence, while brands do matter, with mouse pads the importance of the brand name is somewhat limited.
What ultimately matters more is the quality of construction and its thoughtful design. The ENHANCE Hard Aluminum Mouse Pad is built using a nice metal finish that not only looks good, but is also strong and durable. The rounded edges add to the excellent design features of this pad.
This mouse pad is made using aluminum and it measures 12.4 inches (L) by 10.6 inches (H) by 0.3 inches (D). These dimensions give the ENHANCE Hard Aluminum Mouse Pad a surface area that is about 80% larger than a conventional small mouse pad. A larger size means that your mouse will not slip over the edge of the pad no matter what the application or use.
Having a smooth metallic surface, the mouse pad needs to be kept in place and not slip while sitting on a table. Hence, the designers at ENHANCE have covered the bottom side of the pad with non-slip rubber. The rubber surface ensures that the mouse pad grips the surface on which it rests.
The ENHANCE Hard Aluminum Mouse Pad weighs about 1.6 pounds. The pad is available in black and mercury colors. The mercury color has the appearance of silver. The reason for a rather high weight is the fact that the mouse pad's frame is entirely aluminum alloy.
Optical and laser-based mice work fine with this mouse pad. The surface is very smooth. Unfortunately, you cannot get a rougher surface if you find the movement to be a bit too smooth for your liking. The back side, as pointed out above, is covered with a rubber surface for stability and grip.
Another downside with this mouse pad is the fact that the metallic surface gets cold if the air temperature is cold. So, on those winter mornings when the office temperature is in the fifties, you could have a tricky time resting your hands on the cold mouse pad surface.
Interestingly, the mouse pad comes with a 3-year warranty. The ENHANCE Hard Aluminum Mouse Pad's price is quite economical. You can purchase one for around $20.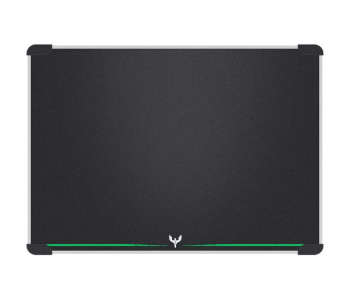 Whether you are into gaming or not, you have to check out the Blade Hawks Gaming Mouse Pad. It is one of the most functional and simple mouse pads that we came across. This pad is made using PVC and aluminum. The aluminum sheet is in the center and covered on the top and bottom sides by a PVC layer.
The PVC layer makes the surface smooth and rough at the same time. There is just about enough roughness to give the user a fairly reasonable degree of precise controlling. Hence, gamers and non-gamers will find this mouse pad worthwhile.
The pad is available in three different sizes. All sizes are incredibly thin at a staggering 2mm. It is as if someone placed a few sheets of paper to create a mouse pad. The Blade Hawks Gaming Pad weighs about 1.4 pounds, the lowest among all the pads that we review in this article.
The PVC layer of this mouse pad makes it easy to clean the mouse pad. The layer also prevents fingerprints from being visible, as may be the case with metallic finishes.
Another good thing that we like about the Blade Hawks Gaming Pad is that corners are rubberized instead of the entire bottom surface. The rubber adds stability and prevents the pad from moving around when the user operates the mouse on it. Having rubber parts only on the corners also allows the user to use both sides of the mouse pad by flipping it over.
However, both surfaces are the same and the user does not get two different surfaces as was the case with the Razer Invicta. Blade Hawk offers a 1-year warranty on its mouse pads. However, given the simplicity of construction and the fairly good quality of materials used, 1-year should still be a pretty good duration for a warranty.
You can buy one of these pads for a little over $21.
Conclusion
So, now that we have listed out the main features worth scrutinizing and have also listed 3 top choices for you to consider, it is now your turn to decide which mouse pad you want. The Razer Invicta looks great as it has two surfaces. However, it is also more expensive than the other two options.
The Blade Hawk Gaming Pad is a no-nonsense plastic-based mouse pad that does the job that it is supposed to. It has a clever design that allows the user to use both sides of the pad. However, it does not have the versatility of the Razer Invicta. People who like aesthetics will probably fall in love with the ENHANCE Hard Aluminum Mouse Pad.
The ENHANCE mouse pad looks sleek and is made with aluminum. The metallic finish offers a nice smooth surface. However, the surface is also prone to temperature swings, especially in cold environments.
Every mouse pad has its pluses and minuses. It is up to you to figure out which features are a priority for your specific use case and then pick the appropriate option accordingly. We hope that you found this guide useful.
Main features of a hard mouse pad
As you research various mouse pad options and work towards selecting the best one, there are a few important factors that you need to consider:
Reflectiveness of the surface
The reflectiveness of the mouse pad surface directly impacts the ability of the mouse sensors to detect the movement of the mouse. That is the reason why glass surfaces are terrible surfaces on which to operate a mouse.
Hard-plastic surfaces are good for use with modern mouse products because they can be made with a range of smoothness and grip quality. Hard-plastic surfaces with more grip will offer a higher degree of modular control to a mouse user. This is especially important for someone like an FPS gamer where every pixel matters. Similarly, a smoother surface will enable the mouse to slide more freely.
Mouse pads with a metal surface are normally quite smooth. They allow for effortless mouse movement if that is what the user desires. So, your choice of the mouse pad should be guided by your usage preference and a focus on low reflectiveness.
The dimensions of the mouse pad
Before you research various mouse pads, you need to have a rough idea of how large the mouse pad should be. Desk space, work environment, portability, and size of your mouse all tend to play a factor in figuring out the most optimum mouse pad size for your needs.
Bigger is better in many cases. However, sometimes smaller is more preferable. Small mouse pads generally have a length of about 8 inches while large mouse pads tend to measure 16 inches in length. You will have to know your exact work environment in order to filter the size of mouse pads when you research them.
Aesthetics
The style and look of the mouse pad matters. You probably do not want a mouse pad which sticks out as the odd item at your computer desk. People often want the color of the mouse pad to blend in with the overall theme of their desktop.
Certain users like gamers prefer to have a specific style of mouse pad. The shape of the mouse pad can also be a factor for some users. When you look up hard mouse pads, you may find plenty of variations in terms of look and design. You will have to pick the one which suits your preferences.
Ergonomics
Perhaps one of the most important factors when selecting a hard mouse pad is the comfort of using them. After all, chances are that you may use your mouse for long hours.
Some mouse pads come with wrist support. Some have a really hard surface while some other pads use a thick foam pad. Some pads are relatively smoother than the others. The edges of some mouse pads are curved and aesthetically more appealing than some other pads.
Some mouse pads are easy to simply pick up and transport to another location for use. The ease of use plays a big role in selecting the best mouse pad. Remember, once you purchase a hard mouse pad, you are probably going to stick with it for a few years. Hence, you want to select something which will be stress-free to use and easy on your arms and hands. Ergonomics matters.