Quality at A Good Price: A Review of Hatchbox Filaments
3D Insider is ad supported and earns money from clicks, commissions from sales, and other ways.
Those who are just starting out with 3D printing can easily fall into the trap of buying the cheapest filaments available since they anticipate making lots of mistakes for their first few tries. The problem with this approach is that it can be more trouble than it's worth considering all the printing issues that could come up when using cheap and poor-quality filaments.
In this article, we're taking a look at a filament brand that offers high-quality products at friendly prices – Hatchbox. It also happens to be one of the most popular filament brands worldwide. What is it about Hatchbox and are their filaments really that good?
Overview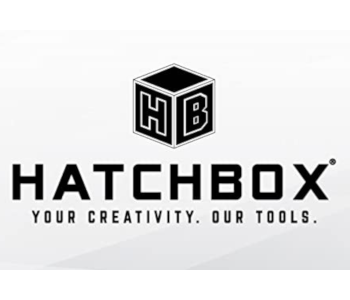 California-based Hatchbox is a filament brand that offers a small range of 3D printing filaments that are fairly inexpensive. Hatchbox is one of the most popular filament brands on Amazon and consistently receives glowing reviews from its customers.
Hatchbox is often a recommended brand for those who are only starting out with 3D printing. Aside from being relatively inexpensive, the quality of Hatchbox filaments makes them very easy to work with. Although problems can still come up when working with Hatchbox filaments, they fare so much better than the dozens of other cheaper brands in the market today.
One of the more unique characteristics of the Hatchbox brand is its ongoing partnership with Amazon. Instead of having to store and ship their filament products from their own warehouses, Hatchbox has taken advantage of Amazon's network of fulfillment centers via the Fulfillment by Amazon program. This has greatly enhanced the logistical capabilities of Hatchbox, enabling them to reach more customers.
Strengths of Hatchbox filaments
Based on sheer popularity alone, it's clear that Hatchbox is doing some things right. What's behind this mainstream appeal?
Inexpensive
Just to be clear, Hatchbox isn't the cheapest 3D printing filament out there. If you're shopping for 1-kilogram spools of PLA or ABS, you can probably find brands that offer them at about $10 cheaper than Hatchbox. Still, the price range of Hatchbox filaments puts them within the budget-friendly tier.
Superior quality
We think that the best thing about Hatchbox filaments is that their quality far surpasses the expectations set forth by their modest price tags. Despite being inexpensive, Hatchbox filaments are often cited as some of the best in terms of quality and printing performance.
Users generally don't run into extrusion problems associated with inconsistencies in dimensions when using Hatchbox filaments. The filaments also look great with vibrant colors, deep blacks, and bright whites. This fuss-free behavior is one of the main reasons for the long-lasting appeal of the Hatchbox brand, for both beginners and experienced users.
Easily available
Establishing a partnership with Amazon has been one of the best moves by Hatchbox. Not only has this expanded their distribution network, but it has also helped them fulfill orders faster. This has become particularly advantageous in the context of logistical challenges brought about by a global pandemic.
Customer-friendly guarantee policy
Hatchbox offers a 30-day satisfaction policy that allows customers to ask for a replacement product should they be unsatisfied with the product that they have received for any reason. Take note that the policy only applies to products that are sealed and unused. This is a nice bonus from Hatchbox, as it means that they are fairly confident about the quality of their filaments.
Limitations of Hatchbox filaments
Despite the popularity of Hatchbox filaments, they aren't necessarily better than other brands in all areas. Before you go buy several Hatchbox spools, here are a few facts to consider which might temper your decision.
Limited product range
Hatchbox offers the most commonly used filament materials – PLA, ABS, PETG, and TPU. Aside from a few variations of these four materials, Hatchbox does not have any other materials in their product range. If you're looking for high-performance filaments like Polycarbonate, PEEK, or Nylon, then you're better off going for a high-end brand like ProtoPasta or ColorFabb.
Does not offer sustainable practices for filament spools
Sustainability is a big thing in today's market, especially in a field like 3D printing that tends to generate a lot of plastic waste. A significant portion of this waste comes from empty filament spools that tend to get discarded once a spool has run out.
While other companies have adopted more sustainable practices in handling empty spools, Hatchbox seems to have made no strides in this department at all. They have expressed no plans to switch over to cardboard spools, design their filament for Master Spools, or to establish an in-house recycling program. Given how large the market of Hatchbox is, the environment would certainly appreciate a move from them in this area.
Highly recommended Hatchbox filaments
All the Hatchbox filaments are reasonably good, but we'd rather not flood you with their entire product catalog. Instead,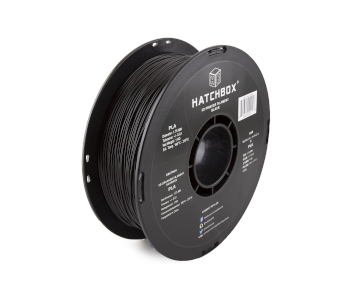 The PLA filament from Hatchbox is the filament that we highly recommend for beginners. Not only is it fairly inexpensive at only a little above $20 for a 1-kilogram roll, but its consistently good quality makes it very easy to work with. There are even some experienced users who still keep a constant stock of these PLA filaments just because of how reliable they are.
The PLA filament line of Hatchbox is very appealing to both beginners and experts because of the array of different colors that the brand carries. This variety of colors is a huge part of why many users end up with multiple spools of Hatchbox PLA stashed somewhere in their workspace.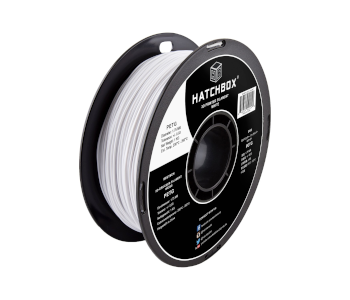 While ABS is one of the more popular filaments, we tend to gravitate towards PETG more. PETG provides almost the same level of strength and heat resistance as ABS but is not as problematic when it comes to fumes, bed adhesion, and warping. PETG is a good filament for leveling up your skills from PLA, especially if your printer is equipped with a heated bed. We recommend printing with PETG before progressing to the more stubborn filaments like Nylon and ABS.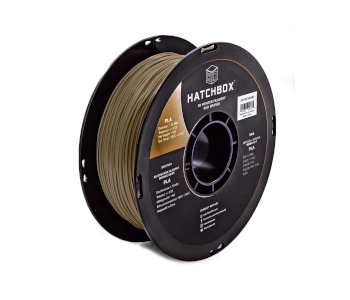 This Silk PLA filament is one of the few "specialty" filaments that Hatchbox offers. Silk PLA is not super fancy as far as composite filaments go, but it can still be pretty useful if you want your 3D prints to have a touch of class. Silk PLA behaves almost exactly like standard PLA during printing but creates products with a unique combination of smoothness and luster. Silk PLA is only slightly more expensive than standard PLA and certainly a lot cheaper than many other composite filaments from other brands.
Final thoughts
It can be tough to look for the perfect filament when you need to consider factors like your budget, how much work you're willing to do, and your level of skill in 3D printing. Perhaps it is this difficult situation that has helped Hatchbox stand out so clearly.
Hatchbox seems to have hit that perfect spot of filaments that have good quality but are still fairly affordable. They aren't the cheapest and they also aren't the best – they sit somewhere in the middle, and that's what has made the brand so successful. If you're looking for inexpensive PLA, ABS, or PETG filaments so you'll always have some spare filament if creativity strikes, then a few spools from Hatchbox should tide you over for some time.
Warning; 3D printers should never be left unattended. They can pose a firesafety hazard.