HDMI Port Explained: Frequent Questions Answered
3D Insider is ad supported and earns money from clicks and other ways.
HDMI stands for High Definition Multimedia Interface. It is a proprietary audio-video interface that can allow the transmission of compressed or uncompressed digital audio data as well as uncompressed video data. HDMI can be considered as a replacement for older analog video standards. It is used with devices like Blu-Ray player, DVD player, HDTV, and projector. In order to have an HDMI logo, devices and cables have to pass a compliance test. Manufacturers usually submit a sample product for this kind of testing before any mass production is initiated.
A short history of HDMI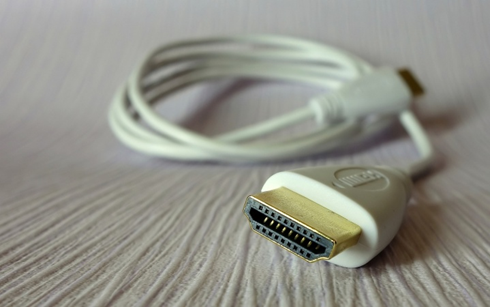 Well-known companies like Panasonic, Hitachi, Sony, Philips, Silicon Image, Toshiba, RCA, and Thomson are the founders of HDMI. The interface also has the support of entertainment giants like Fox, Disney, Warner Bros., and Universal. Before HDMI, devices displayed pictures in standard definition. The resolution of standard definition used to be around 700 X 480 pixels.
Then came HDTVs. They had a resolution of 1920 X 1080 pixels. They also display more details and more color than standard definition. Therefore, high-definition devices required more data and that data had to be transferred at much quicker rates. Because HDTVs are digital, the data that they received had to be processed from analog form to digital form. This would have required an additional processor.
In order to send digital data straight to the HDTV and create a high-bandwidth connection between digital devices, the HDMI standard was created. HDMI also allows video and audio signals to transmit. Therefore, one HDMI cable replaced three composite audio/video cables. The HDMI standard reduced the number of cables used while improving the data transfer capacity.
What kind of signals does HDMI support?
HDMI allows the transmission of all video signal types, including HD and Ultra HD 4K/60p. Additionally, HDMI can also transmit 8 channels of uncompressed digital audio signals. Examples of uncompressed digital audio include Dolby TrueHD and DTS-HD Master Audio. The newer HDMI 2.1 supports 8K/60p as well as audio signals like Dolby Atmos and DTS:X.
Audio formats that HDMI support are:
PCM (2-ch to 8-ch)
DTS
DTS Express
DTS-HD High Resolution
DTS-HD Master Audio
Dolby Digital
Dolby Digital Plus
Dolby TrueHD
Dolby Atmos
DTS:X
Video formats that HDMI support are listed in the table below.
Format
HDMI 1.0 – 1.1
HDMI 1.2 –
1.2a
HDMI 1.3 –
1.4b
HDMI 2.0 –
2.0b
HDMI 2.1
720p
25/30 Hz,
50/60 Hz
25/30 Hz,
50/60 Hz,
100/120 Hz
25/30 Hz,
50/60 Hz,
100/120 Hz
25/30 Hz,
50/60 Hz,
100/120 Hz
25/30 Hz,
50/60 Hz,
100/120 Hz
1080p
25/30 Hz,
50/60 Hz
25/30 Hz,
50/60 Hz
25/30 Hz,
50/60 Hz,
100/120 Hz
25/30 Hz,
50/60 Hz,
100/120 Hz,
240 Hz
25/30 Hz,
50/60 Hz,
100/120 Hz,
240 Hz
1440p
N/A
25/30 Hz
25/30 Hz,
50/60 Hz
25/30 Hz,
50/60 Hz,
100/120 Hz
25/30 Hz,
50/60 Hz,
100/120 Hz,
240 Hz
4K
N/A
N/A
25/30 Hz
25/30 Hz,
50/60 Hz
25/30 Hz,
50/60 Hz,
100/120 Hz
8K
N/A
N/A
N/A
N/A
25/30 Hz,
50/60 Hz,
100/120 Hz
HDMI uses a process known as transition minimized differential signaling (TMDS) to transmit data from one device to another. HDMI first encodes the signal at the source to minimize the number of transitions from 1 to 0 (since digital data is all about 1's and 0's). This encoding is done to prevent the degradation of data as it travels through the length of the HDMI cable.
The HDMI cable is made up of twisted pairs of wire. One wire carries the signal while the other carries the inverse copy of that signal. The receiving device then checks the difference between the signal and its inverse copy. It compensates for any of the differential in its decoding process. Thus, the signal is encoded, transmitted, and finally decoded.
Can HDMI send and receive signals?
There is something known as HDMI ARC (Audio Return Channel) which can send and receive audio/video data. With standard HDMI, the flow of data is unidirectional. Generally, it is from the playback device (DVD player or Playstation console) to the display (television or monitor).
However, there are certain applications where the bi-directional flow of data is necessary. One example is when you connect an AV receiver to your TV and a soundbar system. The video signal goes to the TV, but the audio comes back from the TV and then gets sent to the soundbar.
Now, you can even find an upgraded version of HDMI ARC, known as HDMI eARC. This newer version allows the transmission of high-resolution audio formats like DTS:X, Dolby Atmos, Dolby TrueHD, and DTS-HD Master Audio. A standard HDMI cable won't work for HDMI ARC connections. You will need an HDMI cable that can support Ethernet as well.
Different Types of HDMI Ports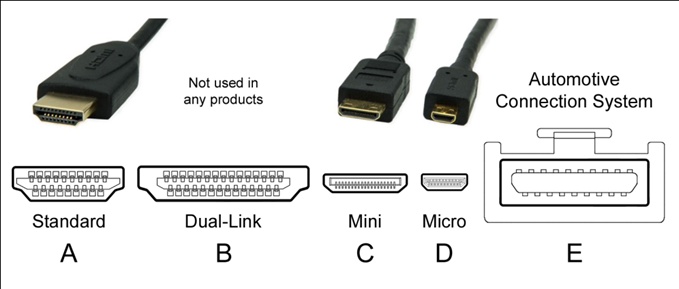 There are 5 different types of HDMI ports with different number of pins, dimensions, shapes, and applications. The different HDMI ports are listed below:
Type A
Type B
Type C
Type D
Type E
Connector
Name
Standard
Connector
Dual-Link
Connector
Mini
Connector
Micro
Connector
Automotive
Connection
System
HDMI
Specification
Defined in
HDMI 1.0
specification
Defined in
HDMI 1.0
specification
Defined in
HDMI 1.3
specification
Defined in
HDMI 1.4
specification
Defined in
HDMI 1.4
specification
Dimensions
13.9 mm X
4.45 mm
21.2 mm X
4.45 mm
10.42 mm X
2.42 mm
5.83 mm X
2.2 mm
N/A
Number of
Pins
19
29
19
19
It has a locking
tab
Compatibility
Can be used
with single-link
DVI-D
Can be used
with dual-link
DVI-D
Can be used
with portable
products,
connected to
Type A with a
converter
cable
Used with
smaller
equipment like
GoPro cameras
and
smartphones
Has a locking
to avoid cable
vibration, can
be connected
to relay using a
connector
Using HDMI with older USB and VGA-based devices
HDMI ports are usually located at the back of devices like televisions, computers, PlayStation consoles, etc. The ports are located on the video card or the motherboard. A USB port can be converted into an HDMI port.
One needs an adapter that will allow an HDMI cable connector to hook up to the device that has a USB port. A USB to HDMI adapter will convert a USB 2.0 or 3.0 connector HD 1080p video and audio. Certain adapters only work on Windows devices while certain work only with Mac devices. So, you have to research the adapter and read all the details before buying one.
If you have a new laptop with an HDMI connector and want to connect it to an old projector which has only VGA connectors, then you can use an HDMI to VGA converter. The converter will accept HDMI signals and give out a VGA output that feeds into the projector or whatever display device is being used. While researching HDMI to VGA converters, make sure you find out the maximum resolution that the converter outputs. If you want to watch HD video, then make sure that the maximum supported output resolution is 1920 X 1080p with a refresh rate of 60Hz.
What kind of content protection features does HDMI have?
HDMI uses an Intel-created system known as high-bandwidth digital content protection (HDCP) as an authentication protocol. What this means is that the device with the signal source (like a Blu-Ray player) encodes the signal along with a key. It shares this key with the receiving device. The receiving signal is then decoded by the receiving device using the same key. This process is known as "handshake".
If a third device somehow tries to intercept or "steal" this data while the transmission is happening, then the sending device stops all transmission. It then checks if the original key, generated by it, hasn't been altered or changed. All HDMI-compliant devices are required to support the HDCP protocol. Therefore, the use of HDMI also offers the benefits of data security and content protection.