4 Best Camera Drones for Shooting in HDR
3D Insider is ad supported and earns money from clicks, commissions from sales, and other ways.
With excellent camera drones hitting the market one after the other in the past couple of years, it's no surprise that drone photography has become incredibly popular. From beaches, skylines, and massive crowd events, there's no shortage of interesting shots taken by drones that can be seen just about anywhere.
The potential of camera drones to be used for professional-grade photography and filmmaking has prompted drone manufacturers to integrate more and more advanced features into them. One such option, which a lot of professional photographers will appreciate, is the option to shoot in HDR.
What is HDR anyway, and how does it work? What are the best camera drones available nowadays that come with the HDR feature?
What is HDR, and when should you use it?
HDR stands for High Dynamic Range, a method by which photos and videos can be enhanced by adding a more dynamic range of colors. In this context, "range" refers to the array of colors from light to dark that is represented in the resulting photo or video. HDR has become an incredibly common feature in digital cameras even in some camera phones, although not many people understand how it works or when to use it.
To explain it more simply, standard photos are what we refer to as having "standard range" or "low range." Almost everyone is familiar with the dilemma of taking photos with either harsh or poor lighting. While it's possible to adjust the exposure settings of your camera to lessen the effect of overly harsh lighting, this will tend to result in loss of detail in the darker areas of your photo.
By activating HDR mode, your camera will shoot three photos simultaneously, each with a different exposure setting. These photos can then be combined either automatically or manually so that to produce a composite photo that is not overexposed but still retains the maximum level of detail possible.
When shooting in HDR mode, your camera captures different three images within milliseconds of each other. This means that it takes a bit longer to capture a photo and that file sizes are practically increased threefold.
When should you use HDR?
Although useful, HDR mode isn't something you should be using every time. There are lots of accounts of people experimenting with HDR mode only to find that their photos tend to come out with muted or washed out colors. Specifically talking about drone photography, these are the scenarios when it's best to pull out the HDR card:
1. When shooting natural scenery
Shooting any landscape, especially those with an almost even combination of sky and land, is often a nightmare of exposure settings. Without HDR, it's very hard to retain the details of sky and the clouds while still highlighting terrain and vegetation.
2. Shooting in harsh sunlight
It's still best to shoot with ND filters when lighting conditions are too harsh, but a drone with HDR mode can be good for getting you out of this pinch in case you forgot to pack your ND filters. Even if overexposure isn't a problem, HDR mode can also get rid of unflattering shadows and glares on your subject.
3. Shooting in low light
Nighttime drone photography is particularly challenging. Not only do you have to deal with having low light, but any light sources you have are typically too bright and will result in bright glares if you focus on them. Shooting in HDR mode can soften these light sources, retain the details of your subject, and still retain the level of contrast that makes these nighttime shots really stand out.
While these aren't the only times when you should be shooting in HDR, and you're certainly free to experiment with it, there are also scenarios where HDR can prove to be more harmful than beneficial. When you're shooting in the following situations, then it's much better to turn off HDR:
1. High-contrast shots
The primary function of HDR is even out the level of exposure across your entire shot, thereby also reducing contrast. If you're composing your shot to maximize contrast, such as when shooting a silhouette of a large structure against a bright background, HDR mode will certainly ruin the effect that you're going for.
2. Shots with bright colors
If you're capturing a subject with bright and vivid colors, HDR mode will attempt to tone down the colors of your subject to keep them more even with the rest of the shot. The muted colors of the resulting shot, although closer to reality, just aren't so exciting.
3. Shots with moving objects
Keep in mind that HDR shots are made from three separate images taken one after another. If you have any moving subjects in your frame, they will inevitably come out as blurs. Of course, this can also be a stylistic choice – just make sure that you've planned ahead for it.
The top 4 best camera drones with HDR
1. Best overall: DJI Mavic 2 Pro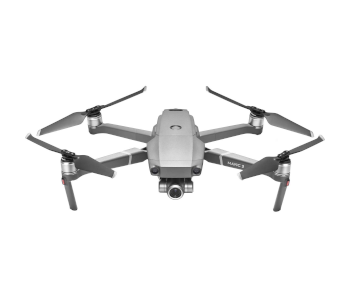 View on Amazon
Editor's Rating: 4.9/5
The Mavic 2 Pro isn't just our top pick for the best drone with HDR – it's one of the best camera drones, period. Even more impressive is the fact that it's a Mavic, so it retains the ultra-portable and lightweight build of all the previous Mavic drones that came before it.
The 1-inch CMOS sensor of the Mavic 2 Pro is unequaled in the field of ultra-portable drones, truly setting the Mavic 2 Pro apart. Aside from being able to capture 20 MP stills and 4K video, the wide dynamic range of the extra-large sensor means that the camera of the Mavic 2 Pro can capture more detail in a variety of lighting conditions.
The wide dynamic range of the Mavic 2 Pro has a direct effect on how well its HDR mode performs. Since it captures more detail, you'll only need to take a few shots at different exposure values to produce the same quality as several more shots from a camera with a smaller sensor. Mavic 2 Pro can process HDR photos automatically, but the results are still better if you take the photos in RAW mode and post-process them yourself.
More than its photography capabilities, the Mavic 2 Pro is an enjoyable and user-friendly drone. With an omnidirectional obstacle avoidance system, the Mavic 2 Pro is one of the safest drones to fly, even in its various Intelligent Flight modes. The advanced ActiveTrack mode uses the camera's optical sensors to identify and track subjects and can even predict the trajectory of their motion.
All of these features come at a price – a pretty steep one, at that. The Mavic 2 Pro costs close to $2000, perhaps making it a drone that mostly professional users will consider. Being a small drone, it's also not built for stability in strong winds.
Tech Specs
Camera sensor: 1" CMOS
Video resolution: 4K @ 30 fps
Image resolution: 20 MP
The Pros
Light and ultra-portable
Wide dynamic range
Superior camera sensor
Omnidirectional obstacle avoidance
The Cons
Expensive
Unstable in strong winds
2. Best value: DJI Mavic Air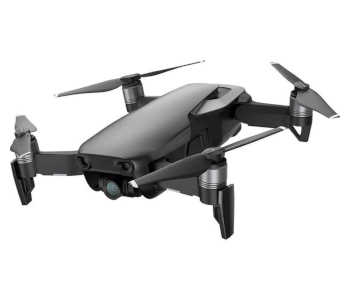 View on Amazon
Editor's Rating: 4.6/5
The Mavic Air is the smallest and lightest member of the DJI Mavic family (at least, until the recent launch of the Mavic Mini), making it quite impressive that it can shoot 4K video and comes with a 3-axis gimbal. At less than $1000, the Mavic Air is also one of the more affordable drones from DJI. For the richness of features that it offers, the Mavic Air is our pick for the best value HDR drone.
The 1/2.3" CMOS sensor is fairly standard for camera drones in this price range – satisfying and useful, but not all that impressive. Weighing only 430 grams, the Mavic Air has to be one of the smallest and lightest drones to have a 4K camera.
The HDR mode of the Mavic Air is reasonably easy to use and produces vibrant and detailed photos even with autoprocessing. The small sensor makes the Mavic Air's camera prone to loss of details, so you might want to take more photos at different exposure levels. Fortunately for professional photographers, the Mavic Air can also save photos in RAW format for a more color grading flexibility.
The Mavic Air is also one of the few drones in this price range to have an obstacle avoidance system. The sensors aren't as sophisticated as those found in the Mavic 2 Pro, but just the fact that the feature is there should help out a lot of drone pilots.
The drawbacks of the Mavic Air have nothing to do with its camera. Rather, these are limitations related to the size and weight of the drone. Its battery is massively underpowered and is only good for a maximum of 16 minutes of flight time. Being extremely lightweight, the Mavic Air is also exceptionally prone to losing stability when flying in strong winds.
Tech Specs
Camera sensor: 1/2.3" CMOS
Video resolution: 4K @ 30 fps
Image resolution: 12 MP
The Pros
Inexpensive
Light and ultra-portable
Comes with obstacle avoidance
The Cons
Limited flight time
Unstable in strong winds
3. Best budget: Parrot Anafi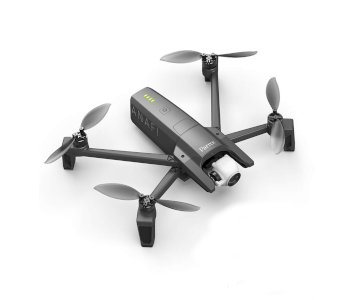 View on Amazon
Editor's Rating: 4.4/5
We'll be honest: an HDR camera mode isn't exactly a feature that you can expect to find in cheap drones. If you have a tight budget, then the cheapest drone that we can recommend is the Parrot Anafi. With a price tag of around $700, the Parrot Anafi isn't as "budget" as we'd like but it's certainly worth every penny.
At 320 grams, the Parrot Anafi is even lighter than the Mavic Air. With a 1/2.4" sensor, the drone's camera can capture 4K video and 21 MP stills. To top that off, it has 2.8x lossless zoom (in 1080p) and is mounted on a gimbal that allows a full 180-degree tilt. The zoom capability is particularly nifty and gives the Anafi some unique camera modes. These specs are not at all bad for a drone as inexpensive as the Anafi.
The HDR mode has been a point of pride for the Anafi and the feature that, according to Parrot, will set it apart. For the most part, shooting in HDR with the Anafi does a good job of eliminating washed out areas in harsh lighting and retaining a high level of detail. It does tend to make bright colors appear oversaturated, and this is an area that Parrot could improve on in the future implementation of HDR. Overall, it's not bad for their first try, but HDR shots in the Mavic Air and Mavic 2 Pro are simply better.
Professional photographers will be very comfortable using the Parrot Anafi. It can take 21 MP stills in RAW DNG format for those who like to post-process their photos.
Unfortunately, the flight experience with the Parrot Anafi leaves much to be desired. The controls are not as responsive as we'd like, and the drone can't maintain a stable hover for long. The Parrot Anafi also does not have any obstacle avoidance systems, so you'll have to keep your eye on this drone at all times.
Tech Specs
Camera sensor: 1/2.4" CMOS
Video resolution: 4K @ 30 fps
Image resolution: 21 MP
The Pros
Inexpensive
Light and ultra-portable
180-degree camera tilt
The Cons
Limited flight time
Unstable in strong winds
Oversaturated HDR footage
No obstacle avoidance
4. DJI Mavic 2 Zoom
View on Amazon
Editor's Rating: x/5
The Mavic 2 Zoom is a very good drone, and it would have ranked higher if we didn't already have the Mavic 2 Pro up there. In a lot of ways, these versions of the Mavic 2 have a lot in common: an omnidirectional obstacle avoidance system, ultra-portable design, and extremely lightweight build.
Both of them also have HDR modes, although the Mavic 2 Pro is certainly the more superior option. This does not mean that the camera of the Mavic 2 Zoom is bad. Quite the opposite – the usual 1/2.3" sensor for 4K recording has been augmented with 2x optical zoom and 4x digital zoom. This is the unique characteristic of the Mavic 2 Zoom, and no other ultra-portable drone in the market today can match this feat.
The Mavic 2 Zoom lacks the wide dynamic range of the Mavic 2 Zoom, so its HDR performance is pretty much at par with the Mavic Air. While this isn't a huge loss, it means that you might need to set the HDR to take more photos at different exposure levels to be satisfied with the level of detail of the composite shot. Again, the Mavic 2 Zoom can save photos in RAW format, so you're free to manually post-process them.
Where the Mavic 2 Pro focuses on sheer video and image resolution, the Mavic 2 Zoom makes up for it with richer creative opportunities. The powerful zoom lens opens a lot of possibilities for the drone photographers to capture and frame their shots without the danger posed of flying too close to the subject.
If you' re looking specifically for a drone with an HDR feature, you can find much cheaper alternatives than the Mavic 2 Zoom. Although it's a bit cheaper than its Pro counterpart, the Mavic 2 Zoom still costs close to an intimidating $1500. It's a great little drone if you think you can use the full potential of the zoom lens, but we wouldn't go for it solely for the HDR function.
Tech Specs
Camera sensor: 1/2.3" CMOS
Video resolution: 4K @ 30 fps
Image resolution: 21 MP
The Pros
Light and ultra-portable
Up to 8x zoom
Inventive camera modes
Omnidirectional obstacle avoidance
The Cons
Expensive
Unstable in strong winds
Final thoughts
Drones with an integrated HDR mode is somewhat of a new thing, and there aren't many of them out there yet. An HDR mode takes several photos of the same scene at different exposure levels and integrates them automatically, picking out the best portions of each photo.
Although it was possible to do this with older camera drones, it typically involved having to combine the photos yourself using a professional photo editing tool, like Adobe LightRoom. HDR mode provides a faster and easier way, as the camera itself can do the merging for you. The beauty of a built-in HDR mode is that you can get a preview of the output even while out in the field. If you're not satisfied with the results, you can simply tweak your HDR settings or your shot.
If having an HDR mode is absolutely critical for you, then buckle up for a big-ticket purchase. None of the drones we've listed here cost less than $600. HDR is a premium feature, but the results are worth it if you plan on using the photos and videos commercially.