6 Best Heavy Lift Drones
3D Insider is ad supported and earns money from clicks, commissions from sales, and other ways.
Drones have become very sophisticated, packed with autonomous features. They can follow us, fly along pre-drawn flight paths, go further, and carry more. Despite all this, modern drones at the consumer level still can't transport people. That said, some heavy lift multicopters can carry payloads equal to a small child. Such models are not available to average users—yet.
Budget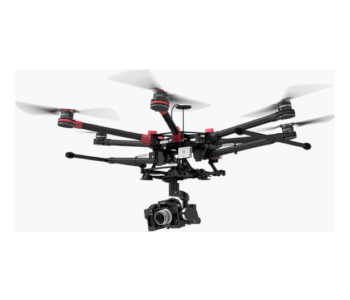 DJI Spreading Wings S900
4.2/5.0
Drone Type: Hexacopter
Payload: 18 lbs. (8.2 kg)
5-minute assembly, removable centerboard, spark proof plug, decent payload.
Check DJI
Best Value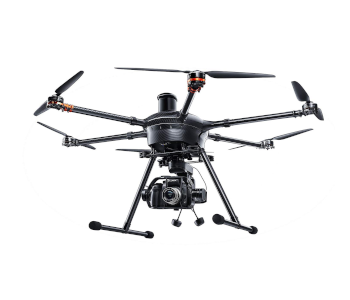 YUNEEC Tornado H920
4.4/5.0
Drone Type: Hexacopter
Payload: 3.5 lbs. (1.6 kg)
RTF, carbon fiber frame, 360° views, bonus battery, return to home feature.
Check Amazon
Top Pick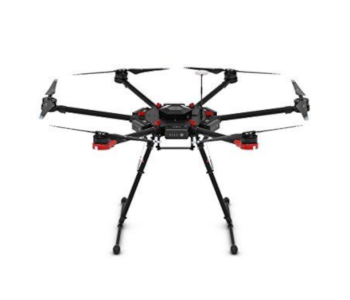 DJI Matrice 600
4.6/5.0
Drone Type: Hexacopter
Payload: 13 lbs. (6 kg)
Collapsible design, ATF, multiple application, decent flight time, long range.
Check EBay
The Point of Heavy Lift Drones
There are lots of reasons why we fly quadcopters and other multirotor drones. As unmanned aerial vehicles (UAVs) get better, there are more reasons there are to fly them. Even Amazon is experimenting with drones that can deliver small parcels to its customers. That's going to be quicker than sending stuff to a sorting office for someone to deliver later by hand.
Today's drones can carry heavy cameras and gimbals (stabilizers). Some of the professional models can lift heavy filming equipment and still be fast and agile. The amount a drone can lift is its payload. The drones most of us are familiar with today have smallish payloads. The heavy lift drones in this guide are a different breed, capable of carrying much more.
Applications of High Payload Drones
Here are a few valuable uses that heavy lift drones offer or will soon provide:
Postal delivery (consumer level)
Movie-making and other commercial filming endeavors
Search and rescue
Surveillance
Scientific research & development
People carriers (not in use—yet)
Warfare, including weaponry
Agriculture
Fishing
Others
There are sure to be many other applications that we haven't thought about yet. The point is the technological know-how is developing fast with heavy lift drones. It's only a matter of time before we see more of them in our skies, going about their everyday business. Let's hope the rules and regulations for heavy payload drones can keep up with the pace of technology.
Quadcopter VS Hexacopter VS Octocopter
Quadcopters have four propellers and four motors. They're by far the most popular choice of all the drones. Quads are easy to maintain, fast, and agile. And the bigger they are, the more they can carry. There's only one quadcopter in this guide, the DJI Matrice 100. The Matrice has a payload of about 8lbs. (3.6kg). Hexacopters have six propellers, six motors, and more carrying capacity than quads.
The additional motors and props make hexacopters stronger and abler than quads. The DJI Spreading Wings S900 Professional is the hexacopter with the highest payload in this guide. It can lift 18 lbs. (8.2 kg). Octocopters have eight motors and eight propellers. That makes them the most powerful of the three multirotor types in this guide. The one reviewed here can carry 22 lbs. (10 kg).
What to Look For
Heavy lift drones are susceptible to the same kinds of setbacks as other drones. They're cursed by short flying times, long charging times, and the high cost of extra batteries. The distance range is also an important consideration. You don't want to buy a drone that meets your payload needs only to find out it can't reach its destination.
My advice is to make a simple checklist of your needs and wants. Your needs are must-haves, and your wants are would-likes. Don't worry too much if you're unsure what to put on your priority list right now. Your expectations are sure to become clearer as you read the reviews.
About My Guide
Keep reading if you're an individual or business who's interested in heavy lift drones. There are models on the market today that can lift far more than most people think. This guide looks at six tried and tested heavy payload quads available right now. I chose these models based on personal research, the views of industry experts, and the feedback of those who already own them.
Each review is short and to the point. They highlight the crafts prominent flying features, technology, lifting capability, and practical uses. At the end of each piece is a simple 3-column table. These tables show the drone's main tech specs along with the pros and any cons.
The list below shows all the models, their drone category, and maximum payload capacity.
Heavy Lift Drones Comparison Table
1. DJI Spreading Wings S900 Professional | Best Budget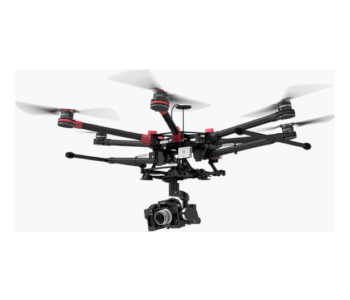 View on DJI
Editor's Rating: 4.2/5
The biggest bugbear of any drone is its flying time or battery life. The DJI's Spreading Wings S900 is a professional grade hexacopter. It's a strong and stable drone despite its lightweight. That's because of the carbon fiber material used in its arms and landing equipment.
Best feature 1: Robust build, carbon fiber material
Best feature 2: Highly portable design
Plus points: 5-minute assembly, removable centerboard, spark proof plug, decent payload
Minus points: Average flight time
You may expect heavy lift drones to be large, bulky, and awkward to carry around. That's not the case with this one. The Spreading Wings S900 Professional has folding arms that make it neat and compact.
This drone is not only easy to fold down—it's quick and easy to prepare for flights too. You can have it ready for takeoff in five minutes or even less with a little practice.
Easy Access Simple Maintenance
The compact design and portability make the S900 unique for a professional hexacopter. Another nice feature with this model is its removable upper centerboard that allows quick and easy access. Easy access makes it convenient to set up and maintain the hexacopters' electronics.
Installing the IMU and flight controller couldn't be easier. It's a design that lets you set up the power distribution system with the minimum fuss. The S900 comes with a sparkproof plug to avert short circuits. That may seem like a logical approach, but not all drones come with sparkproof plugs as standard. It's certainly a well-thought-out model from the inside out.
Flying the DJI Spreading Wings S900
The maximum payload is huge compared to regular camera drones. It's not overly impressive when compared to some of the other heavy lift drones on this page, though.
The S900 is a pro camera hexacopter. Its maximum takeoff weight is 8.2 kg. The drone weights 3.3 kg, so that gives it a payload capability of 4.9 kg. That's sufficient for most heavy-duty camera and gimble setups. DJI has placed the gimbal mounting bracket low down to allow a better range of camera motions and shooting angles. The retractable landing gear adds further to the stills and video potential.
This drone is compatible with all high-quality Zenmuse camera gimbals. There's plenty to like with this professional hexacopter. It's ideal for anyone who wants a capable drone for professional filming.
The Not So Good
Technology still isn't here yet, so we have to measure flight times in minutes rather than hours. DJI's Spreading Wings S900 gives an 18-minutes flight in ideal conditions. That isn't bad, but it's not impressive either.
The takeoff weight of 8.2 kg is fine for almost all camera setups, but do the math before you decide.

Tech Specs
Multirotor type: Hexacopter
Dimensions: 19.7 x 11.8 x 15.8″
Product Weight: 7.2 lbs. (3.3 kg)
Max Payload: 18 lbs. (8.2 kg)
Range: Not specified
Battery: 6S 12000mAh
Running time: 18 minutes
The Pros
Robust carbon fiber build
Highly portable design
5-minute assembly time
Removable centerboard
Spark proof plug
Decent payload for camera and gimbal setups
The Cons
Average flight time
2. YUNEEC Tornado H920 Hexacopter | Best Value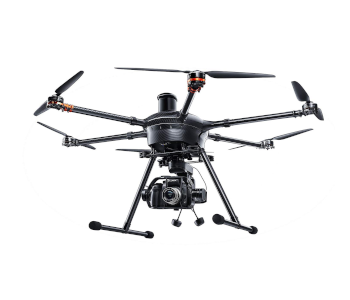 View on Amazon
Editor's Rating: 4.4/5
The YUNEEC (YUNH920US) Tornado H920 is another capable heavy lift hexacopter. It also has retractable landing gear that gets out of the camera's field of view (FOV) when filming.
Best feature 1: Retractable landing gear
Best feature 2: Accommodate Panasonic GH4 camera and GB603 gimbal
Plus points: RTF, carbon fiber frame, 360° views, bonus battery, return to home feature
Minus points: Need to purchase extras
YUNEEC's Tornado H920 is not a hobby drone. There are simpler and cheaper camera quads available at the enthusiast level. However, this is a worthy model if you want a state of the art heavy lift hexacopter for aerial videography and photography. They have optimized the 6-rotor aerial platform to accommodate the high-quality Panasonic GH4 camera and GB603 gimbal.
The drone is as light and as strong as it can be thanks to the carbon fiber frame. The folding arms and retractable landing gear make it easy to store and transport. Hidden legs also mean the camera can record unobscured 360-degree views from above. The drone includes a 5.8GHz SD video downlink system. There's also an ST24 transmitter with an integrated 7-inch android device.
Flying and Payload Capability
Takeoff weight is just under 5kg (11 lbs.) with a 1.6kg payload. The 22-minutes flight time is longer than the first pick. An extra four minutes doesn't sound much, but it's significant in drone terms.
The intelligent tasks and autonomous flight modes give pilots plenty of scope and flexibility:
Orbit Me
Point of interest
Journey mode
Curve Cable Cam
Follow Me/ Watch Me
Return to Home
The purpose of the above modes is to allow the drone to fly on autopilot. That leaves the pilot free to concentrate solely on shooting video or taking aerial photos.
The Not So Good
This is a professional hexacopter that has plenty going on at the expert level. It's not cheap, but it's fantastic value as a tool of the trade for professionals. Alas, it's out of reach for most hobbyist. Plus, the Panasonic GH4 camera and GB603 gimbal are extras despite the already high price tag.

Tech Specs
Multirotor type: Hexacopter
Dimensions: 22 x 20 x 20″
Product Weight: 2.64 lbs. (1.19 kg)
Max Payload: 3.52 lbs. (1.6kg)
Range: 3.1 miles (5km)
Battery: 3.6 V 8700 mAh Li-Ion
Running time: 22 minutes
The Pros
Retractable landing gear
Foldable arms
Accommodate Panasonic GH4 camera and GB603 gimbal
Ready-to-Fly (RTF)
Lightweight carbon fiber frame
360° degree views
Bonus battery
Autonomous flight modes
The Cons
Panasonic GH4 camera and GB603 gimbal not included
3. DJI Matrice 600 Heavy Lifting Hexacopter | Top Pick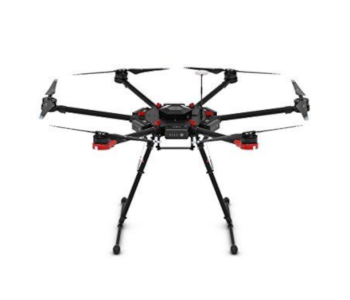 View on EBay
Editor's Rating: 4.6/5
The DJI Matrice 600 (M600) has made the top pick. It's a heavy lifting hexacopter with a maximum payload of 6 kg or 13 lbs. It arrives almost ready to fly (ARF) with minimal assembly needed.
Best feature 1: High takeoff weight
Best feature 2: Retractable Landing Gear
Plus points: Collapsible design, ATF, multiple application, decent flight time, long range
Minus points: Extra costs, high price tag
Who Is the DJI Matrice 600 For?
DJI designed this hexacopter as a high-quality specialist drone with multiple uses. Its primary function, though, is for professional industrial applications and aerial photography/videography. DJI built the M600 so that it could integrate their powerful technologies, including:
Lightbridge 2 transmission system
A3 flight controller
Battery management system
Intelligent batteries
Camera and Gimbal Compatibility
The M600 has a flexible, modular design that's quick and easy to fold down and setup. That also means it's portable and easy to store. There are plenty of customizable flight options for pilots and ways to stream high-quality live footage.
The flight range (distance from craft to controller) is an impressive 5 km. The flight time is equally impressive. This bird can fly for around 35 minutes empty, and 16 minutes with a maximum payload. With a top speed of almost 45 mph (20 m/s), the M600 is super-fast too. Speed is especially useful for flying afar as it gets the drone to its destination and back faster.
The Not So Good
There are costly extras not included in the price of the drone. These include gimbal, camera, and any add-ons for the flight controller. The Matrice 600 can accommodate all Zenmuse cameras and gimbals. Its 6kg payload is also sufficient to fly with the Ronin-MX gimbal and range of compatible cameras. The cost of this amazing drone is sure to be out of reach for most hobbyists, but it's a good deal for pros.
Tech Specs
Multirotor type: Hexacopter
Dimensions: 19.2 x 26.3 x 20.5″
Product Weight: 20.9 lbs. (9.5 kg)
Max Payload: 13 lbs. (6 kg)
Range: 3.10 miles (5 km)
Battery: TB47S Intelligent Flight Battery
Running time: 35 minutes
The Pros
High takeoff weight (payload)
Retractable Landing Gear
Collapsible design
Almost-Ready-to-Fly (ATF)
Multiple applications
Decent flight time
Long range
The Cons
Extra costs
High price tag
4. DJI Matrice 100 Quadcopter (for Developers)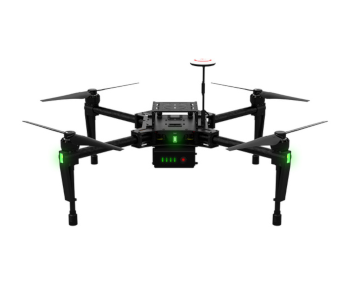 View on DJI
Editor's Rating: 4.7/5
Meet the DJI Matrice 100 Quadcopter—a drone designed for developers. That means it has a fully programmable and customizable flight platform. Now users can transform their ideas into reality.
Best feature 1: Programmable/customizable flight platform
Best feature 2: Dual battery compartments
Plus points: Strong, lightweight frame, enhanced GPS, long range, soft landing pads
Minus points: Lighter payload, extra costs, high price tag
The Matrice 100 has a modular design and provides incredible versatility for all kinds of sectors. The only way to get the perfect drone is to create one that meets specific needs and expectations. DJI's Matrice 100 quadcopter is that model. Developers get to design their software and hardware solutions. The Special Development Kit and Guidance Vision Sensing System are the key selling points here.
Who Is the DJI Matrice 100 Development Platform For?
This flexible quadcopter is already proving invaluable in the following sectors:
Aerial photography & videography
Archaeology
Interior navigation/inspection
Inspection of infrastructure
Precision agriculture
Search & rescue
Surveying & mapping
Wildlife conservation
There's a lot to admire with this capable quad for lighter duty tasks. Being a quadcopter—as opposed to a hexacopter—has its advantages as it's more agile and can work in tighter spaces. It's not small, but it does have fewer legs, motors, and rotors to worry about. The drone also has a strong, lightweight frame, dual battery compartments, enhanced GPS, and soft landing pads.
It's lightweight and balanced power gets you 40 minutes of flight time with a range of 1.2 miles. There's plenty of attraction with this flying robot. Best of all is that you can keep your project alive and adaptable thanks to its upgrade potential. The Matrice 100 is compatible with many DJI accessories.
The Not So Good
The 1kg payload restricts what the quad can do and carry. It's an incredible tool if the payload meets your needs though. To develop the quad means extra costs to what's already an expensive project. The most expensive of these is the incredible DJI Zenmuse X3 gimbal and camera.

Tech Specs
Multirotor type: Quadcopter
Product Weight: 5.19 lbs. (2.35 kg)
Max Payload: 2.2 lbs. (1 kg)
Range: 1.2 miles (1.9 km)
Battery: TB48D 5700mAh
Running time: 40 minutes
The Pros
Programmable/customizable flight platform
Dual battery compartments
Strong, lightweight frame
Enhanced GPS
Long range
Soft landing pads
The Cons
Lighter payload
Extra costs
High price tag
5. DJI AGRAS MG-1 Agricultural Spraying Octocopter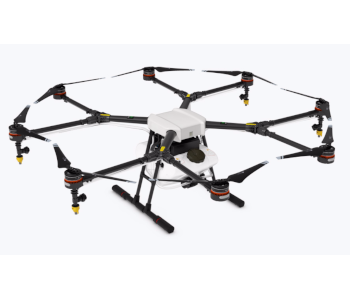 View on EBay
Editor's Rating: 4.5/5
This is the DJI AGRAS MG-1. It's a purpose built agricultural spraying octocopter. It works for the distribution of liquid pesticides, herbicides, and fertilizers.
Best feature 1: High payload
Best feature 2: Sealed body with a filtering system
Plus points: Foldable, 3 flight modes, precision spraying, intelligent memory, terrain follow
Minus points: Expensive
The DJI AGRAS MG-1 boasts a powerful propulsion system capable of carrying a payload of 10kg. It's fast too—it has to be. It can cover a 4,000-6,000 m² area with pesticides and fertilizers in only 10 minutes. To put that into perspective, it's about 40–60 times faster than manual alternatives.
Agricultural Drone Spraying Solutions
Here are a seven of the AGRAS MG-1's main highlights:
Foldable design for easier transportation and storage
Dedicated remote controller
Maximizes efficiency
Sealed body with filtering system improves longevity and reliability
High precision spraying
Three easy-to-use flight modes
Intelligent memory remembers coordinates
The DJI AGRAS MG-1 has a lot to marvel over and even more to explore. Agricultural spraying is set to become easier, faster, and more economical than ever before.
The Not So Good
The DJI AGRAS MG-1 Agricultural Spraying Octocopter cost as much as a small car. Farmers need to be sure it's going to pay for itself—hopefully many times over—to justify the cost.
Tech Specs
Multirotor type: Octocopter
Dimensions: 57.9 x 57.9 x 18.9″
Product Weight: 19.4 lbs. (8.8 kg)
Max Payload: 22 lbs. (10 kg)
Range: 0.62 miles (1 km)
Battery: 6000 mAh, 2S LiPo
Running time: 10–20 minutes depending on payload
The Pros
High payload
Sealed body with a filtering system
Foldable design
Three handy pilot modes
High precision spraying
Intelligent memory
Terrain follow
6. Freefly Systems ALTA 6 UAV Hexacopter
View on Amazon
Editor's Rating: 4.4/5
The Freefly Systems ALTA UAV is the last and most expensive hexacopter in this guide. The company says it's built to fly and made with care. And so it should be at the price.
Best feature 1: Automatic data logging
Best feature 2: Heavy payload
Plus points: Ultra-lightweight, foldable design, Sky View, silent drive, return to home
Minus points: Expensive, requires extras
The hexacopter has a noticeable quality feel right out of its box, and what a box it is too. It's an easy craft to assemble and disassemble despite its size. The payload is around 15 lbs. (6.8 kg) helped by the super-lightweight yet robust carbon fiber frame.
Filming with the ALTA 6 from Freefly
This is a hexa-rotor drone made for aerial imaging. When used with the MoVI gimbal (not included), you can attach a camera above the airframe or below it. That means there are no angles this puppy can't film from. The 15-pound payload should easily accommodate all DSLRs and mirrorless cameras too. Or, you can mount compatible compact cinema cameras that fit.
First Person View (FPV) works seamlessly with the flight controller and all the popular FPV systems. The ALTA 6 delivers everything enthusiasts and pros could want from a high-quality camera hexacopter. Flight modes include position hold, return-to-home, auto-land, speed control, and manual.
The Not So Good
There are a lot of amateurs who'd love to get their hands on an ALTA 6 or 8 from Freefly. Alas, this is a pro-grade hexacopter and therefore expensive to buy. You also need to invest in costly extras to get the most out of this amazing aerial robot.

Tech Specs
Multirotor type: Hexacopter
Dimensions: 29 x 28 x 17″
Product Weight: 10.0 lbs. (4.5 kg)
Max Payload: 15 lbs. (6.8 kg)
Battery: 22.2V 16Ah Lithium Polymer
Running time: 10+ minutes depending on payload
The Pros
Automatic data logging
Heavy payload
Ultra-lightweight
Foldable design
Sky View
Silent drive
Return to home
The Cons
Expensive
Requires extras