5 Best Cargo and Heavy Lifting Drones of 2019
3D Insider is ad supported and earns money from clicks, commissions from sales, and other ways.
Many drone pilots, professional and recreational alike, like to use small to medium-sized drones because they are extremely convenient for traveling. With the level of technology of drones nowadays, settling for an ultra-portable drone isn't even that huge of a downgrade – many ultra-portable drones are now equipped with high-resolution cameras, advanced communication modules, and intelligent flight systems.
However, there are still times when you need to use a drone that can do some heavy lifting. If, for any reason, you need a big and powerful drone, then here are our recommendations for the best models that you can buy today.
Why get a cargo drone?
While compact drones certainly have their charm, they aren't capable of lifting any more than their stock camera and gimbal. Even if you wanted to load them with something else, you typically don't even offer a provision for any additional payload. Simply put, there are cases where the cargo lifting capacity (or lack thereof) of small drones is a hard limit for the activity you want to do.
1. Filmmaking
Modern camera drones are admittedly impressive pieces of tech, but nothing can beat the freedom and versatility of a professional DSLR camera for filmmaking. A DSLR filming setup can get heavy pretty quickly, especially if you factor in a zoom lens and a gimbal setup. Heavy lifting drones with swappable payload options are perfect for this type of application.
2. Mapping
Mapping by photogrammetry requires nothing more than a high-resolution camera and an onboard GPS module, but there's a mapping technique that offers far richer detail and can work in more types of environments: LiDAR. However, a LiDAR setup is much more expensive compared to a high-resolution camera. It's also a lot heavier, so you're going to need a heavy-lifting drone to reliably fly around with it.
3. Agriculture
The farming industry has been one of the biggest beneficiaries of drone technology. Not surprising, considering how easily drones can fly over large tracts of farmland while collecting data. Specially designed drones can even carry a payload of fertilizer which it can spray evenly across the whole farm faster and with much less effort than any other method.
4. Drone fishing
This is a pretty strange application of drone technology, but there's quite a good number of people who are into drone fishing. It's a lot like normal fishing, except you use a drone with a release mechanism to drop some bait and a fishing hook in the middle of a lake. You never know how big of a fish you could end up catching, so it'll be a good idea to use a drone with high lifting power.
5. Parcel delivery
Parcel delivery by drones has long been a dream application for many drone manufacturers and big brand retailers like Walmart and Amazon. While airspace restrictions are still a pretty big hurdle to this drone application being fully realized, there have been a lot of tests done through the years that have proven that this it's possible. When drone delivery becomes the next big thing in e-commerce, you would absolutely want a cargo drone on hand to get in on the action.
No matter which model of cargo or heavy lifting drone you get, there's one thing we can assure you: it's going to be expensive. Expect to spend at least $5000 to more than $10,000 for a cargo drone, and that price tag typically doesn't even include the payload. Thus, cargo drones aren't exactly for hobbyists – they are geared toward professional drone pilots who expect a financial return on the investment.
The top 5 best cargo and heavy lifting drones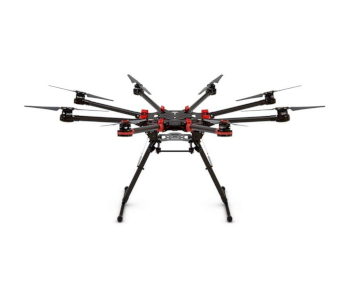 Tech Specs
Multirotor type: Octocopter
Weight: 4.4 kg
Max payload: 6.6 kg
Battery life: 15 minutes
The Pros
Made with a carbon fiber body
Dampened gimbal bracket
Compatible with Zenmuse gimbals
Customizable components
The Cons
Very expensive
Short battery life
Does not come with flight controller or DJI LightBridge
If we're talking about drones that can carry heavy loads, then we need to include DJI's flagship octocopter: the Spreading Wings S1000+. A product of impressive engineering, the S1000+ has a strong but lightweight carbon body, retractable landing gear, the fastest ESCs that DJI has developed, and an eight-rotor propulsion system. As you'd expect, it's a huge drone, and we're thankful that it features foldable arms for easier transport.
The Spreading Wings S1000+ was specifically made for professional drone filmmaking. It's compatible with the entire line of Zenmuse Z15 gimbals, and the gimbal bracket itself is located away from the body of the drone and lined with dampers to reduce vibrations. This combination should result in an exceptionally stable and smooth video from the DSLR of your choice.
Its estimated battery life of 15 minutes is certainly underwhelming but is hardly surprising for a drone of this weight. This is despite the redesigned power distribution system of the S1000+, which makes sure that each propeller receives as much power as it needs. It should be extremely efficient in theory, so the limited battery life is probably an unavoidable hardware limit.
This drone also doesn't come with a built-in transmitter system or flight controller, so you'll have to install a compatible one such as an A2 & Wookong M Flight Controller and a DJI LightBridge module. While the freedom of choosing components for the drone is well-appreciated, it also adds another expense to what is already an expensive rig.
All in all, we like how well-built the Spreading Wings S1000+ is. It's not the best in terms of battery life, but we like how the drone can be customized in a large number of ways to fit any application.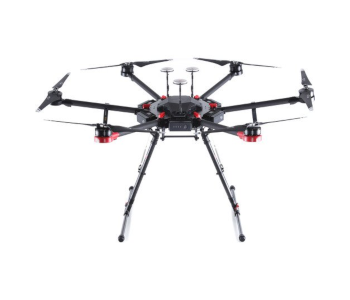 Tech Specs
Multirotor type: Hexacopter
Weight: 9.5 kg
Max payload: 6 kg
Battery life: 35 minutes
The Pros
Long flight time
Almost ready to fly
Comes with A3 flight controller and DJI Lightbridge
Comes with expansion bays
The DJI Matrice 600 is simply a beast. Its level of flexibility in payload options is rivaled only by how powerful its propulsion system is – despite being a pretty heavy drone, it can still handle a payload weighing up to 6 kilograms. As expected, the Matric 600 is compatible with Zenmuse gimbals plus a few other third-party accessories.
In a departure from other professional-grade cargo drones from DJI, the Matrice 600 comes out of the box almost ready to fly. It comes with the revolutionary A3 flight controller and the LightBridge 2 transmission technology. It also has a dual operator setup that allows the gimbal to be operated independently from the drone, which is one of the most useful features for professional drone photographers.
Despite having all these included components, the Matrice 600 also offers a good deal of customization. Its frame has expansion bays for other accessories, and custom commands and flight controls can be programmed through the drone using the DJI Mobile SDK and API SDK.
The Matrice 600 comes with six 4500 mAh TB47 Intelligent Flight Batteries that allow it an impressive 35 minutes of flight time. Take note that this figure can drastically drop when you start pushing the drone's payload capacity. You also have the option of upgrading to the 5700 mAh TB48 batteries, although you'll need to replace all six for the drone to work.
Because of its better compatibility to third-party accessories, the Matrice 600 can be used for professional applications beyond photography. It's strong enough to handle a LiDAR sensor and has provisions for multispectral sensors to do precision agriculture surveys, as well as more sophisticated GNSS receivers for high-precision mapping.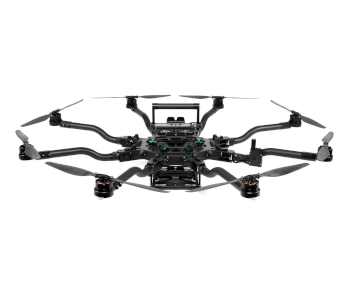 Tech Specs
Multirotor type: Octocopter
Weight: 6.2 kg
Max payload: 9.1 kg
Battery life: 10 minutes
The Pros
Inward-folding arms
Body and arms made from carbon fiber
Very good hover stability
Flexible mounting positions
Considered by many to be one of the best cargo drones in the market today, the Alta 8 from Freefly immediately looks distinct with its swan neck-shaped carbon fiber arms and carbon propellers. The Alta 8 has been designed for maximum stability for drone photography and filmmaking – a "dolly" in the air, if you will.
The 9.1-kg. payload capacity of the Alta 8 should be enough even for large camera rigs. What sets the Alta 8 is that the camera can be mounted on either the bottom or the top of the drone. The vantage point at the top of the drone is perfect for capturing the kind of sky shots that were very challenging with the usual bottom-mounted cameras.
Another unique advantage of the Alta 8 is that it's probably the most portable octocopter in the market. Instead of arms that fold downward, the arms of the Alta 8 fold inward, allowing it to take on a more compact form. For professional drone filmmakers who are always on the move, the portability of the Alta 8 is going to be very appealing.
Despite all the great qualities of the Freefly Alta 8, there is a huge reason for why it didn't land at the top of this list: for the price of an Alta 8 drone, you can probably buy a 2017 model sedan. This extremely high price point makes the Alta 8 impractical for all but the biggest drone service companies.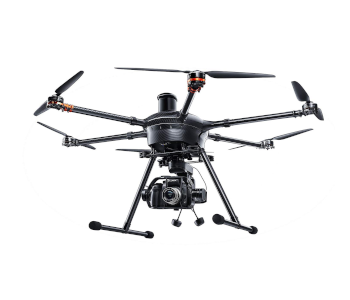 Tech Specs
Multirotor type: Hexacopter
Weight: 1.19 kg
Max payload: 1.6 kg
Battery life: 21 minutes
The Pros
Lightweight and strong
Retractable landing gear
Ready to fly
Comes with a dedicated transmitter
The Cons
Small payload capacity
Expensive
Does not come with camera and gimbal
True to the Yuneec reputation, they also have a hexacopter that is pretty capable of doing some heavy lifting. The Tornado H920 has been deliberately designed to accommodate the Panasonic GH4 camera and the GB603 gimbal – both excellent pieces of hardware, except that they don't come bundled with the drone.
Not to knock on the Tornado H920, it has a solid build made mostly of carbon fiber that helps keep it lightweight but durable. It also has a retractable landing gear which allows for full 360-degree panning of the camera. The Tornado H920 comes out of the box practically ready to fly with the ST24 transmitter with the integrated 7-inch Android device.
The Tornado H920 is an exceptionally stable and easy-to-control drone, making it perfect for professional aerial filmmaking. However, its lack of payload versatility hurts its value as a cargo drone. The Tornado H920 might seem like it's one of the more affordable entries in this list, but don't overlook the fact that it doesn't come with the prescribed camera and gimbal, which will easily set you back an additional $3000 to $4000.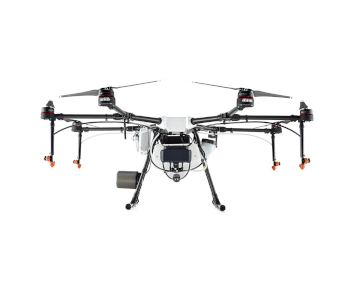 Tech Specs
Multirotor type: Octocopter
Weight: 8.8 kg
Max payload: 10 kg
Battery life: 10 to 20 minutes
The Pros
Large payload capacity
High-precision spraying
Capable of autonomous flight
Very fast ground speed
The Cons
Expensive
Specialty drone
The DJI Agras is unlike any of the other entries on this list. Instead of a camera or an infrared sensor, the dedicated payload of the Agras is a vat for liquid fertilizers, herbicides, or pesticides. The drone pilot can then determine a flight path for the Agras over the farmland, and the Agras will carry out the mission while spraying its payload.
The Agras isn't just some drone that haphazardly sprays its payload until it runs out. It has been programmed with an intelligent feature that ensures that the coverage area receives an almost equal amount of treatment. The Agras is even able to "follow" changing terrain, changing elevation accordingly to ensure that it's still spraying its payload evenly. It's also an incredibly fast drone that can cover up to 6,000 square meters of farmland in just 10 minutes.
It's hardly surprising, but the DJI Agras is one of the most expensive drones to ever come out of the DJI brand, which is a shame considering how useful it can be for small-scale farmers.
Final thoughts
While small, nimble, and highly portable drones are all the rage nowadays, there will always be room for brutes that can offer some heavy lifting. The drones we have listed above are just some of the best drones made for carrying heavy cargoes.
All of the lifting power that these drones have also make them highly versatile. Whether you're a drone filmmaker, a drone mapping professional, or a farm owner who wants to make use of drones to better manage their farm, any of the drones in this list can be an extremely useful addition to your current set of tools. If you're interested in any of these drones, then you'd better start saving up – they're all pretty expensive.