6 Best Hidden Cameras of 2019
3D Insider is ad supported and earns money from clicks and other ways.
Do you feel safe? Are you sure that your children are in capable hands while you're at work? Having an overt security system may give you peace of mind, but criminals can disable or bypass one since they know what they're dealing with. They can't mess with something they don't know is there though, which is why you'll want to invest in a good hidden camera.
As their name implies, hidden cameras are ones that are designed to blend in with their environment or be too small to detect. You can find hidden cameras in everything from books through phone chargers to porch lights, or carry one around in your pocket. The quality of today's cameras would make even the heroes of spy novels jealous, while their connectedness ensures that you can see what they see wherever you are.
Here are the six best hidden cameras to help boost the security of your home or business. Some come with ingenious disguises or are part of devices that work independently like floodlights and alarm clocks. There are other nuances to take into account like picture quality or battery life, so read the detailed reviews before making a decision.
Budget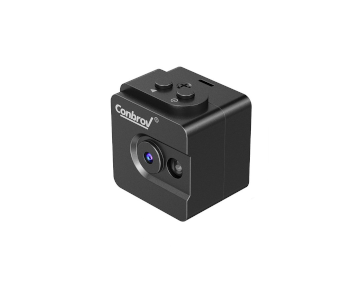 Conbrov T16 Mini Camera
4.5/5.0
Concealment: 4.8
Picture quality: 4.0
It comes with lots of useful accessories.
Check Amazon
Best Value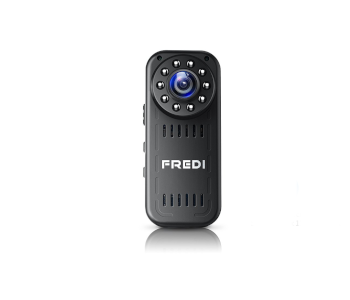 FREDI L16
4.7/5.0
Concealment: 4.5
Picture quality: 4.7
Simple companion app with accessible controls.
Check Amazon
Top Pick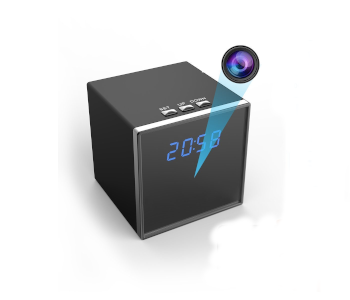 Corprit WiFi Spy Camera
4.8/5.0
Concealment: 4.8
Picture quality: 4.8
Companion app is functional and easy to use.
Check Amazon
Hidden Cameras Comparison Table
1. Best Overall – Corprit WiFi Spy Camera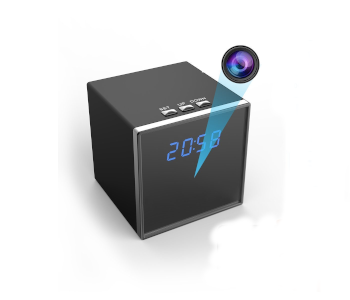 View on Amazon
Editor's Rating: 4.8/5
We all use alarm clocks, so what better place than one to hide a camera? Cprprit's Spy Camera has it all – a hiding place no one will suspect, cleverly concealed camera controls, excellent video quality, and the ability to view its feed remotely from anywhere in the world! This combination of concealment and smarts can be had for under $60, adding even more to the value of an already fantastic purchase.
Overview of Features
Corpit's camera is disguised as a modern, cube-shaped alarm clock. What's more, the clock is real – you get to set the time and even an alarm just as you would with a regular clock! It features a large, easy-to-see digital time display and its minimalistic style makes the clock blend in seamlessly with your room's appearance. It runs on a battery but can be plugged in as well.
There's nothing about the clock's outward look to suggest it hides a camera. That's because the front face is ingeniously decorated with small bulbs, one of which is the camera while the others are its IR lights that enable night vision. You can set the camera to record continuously or either record or take a picture once its motion sensor is triggered. These controls are located in a hidden compartment you can access by removing the clock's top.
The camera's resolution is 1080p, and videos are recorded at 25 frames per second. The lens has a 100-degree angle, which hits the sweet spot in terms of room coverage and footage quality. You'll be able to capture the whole room without having to carefully position the camera since whatever is to either side of it will get caught too. The IR bulbs give ample illumination for night vision and help produce usable footage with sharp contrasts.
The best thing about the camera is its app. Of course, you can record footage to the included 16GB SD card, but viewing a live feed from afar is more convenient. Scanning the QR code and following straightforward instructions will connect the camera to your home Wi-Fi network and let you access it remotely. You can view the feed, take pictures or videos, and configure everything from the clock to IR LED intensity.
What We Didn't Like
The clock camera doesn't have a brightness sensor, meaning you'll have to toggle the night vision manually. It has a microphone, so sound as well as video is captured. Sadly, the microphone is underwhelming – conversations are hard to make out, and the audio tends to break up.

Tech Specs
Dimensions: 1 x 1.1 x 0.8 in.
Resolution: 1080p
Lens angle: 100°
Recording triggers: Manual, motion
Concealed as: Alarm clock
Has Wi-Fi: Yes
The Pros
Disguised as fully-functioning alarm clock
Companion app is functional and easy to use
Excellent video quality
Good night vision
The Cons
Low-quality microphone
Night mode needs to be turned on manually
2. Best Value – FREDI L16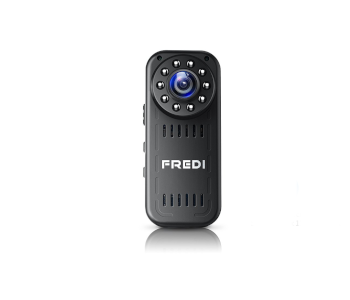 View on Amazon
Editor's Rating: 4.7/5
Why go with elaborate disguises when you can get a camera that's so small it can be placed anywhere without being noticed? Fredi's L16 is a highly portable camera you can either place out of sight or carry on you at all time. It is easy to use either manually or through its companion app, features excellent night vision, and 1080p resolution – impressive given its small size!
Overview of Features
The L16 is a hidden camera that resembles a fat domino. It isn't disguised like other cameras on the list, so it becomes apparent what the device is if someone discovers it. However, its tiny frame makes the camera easy to conceal so it doesn't come to that. Three physical buttons power the L16 off, take pictures, and record videos. It also comes with a clip you can attach to a belt or pocket and a magnetic holder which improves its stability.
Using the L16 is simple – point it in the general direction of what you want to record and either hit play or access the corresponding setting in the app. Alternately, the L16 can be triggered with its motion sensor, in which case you'll receive a push notification. You don't have to be precise in pointing the L16 since its 140-degree lens captures what's going on in front of and to the sides of the camera.
We were pleasantly surprised at the camera's video performance. Expect smooth videos in FullHD and with good color fidelity. Night vision mode is particularly noteworthy since the IR LEDs clustered around the lens produce a bright glow that's enough to identify thieves even when it's pitch black. Their maximum effective range is 16 feet, which is excellent considering most cameras advertise as having 15-foot night vision yet make serviceable videos at 10 feet or less.
Finally, there's the app. It has a basic layout centered on a dashboard which shows thumbnails of all connected cameras' feeds. You can control multiple cameras from the same phone or add permissions for other users to access the feed from theirs. Tapping on a feed gives you live access to it. Once inside, you're able to toggle the sound on and off, start a recording, and even zoom into interesting details.
What's Bad About It?
Two bright LEDs light up when the L16 is active. You'll need to cover them with something if you want the camera to stay undetected. You might have trouble pairing the camera with an iPhone. The manual doesn't help since it is both vague and poorly translated.

Tech Specs
Dimensions: 4.2 x 3.2 x 2.2 in.
Resolution: 1080p
Lens angle: 140°
Recording triggers: Manual, motion
Has Wi-Fi: Yes
The Pros
Easy to set up and relocate
Good overall picture quality with excellent night vision
Simple companion app with accessible controls
Affordable
The Cons
Suffers from pairing issues with Apple devices
Has bright LEDs that need to be covered up to be used as hidden camera
3. GooSpy Book Hidden Camera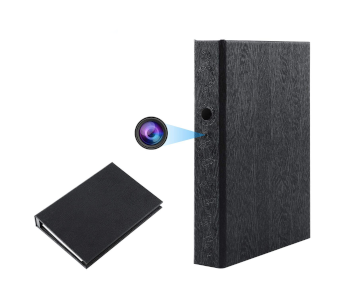 View on Amazon
Editor's Rating: 4.4/5
There are many clever ways of concealing a camera, and a book may be the most versatile. You can place it in your living room, study, or office without arousing suspicion. The larger size compared to other cameras of this type means there's more room for a bigger battery as well. You get all of that and more with GooSpy's Book Hidden Camera! It looks beautiful, can record for hours be it day or night, and the videos it creates are in FullHD.
Overview of Features
This is by far the camera with the most elegant disguise on the list! The book that hides it is actually a binder, so people won't think twice if they see it in your office. Fill it up with important-looking papers and no one will notice the controls in its spine even if they open it. The only outward signs that this is no ordinary binder are a pinhole for the camera and a small glass panel that hides an infrared light above it. These are completely invisible unless someone deliberately picks the book up.
The best thing about this camera is its exceptionally long battery life. The spine packs a 10,000mAh battery that can record for 10 hours when night vision is on and three times as long in daylight! The battery takes 20 hours to recharge, understandable given its capacity. It has a standby time of two years if you use the camera in motion detection mode. The built-in PIR sensor picks up movement accurately at a distance of 25 feet.
Videos are recorded in 1080p at 30 frames per second. The lens angle is 75 degrees, meaning you'll get a sharp look at whatever triggered the camera. Creative placement lets you capture an entire small office. Night vision works at 15 feet or less. The IR light emits faint red light which is visible to the human eye, but only if someone stares directly into it.
The Book Hidden Camera has a micro-SD slot for a class 10 card. You get a card reader that connects to your computer but can also pull up the footage through the USB charging cable.
Are There Drawbacks?
This camera can't record and charge at the same time. While its battery lasts long, it would have been better if the camera could be connected to a constant power source too. You can't adjust the resolution or the bitrate. This means a 32GB card will store only 3-4 hours of footage before recording over it. The files are large and take a long while to transfer.

Tech Specs
Dimensions: 1.2 x 5.9 x 8.3 in.
Resolution: 1080p
Lens angle: 75°
Recording triggers: Manual, motion
Concealed as: Book or binder
Has Wi-Fi: No
The Pros
Excellent book disguise
Exceptional battery life
Responsive motion sensor
SD card doesn't need to be removed to transfer files
The Cons
Fixed video resolution and bitrate
Can't record while charging
4. Sengled Smart LED Floodlight with Security Camera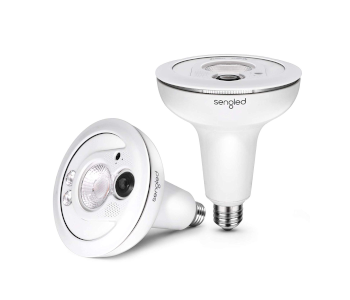 View on Amazon
Editor's Rating: 4.3/5
The cameras we've reviewed so far all work well in closed spaces, but what about your yard? Sengled's Smart Floodlight is the perfect solution – it combines a powerful light source with a high-end security camera into one effective outdoor security device. Installing the light is a breeze, as is accessing its feed from the intuitive app. This is the outdoor security system to get if you don't mind paying a monthly subscription for its advanced features.
Overview of Features
Sengled's floodlight looks like an over-sized light bulb with its top cut off. It screws into standard light fixtures, and no other steps are required for physical installation. The lamp part casts a light that's 850 lumens bright and has a color temperature of 3,000 Kelvin. This makes it the equivalent of a 60-watt incandescent bulb. If you use it a couple of hours per day, the bulb can last for 20 years! Its brightness is variable and can be adjusted from the app.
Beneath the bulb, there's a 1080p camera. It isn't as well concealed as others we've tested when the light is off, but turning it on will render the camera totally invisible because of the glare. It makes the best-looking videos from any camera on the list though! The colors are vibrant and balanced, people are captured in detail, and everything is sharp. The angle is a wide 140 degrees, which makes sense as the camera needs to be able to cover a large area. This makes for videos with noticeable barrel distortion but offers a broad overview of its surroundings.
The Sengled Home app serves as the floodlight's command center. The dashboard gives you quick access to the camera's live feed and lets you set the light's brightness. The settings tab is home to a broad range of options including automatic night mode activation, motion sensor & related push notification configuration, and two-way audio settings. Here's where you can also set up zones the camera should cover and manage subscription settings.
What We Didn't Like
Many of the camera's advanced options are locked behind a paywall. Without a monthly subscription, you can view the live stream, receive push notifications, and watch the last 24 hours of video. Zones, an event log, and human recognition start at $3/month. Paying more gives you access to older footage with a maximum of 30 days at $15/month. The light can only be controlled from the app, meaning others can't turn it off or physically adjust the brightness.

Tech Specs
Dimensions: 4.8 x 4.8 x 5.8 in.
Resolution: 1080p
Lens angle: 140°
Recording triggers: Motion
Concealed as: Floodlight
Has Wi-Fi: Yes
The Pros
Floodlight and security camera in one
Outstanding companion app
Great video quality
Easy to install
The Cons
Expensive to buy and some features are locked behind subscription
Light can only be turned on and off through app
5. PORTOCAM T10 Spy Camera Photo Frame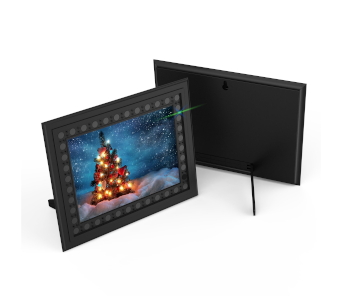 View on Amazon
Editor's Rating: 4.1/5
Picture frames are another great hiding spot for a security camera – they can be placed in almost any room in the house without arousing suspicion, and it is commonplace to have pictures of loved ones on one's desk at work. That's the idea behind Protocam's picture frame camera. Its design makes the lens practically invisible and provides a distraction since the picture inside the frame is the star. Add decent video quality and ease of use to the mix, and you've got an intriguing, albeit expensive hidden camera.
Overview of Features
We love the picture frame's design, both for its looks and how it hides the lens. The frame is decorated with two kinds of circles, the smaller of which are black and have the diameter of the lens. The camera is located on the right side and blends in perfectly with the surrounding design elements. You can either hang the frame up on a wall or use the retractable desk bracket to place it horizontally. A thief would have to know that this is a camera to even suspect anything, especially since the frame isn't digital and is made from cheap plastic not worthy of a second glance.
The camera's controls as well as a micro SD card slot are located underneath the photo. You use buttons to switch between continuous and motion-activated recording, turn audio recording on or off, and power the camera. Footage is recorded to a microSD card in 720p at 30fps. The camera's night vision is excellent – faces are recognizable even in complete darkness, and the IR light is bright enough to light up someone standing 25 feet away from it.
What's Bad About It?
The T10 isn't pre-programmed, and you'll need to use a computer to access a text file to change the time & date along with recording preferences. This makes the camera less than ideal for elderly people or someone who was hoping for a no-fuss setup. The recordings are black & white. While this is normal for night vision, it leads o loss of potentially identifying details like the color of clothes other cameras have no trouble recording during the day.

Tech Specs
Dimensions: 11.5 x 9.3 x 1.2 in.
Resolution: 720p
Lens angle: 75°
Recording triggers: Manual, motion
Concealed as: Picture frame
Has Wi-Fi: No
The Pros
Ingenious design makes camera lenses invisible
Outstanding night vision
Long battery life
Records audio
The Cons
Text editor needs to be used to change settings
Doesn't record in color
6. Best Budget Option – Conbrov T16 Mini Camera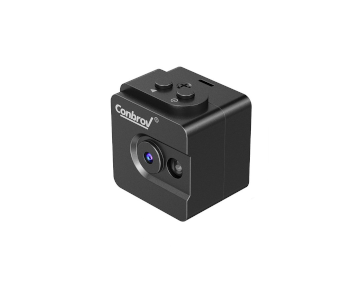 View on Amazon
Editor's Rating: 4.5/5
Combrov's T16 Mini camera is a tiny cube you can either use as a body cam or conceal anywhere since its sides are only 1 inch long. It records good quality video considering its size, is effortless to use, and has a noise-activated recording mode for inconspicuous operation. It's also a steal since it costs less than $40!
Overview of Features
The T16 has two buttons and comes with a host of useful accessories. The buttons are used to turn it on or off and start recording. While the camera can stand on its own, you get an adjustable magnetic mount as well as a camera clip that lets you secure it to a pocket. You also get a MicroUSB charger with a long cable. The camera has a microSD slot for a 32GB card which isn't included.
There are two recording modes – manual and noise-triggered. Pressing the record button activates manual mode in which the T16 will record until stopped. When set to noise-triggered mode, any sound louder than 60dB will trigger the camera! Each recording is automatically saved in 5-minute segments. A max capacity SD card has room for 6 hours of footage which is recorded over starting with the oldest clips, making the T16 work like a dash cam.
You'd think that a camera this small would record with terrible quality, but the T16 makes crisp 720p videos with good color balance. It has a 75-degree angle, so anything in front of the T16 will be captured without distortion. You can use the T16 at night too since it has an infrared light that allows it to see in the dark 15 feet away. This mode drains the battery faster though, letting you record only 35 minutes per charge instead of 45.
What's Bad About It?
Due to its size, it is easy to lose the T16. It's also basic as today's cameras go – you can't connect it to Wi-Fi or access its live feed. The only way to view clips is to connect it to your computer and access them from there.

Tech Specs
Dimensions: 1 x 1.1 x 0.8 in.
Resolution: 720p
Lens angle: 75°
Recording triggers: Manual, sound
Has Wi-Fi: No
The Pros
Tiny and portable
Comes with lots of useful accessories
Can be triggered by sound
Excellent value for the money
The Cons
Easy to lose
No way to access videos without a computer