6 Best Home Theater Amplifiers
3D Insider is ad supported and earns money from clicks, commissions from sales, and other ways.
There's just something about going to a theater and buying an expensive bowl of popcorn and a ridiculously large soda, settling into your seat, and watching a movie play on an enormous theater screen.
You don't even need to pay for extras like 3D video or going to the theater with the best, cushiest, seats in town. And while theater diners are getting more popular, the thrill of having food brought directly to your seat by a crouching staff member dressed in all black isn't directly connected to the magic of the movie experience.
Go home, watch the same movie, and it always seems like you've lost something. Darken the room, buy a massive screen with the best possible graphics, make your own popcorn, there's still something missing.
Until that is, you get a Home Theater Amplifier.
Home Theater Amplifiers coordinate all your media, from your Blue-Ray/DVD player to your cable box, and even your gaming consoles, and work with your TV and sound system to improve your overall experience. What specifically does the Amplifier fix? Your audio quality.
The secret missing ingredient in your home theater experience? The sound. Theaters have impressive sound systems wired through the whole room, taking surround sound to the next level. You need a system that improves your at-home sound quality to start to mimic that movie-theater magic.
In this article, we'll discuss some of the best home theater amplifiers, key features you should look for in your new system, and the pros and cons of individual systems.
Budget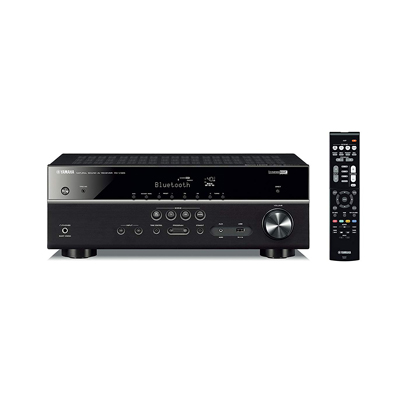 Yamaha RX-V385
4.6/5.0
Number of Inputs: 4
Number of Channels: 5.1
Compatible with all major media sources, has Bluetooth and WiFi connectivity.
Check Amazon
Best Value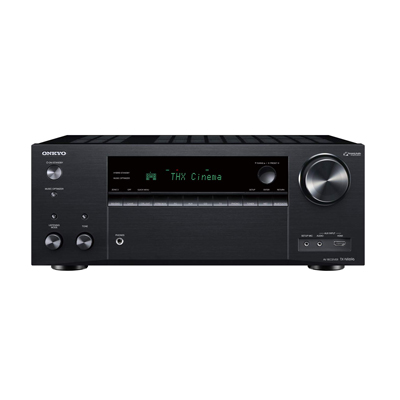 Onkyo TX-NR797
4.7/5.0
Weight: 6
Battery life: 9.2
Compatible with a wide range of other devices, THX-certified sound quality.
Check Amazon
Top Pick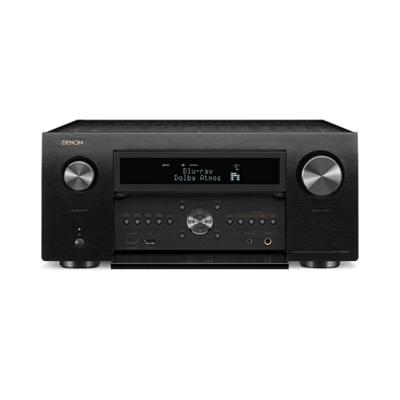 Denon AVR-X8500H
4.9/5.0
Weight: 8
Battery life: 13.2
Comes with incredible sound and visual quality, Bluetooth, WiFi, and airplay enabled.
Check Amazon
Which Sound Type Will Work Best For Me?
There are two basic sound formatting sources used by home theater amplifier systems. Dolby Laboratories has a couple of variations and a range of Digital Theater Systems varieties. Many amplifiers will let you use both, depending on your needs and which input you're using, but they do have some pros and cons.
Digital Theater Systems (DTS) usually produces crisper sound since the sound goes through less compression in processing. Any time you have to compress data you lose some of the detail and integrity. In sound, that can mean less detail, a less dynamic range, or slightly fuzziness.
However, Blue-Ray and DVD sources usually use Dolby sound, since space is critical for those formats. Trying to run a Dolby source through a DTS system will likely result in some distortion.
Since TV is also usually in a Dolby format, it may not be worth getting an amplifier with a DTS setting if you primarily watch TV and movies. Even though the sound quality is usually higher, distortion will cancel out those benefits.
However, some Blue-Ray and DVDs will have DTS options, and you can use DTS for other sound sources.
How Many Channels Do I Need?
This is an important question and one that largely depends on the size of the room you want to hook up to your new home theater amplifier.
The number of channels tells you how many speakers your new system is designed to accommodate. The .1 after most channel settings indicates that this system is designed to work with a subwoofer in addition to the other speakers.
Subwoofers handle the lowest-range sounds. They'll handle the bass in music, and add a good bit of dynamic range to most other sounds as well. Good subs can add realism to the sound, and increase your immersion in a movie or video game.
As you start getting into higher channel setups (anything above 7.1) it's more likely that you'll see channel settings like 7.2 and 9.2. The .2 is still talking about subwoofers, indicating that the system can support 2 subwoofers instead of only one.
The most common setups are 5.1, 6.1, and 7.1.
5.1
This setup works with center, left, right, and front speakers. This format works with several Dolby and DTS sound settings. Since it has slightly server speakers, this is a good option if your home theater is a small or mid-sized room.
While it works in large spaces, larger rooms will benefit more from additional speakers. 5.1 also tends to work with the most audio formats, while 6.1 and 7.1 are limited to more specialized formatting.
6.1
The main difference between a 6.1 and a 5.1 is that the 6.1 adds a rear speaker for the back of the room, or behind your main seating.
7.1
This also adds a single speaker, separating your rear speaker systems into a left and a right. It also requires specialized sound formatting to take advantage of the extra speakers.
Fortunately, any home theater amplifier designed for a 7.1 channel system should also be able to handle sound appropriate to that setup.
For 7.1 or more channel systems, you should have a fairly large theater space. While they work in smaller rooms, you won't be able to really experience the sound in the dynamic range it was designed to play. In other words, you'll be paying for increased sound quality that the acoustics of your home theaters space can't support.
There are other channel options, but they follow the same pattern as the three we've already outlined. Each additional channel adds an additional speaker. The exact placement of those speakers varies as you add more.
6 Best Home Theater Amplifiers Comparison Table
6 Best Home Theater Amplifiers: Detailed Reviews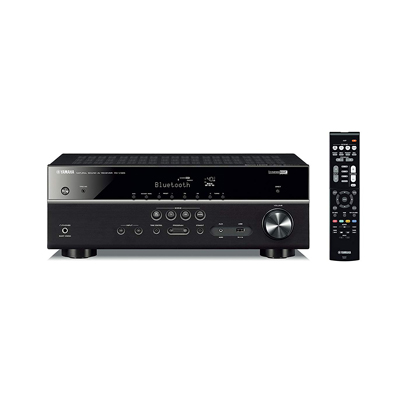 View on Amazon
Editors Rating: 4.6/5
Yamaha would be the first to tell you, being a major producer of musical instruments has given them a unique understanding of high-quality sound. They need to understand sound to produce instruments that sound great, and they've applied that expertise to their line of sound systems and home theater amplifiers.
Of course, the sound isn't the only important consideration when it comes to a good home theater amplifier. You also need the ability to manage several different devices and produce top-quality graphics.
Fortunately, this 5.1 channel system delivers on all counts.
In terms of video quality, this amplifier is compatible with 4K TV quality. With 4k Ultra HD settings on, it provides 60 fps framerate (the number of frames on screen every second) and HDR (high dynamic range) video.
That means you'll get color, contrast, lighting, and detail exactly as they were meant to be seen. The combination of ultra HD with a high dynamic range is as close to real-life as we're able to produce on a screen.
Of course, to take advantage of these video settings, you need to have a TV that can support 4k HDR video.
The 5.1 sound setup is one of the more flexible, and easiest, speaker setups you can get. If this is your first home theater amplifier, or you're not the most tech-savvy, a 5.1 system is a great way to get your feet wet and still enjoy theater-quality sound.
It has 4 inputs and one video output, meaning you can run up to 4 different devices through this amplifier, including cable boxes, Blue-Ray players, and gaming consoles.
While not as powerful as a 6 or 7.1 channel amplifier, this system is more than enough for most home theaters. It's more user-friendly than more complicated systems and delivers sound and video quality that does Yamaha proud.
Tech Specs
4k Ultra HD: Yes
Input: 4 inputs
Dolby True HD: Yes
DST HD: Yes
Dolby Vision: Yes
Bluetooth: Yes
The Pros
Flexible for many room sizes and configurations
Affordable option
Easy setup
Compatible with all major media sources
Has Bluetooth and WiFi connectivity
The Cons
Only 5.1 channels
4 inputs is fairly limited, not suitable for many-device setups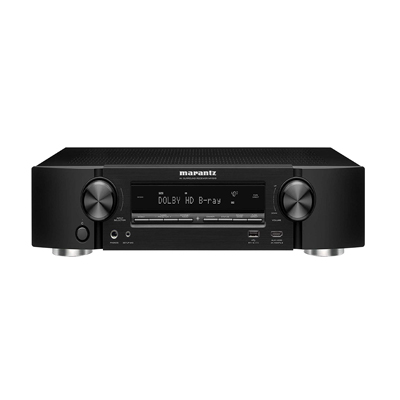 View on Amazon
Editors Rating: 4.7/5
This offering from Marantz is another impressive model, with great graphics quality and high audio fidelity, designed to help immerse you in all your media.
Like the first amplifier on our list, it's fully 4k compliant. The color quality through this system, if anything, is slightly improved. Again, though, that quality is dependent on the quality of your TV, as well as using a compatible HDMI capable of transmitting all the required data.
One big advantage the NR1510 has, over the RX-V385, is its inputs. Instead of the RX-V385's 4 inputs, the NR1510 can support up to 6.
Ultimately, that makes this amplifier a more gamer-friendly device, since it's more likely to be able to support both your TV and movie media as well as multiple different consoles.
However, the more inputs you intend to use, the more complicated setup is likely to be. In order to really take advantage of this system, give yourself some time to use the inputs and arrange wires. Some organization upfront will save you a lot of headaches later.
The NR150 is also Bluetooth enables and can connect to your Alexa or Google Home Assistant for additional functionality. It's also designed to work with a smart TV, so you can use your smart TV remote instead of keeping track of multiple clickers.
Tech Specs
Compatibility: Compatible with Siri, Google Home Assistant, and Alexa, HEOS compatible
Dolby Vision: Yes
Dolby TrueHD: Yes
DTS:HD: Yes
The Pros
Reasonable Price Point
Bluetooth enabled
Works with all major media sources
Very dynamic audio range for only 5 channels
Multi-room streaming option
The Cons
Only 5.1 channels
Slightly more expensive for a 5-channel model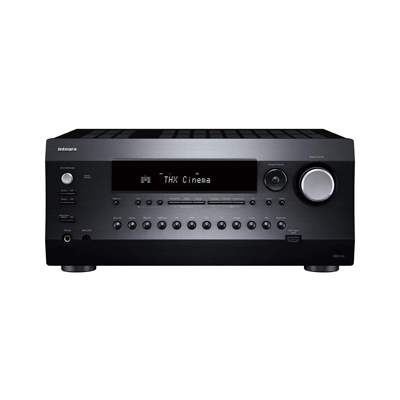 View on Amazon
Editors Rating: 4.7/5
If you're looking for a home theater amplifier with a few more channels, and the extra audio range that comes with it, the Integra DRX 5.3 is a more powerful amplifier. It's also somewhat specifically designed for home integration and working with other advanced home theater devices.
As a Sonos enabled device it'll work in with any Sonos sound systems, or can become your point of contact for a new system.
The 9.2 channel system is designed for larger spaces and will give you much more vibrant, clear, impactful sound than a 5.1 or even a 7.2 system can deliver. That said, we do think it's a little more expensive than the sound quality alone can account for.
Now, it also boasts a full host of connectivity and streaming options, from the get-go. It's Bluetooth enabled, and also has WiFi and AirPlay connections. If you're a music lover, this system can run Pandora, Spotify, and even has it's own music app for seamless streaming and enjoyment.
It also will do some of the heavy lifting calibrating your sound for the shape and size of your room automatically. Good calibration can be one of the most difficult parts of manual sound setup since an unbalanced system will lead to disjointed audio. You need a close sync for your music, movies, and other media to sound real, otherwise slight delays will ruin your audio quality.
Since this system does a lot of that work for you and will remember your room's requirements, you can mostly skip that step. Place the speakers as close to the ideal position as you can, and let the DRX 5.3 do the rest.
Fortunately, while the Integra and Onkyo lines have struggled with HDMI growing pains in the past, both lines more recent models seem to have overcome their HDMI challenges. While we can't say that the picture is better than other 4k home theater amplifiers, it's certainly equal.
Tech Specs
Dolby Atmos: Yes
Dolby Surround: Yes
DTS Neutral: Yes
Output: HDMI main output, zone 2 OSD output
Compatibility: Sonos Compatible
The Pros
Works with Sonos systems
Designed for ease of use and integration
6 HDMI inputs
Auto room calibration
9.2 channels
Able to run fewer channels if necessary
The Cons
A little more expensive than similar models
Not designed for minimal setups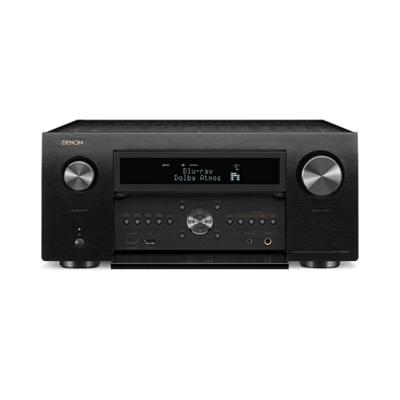 View on Amazon
Editors Rating: 4.9/5
If you're looking for a top of the line home theater amplifier, this is one of the best. While it's more expensive than a simpler system, we'd be hard-pressed not to say that this is the best of the amplifiers on our list.
That said, this is a system designed for the music and movie-loving market, and will only work to the best of its ability in a fairly large space. You'll have to drop a pretty penny to get this amplifier in your home.
We don't recommend it to users who aren't familiar with extremely high-quality sound, who are working with a smaller space, or who haven't had a home theater amplifier before. You should already know before you buy this machine, that the home amplifier difference makes a significant difference in your enjoyment of media.
That said, you do get the best of the best out of this amplifier. 13.2 channels can really make you feel every bass line, every explosion, every pin drop on screen. It comes with Dolby Atmos, DTS:X and can support IMAX enhanced 3D video in addition to 4k Ultra HD.
That's a lot of visual and audio power. Keep in mind, the amplifier alone won't give you those results unless the rest of your equipment can match it.
It also comes with Bluetooth, WiFi, Airplay, and HEOS compatibility, in addition to streaming support.
We'll also caution you, this amplifier weighs in a bit over 50lbs. You need to make sure your entertainment center, or whatever furniture houses this system, is up to the job. Plyboard probably won't cut it with equipment this heavy.
Tech Specs
Weight: Approximately 50 lbs
IMAX 3D: Yes
Dolby Atmos: Yes
DTS:X: Yes
4k Ultra HD: Yes
Channels: 13.2 channels
Compatibility: HEOS and Amazon Alexa compatible
The Pros
Most advanced 13.2 channel system
Comes with incredible sound and visual quality
Impressive 8 input compatibility
Compatible with the HEOS multi-room sound system
Bluetooth, WiFi, and airplay enabled
The Cons
Very pricey
Much heavier than most amplifiers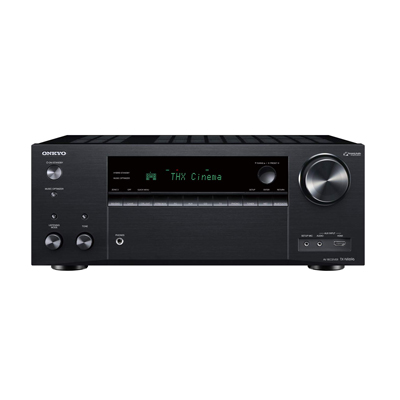 View on Amazon
Editors Rating: 4.7/5
If you're looking for more of a middle ground, great sound, and video but without the sky-scraping price tag, the Onkyo TX-NR797 may be a good option.
This 9.2 channel system offers significantly more dynamic sound than a 5.1 or 7.2 system, but without overwhelming medium-sized rooms. While you probably won't get quite all the benefits from this system in a small room, you can make it work. And since this isn't much more expensive than 5.1 channel amplifiers, it's well worth the money even if you can't use all it's capabilities right away.
The TX-NR797 is also compatible with streaming, Sonos, Chromecast, and HEOS.
It also will provide auto-mapping, configuring your audio for the room and space it's given. That means you'll hear output from all the speakers simultaneously, cutting down on distortion.
You also get the IMAX enhanced video, Dolby Atmos and DTS:X audio that usually comes with more advanced models but isn't included in smaller amplifier systems.
Ultimately, this system offers the cutting edge tech, and high quality you expect from a thousand, or multi-thousand dollar device, not one in the approximately $500-600 bracket. It made our Best Value rating for being a great, flexible, package with the bells and whistles of a much more expensive machine.
Tech Specs
Dolby Atmos: Yes
Weight: Approximately 28lbs
DTS:X: Yes
Imax enhanced video: Yes
THX-certified: Yes
Inputs: 6 HDMI inputs
The Pros
Superior video and sound quality
Great price for features and benefits
Compatible with a wide range of other devices
9.2 channels for added dynamic range and flexibility
THX-certified sound quality
The Cons
We couldn't find notable cons with this device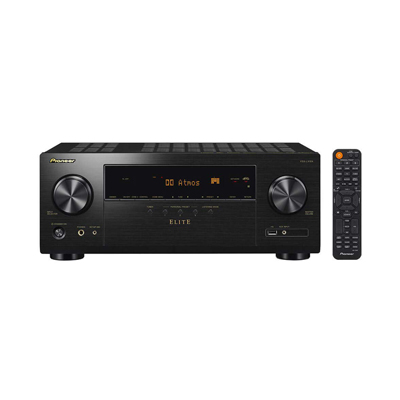 View on Amazon
Editors Rating: 4.7/5
Another middle of the road affordable option, the Pioneer Elite isn't quite as advanced as the TX-NR797, but it's still another solid option for users looking to get great dynamic sound and video in a small or medium-sized space.
The Elite's 7.2 channels make sure you get the full range of audio, from truly deep bass to crisp and clear treble.
It also gives you the added advantage of up to 3 preset favorite settings. That means you can determine the best volume for watching your favorite action movies and set the system up for movie night with the touch of a button. Like to sing at the top of your lungs, give yourself a music preset and rock to your heart's content.
The Elite also offers zone B wireless output. Connect it to wireless headphones, or a wireless speaker, and take your sound with your outside your home theater.
You also have a zone 2 option, letting you set up sound in a second room run through the same amplifier. Combine that with Sonos compatibility, and you can take advantage of a lot of flexibility and range.
It also comes with Dolby Atmos and DTS:X and DTS Neural:X. That's top of the line sound quality, combined with room balancing. For most purposes, this system will give you the same sound quality and audio fidelity of more advanced systems.
While it's an equal when it comes to sound, it doesn't have some of the video enhancements you can find with more advanced amplifiers like IMAX enhancement.
While the Elite didn't make out Best Value rating, since it can't quite match the TX-NR797's video output, it's a fairly close second. If you don't already have the equipment to support a higher graphic setting and increased audio channels, this may be a good choice.
Tech Specs
Dolby Atmos: Yes
DTS:X: Yes
Weight: 20.72 lbs
The Pros
Reasonable Price Point
Advanced sound systems, great quality, and sound fidelity
Zones 2 and B for additional range
AirPlay2 compatible
Sonos compatible
Wireless output
The Cons
No IMAX enhancement
Some users report this system being more frustrating to set up
Conclusion
Hopefully, even if the right home theater amplifier for you didn't make our list, you feel better prepared to pick the right system for your needs.
We've tried to include a range of options, from sound quality and speaker needs to a variety of price points, along with the most important considerations for each device.
Amplifiers take some time and dedication to set up. We recommend setting aside a full day to set up your new system. Even if it doesn't take that long, giving yourself the extra time will help avoid unnecessary frustration as you try to rush to get to something else.
We sincerely hope that, at the end of that day, you can sit down with a favorite movie, a bowl of popcorn, and your favorite beverage, for a taste of movie theater magic, at home.