Best Hoverboard Accessories of 2019
3D Insider is ad supported and earns money from clicks, commissions from sales, and other ways.
After buying a hoverboard, you might think that it's all you really need and you're going to have endless fun with it. That may true to some, but for a lot of enthusiasts, getting a brand new board is just the first step. A hoverboard today has a lot of different uses. You can use it as your daily transporter to work or school, or you can use it exclusively for fun in the park or outdoor trails. If you're serious about squeezing every bit of performance or fun from your device, then you'll need to complement it with some hoverboard accessories.
There are many types of hoverboard accessories ranging from personal protection to carrying cases to even seat attachments. If you want to keep yourself and your board secure and protected, you will need to consider grabbing the best hoverboard accessories to optimize your riding experience.
If you're pondering on what accessories to get for your board, here is a list that we have compiled on the best ones you can get. Here are our top choices for hoverboard accessories that you can buy today:
Personal Protective Equipment
Safety is really essential when you're riding a hoverboard. Much more so, when a child is riding on one. You may not think that your safety gear is not part of the board, but you definitely need it to prevent serious injuries from accidents that may happen when you're riding a hoverboard at 8 miles per hour.
The main danger when riding a hoverboard is when it suddenly stops. These can catch you off guard, where you can fall off and injure yourself. The essential safety equipment that you want to look are helmets and protective pads for your wrists, elbows, and knees. These are particularly helpful for kids who are learning to ride.
Here are the best personal protective equipment for kids and adults:
RAZOR V-17 ADULT MULTI-SPORT HELMET
Retail Price: $19
RAZOR V-17 YOUTH MULTI-SPORT HELMET
Retail Price: $20
RAZOR V-17 CHILD MULTI-SPORT HELMET
Retail Price: $15
Razor, the company that makes scooters and hoverboards, also makes helmets for kids and adults. Their V-17 line of helmets is for kids, teens, and adults. They are made for all kinds of sports and come in different designs and colors.
Their Child version can fit on kids with head circumferences between 21.5 and 22.5 inches, the Youth version for head sizes between 22 and 23.5 inches, and finally the Adult version for those between 23 and 25 inches. It is the perfect choice for biking, skating, hoverboarding, and other sports or activities that require protective headgear.
Since you or your child will be wearing the helmet the whole time you're on your hoverboards, it comes with interior padding that will keep you comfortable and secure. It has 17 top and side vents that will help keep you fresh when riding on hot days. There are also adjustment straps and release buckles that fasten easily and quickly.
These helmets are CPSC certified, that means that they have met the strictest government mandated standards to make sure that you and your kids are safe when using the Razor V-17. When you're riding hoverboards, be it at home or on the road, it is necessary to minimize the risk of head injuries by wearing a helmet at all times.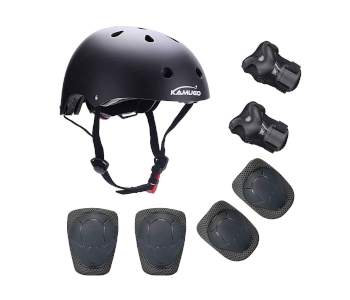 Retail Price: $31
The Kamugo Kids protective gear is a set that comes with a helmet, two knee pads, two elbow pads, and two wrist pads. These are all essential protective gear for any outdoor activity and will give your kids all-around protection. These perfectly fit boys and girls ages 3 to 8 years.
The helmet is CPSC certified and is made with a non-shattering hard-shell plastic. Inside, it is padded with a soft sponge to absorb the impact force in the event of an accident. It comes with 11 vents that allow air to flow keeping your head fresh during hot days. The helmet is durable yet comfortable.
It comes with adjustable straps to ensure a perfect fit because a better fitting helmet is a safe one. The helmet straps are easy to adjust so you will be able to wear it comfortably.
The entire kit comes with a set of pads to protect your kids' elbows, knees, and wrists to avoid further injury as these are the most common parts of the body that gets injured in activities such as skateboarding and hoverboarding. These are all made from breathable materials to ensure comfort and freedom of movement.
Hoverboard Carts
Time to spice up your hoverboard experience. If you think that riding a hoverboard is just standing on it and riding, then you have not yet seen the carts. These are add-ons where you clip them to your board and change the way you ride. These carts often come with a seat and handlebars that allow you to control and steer your board easily.
Having these carts installed will change the way you ride since you won't be standing up but rather sitting down just like you would ride a go-kart. Now you will have a fun new mode of transport that anyone can drive.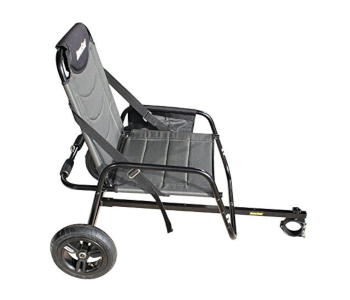 Retail Price: $119
The HoverSeat XL is a sitting attachment for your hoverboard that not only makes it safer but more fun to use. It converts your standard hoverboard into a mini electric vehicle that anyone can drive. It is simple for anyone to use and considerably reduces the risk of falling since using the HoverSeat keeps you seated rather than standing.
The HoverSeat XL may look intimidating to install and use but, in fact, it is simple to set up. The light aluminum frame easily fits in the trunk of your car so you can carry it to different parks and playgrounds easily. When you want to use the HoverSeat, easily clip it to the center of your hoverboard using the clamp. That's it. Your HoverSeat is now ready to use.
You can choose what you would like to put on top of the frame. You can fasten your favorite beach chair, bicycle seat, or a box. You can even place a drinks cooler on top and sit directly on it.
Now you might think with an attachment such as the HoverSeat will make using your hoverboard difficult. Well, that's not the case since you can still control your board using your feet; you can even put it in reverse. The cart is also built to be used on off-road situations such as over grass, gravel, even sand.
One big downside of getting the HoverSeat XL is that it does not come with a chair. However, it is practical since what it gives you is a stable frame where you can put anything on it that you can sit on including a drinks cooler.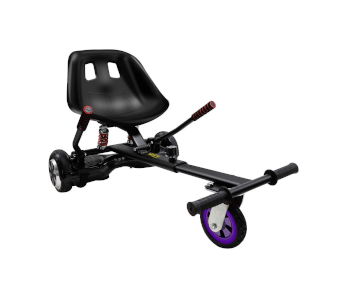 Retail Price: $105
The HiBoy HC-02 is a hoverboard cart that turns your board into an eye-catching go-kart. This will open your eyes to a new and different riding experience. Not only will it bring you a brand new look and experience, but it will also offer you a much safer ride, especially for kids. This cart will be able to provide you with a lot more control and less risk of injuries because you will be riding while sitting down rather than standing.
The hoverboard cart comes with adjustable leg pedals that can accommodate different riders from kids to adults. It is lightweight, but strong so you can accelerate, brake, and turn with confidence.
For products such as these, one of the problems they face is compatibility with different hoverboard brands, the HiBoy is suitable for 6.5, 8, and 10-inch boards. It is easy to assemble with a lightweight frame and sturdy seat that can carry a passenger of up to 270 lbs. The cart seat also comes equipped with a suspension spring to give you a smoother ride every time.
The seats are also ergonomically designed which means that they are very comfortable to sit on and couple that with the built-in seat suspension, you will be able to truly enjoy this when installed on a hoverboard that has excellent off-road capabilities.
The HiBoy HC-02 is a great accessory to have to transform your hoverboard experience. It can provide you a different riding experience in just 15 minutes.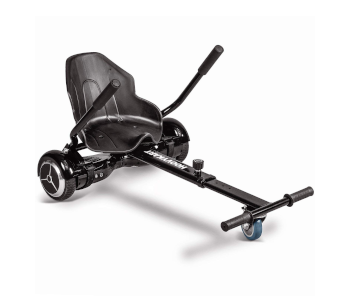 Retail Price: $79
The Hoovykart Go Kart Conversion Kit is another sitting attachment that can be fit to any existing hoverboard and transform it into a go-kart. With the HoovyKart, your board becomes significantly safer for kids as it considerably reduces the risk of falling.
The difference between the HoovyKart and other carts is in its assembly. Other conversion kits, as the name suggests, is really a kit. That means there is a significant amount of work done to get it set up and running with your hoverboard. The HoovyKart, on the other hand, is 90% assembled out of the box. All you have to do is attach the seat to the seat plate, and you're ready to ride. All it takes is two minutes.
Installing the HoovyKart on your board gives you better control. You can accelerate, brake, and turn using the two control sticks that are situated to either side of the seat. These allow you full control of your converted hoverboard cart.
The HoovyKart's seat is extremely comfortable as it contours to the shape of your back and legs so you can focus on driving your cart. It also comes with adjustable foot pedals that suit any rider of any height.
HoovyKart's Go Kart Conversion Kit is an excellent addition to your hoverboard accessories and is a welcome change of pace when you're tired of riding your board the traditional way. It's fun and safe without compromising the performance of your board.
Hoverboard Carrying Cases
If you love hoverboarding, then you definitely love your hoverboard, and you'll want to carry it around as often as you can. To be able to do that, you will need to have a good carrying case so you can bring your board anywhere anytime you want.
Shopping for a case that caters to all your needs can sometimes be difficult. There are a lot of factors to consider like durability, portability, and affordability. You also don't want to buy a bag and then discover that your hoverboard doesn't fit.
The bags also have a variety of carrying styles so you will want to consider how you want to transport your board. There are bags where you can sling them around your shoulders or a bag that's more like a backpack. Make sure to buy which one you're comfortable with.
Choosing the appropriate carrying case can change the way you use your hoverboard. The proper case will allow you to bring your hoverboard with ease and maximize its usage. Here are some of the best carrying cases that we found: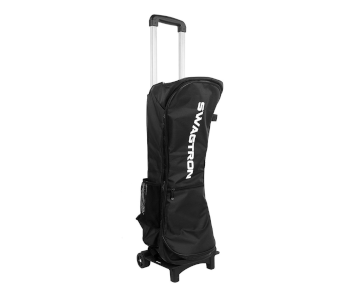 Retail Price: $29
Even though this is a Swagtron branded bag, it's not exclusive to their hoverboards. In fact, this carrying bag will fit most other hoverboards. So whatever brand board you have, you can still get this case and use it.
The Swagtron carrying bag has two ways to which you can transport your board. First, you can roll it out like a suitcase, this is especially useful when you're commuting, and don't want to bear that extra weight on your shoulders. Second, you can carry your board like a backpack which is convenient when you want to go to a park or when you're using your board for your daily commute to work or school.
The suitcase-like handle is collapsible making it easier to store. Straps are also adjustable for optimum comfort when you're carrying it on your shoulders. The bag comes with side mesh pockets for storing your water bottle and zipper pockets to store the charger or anything you might want to carry with you.
The Swagtron Hoverboard Carrying Bag and Case gives you the best of both worlds that translates to a better experience when you're traveling with your board.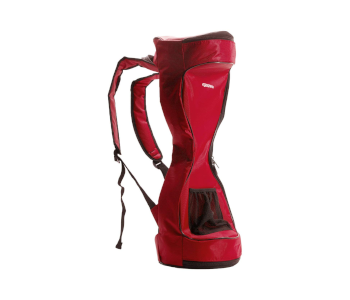 Retail Price: $19
The Eyourlife Hoverboard Bag is a waterproof carrying case for your 6.5-inch hoverboards. One of the features you need in a carrying bag is its capability to let water out. You don't want water or any form of moisture seeping into the components of your board and ruining it. The bag has an internal waterproof coating that protects your board from getting wet. Additionally, that same coating makes the bag dustproof as well.
This bag is made from Oxford fabric, which is a thicker and more durable type of cloth compared to other materials. This makes it lightweight and portable yet tough and long-lasting.
The downside of this particular bag is that it's only designed to fit 6.5-inch hoverboards. If you own a larger one, then you should look for other options. However, most popular boards are this size, so this bag should be enough for most.
The Eyourlife bag is designed as a backpack, and its straps are padded with cotton so you will feel comfortable when you're carrying it together with your hoverboard.
If you're looking for a waterproof bag for your 6.5-inch board, the Eyourlife Hoverboard Bag is a great choice. The backpack design will allow you to carry your board effortlessly wherever you go.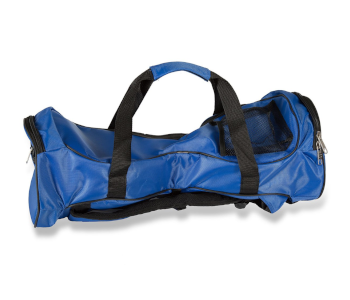 Retail Price: $15
The FBSport hoverboard bag is one that boasts of excellent compatibility with most 6.5-inch boards. It is quite limited in that sense, however most popular hoverboard brands and models are built to that size, so you won't have trouble storing your favorite board on this bag. It is compatible with the Swagway X1, X2, Swagtron T1, T5, and most generic brands.
The bag is made from strong and durable nylon and comes with two zippers to provide you access to the inside and makes storing your hoverboard is easy. It is also designed to be waterproof with an inside lining that will protect the contents from rain, snow, and even dust.
The bag comes with a mesh pocket and is the ideal place to keep your hoverboard charger. You can also use it for your drinks bottle, sunglasses, or protective pads.
One of the great features of this bag is that it is designed with two ways to carry it with your hoverboard. You can swing it around your shoulders and lug it as a backpack, or you can take it via its handles like a gym bag. It comes with adjustable and padded for maximum comfort.
The FBSport is an excellent choice especially when you're on a budget. It has all the essential features you want in a hoverboard bag. It is waterproof and will protect your hoverboard. It also gives you a choice on how you want to bring it, so fits your style. What it doesn't have though are extra pockets so you can store some non-board items of your own, so you don't have to use multiple bags.
Final Thoughts
Hoverboard accessories are a great way to improve your whole hoverboard experience. One thing's for sure, you will definitely need some form of protective gear to keep you safe. There are also times where you'll want to change things up like installing a hoverboard cart so you can experience a different type of excitement.
When you start riding your hoverboard, there will come a time where you just want to use your hoverboard as much as you can. That being said, you will need an easy way to take it with you. If you travel a lot and want to minimize the risk of ruining your board because of it getting wet when it suddenly rains, having a durable and waterproof case can completely give you that peace of mind.
Getting the right hoverboard accessories means that you're getting the most out of your entire experience. If you want to fully enjoy what your board is capable of doing make sure to invest in the right accessories that suit your lifestyle.
If you love adventures and want to do tricks with your board, then get the best helmets and pads available so you can perform with full confidence while limiting your injury risk. If you love a new riding experience, get the hoverboard cart of your choice to change things up and allow yourself to enjoy a different riding style. If you like to travel and look for the best places to ride your board, grab the bag that's a fit for your needs.