Best Hoverboard Brands of 2019
3D Insider is ad supported and earns money from clicks and other ways.
Hoverboards don't technically hover and most refer to them as "self-balancing scooters." In fact, that term would be a more appropriate description of what they really are but, hoverboard does sound cool. These trendy transportation devices are common among teens, young adults, and outdoor enthusiasts.
We first got a glimpse of what a hoverboard might look like in the Back to the Future movies. However, the boards of today can't actually levitate. Instead, they use two wheels that help roll them across the ground.
The hoverboards of today normally have two footpads and are equipped with sensors that detect the smallest of movements. Leaning slightly forward makes the board move forward and leaning back allow you to reverse it. They are also equipped with self-balancing technology that makes it easier for anyone to ride them.
The ease of use of these hoverboards is changing personal transportation. Couple that with the board's decent range, more and more people are using it for their daily commute to work or school.
Hoverboard Safety
A lot has been said about hoverboard safety and in early 2016 when these boards started to get popular, there was a legitimate concern. Problems with the boards started to surface such as overheating and the ability to spontaneously catch on fire.
Let's put all that to rest now – it's 2019 and all hoverboards that are being sold meet the industry regulated safety standards. These are very strict standards and all manufacturers comply with these. That's why burning hoverboards are not in the news.
Top Hoverboard Brands
There are a lot of brands and manufacturers out there and with all the choices, it can sometimes get confusing. It's simple, really, everybody wants a hoverboard that's high-quality and are built to last, or at least one that's worth your hard earned money. So that's exactly what we're going to look into.
We have compiled a list of the top hoverboard brands that sell the best boards. We're not only going to show you top-of-the-line high-end brands, but we'll also give you options on other price ranges. Our goal is to provide you with choices of what brands sell high quality and worth-your-money hoverboards.
EPIKGO
Epikgo is a relatively new player in the electric scooter industry. The company is based in Silicon Valley and their goal is to establish themselves as a leader in the self-balancing board industry when it comes to its build, performance, and safety. In other words, they're out to change hoverboards as we know them today.
According to the company, they want to push the boundaries of balance board technology while maintaining high safety standards and provide their riders with unlimited riding possibilities.
Here are some of their best boards: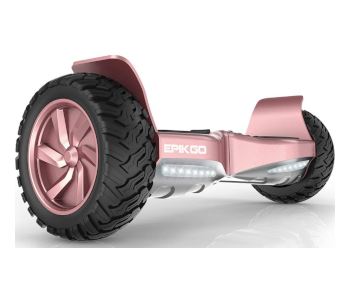 Retail Price: $799
Meet Epikgo's top-of-the-line model, the Classic. One of the most powerful boards in the market today. Each side is fitted with 400W motors and not a lot of hoverboards can boast motors that powerful. According to Epikgo, their motors are 80% more powerful than other two-wheel balancing scooters.
This power is fully utilized to give you a maximum speed of up to 12 miles per hour and allow you to climb slopes with 18 degree inclines. A motor that powerful means that when you're climbing up slopes it is unlikely you'll be losing speed.
The motors don't act alone however, they are paired with an LG battery that's fast-charging and long-lasting which can continuously provide the motors with power. It will provide you with an hour of travel time and that translates to about 10-12 miles. The battery is fully charged in two hours so you can plug it in and be confident that you can get going again after a few moments.
The Classic also boasts a high quality build made with superior materials such as its alloy wheels. One difference between the Classic and other hoverboards is the placement of the motors. Most hoverboards have their motors embedded in the wheels, the Classic, however have theirs installed in the body. This results in better translation of power to the wheels providing faster speeds and stable performance.
The Epikgo Classic is known as one of the best off-road hoverboards. Solid rubber all-terrain tires are what makes it all possible. Coupled with the alloy wheels, the whole package allows the Classic to travel on rough surfaces such as dirt, gravel, grass, even sand. It is also weatherproof so you can even use it even when it's raining and you might have to run across puddles to get to your destination.
One distinguishing feature of the Classic is its size. It's 30% larger than any hoverboard in the same category. That means you will have more foot space which translates to better balance and control as you ride. The robust build of the board coupled with the power means you can get to your destination faster without compromising your safety.
The larger size means that the entire package is not light and can sometimes be a little bulky especially when you carry it for a long period of time. However, with the technology that's included with the Epikgo Classic, you will want to ride it every time you get a chance to.
You can consider the Epikgo Classic as one of the best one out there from one of the top hoverboard brands. It has the performance, speed, balance, and competitive pricing that sets it apart from other boards.
This board is a great fit if you're looking for a daily transport device that will help you with your commute to the office. It's the board of choice especially when your route runs through parks where you have to deal with grass and dirt trails.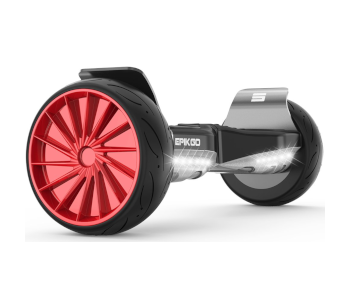 Retail Price: $799
The Epikgo Classic is built for off-road situations while the Epikgo Sport Plus is what you consider a hoverboard sports car. It's a board that's made for optimum performance on the road.
One of the most notable difference is the tires. The Classic is equipped with the rugged off-road wheels while the Sport Plus has the slick grippy tires that transfer more power from the board to the ground. At first glance, you can already see that the Sports Plus is going to give you that wind-in-your-face feeling when you travel on a paved surface.
Almost all the features are similar to that of the Classic, except for the wheels. It sports similar 400W motors which will give you a maximum speed of up to 12 miles per hour. The same battery technology that will provide you 12 miles on a single charge.
The big difference between the two is that the Sport Plus doesn't perform as well on non-paved surfaces such as grass, dirt, mud, and sand. Although Epikgo mentions that it's an all-terrain board, the performance greatly suffers when it's used off the road. Yes, you can still use it over grass and dirt but don't expect too much from it.
If you're looking for a sports car equivalent of a hoverboard then the Epikgo Sport Plus is the one for you. Speed, performance, and build are top notch.
RazorUSA
Better known as Razor first came into prominence with their kick scooters. They still sell them but they have added other products into their line of personal transporters. The company was founded in 2000 in Cerritos, California and in 2015, they were able to acquire the exclusive rights to a patent for "a two-wheel, self-balancing personal vehicle."
Razor says that it's the only model with the license to the patent covering hoverboards from the original inventor Shane Chen. Their design does not deviate from the original patent application.
With that in mind, Razor only carries the Hovertrax model which is based on the original hoverboard designs: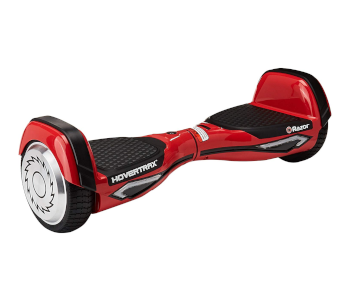 Retail Price: $299
The one thing that stands out the most with the Razor Hovertrax 2.0 is its design. Its smooth contours make it look slim and sleek. Don't let it fool you though, it's made with a shatter-resistant frame that allows you to ride it confidently without fear of crashing it. Razor also installed a pair of edge to edge anti-slip rubber traction platforms so you can have better grip and control.
This hoverboard is powered by dual 350W motors. It also comes with a gyro sensor that permits it to self-balance even without a rider. It doesn't keep you balanced though, but it helps especially when you're learning to ride it with 'training mode.'
Training mode eases the sensor response time so you can learn to ride it easily. This is especially useful for beginner riders or kids to learn to ride on hoverboards. This mode reduces the twitchiness due to the responsiveness of the sensors especially during slowing down and dismounting.
It is designed to run at a maximum speed of 8 miles per hour. The 36V batteries provide you 60 minutes of runtime, equivalent to about 8 miles. One advantage of the Hovertrax 2.0 is that its battery pack is removable and you can get a replacement kit and use it as a spare extending your range. The pack is easily removed from the bottom without taking the board apart.
The Razor Hovertrax 2.0 gives you an excellent riding experience. The different modes make it friendly for both beginners and experts alike. The removable battery gives you up to 8 miles in range, even more, if you carry a spare with you. Overall, this hoverboard is fast, safe, and fun that anyone can enjoy.
Retail Price: $249
While the Hovertrax 2.0 is designed for the advanced rider the Hovertrax 1.5 is a more entry level board. It has a slightly slower top speed at 6 miles per hour compared to the 2.0 8 miles per hour. It is also slightly smaller and accommodates lighter riders of up to 176 pounds.
Although both sport the same 350W motors, the major difference between the two are their batteries. The Hovertrax 1.5 comes with a slightly smaller battery rated at 25.2V and this power pack can only provide up to 45 minutes of ride time. The battery also has a charge time of 4 hours so it charges significantly slower than the 2.0
This hoverboard is designed for beginner and is the perfect one for your kids aged 8 and up. It also comes with the 2.0's 'training mode' that helps riders learn how to properly use one.
Swagtron
In the early days of the hoverboard, it was quite a controversial device. Late 2016, Underwriters Laboratories introduced strict new standards for the entire industry thus the UL certifications. This is also the time when Swagtron created the first hoverboard to receive the new UL2272 certification.
Swagtron was the first manufacturer to focus on safety especially with their battery technology. They used a multi-layered battery chamber that is designed to contain fires so as not to ignite the entire hoverboard. They also developed their state of the art Smart Battery Management System that constantly monitors voltage, temperature, and short circuit protection. The company also developed models with incombustible exterior shells for optimum safety.
Today, Swagtron is a market leader with electric rideable products from hoverboards to e-bikes, skateboards, and scooters.
Here are some of Swagtron's best selling hoverboards: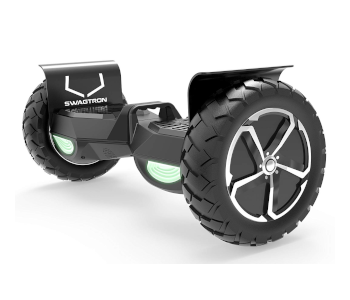 Retail Price: $379
The Swagtron Outlaw T6 is an all-terrain hoverboard that's built for all types of riders. The board is designed to handle riders over 380 pounds so anyone can ride it from kids to adults. This is possible by its sturdy build and the 10-inch rugged tubeless tires that are made to handle different types of terrain specifically mud, grass, gravel, even sand.
This hoverboard has a top speed of 12 miles per hour with a range of 12 miles. It can also roll over bumps and climb inclines up to 30 degrees. This is possible because of the dual 350W motors that power it. A rechargeable lithium-ion battery is also included, with a charging time of 2 to 3 hours. As a safety feature, the board comes equipped with a battery level indicator at the top for easy checking while riding.
The feature that makes the T6 rider friendly is its different riding modes. It has three, you can easily switch between standard and learning mode via a switch on the board. You can also install the Swagtron App to easily change your riding preference remotely. In addition, getting the app allow you to activate Advanced Mode to unlock the full potential of your hoverboard.
An interesting addition to the Swagtron T6 is a pair of Bluetooth speakers. Pair it with your smartphone and you can instantly change the mood of your ride by playing your favorite tunes. The hoverboard also has a pair of LED movement indicators installed which can act both as headlights or brake lights so you remain visible in low light conditions.
The Swagtron Outlaw T6 is a board that's built for the outdoors. Its design permits it to travel on rugged terrain including puddles. The safety features it comes with is unparalleled so you can be confident that no untoward will happen as you ride your board to work or school.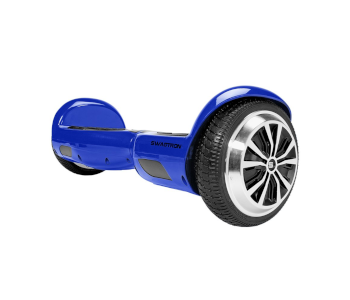 Retail Price: $249
Earlier when we introduced Swagtron, we mentioned how it is the first company to secure a UL certification for one of its boards. Now, we're going to introduce you to that board, the Swagtron T1.
This board is visually smaller compared to the T6 and others in its class, however the T1 makes up for it with its price and value. The fun factor and specifications are comparable at a lower price point. It is slower though with a top speed of 8 miles per hour. The slower speed is due to its smaller 250W motors that power it.
As with all Swagtron products, it comes with an impressive battery able to travel up to 11 miles on a single charge. Fully charging your battery also takes only 1.5 to 2 hours so you can plug it in and you can be sure that you always have enough power to get you to your next destination.
A major difference between the T6 Outlaw and the T1 is the off-road capabilities. This hoverboard is not comfortable in surfaces other than smooth pavement. The performance drops dramatically when used on grass, sand, and dirt, even bumpy and cracked roads.
The Swagtron Swagboard T1 is a hoverboard of fantastic value. It doesn't have a lot of bells and whistles but will still offer you the performance you need. It is the perfect board if you're someone who is on a budget. It's stable to run and fun enough to enjoy without breaking the bank.
Other Hoverboard Brands
There are a lot of other brands out there as well for you to choose from. The concern of most buyers are the unknown Chinese brands on the market that sell boards of lower quality. However, there are also a lot of reputable Chinese brands that sell their hoverboards in the US and all of these have boards that are superior in quality.
Manufacturers like TOMOLOO, which is globally recognized, although based in China develops high-performing, safe, and feature-packed hoverboards. They have a line of different models similar to other brands that cater to different markets such as kids, adults, and even enthusiasts.
One thing to note though that all hoverboards that can be sold in the US have been strictly tested and all of them will have UL2272 certifications. So there really is nothing to worry about buying other hoverboard brands since you'll be assured of their safety.
Final Thoughts
These are the top hoverboard brands and boards in the market today. These boards meet our criteria of quality and value whether it is for fun or as a personal transport device. Nowadays, hoverboards are reliable enough that you can use them as your transporter for your daily commute to the office or school.